Collared shirts for spring are a great way to work a smart casual look this season. Collared shirts are a staple for any wardrobe, and this spring there are plenty of different styles for you to choose from. Whether you prefer a crisp sleeveless shirt or a silky blouse, just make sure it has a chic collar. Check out the following collared shirts for spring.
1

Sleeveless Collared Shirt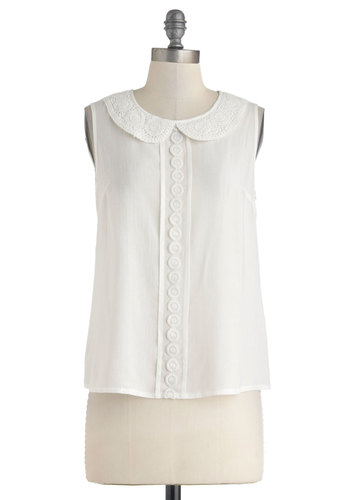 You can't go wrong with a sleeveless collared shirt this spring. Whether you go for a classic pointed collar or a Peter Pan style like this one from Modcloth, a sleeveless collared shirt would be a versatile addition to any wardrobe. Team it with jeans and heels for a dressed up look or with relaxed printed shorts for something more casual. Check out Topshop and Dorothy Perkins for more sleeveless collared shirts for spring.
2

Cropped Pleat Back Shirt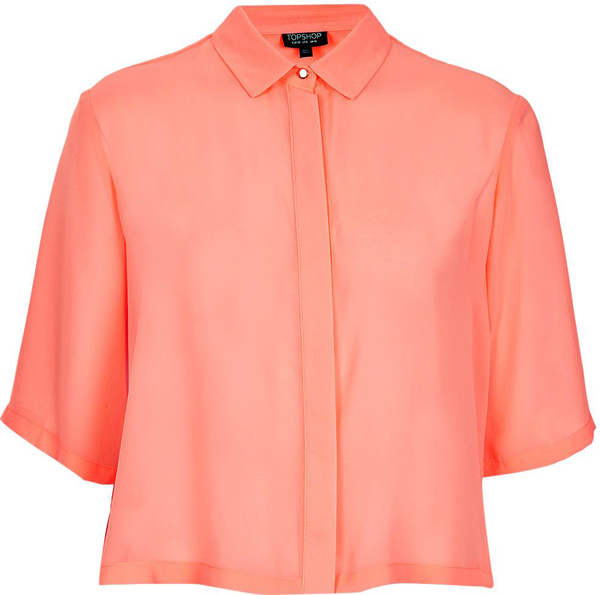 Cropped tops are still trending. Instead of a tight, revealing style, change things up in a relaxed-fit cropped collared shirt. Wear one this spring with anything from high waisted jeans to skirts and shorts. This particular shirt will cost you $70 from Topshop and you can find similar styles at other stores like Forever 21.
3

Colour Blocked Oxford Shirt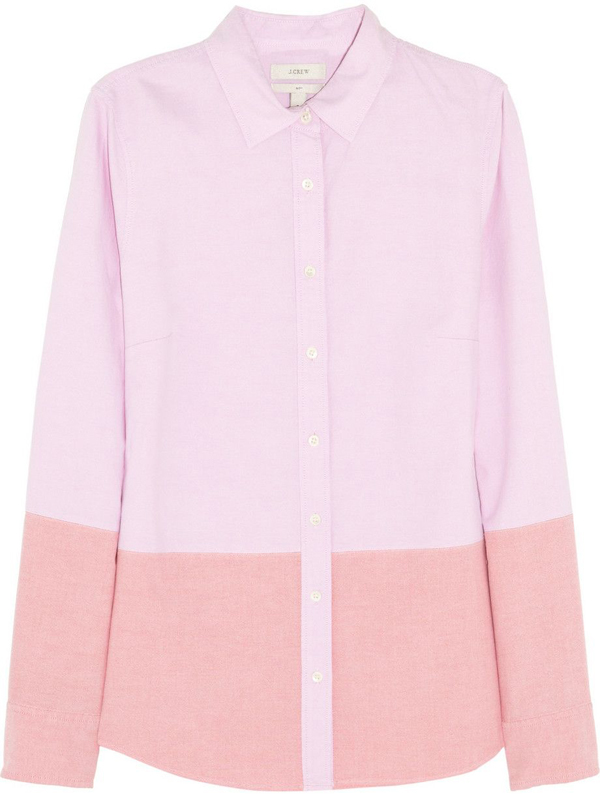 It wouldn't be spring without some pretty pastel clothing. Keep the colour blocking trend alive by donning a two-tone collared shirt this spring. This J.Crew Oxford shirt will set you back around $78. Wear it unbuttoned and with the sleeves rolled up for a more casual approach to styling. Also check out Topshop and ASOS for colour blocked shirts this spring.
4

Eyelet Georgette Shirt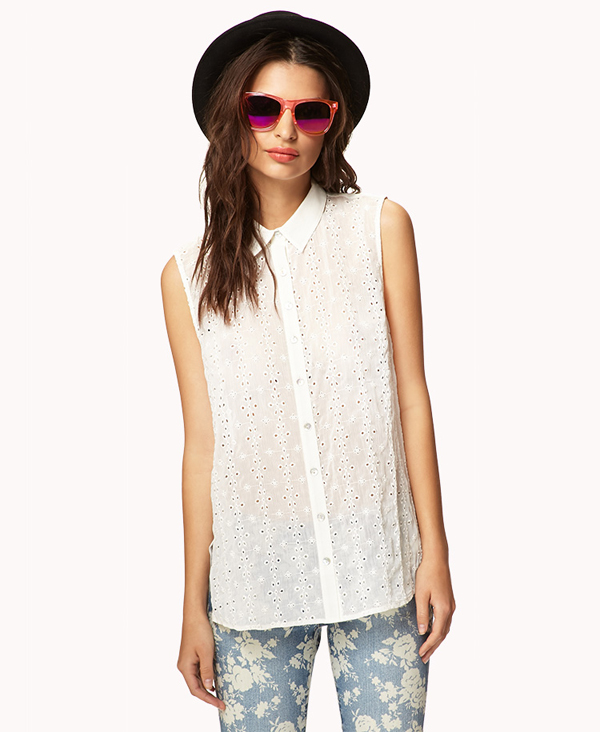 Shoot the breeze in an eyelet shirt this spring. Choose one with a basic collar for a crisp way to wear the trend. This eyelet shirt is a steal at just under $20 from Forever 21. Wear it with a pastel pleated skirt and strappy shoes for a spring-ready look. If you've got a bit more cash to splash you can find similar styles at Topshop and J.Crew.
5

Faded Chambray Shirt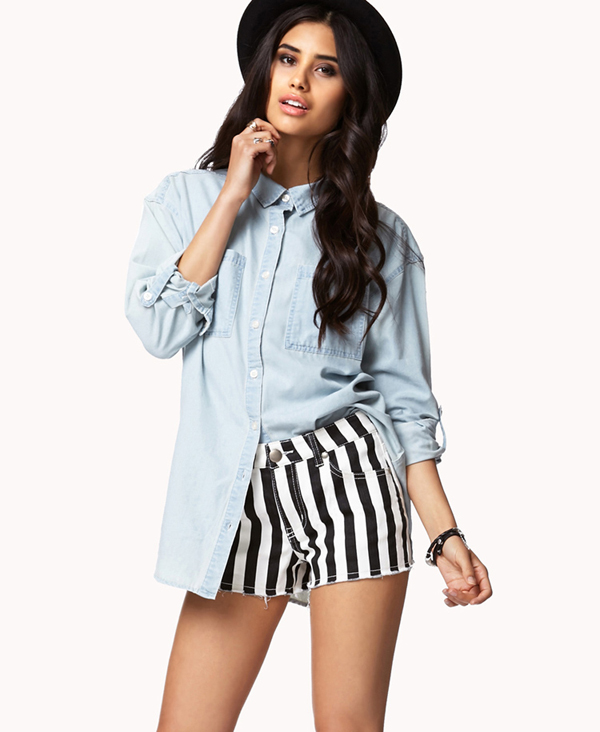 Faded chambray clothes are a spring must. A chambray shirt is a classic and can be a versatile addition to your wardrobe. Wear one with anything from black pants to colourful denim shorts to leather skirts. This shirt costs $24.80 from Forever 21 and you can find similar versions at ASOS and Gap.
6

Floral Boxy Shirt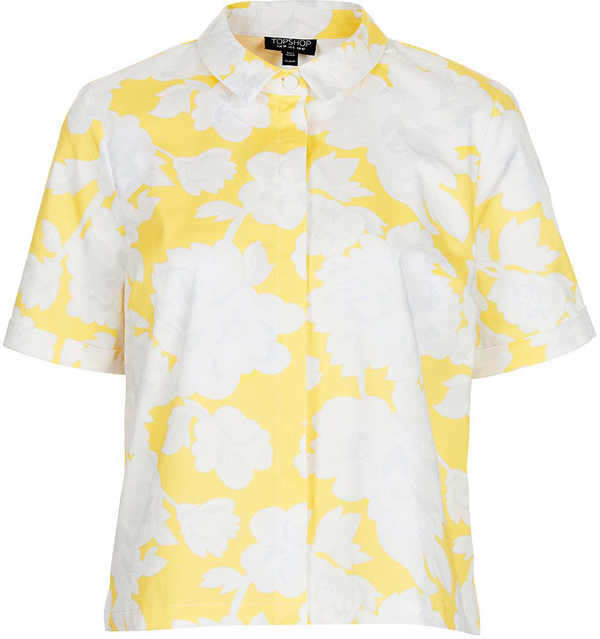 It wouldn't be spring without a hit of floral. Instead of your pastel ditsy prints, try a bold and bright floral print. This eye-catching yellow shirt is from Topshop and has a boxy, collared design. Wear it with tailored shorts, strappy sandals, and a short collar necklace for a smart daytime look.
7

Tie Front Chiffon Shirt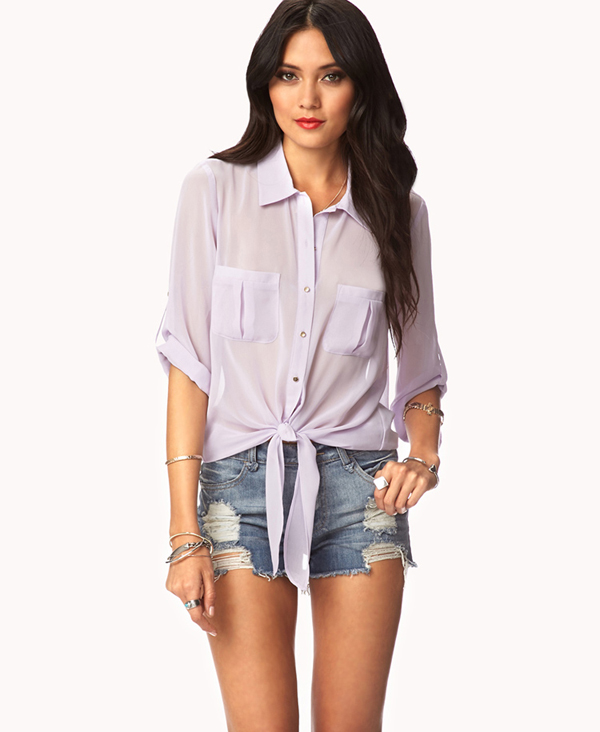 Work a relaxed spring look in a loose chiffon shirt. Choosing a shirt with a tie front detail is one way of creating a more relaxed look. Wear it with denim cut-off shorts and strappy sandals for a casual weekend look. This shirt costs $17.80 from Forever 21 and is available in lavender, pink, and khaki shades. Be sure to check out Urban Outfitters, ASOS, and Revolve Clothing for more tie front shirts.
Get ready for spring in these collared shirts. Wear them buttoned up or down, either way they're great for making your outfit look that little bit more polished. Which of these collared shirts do you like best?