While bikinis are a firm favourite on the swimwear scene, one-piece swimsuits tend to go in and out of fashion. However, these days one-piece swimsuits are very much 'in'. There are a range of fashionable styles and designs available. Take to the water in style with these stylish one-piece swimsuits.
1

J.Crew Drew Polka-Dot Swimsuit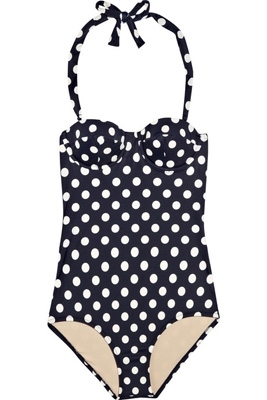 Price: $80.00 at net-a-porter.com
This polka-dot swimsuit has a retro-inspired feel to the design. This swimsuit has detachable halter and shoulder straps, lightly padded underwire cups, and is fully lined. The navy and cream colour combination is timeless. Make the most of the retro inspiration and pair this stylish swimsuit with some oversized cat-eye sunglasses.
2

Topshop Black Scallop Stripe One Piece Swimsuit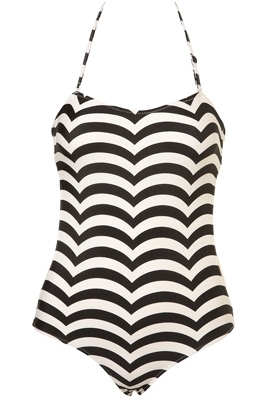 Price: $60.00 at us.topshop.com
When looking for stylish one-piece swimsuits keep and eye out for classic colour combinations. These often stand the test of time, style-wise. This particular swimsuit features a black and white scallop pattern, removable halterneck, and back fastening. There is also a cut out detail at the back.
3

Babajaan Pipa Embellished Halterneck Swimsuit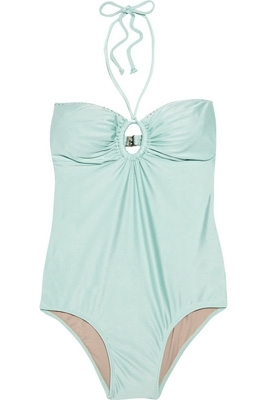 Price: $210.00 at net-a-porter.com
Work the pastel trend with this light blue swimsuit. It has a sweetheart neckline, cut out oval at the centre, and cut out detail at the back. It also features delicat Swarovski crystal embellishments along the neckline. This halterneck swimsuit is exclusive to Net-A-Porter.
4

Lover Halter One-Piece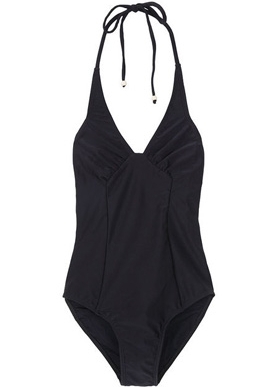 Price: $207.00 at lagarconne.com
Black, basic designs always make for stylish one-piece swimsuits. This swimsuit has a V-neck, self-tie straps, and seamed front and back panels. There is slight gathering under the bust. A basic black swimsuit is a timeless choice and will see you throughout the changing fashion cycles.
5

Topshop Black Slink Frill One Piece Swimsuit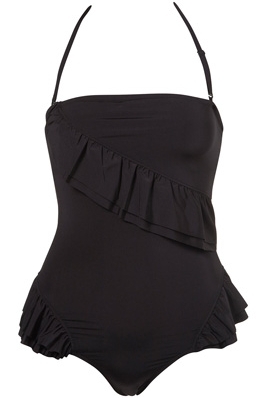 Price: $70.00 at us.topshop.com
If the previous black swimsuit is out of your budget then take a look at this more affordable Topshop one. It's a bandeau style swimsuit but also comes with an optional halter strap. It has frill detailing across the body and along the hips. The frills are a subtle twist to an otherwise basic design.
6

Diane Von Furstenberg Micro Maze Print Swimsuit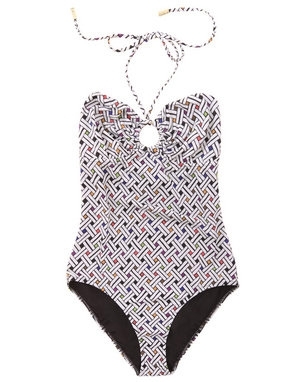 Price: $283.62 at matchesfashion.com
This swimsuit features an eye-catching graphic print. It has a bandeau style bust, cut out ring at the centre, and self-tie halter straps. The graphic black and white maze print features squares of neon colour. This swimsuit would be a fun garment for a summer pool party.
7

Milly Acapulco Plunge-Front Halterneck Swimsuit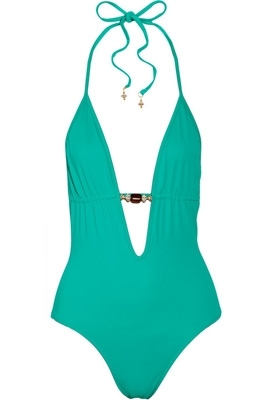 Price: $175.00 at net-a-porter.com
Jewel colours are on-trend for this season. This jade-green swimsuit has a revealing plunge neckline and bead embellishments at the front. It also has self-tie straps at the neck and back. Wear this swimsuit to inject some glamour into your poolside look.
8

Diane Von Furstenberg Nema Swimsuit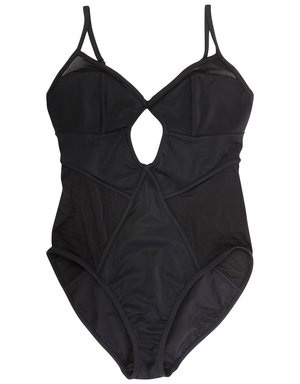 Price: $286.88 at matchesfashion.com
This black swimsuit features sheer panels at the neckline and sides. They are a risqué addition to what would otherwise be a basic swimsuit design. It also has a V-neck, slim straps, and round cut out centre. Stylish one-piece swimsuits such as this one are sure to have all your basic pool and beach needs covered.
Style is very much in the eye of the beholder, so you may find some of these swimsuits more stylish than others. When looking for stylish one-piece swimsuits you can go for timeless or trend-based designs – the choice is up to you. Which of these swimsuits do you like best?