One of the worst parts of summer is wearing a bathing suit, especially if you are self conscious about your body image! If you have been crash dieting to shed the flab before bathing suit season, you can stop starving and start shopping instead. Today's designers are making bathing suits for every body type from the stick thin figure to more curvy plus sizes. Don't stress about your trip to the beach this summer. Just do a little shopping and choose from these 10 great bathing suits for every body type.
1

To Add Curves, Try the Christian Ruched One-Piece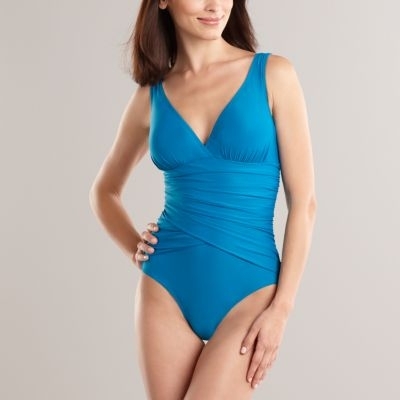 Price: $78.00 at kohls.com
If you have a straight, boyish figure, this bathing suit will add the illusion of curves. With the delicate ruched design across the midsection, it will draw the eye inward, creating the look of an hourglass figure.
2

To Add Bulk, Try the Croft and Barrow Pebble Ruched One-Piece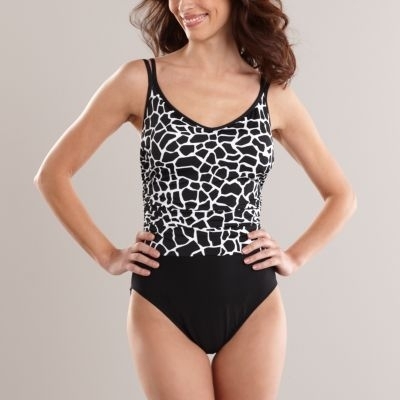 Price: $88.00 at kohls.com
If you have a stick thin body, you can add a little bulk with printed bathing suits. This design has a push up bra and a patterned top to draw attention towards your face and the one piece cut will hide any areas you are concerned about.
3

To Hide Hips, Try the Hip Hider Skirtini Set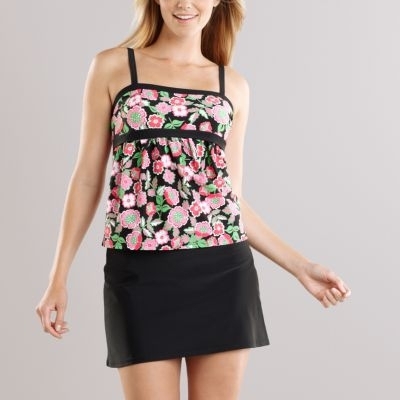 Price: $78.00 at kohls.com
If you need to hide your hips or balance the proportions of a pear shaped figure, this bathing suit will do the trick. The skirt is cut on a diagonal so that it hangs in a flattering shape rather than clinging to problem areas. The top has a shirred design to draw the attention up away from your hip area.
4

To Support a Large Bust, Try the Upstream Leaf Halterkini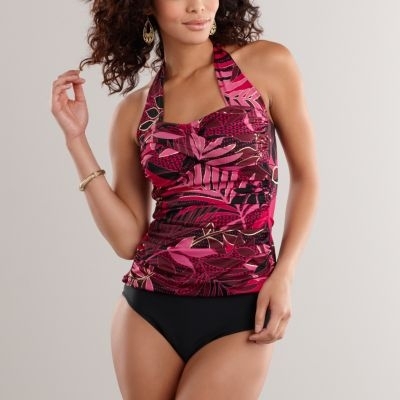 Price: $78.00 at kohls.com
If you have larger breasts, it can be intimidating to wear a bathing suit at all. You don't want to pop out of your suit when you dive into the pool! This bathing suit has an adjustable tied halter top with more coverage and support than other styles.
5

To Add Size to a Small Bust, Try the Polka Dot Tankini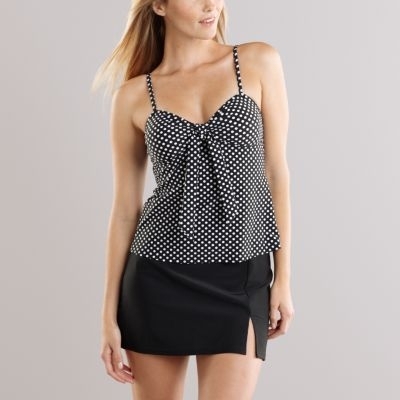 Price: 78.00 at kohls.com
If you have smaller breasts, you can still rock a beach body! This fun bathing suit has subtle cups built in to lift and enhance your bust. The looser fit of the top will also add some balance to your figure.
6

To Slim the Entire Body, Try the Trim Shaper Solid One-Piece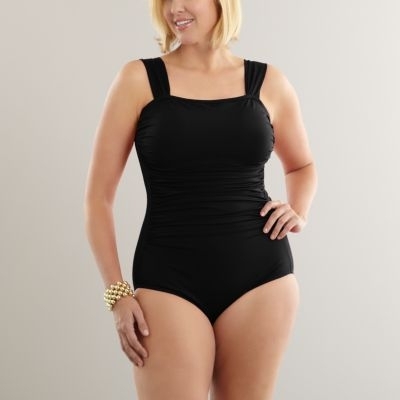 Price: $99.00 at kohls.com
If you are a plus size woman that needs a total body slimming effect, you will love this design. It smoothes and lifts in all the right places and it is made from a special Lycra fabric that adds extra tummy control.
7

To Accommodate a Pregnant Belly, Try the Oh Baby by Motherhood Tankini

Price: $58.00 at kohls.com
Pregnant ladies usually dread the very thought of a bathing suit, but water offers some wonderful soothing effects to the pregnant body. You can look great even with a growing belly in this cute bathing suit.

Whether you are a size 2 or a size 22, you can find a bathing suit that flatters your body and compliments your sense of style. Check out these 7 great bathing suits for every body type and see which one would work for you. How do you hide your problem areas in a bathing suit?