Ways to wear jeans can vary depending on the style or occasion. But a good pair of jeans can be the workhorse of a wardrobe. I know mine get worn to death. We often get stuck in a rut when it comes to fairly basic items like jeans, but don't be afraid to experiment with a new way to wear jeans every once in a while. If you're ever stuck for ideas, the following are just a few stylish ways to wear jeans.
---
1

In a Colourful Hue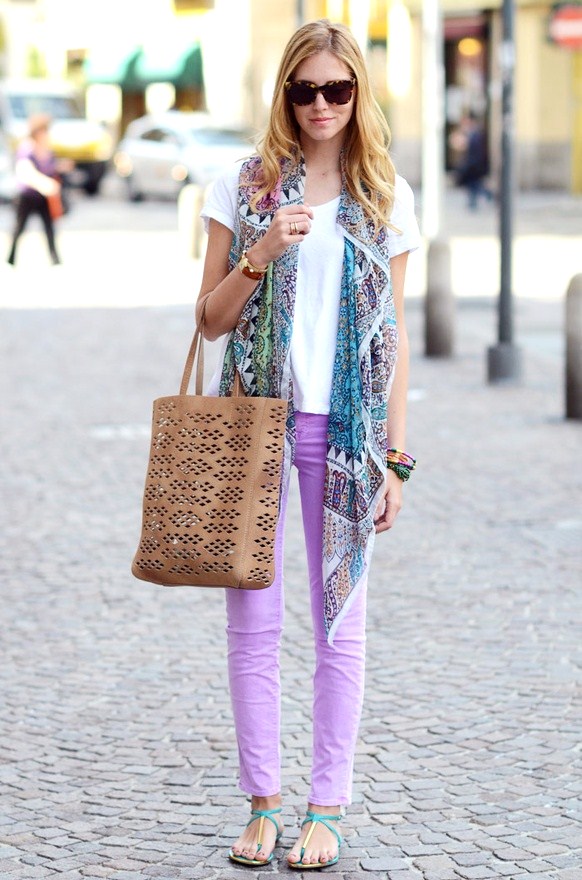 Coloured jeans are having a trending moment right now. Get on board this trend by choosing one in your favourite colour. Bold primary colours, like red and yellow, are a stylish choice right now. When looking at ways to wear jeans this way, make sure you anchor them with plenty of neutrals.
2

With Stiletto Heels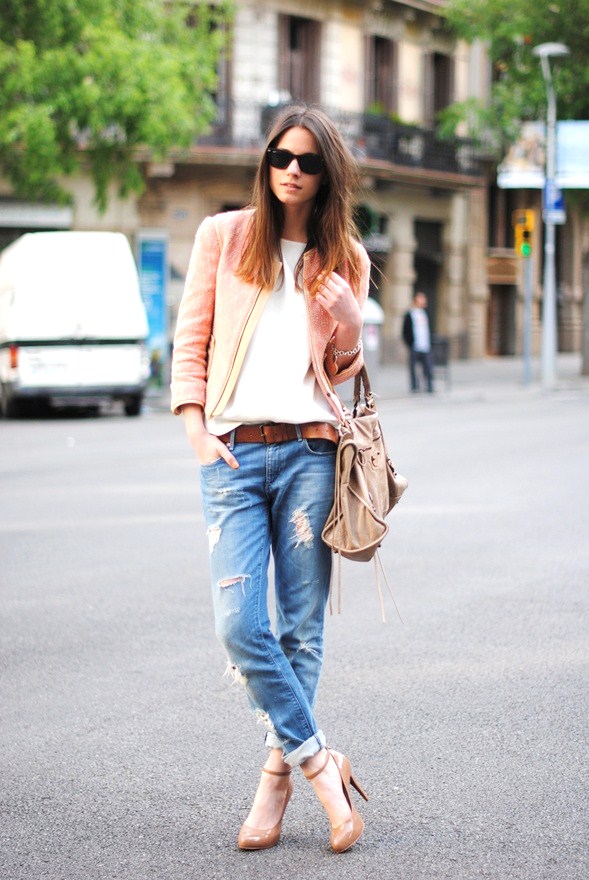 Make your legs look like they go for miles by slipping on a pair of stilettos with your jeans. The trick to making this look work, however, is to make sure that the hem of your jeans covers the majority of the shoe.
---
3

Tucked into Boots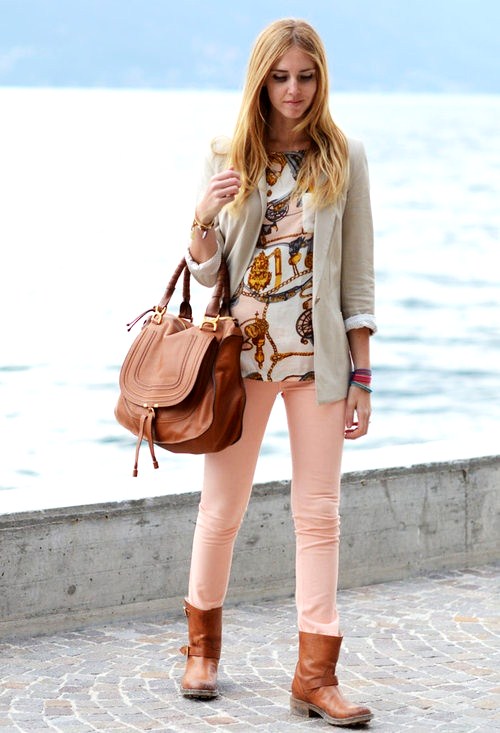 In the winter time, tuck your skinny jeans into a pair of knee-high boots for a chic look. Flat suede boots look great during the daytime while heeled, glossy leather numbers are better suited to night time.
---
4

With Ballet Flats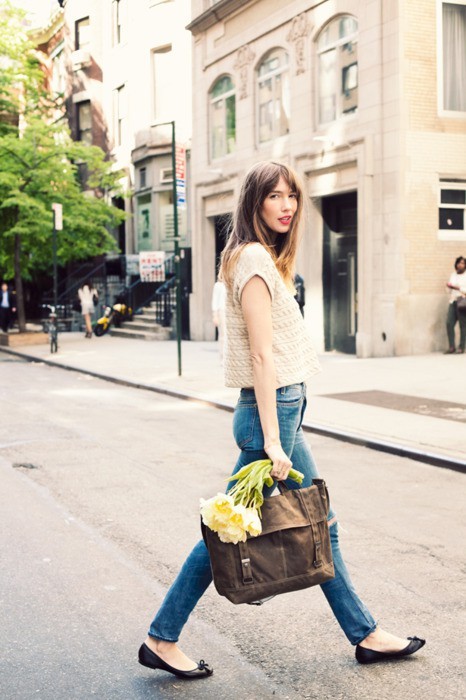 When it comes to stylish ways to wear jeans, footwear is an all important feature. Ballet flats are a wardrobe staple and look classic when worn with jeans. Choose a patent pair for a polished look.
---
5

In an Interesting Print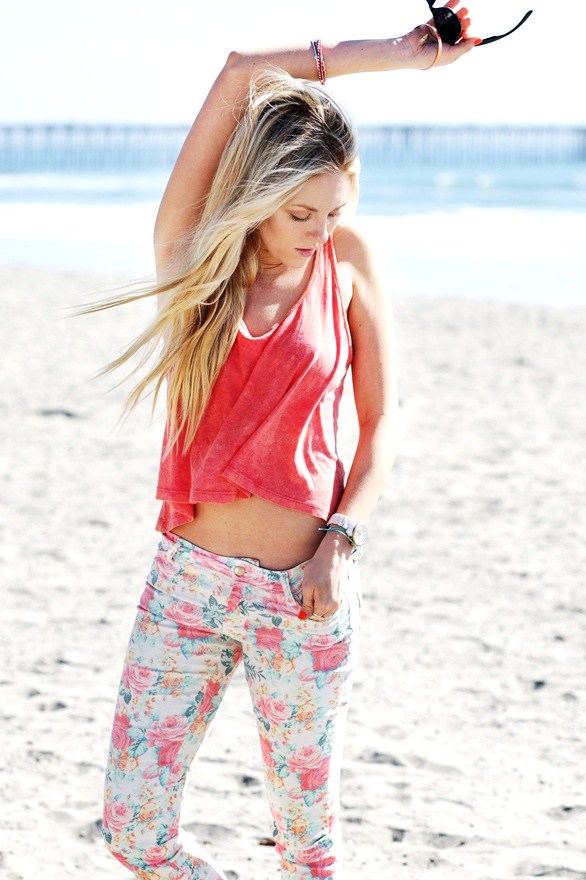 Jeans these days come in an assortment of finishes. Printed jeans are a fashionable choice and are a fun take on this wardrobe classic. Floral and paisley prints are quite popular right now, as are polka dot and striped patterns.
---
6

With a Blazer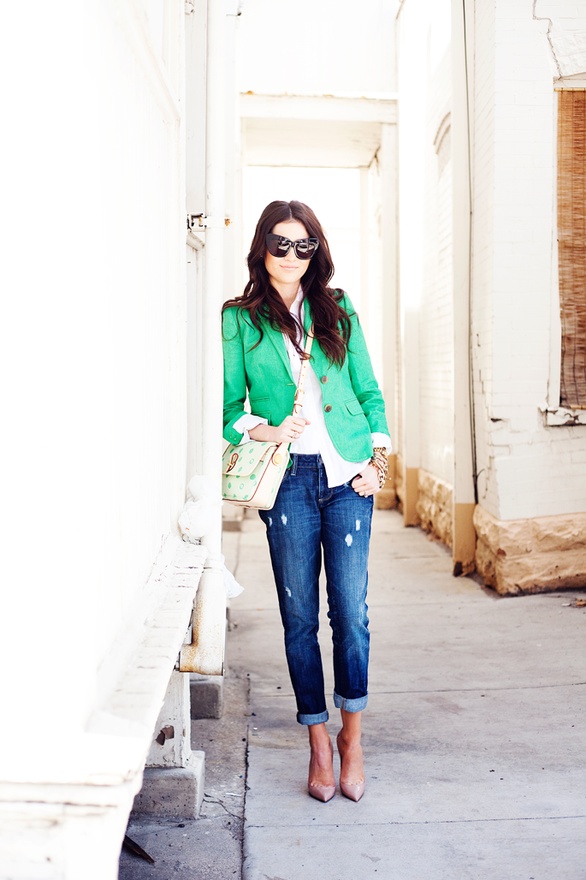 The combination of a blazer and jeans is stylish and timeless. A blazer is a simple way to dress up a basic pair of jeans. Whether you opt for neutral styles or something more colourful is entirely up to you!
---
7

Rolled up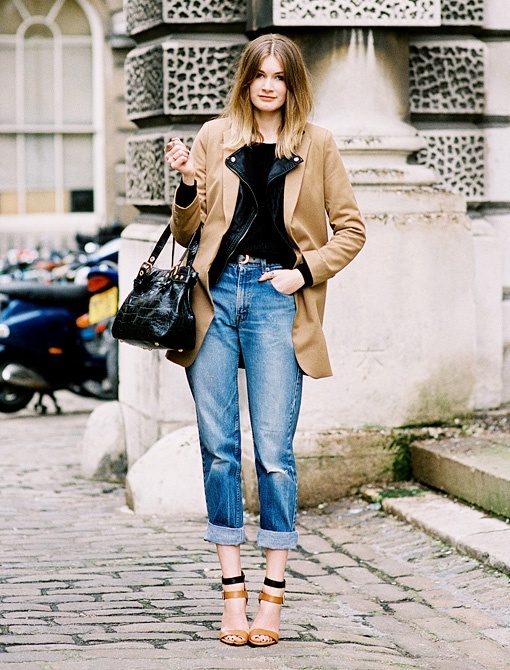 Roll up the hem on your current pair of jeans for a quick and easy update. The look is casual and cool, and perfect for relaxed weekend dressing. When looking at ways to wear jeans this way, this trick is best done on skinny or straight-leg/boyfriend jeans (so no flares).
---
8

In a Cropped Style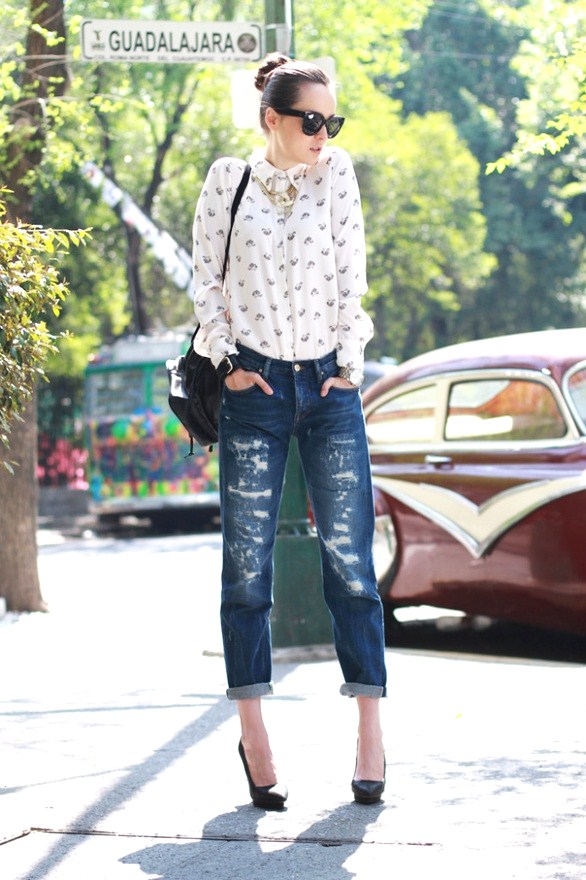 Cropped jeans can look quite elegant. They're also ideal for showing off a bit of ankle and a statement shoe. Make like Audrey Hepburn and team a pair of cropped black jeans with a crisp shirt and ballet flats.
---
9

With Biker Boots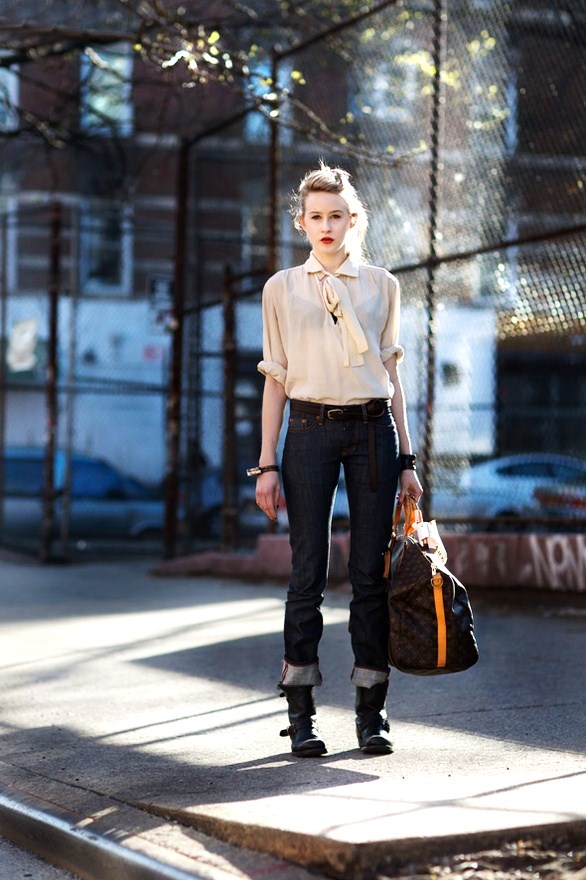 If you want to work an edgier look, try teaming your skinny jeans with a pair of biker boots. This is perfect for working a model-off-duty look. Simply tuck your jeans into a pair of boots, slip on a band tee, and finish off with a leather jacket and the latest it-bag.
---
10

In a High Waisted Style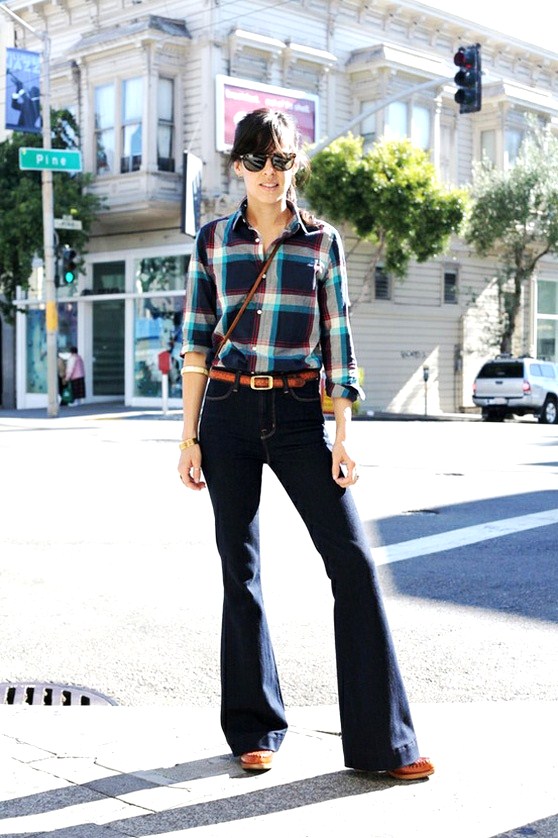 When it comes to ways to wear jeans, don't be afraid to try on different styles. A high waisted style can be quite flattering, but you'll never know unless you try them on!
---
11

Tuck Your Shirt in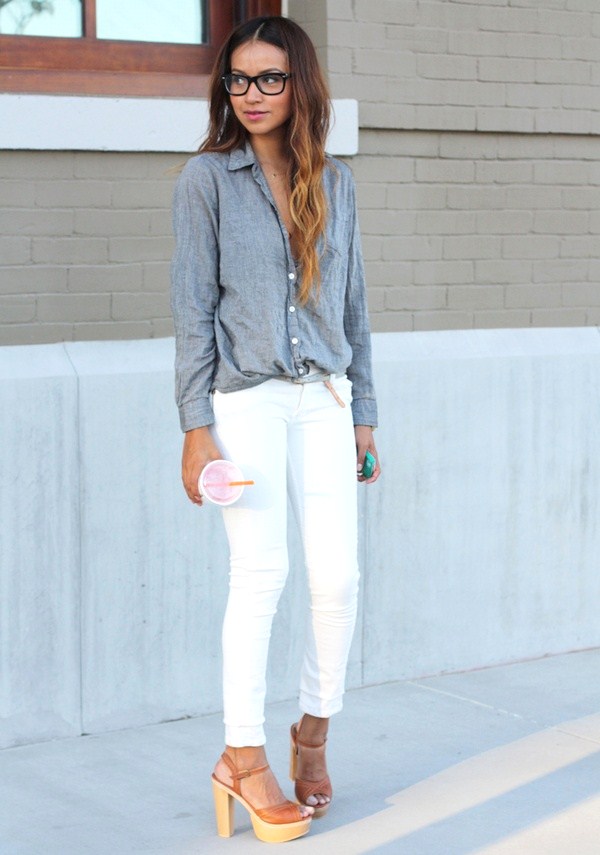 Show off your waist by tucking your shirt into your jeans. While the full tuck looks clean and polished, something that I've seen done a fair bit lately is the half tuck. This is where one half of the front shirt hem is tucked in while the other is left loose. Experiment to see what you prefer best.
---
12

Substitute a Scarf Belt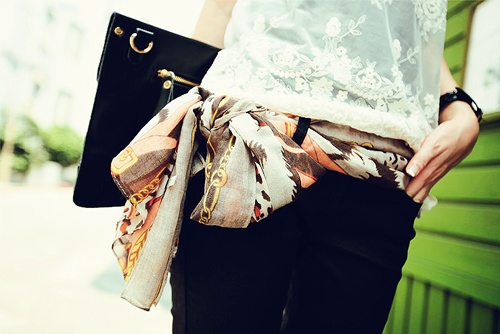 Work a different angle and weave a silk scarf through the belt loops of your jeans. This looks a bit eclectic and is just one way of making another use for your scarves. Make sure you tuck your shirt in to really show off the scarf.
---
13

With a Slouchy Sweater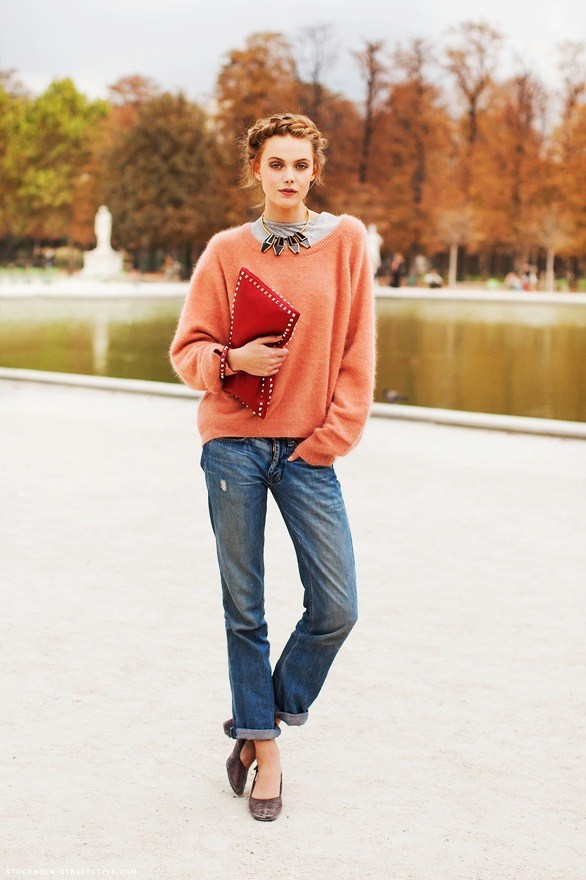 Work a sport luxe look when it comes to ways to wear jeans by teaming them with a slouchy sweater. The look is casual and cool, and would look great worn with a pair of sneakers.
---
14

Ripped up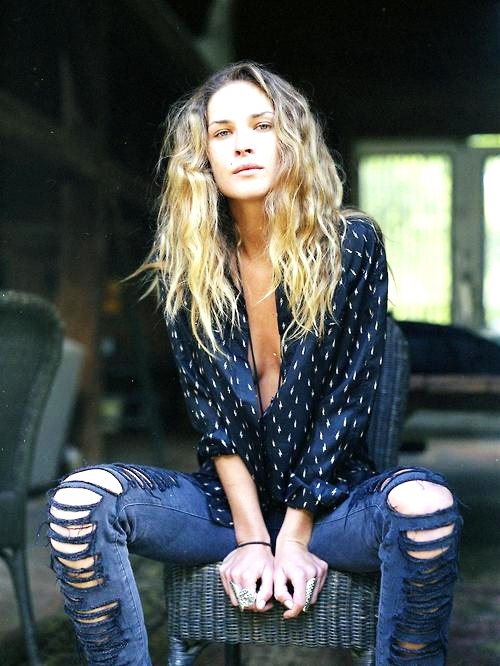 While there may be some debate as to how 'stylish' this look is, you can't deny that a pair of ripped jeans seems to forever be a favourite with the fashion set. Instead of rips up the entire length of the leg, keep it simple and opt for a few rips at the knees.
---
15

With Strappy Ankle Shoes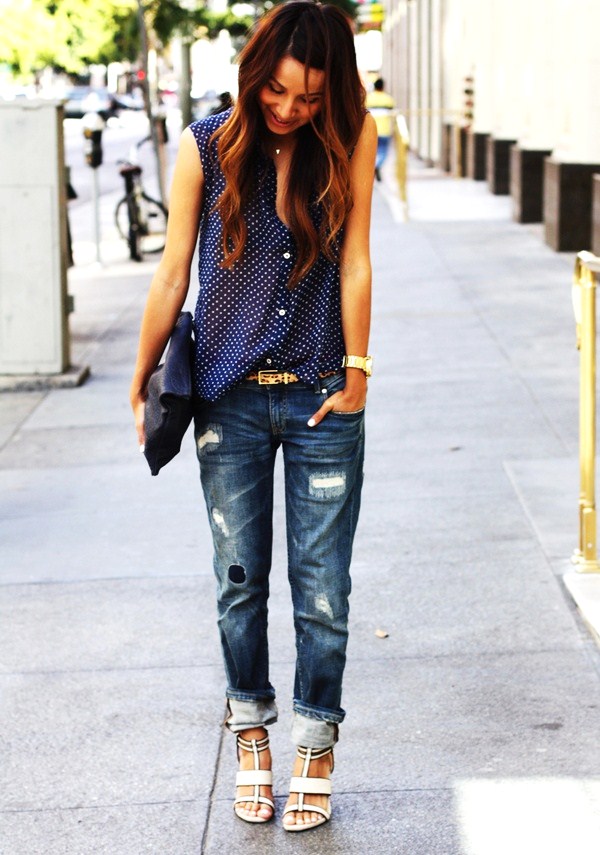 Add a bit of detail to your skinny jeans by wearing the strap of your shoes around your jeans, as opposed to underneath. You could achieve this look with a shoe with a single thick ankle strap, or work a ballet inspired look by wearing shoes with long fabric straps that wrap around your jeans.
---
16

Cuffed at the Ankle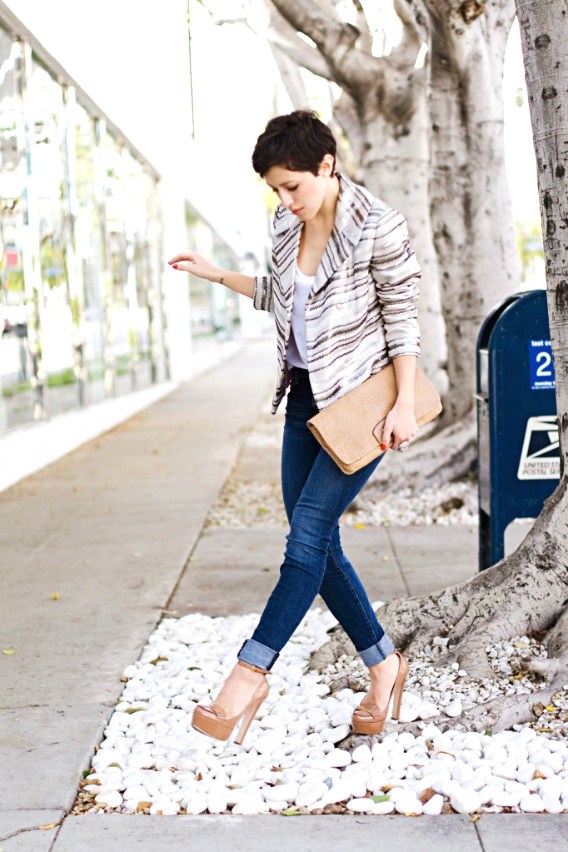 If your jeans are too long, simply fold them at the ankle to create a clean cuff. This way to wear jeans is ideal for working a preppy look. As an added bonus, you get to show off your best pair of statement shoes.
---
17

In a Flared Style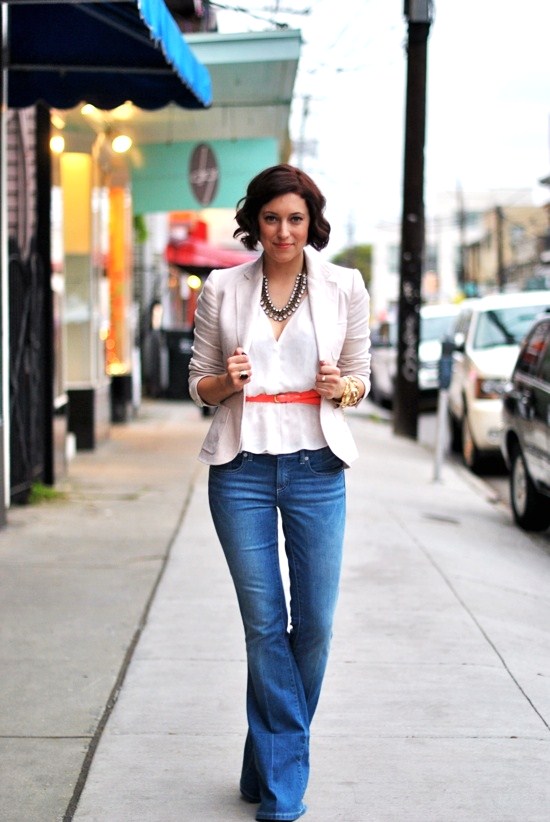 Retro silhouettes are all the rage right now. A pair of flared jeans is your ticket to fashionable 70s inspired style. Loosely tuck in a button-down shirt and accessorise with a pair of aviator sunglasses.
---
18

Double Denim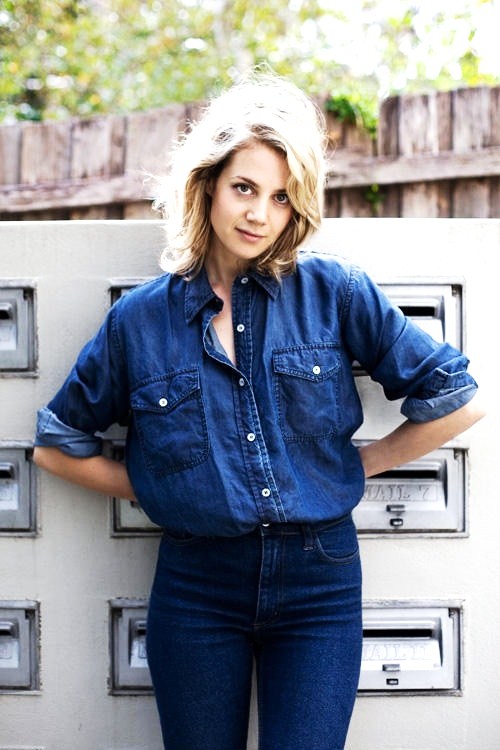 Wait! Hear me out! While double denim has consistently been a big no-no, the fashion rules are being relaxed on this one. The key is in choosing contrasting denims. With coloured and printed denim being so popular right now, you can easily get away with pairing such jeans with a denim shirt.
---
19

With Silky Tops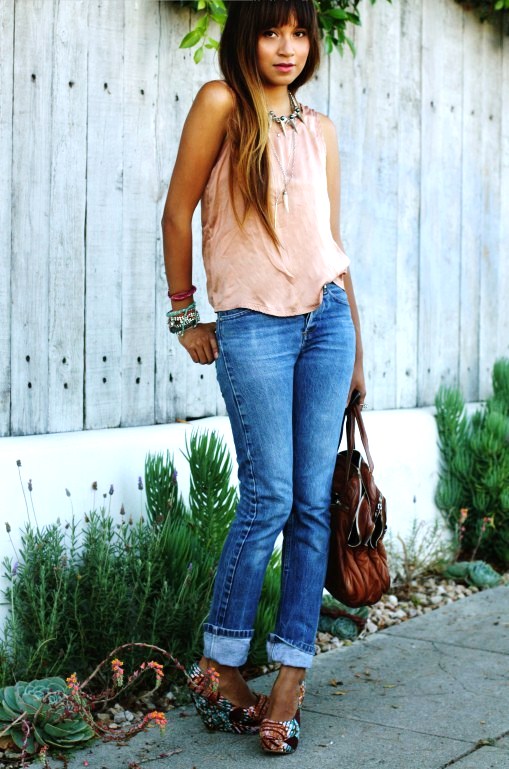 When looking at ways to wear jeans, make them night time appropriate by teaming them with a slinky top. A silk cami worn with dark denim jeans, stiletto heels and chandelier earrings looks effortlessly chic.
---
20

Chopped up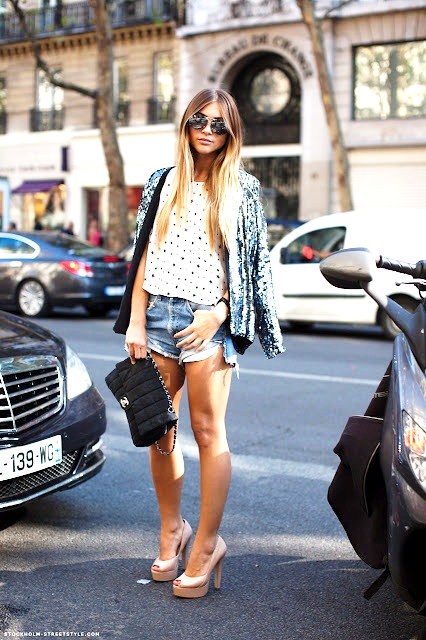 Give your long denim jeans a new lease on life by cutting them into a pair of shorts. Let the edges fray for a casual, distressed look. Understandably, this is not a decision to be made lightly, so make sure that the jeans you choose to cut have had a good run.
When it comes to ways to wear jeans in a stylish manner, there are plenty of options. These are just a few to consider next time you don a pair of jeans. What's your most stylish way to wear jeans?
Top Image Source:bookofpolish.in
---
Comments
Popular
Related
Recent