Whether you are looking for a sweet (and perhaps a bit sultry) number for your honeymoon or a fabulous dress to grace your ceremony or dance floor with, these phenomenal Modcloth dresses will certainly get the job done. People often think that having a wedding equates to spending an astonishing amount of money on everything from decorations, entertainment, and the coveted wedding dress. However, I am here to tell you that this does not need to be the case! As long as you are confident in what you are wearing, an inexpensive buy can be just as rewarding as name brand clothing. This line of thought led me to composing this list of stunning Modcloth dresses that your guests will be in awe of when you rock them at your wedding ceremony.
---
1

Love You Ivory Day Dress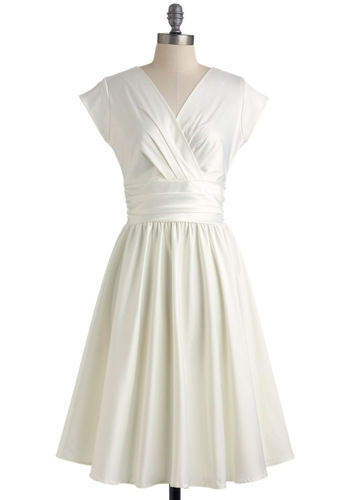 Ranging in size from small to 3x, the luminous ivory hue of this number makes it one of the most beautiful Modcloth dresses to wear to your wedding. The stunning cut, style and texture of this dress will be sure to accent all of your best features.
2

Speckled Someone Dress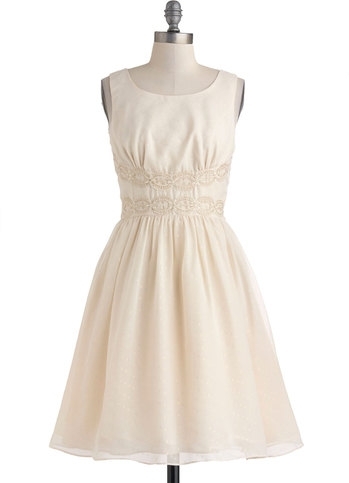 When this dress first appeared on Modcloth, I was in awe of its beauty. I love the detailed embroidery on the empire waist, which then flares out for a classic look. This lovely dress makes make me anxious for Modcloth to come out with a Bridal collection one day!
---
3

Aisle Be There Dress in Liliy
Am I the only person who feels that this dress belongs in a fairytale? The sleek lines of this dress will make you feel like a modern-day Cinderella! The cut is flattering and the fit is even greater.
Shelley
and #8... I\'m in love...
---
4

You're My Everything Dress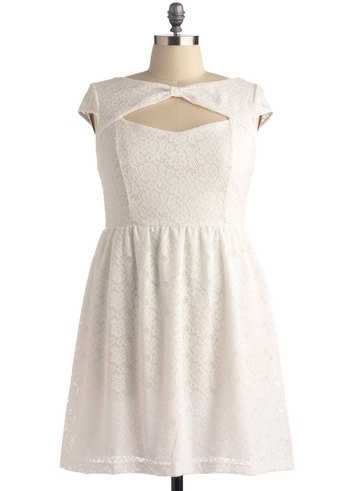 The color and silhouette of this amazing design leave me breathless. The fit is really flattering and gives you room to move (two important requirements when it comes to wedding dress shopping). I'd advise you to add lining underneath the dress as it appears to be a bit sheer.
---
5

Frill You Be Mine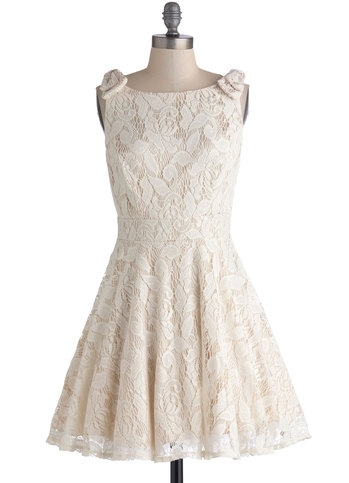 This is my favorite dress to ever be featured on Modcloth. I love that it is extremely elegant in nature; the lace paired with a floral design come together for an overall flawless look.
---
6

Candle Lighting Dress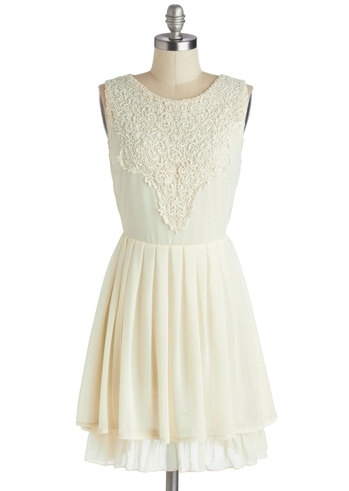 If you are having a small City Hall ceremony, you may want to look into this fabulous number. The crochet detailing on this A-line dress is exquisite; it adds just the right hint of dazzle to make you stand out!
---
7

Plotting Perfection Dress
The simplicity of this cream dress makes it the perfect choice for your ceremony. With its silky and elegant appearance, everyone will be focusing on both your smooth dress and the love you share with your partner.
---
8

Adrift on a Cloud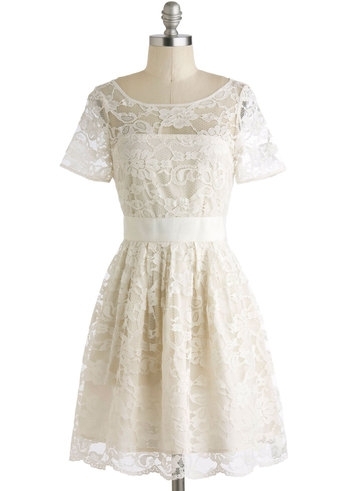 I am in love with the lace detailing on this gorgeous dress. When it comes to special occasions, I am definitely a sucker for A-line dresses! You should always feel comfortable in what you are wearing as you may be spending a majority of your day in it!
---
9

Ethereal Girl Dress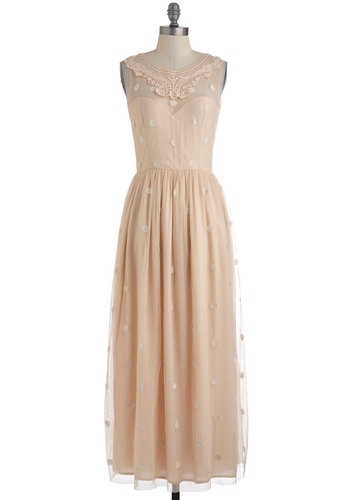 The intricate design on the top of this lovely number is absolutely amazing! I wanted to feature at least one gown in this post, as the classic dress is usually this length. The Ethereal Girl dress is just as beautiful in person as in the pictures featured on the site. With its warm colors and magnificent silhouette, wearing this dress will be the best decision you ever make!
I love that these phenomenal dresses from Modcloth seem to be made out of excellent quality! Keeping your options open when it comes to your special day means that you won't need to spend a substantial amount of your budget on your dress. What type of dress are you planning on wearing on your big day?
---
Comments
Popular
Related
Recent