Faux Fur Vests are simply a must-have this season and, as such, haven't managed to slip away unnoticed by this fashionista right here! Some of you probably have at least one and some, like me, are still searching for the ideal piece. Well, let me show you a few fabulous faux fur vests then, because I'm absolutely sure these faux fur vests right here could satisfy every taste and style:
---
1

Buckled Faux Fur Vest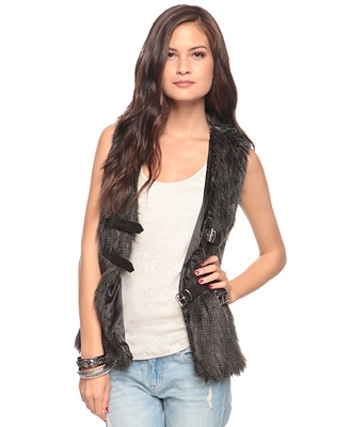 Price: $37.80 at forever21.com
Operating on a tight budget? Well, let me start by suggesting one of the most budget-friendly faux fur vests ever! Now, we all know budget-friendly doesn't mean "ugly" – don't we? And this vest is a living proof! So, if you don't feel like investing in a hyped piece that might be totally OUT next season, take a good look at it because I believe it's a piece worth having. Perfect length, perfect color, perfect strap details and… perfect price, of course!
---
2

Sanctuary Faux Sherpa Vest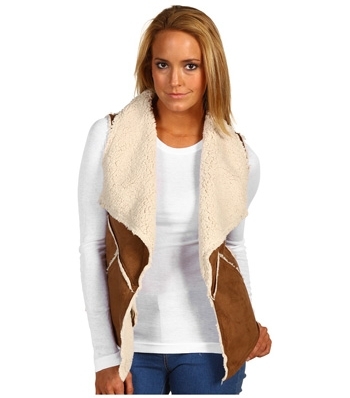 Price: $130.00 at zappos.com
Slip into your favorite UGG boots, a pair of skinny jeans and just any top and you're ready to roll! This casual statement piece allows you to look super stylish while taking care of your everyday stuff such as running errands, running from one classroom to another or chitchatting with your gal pals over a cup of mochachino! Hurray!
---
3

Brigitte Bailey Kennedi Faux Fur Vest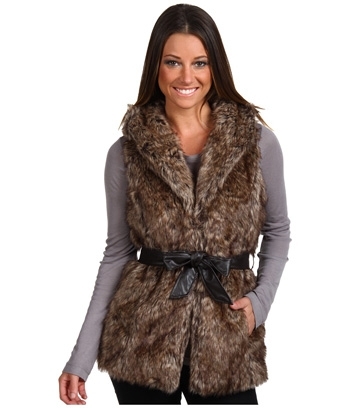 Price: $109.99 at zappos.com
Chic, warm and totally stylish – this vest will help you look stylish in every occasion. Wear it with your favorite flat boots if you need to be a chic busy bee or opt for a long, knitted dress and a pair of super-stylish heels in times when the only walking you're planning on doing is the one that involves getting out of your car and walking into your favorite coffee shop.
---
4

BCBG Maxazria Adler Faux Fur Vest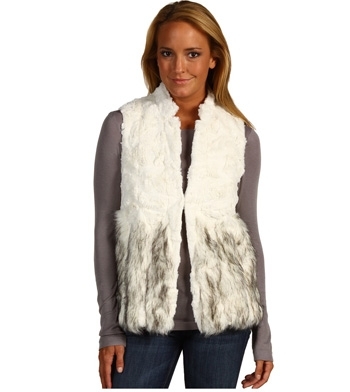 Price: $199.99 at zappos.com
Oh-la-la! I'd gladly wear this beautyanyday! Can you believe this is not real fur, by the way? Call me weird but, every time I look at it, I start imagining myself somewhere on a mountain dressed head to toe in winter fashion. What do you think? Yay or Nay?
---
5

Trina Turk Braden Vest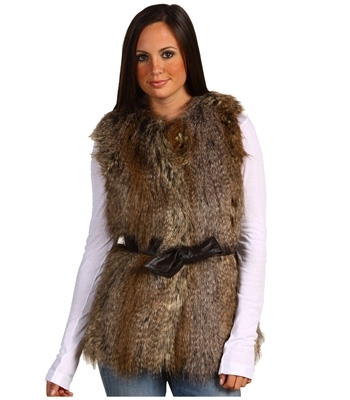 Price: $298.00 at zappos.com
If you love really fluffy faux fur vests, you should definitely consider this one! Now, I know the fur looks kind of messy but my friend has a very similar one in gray and, believe me, it looks absolutely fab! Belt it for a more feminine silhouette or leave the belt out in times when you're in the mood for something stylish yet comfy.
---
6

Davey Faux Fur Knitted Vest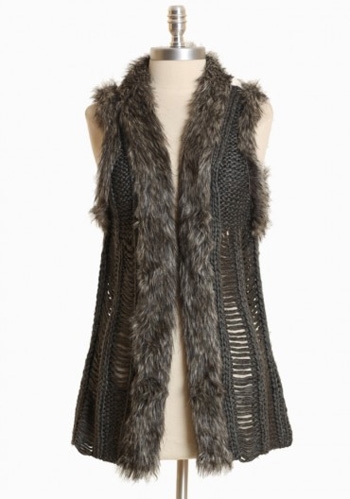 Price: $42.99 at shopruche.com
This tribal-looking combination of wool and fur will allow you to keep up with all of the latest trends without having to give up your unique style. It's casual, fun, a bit edgy and most definitely unique so hurry up, grab it before it's gone and enjoy it knowing that you've once again managed to make fashion work for you -not the other way around!
---
7

Kristen Blake Hooded Faux Fur Vest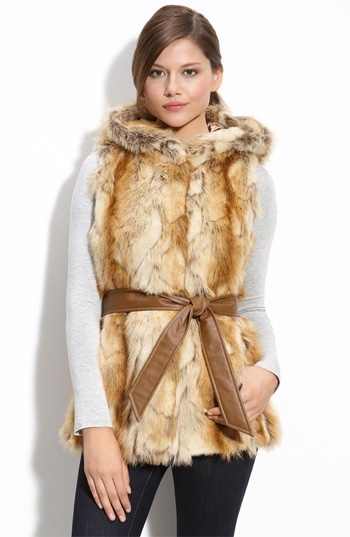 Price: $118.00 at shop.nordstrom.com
Wow! I think I just fell in love! I'm definitely in the market for faux fur vests and, after seeing this one, I think I know exactly what to look for! These brownish and honeyish shades are just amazing and the hood is a very nice touch as well! Take a peek, you definitely won't regret it.
---
8

AK Anne Klein Sequined Faux Fur Vest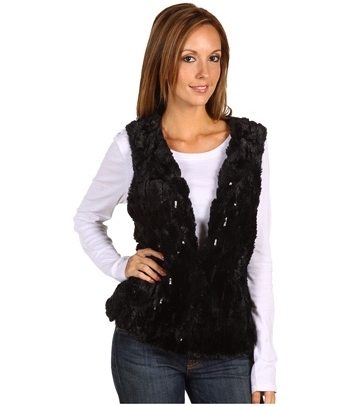 Price: $199.00 at zappos.com
The last on my list of amazing faux fur vests is one really fancy, really glam piece that works with skirts, dresses and even really elegant shoes and boots! Choose it if you prefer trousers to jeans, skirts and blouses to casual wear and heeled boots to UGGs and you'll have a super girly piece to rock this season.
Oh, you absolutely got to love faux fur vests! We get to wear our favorite furs without being hated by PETA! It's a win-win situation! Don't you think so ladies? Do tell- Which one of these lovely faux fur vests you like the most?
Top Image Source: weheartit.com
More
---
Popular
Recent