I've been dying to try the Kendall and Kylie Topshop Swimwear collection for weeks now, but ... I've been busy? Far too busy to try on swimsuits and (possibly) spend the rest of the day crying and questioning my dietary and exercise choices since I was six. Because truly, I loathe swimsuit shopping. But guess what? Writer Maya Allen, an actual woman with an actual real-life woman's body, tried on a few of their pieces, and she shared some dressing room photos and reviews. Here's what Maya had to say.
---
1

Strappy One Piece, Topshop Version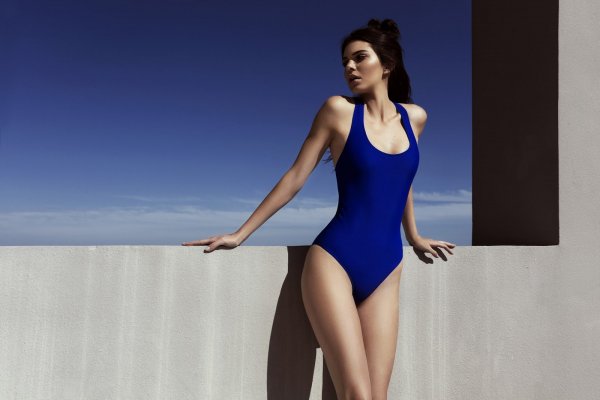 This is what it looks like, in blue, on Kendall. Gorgeous, right? But how will it look on an actual non-supermodel?
2

Strappy One Piece, Maya's Front View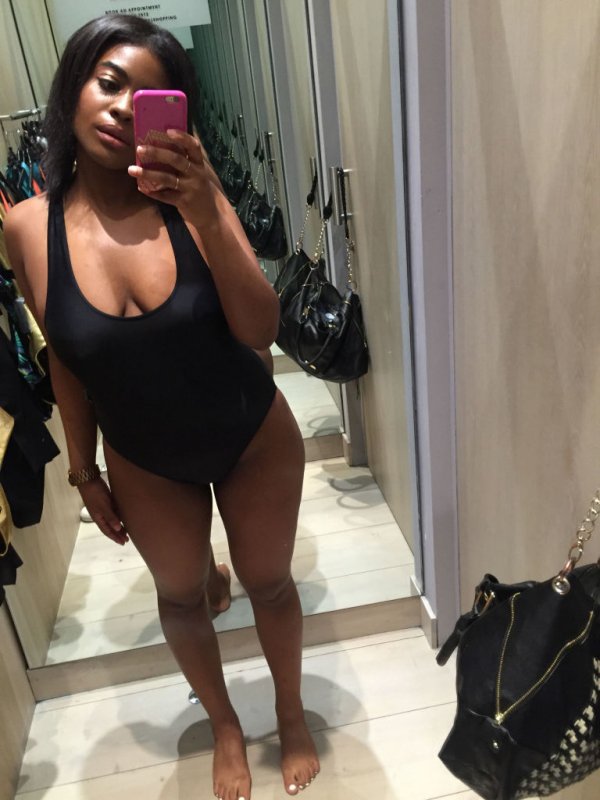 This is what it looks like on Maya, front view. She says, "I loved the plunging scoop neckline, low-cut straps in the back, and the comfortable nylon material of the suit."
---
3

Strappy One Piece, Maya's Back View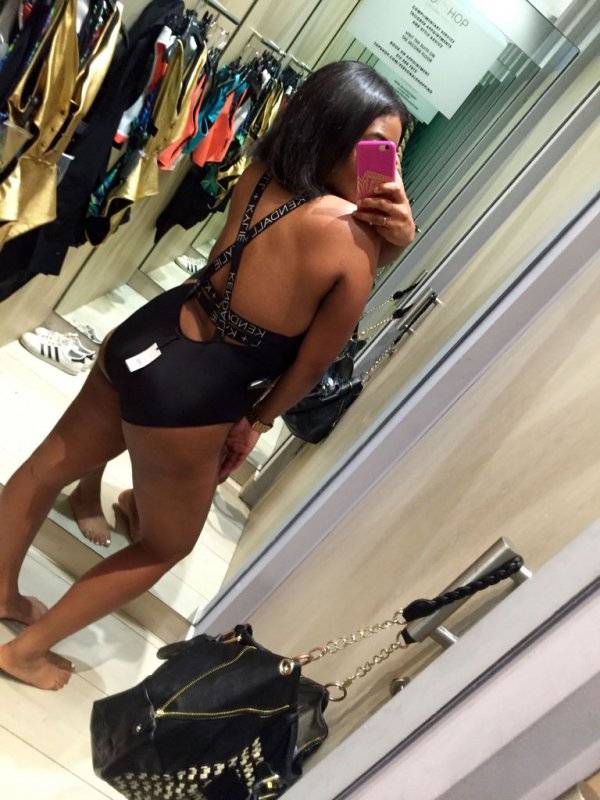 The logo on the straps is a little obnoxious, no? Maya says, "Wasn't that into the branded "Kendall + Kylie" logo on the straps. It's a little aggressive for my taste..."
---
4

White Bikini, Topshop Version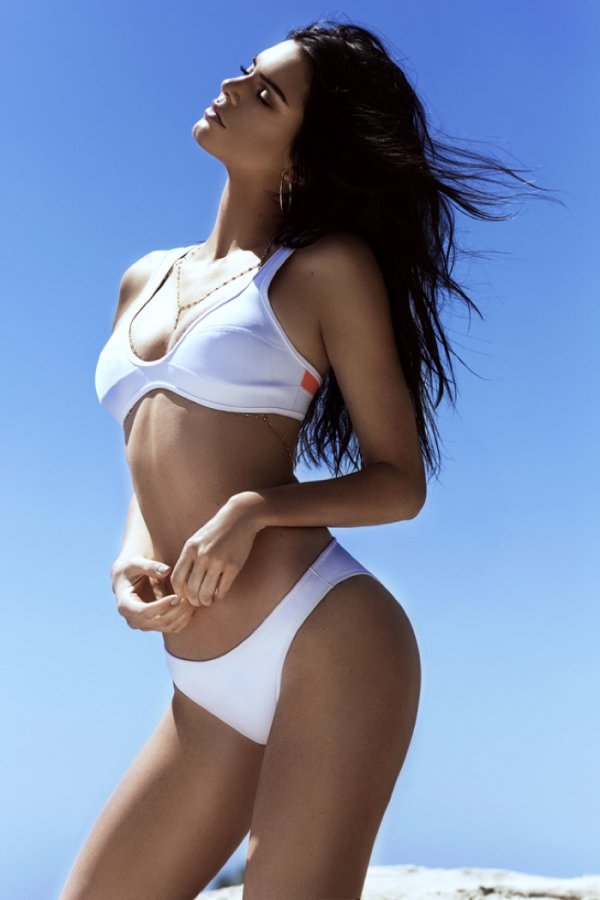 Stunning! I love how the white pops against her tan.
---
5

White Bikini, Maya's View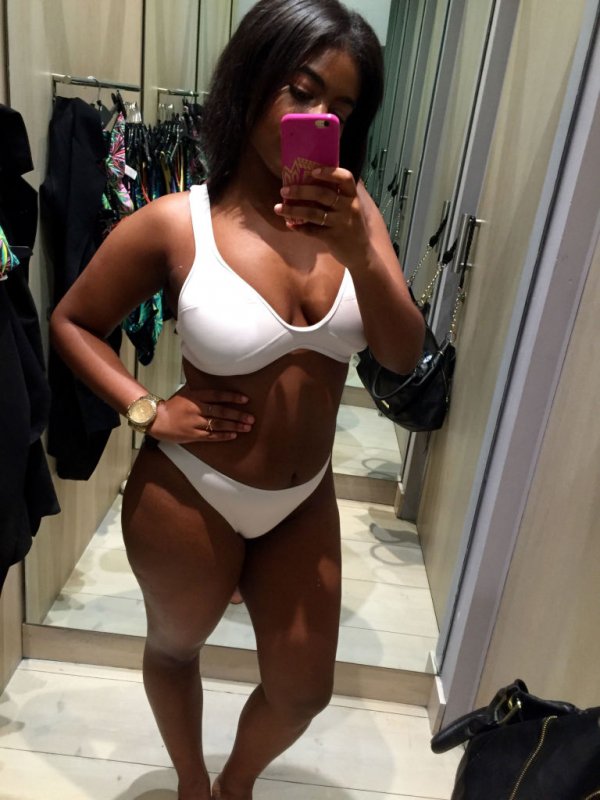 Maya loved this bikini, and she looks amazing in it! Here's what she had to say, "I could see myself pairing this simple bikini with a colorful cover-up and maybe even a beach hat."
---
6

Wetsuit Bikini Top, Topshop Version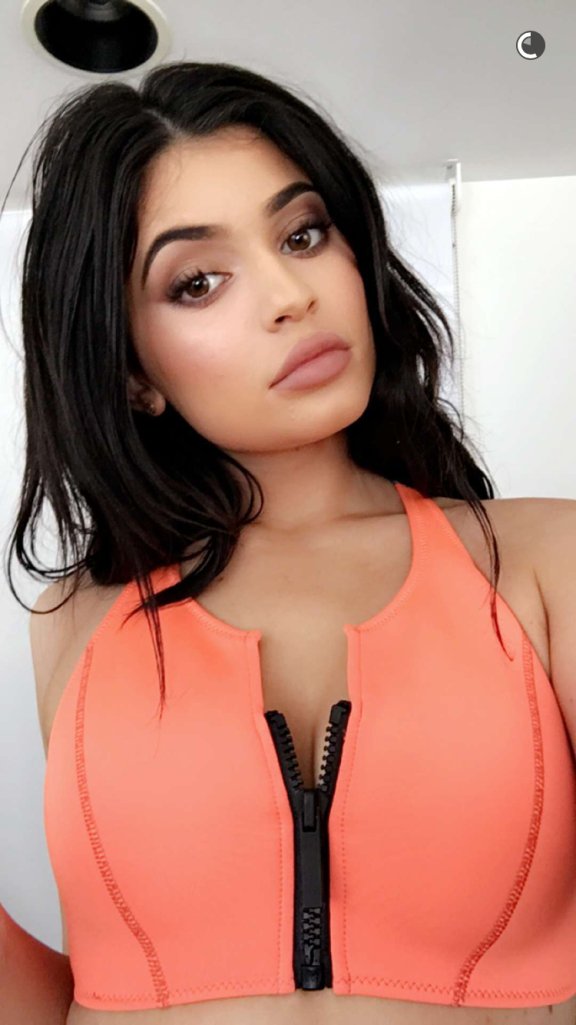 Kylie looks fantastic in this wetsuit-inspired bikini top. But how will it look on a mere mortal?
---
7

Wetsuit Bikini Top, Maya's Version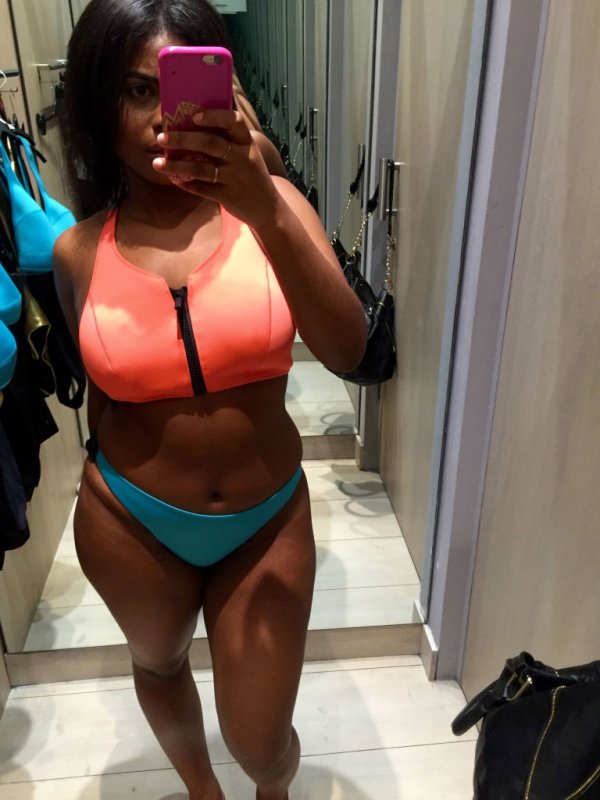 I think this looks stellar on Maya - it's such a good color for her, and that zipper adds just the right amount of detail. It's not her favorite though; she says, "It's not horrible, but I wouldn't buy it."
---
8

Gold Monokini, Topshop Version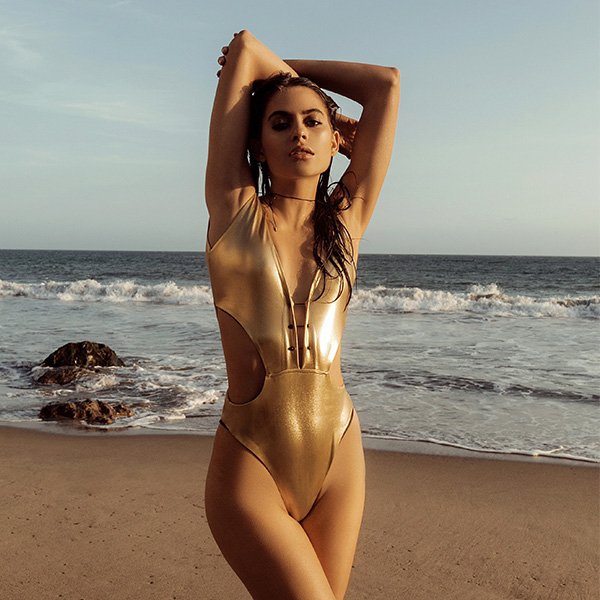 So exotic! Of course the model looks stunning in this one-piece with cutouts...
---
9

Gold Monokini, Maya's Version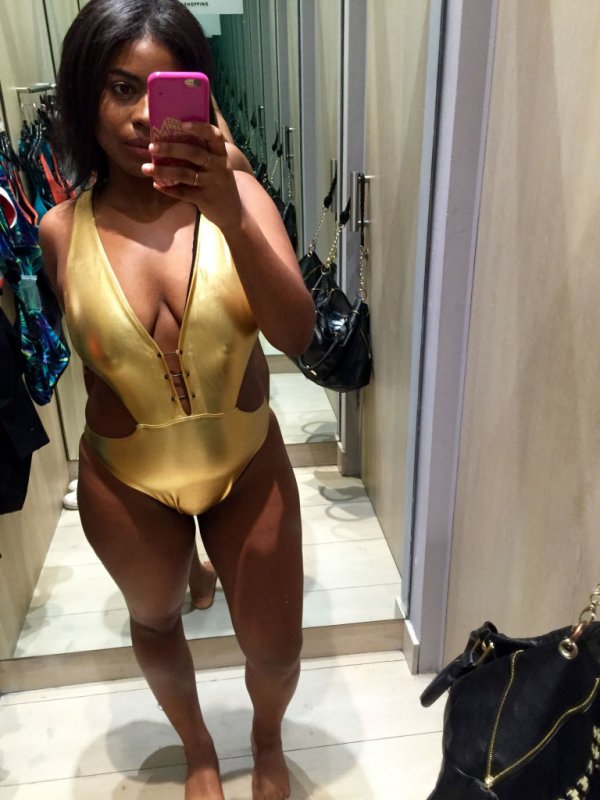 Oh my gosh, I think this might be my favorite on Maya. She's killing it, and she knows it! In her own words, "Gold + a plunging neckline + cutouts = so me. I've never been afraid of a statement piece and this sexy one-piece is just that. The way the gold suit stood out on my dark skin tone made this one of my faves."
---
10

Two Print Suits, Topshop Version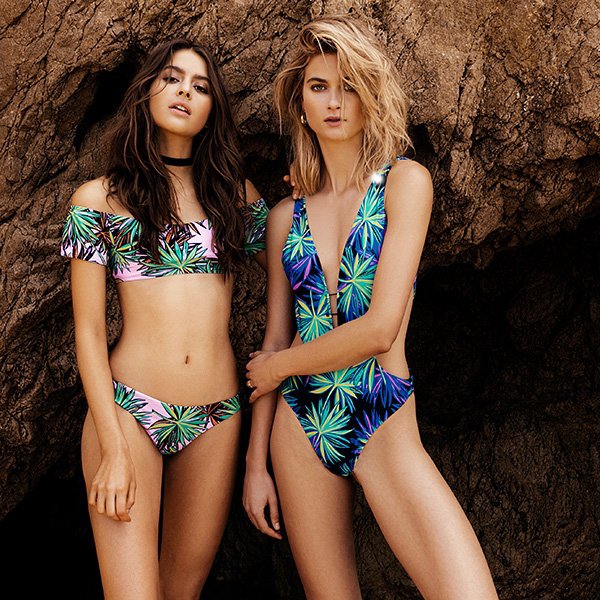 I love the off-the-shoulder "Bardot" top and the prints are lush without being distracting or loud.
---
11

Bardot Print Suit, Maya's Version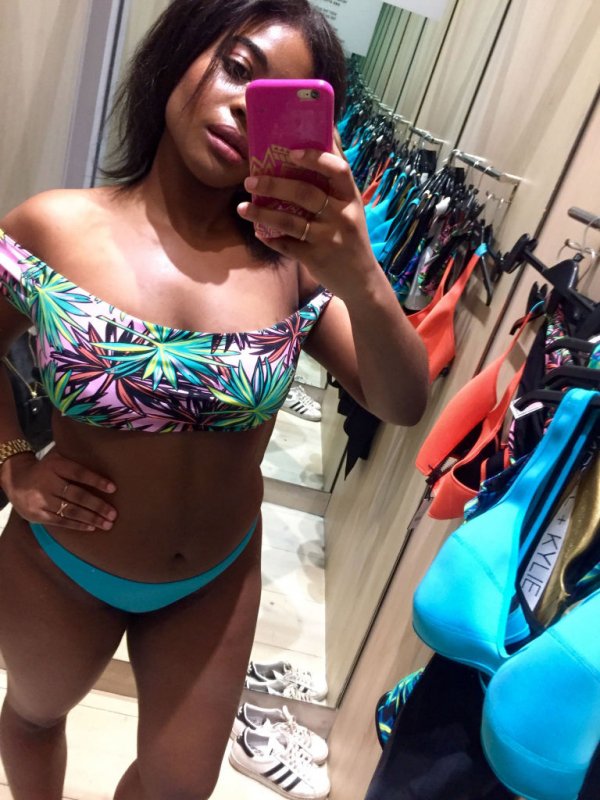 In real life, Maya had an issue with the off-the-shoulder top, though, "How am I going to swim (like the mermaid I truly am) in this?" Good question!
---
12

Print Monokini, Maya's Version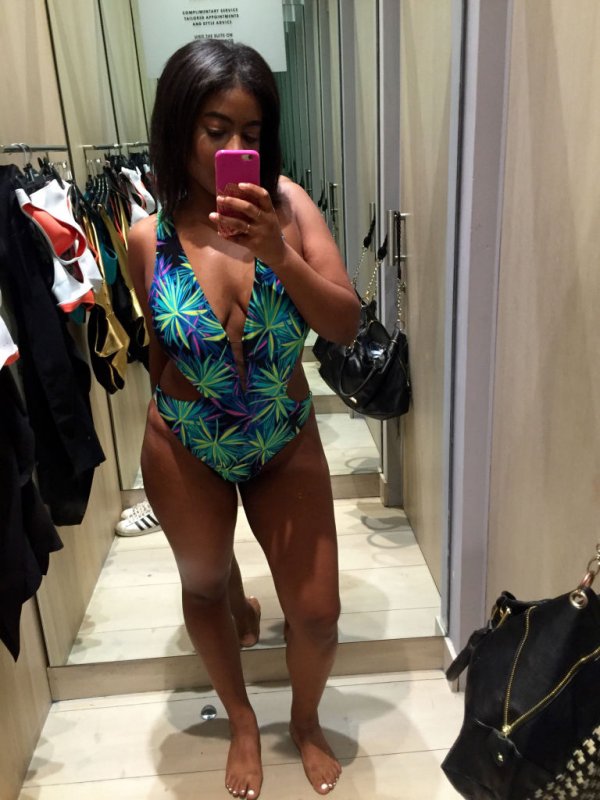 This is so pretty on, but it's not quite Maya's thing, because of the print. She says, "Don't get me wrong, I love palm trees, but not enough to wear a shit-ton of them all over my bathing suit."
---
13

Print Monokini, Maya's Closeup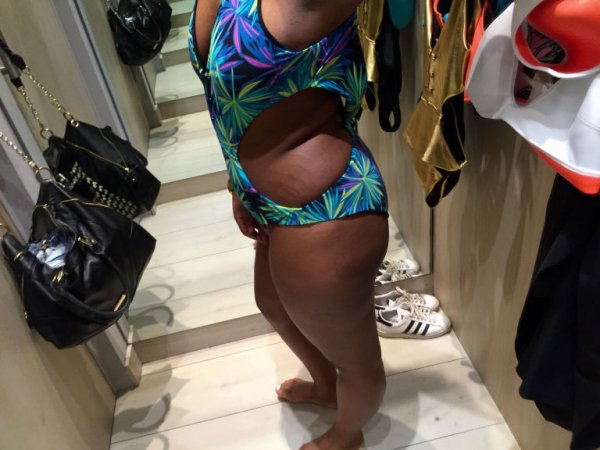 Okay, so this is EXACTLY the reason I'm glad an actual real woman tried this suit on: we ALL have marks like this! Maya says, "Say hello to my (beautiful) stretch marks that are showing in this suit. And shout-out to the other women out there that have them!"
After seeing how fantastic Maya looks in all of these pieces, I'm ready to head out and try them on myself! Which one of these suits do you like best?
---
Comments
Popular
Related
Recent