Move over little black dress because the little white dress is the new wardrobe staple and thus what prompted this article about how to wear a little white dress! It's incredibly versatile, as you can dress it down or glam it up with just a few key accessories, just like you would with a little black dress! Plus, wearing white is always a great way to instantly create a fresh, chic look. Little white dresses are definitely one of spring and summer's hottest fashion trends, so to help you get started, here are 7 tips on how to wear a little white dress.
---
1

Pick the Right LWD

First off, the main tip I can give you for how to wear a little white dress is to make sure you choose the right type of white dress for your body! In general, the darker you are in skin tone, the darker shade of white will best suit you. So for instance, pale skin shades will look best in bright white shades, whereas dark skin will be better suited in off whites or creams. Also, beware of thin white material as it can become see-through, and make sure to wear white or nude underwear!
2

Pop of Color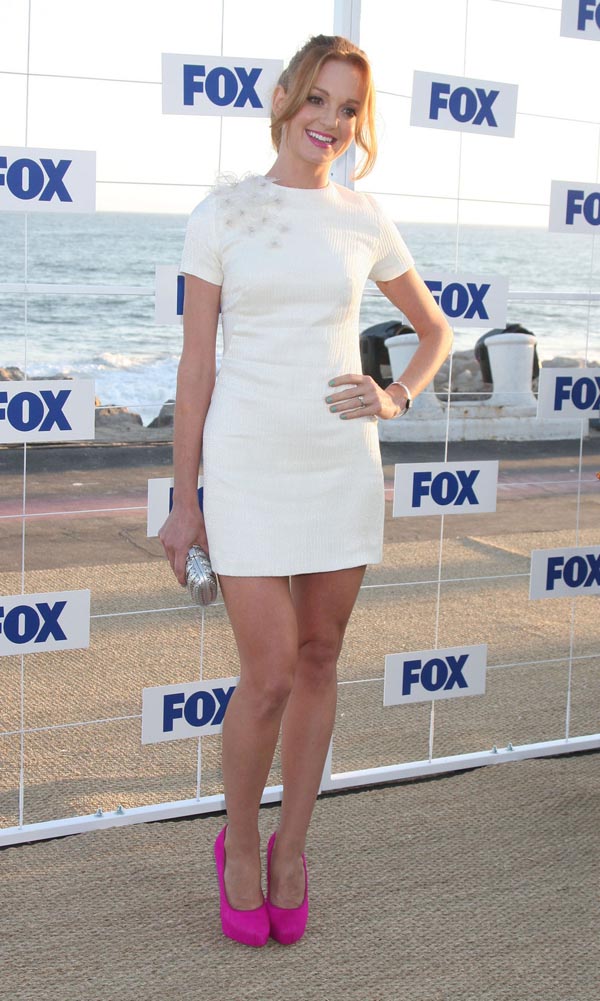 The beauty of wearing white is that you have free rein when it comes to teaming it with color. If you want to make more of a statement, match up your little white dress with some bright colors: reds, blues, or pinks. Pair your white dress with a brightly colored blazer, handbag, or shoes for a fun pop of color that will draw attention! This look is great for nights out on the town when you want to make a fun statement. Make sure to use color sparingly though, because whatever you wear will really stand out with your white dress, so remember, less is more.
---
3

Add Metallics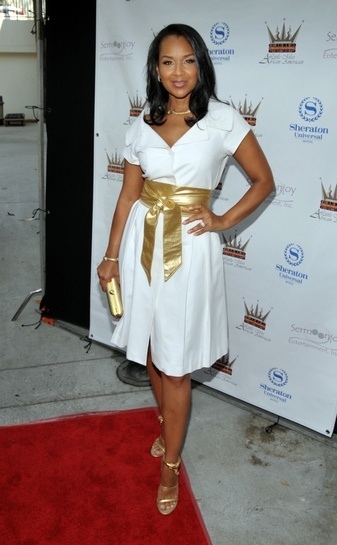 A flirty white party dress will look even prettier when you add some sparkle! Glamorous silver and gold accessories will pop even more against a white canvas. Wear lots of sparkling statement jewelry or glittery pumps to add a bit of pizzazz to your white dress. It's a great look for going out to a club with your girls or a New Year's Eve party. Pair your white dress with some color tinted metallic accessories for a more modern look.
---
4

Belt It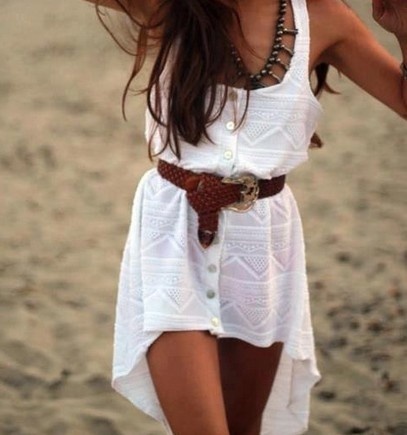 If you want to dress down your little white dress, belt your dress around the waist. For even more of a casual look, pick a neutral brown colored fashion belt. Then, add some matching neutral brown sandals and a large brown beach tote. This is the perfect daytime look that's still elegant! Matching your white dress with neutral colored accessories is a great casual look for a pool party or even going out shopping during the summer.
---
5

Black Tie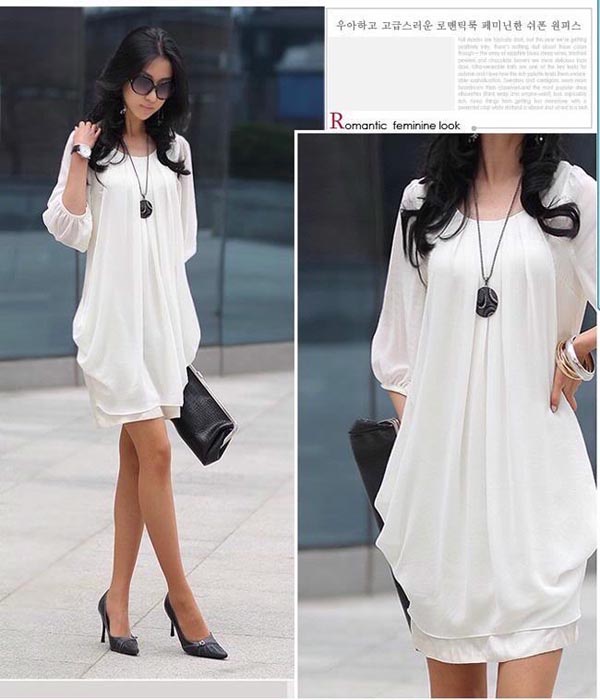 Looking for more of a classy and sophisticated outfit? Then pair up your little white dress with some black. Match your dress with a black belt, black clutch, and some black pumps. Perfect for if you ever have to attend a black and white party and you want to stand out from all the other girls who will most likely be wearing little black dresses. Wearing blacks and whites is also a great way to make the colors of your body pop, such as your eye color, skin color, and hair color! You can even pair your little white dress with a black leather jacket for a "badass" look that's super hot for the bar scene.
---
6

Denim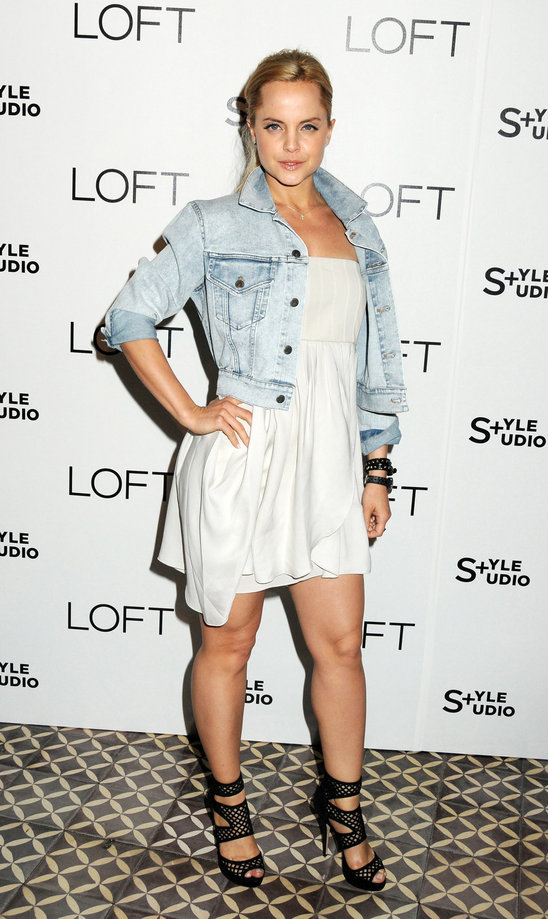 Another great way to dress down your little white dress is to add some denim to it. Pair it with a tied up denim button down shirt or a denim jacket. Then add some brown shoes or a belt and you have a stylish yet laid back outfit to wear around town. It's definitely a great "country girl" look!
---
7

Patterns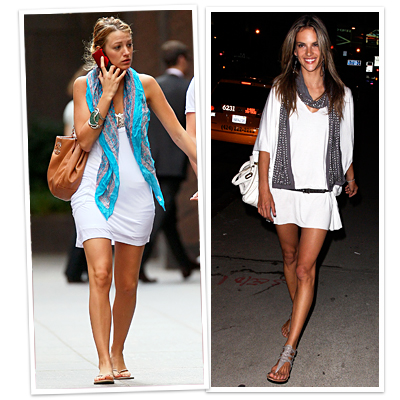 Matching patterns with your little white dress is also a great way to make a statement. Just like colors and metallics, the white will make any pattern you match with it stand out. You can pair your little white dress with a colorful patterned scarf, leggings, or blazer. Make sure not to add more than one patterned accessory to your white dress, as it will look too overpowering.
When it comes to where you should wear your little white dress, remember there are no fashion rules. (Except not to wear it to a wedding, as that's a big taboo!) Also, be sure to be careful while eating or drinking with your dress, as any little stain will show horribly. Besides that, wearing a little white dress will make you look gorgeous for almost any event! Do you like wearing little white dresses over little black ones? If so, what's your favorite way to wear it?
---
Comments
Popular
Related
Recent