Whether you're looking for a new swimsuit or a new dress, this summer, the color to consider first is white. It's showing up all over the runway and in all of my favorite shops, and it's so easy and fun and fresh to wear! Here are 7 essential ways to wear white this spring, one piece from every wardrobe category… see what you think!
1

Deletta Slubby Tulip Dress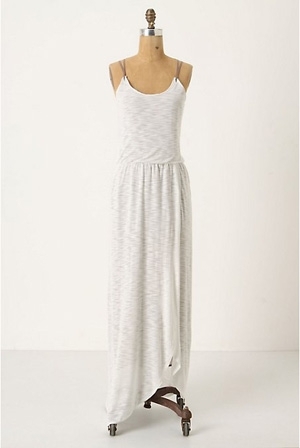 Price: $168.00 at anthropologie.com
One peek at this dress, and you'll envision the endless wearing possibilities, all at once — add a floral-print scarf and wedges, and you're ready for date night. Add a floppy straw sunhat and gladiator sandals, and you're ready for lunch and shopping with the girls. Bring a cropped cardi and skimmer flats and the fireworks at the City Park are a go!
2

Zoa Peppered Poncho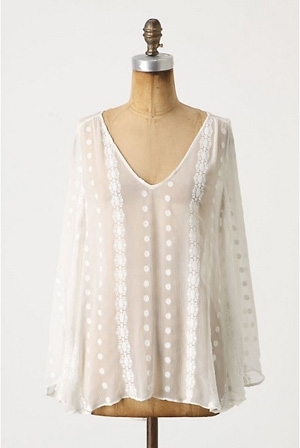 Price: $148.00 at anthropologie.com
This ephemeral poncho is made to be worn all summer long, with a row of embroidered daisies down the front. It's lightweight, made of pure white silk. Wear it with wide-leg trousers in dark blue linen, or with a tiered skirt and wedges. Gorgeous!
3

Odille Cinched Sloop Tank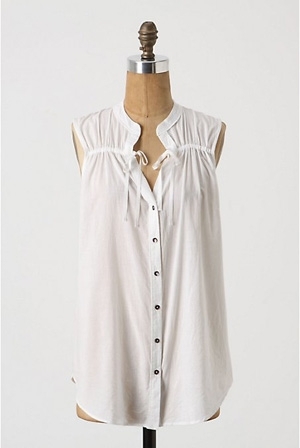 Price: $68.00 at anthropologie.com
This blouse is so simple, but so pretty and feminine! If you only buy one piece of white to wear this summer, it could be this blouse, cinched at the shoulders with a thin ribbon, made of soft 100% cotton. Pair with cuffed linen shorts or with anything yellow…
4

Greylin Lace Tracings Tee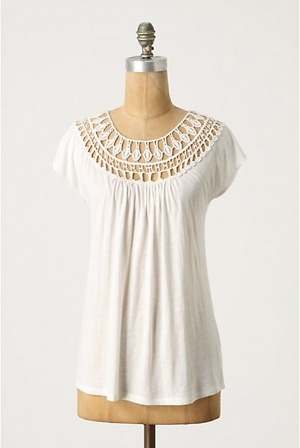 Price: $68.00 at anthropologie.com
I love tees, and this one by Greylin is my new fave. Just look at that gorgeous intricate neckline! I'd pair this with cuffed linen shorts and wedges, or with a maxi skirt and gladiator sandals. Line dry in the sun to keep that bright-white appeal…
5

J Brand Gigi Crops

Price: $158.00 at anthropologie.com
Cropped denim is white-hot this season, and this pair by J Brand is a fab example of how to wear the trend. They feature classic 5-pocket styling and a crop just above the ankle. I love how these look with black thong sandals!
6

Level 99 Compass Points Shorts

Price: $68.00 at anthropologie.com
These shorts are clearly nautical-inspired, with two rows of buttons, one on each side. They're made of a durable machine-washable blend of linen, lyocell, and spandex, and are a natural white, sun-bleached, ready to be worn with anything pale blue or green.
7

Floreat White Trillums Skirt

Price: $98.00 at anthropologie.com
What a pretty skirt! It's flattering, to say the least, with a full skirt and set-on waistband. It zips on the side, and is made of lightweight, breezy white cotton with a cotton lining. What a gorgeous way to wear white this summer! Wouldn't this look pretty with a turquoise or yellow top?

With so many ways to wear white, it's going to be hard to try anything else… but wearing ALL white might make you look like a bride. Not that there's anything wrong with that, right? But try it in moderation, maybe by adding one piece to an outfit, like a stark white skirt with a bright turquoise top. Gorgeous! Which of these white-hot pieces do you like best, and how would you wear it? Do tell!