If you've traded in your minis to go long, you'll want to know how to wear your maxi skirt in fall. While maxis are perfect with gladiator sandals and an oversized white V-neck, they can work just as well with your cozy sweaters and booties. With these 7 tips, you'll be taking your style statement to the max.
---
1

Ditch the Summer Hues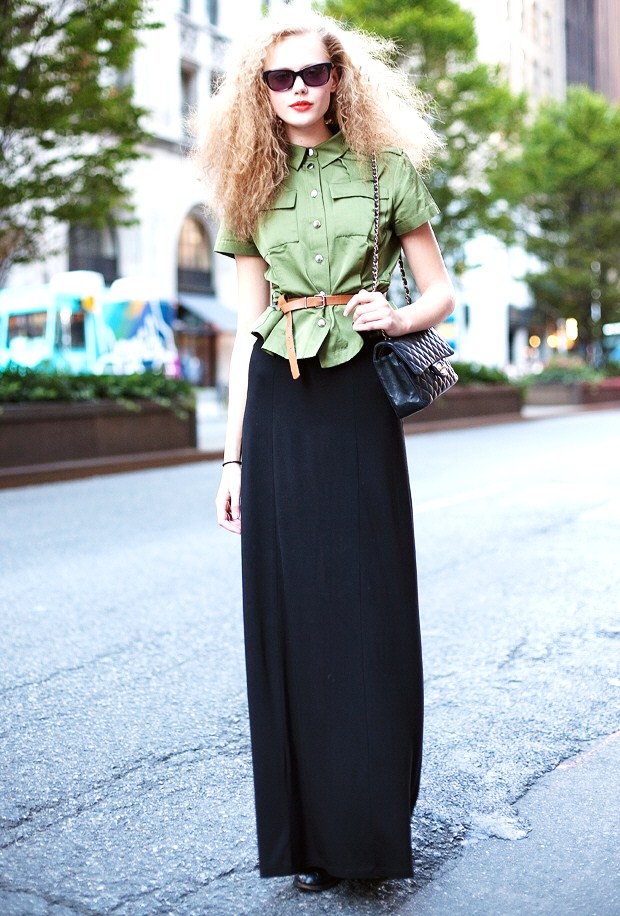 If you've been rocking lights and brights during the warm weather months, it's time to invest in rich fall shades like hunter green, purple, brown, and black. The one exception to the rule is white, which is having a fashion moment. Keep the look office-appropriate with a black turtleneck and flats.
2

Go Chunky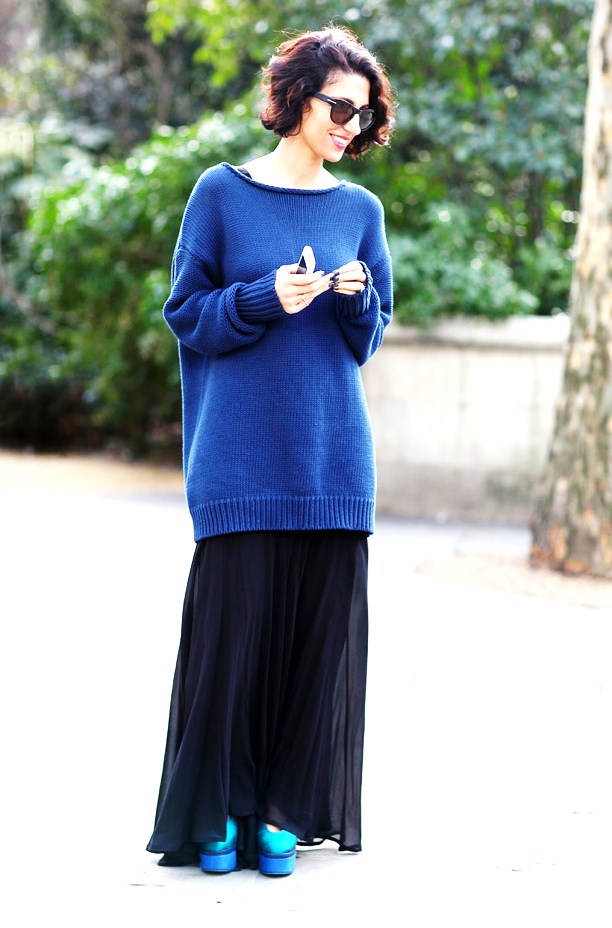 Another way to wear a maxi skirt in fall is to stock up on warm knit sweaters –the thicker, the better! I like to go bold on bottom while keeping my sweater cream-colored. You want to be noticed, not gawked at for looking like a rainbow! Oh, and be sure to always tuck your sweater in to balance out a flowing skirt.
---
3

Put It Together with Pleats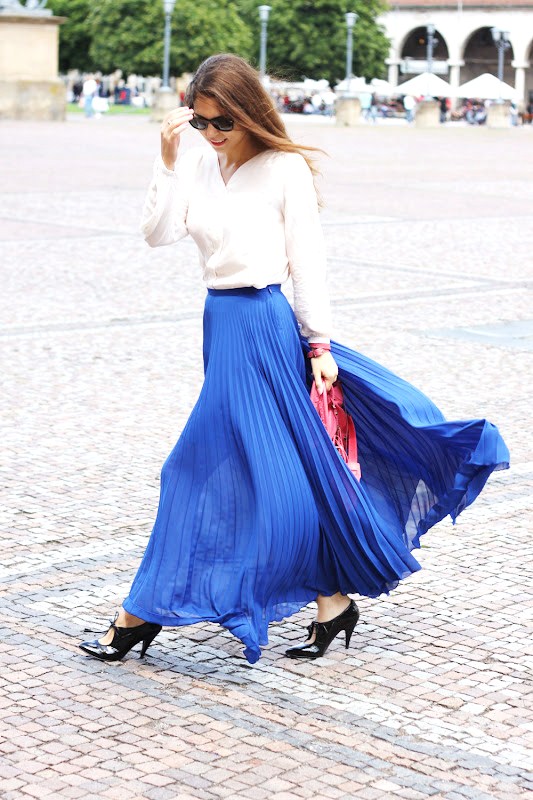 A chic way to wear a maxi skirt in fall is to go pleated. Add a classic button down shirt and you're good to go (to the office, that is!). Pleats look more professional than a flowing, beachy skirt, so you'll be dressed to impress.
---
4

Accessorize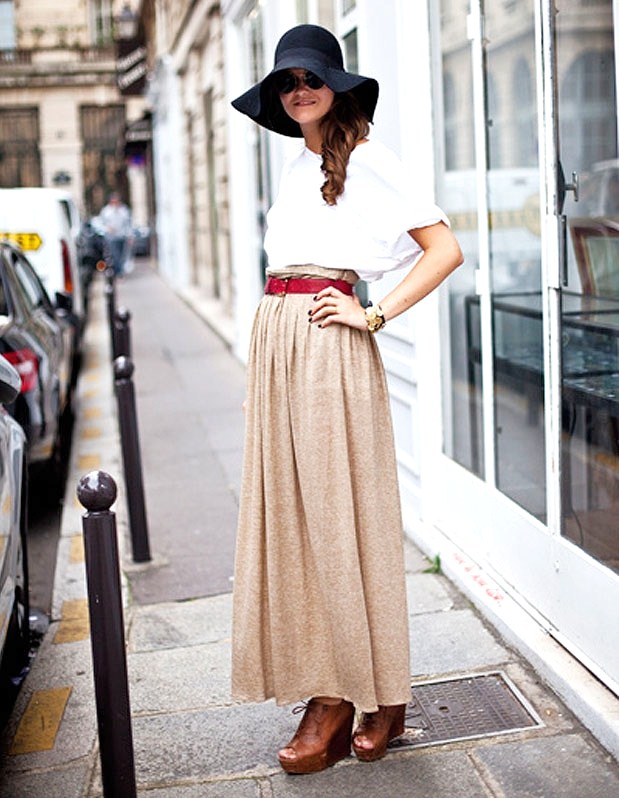 Wool floppy hats are prime for fall. When the temperatures take a dip, top off your look with a hat. While you're at it, a long necklace and leather bracelet will add a bit of edge to your feminine maxi. I love to layer necklaces of different lengths over my plain sweater/maxi combos. It takes my entire ensemble from super casual to lunch date-appropriate.
---
5

Booties Are Best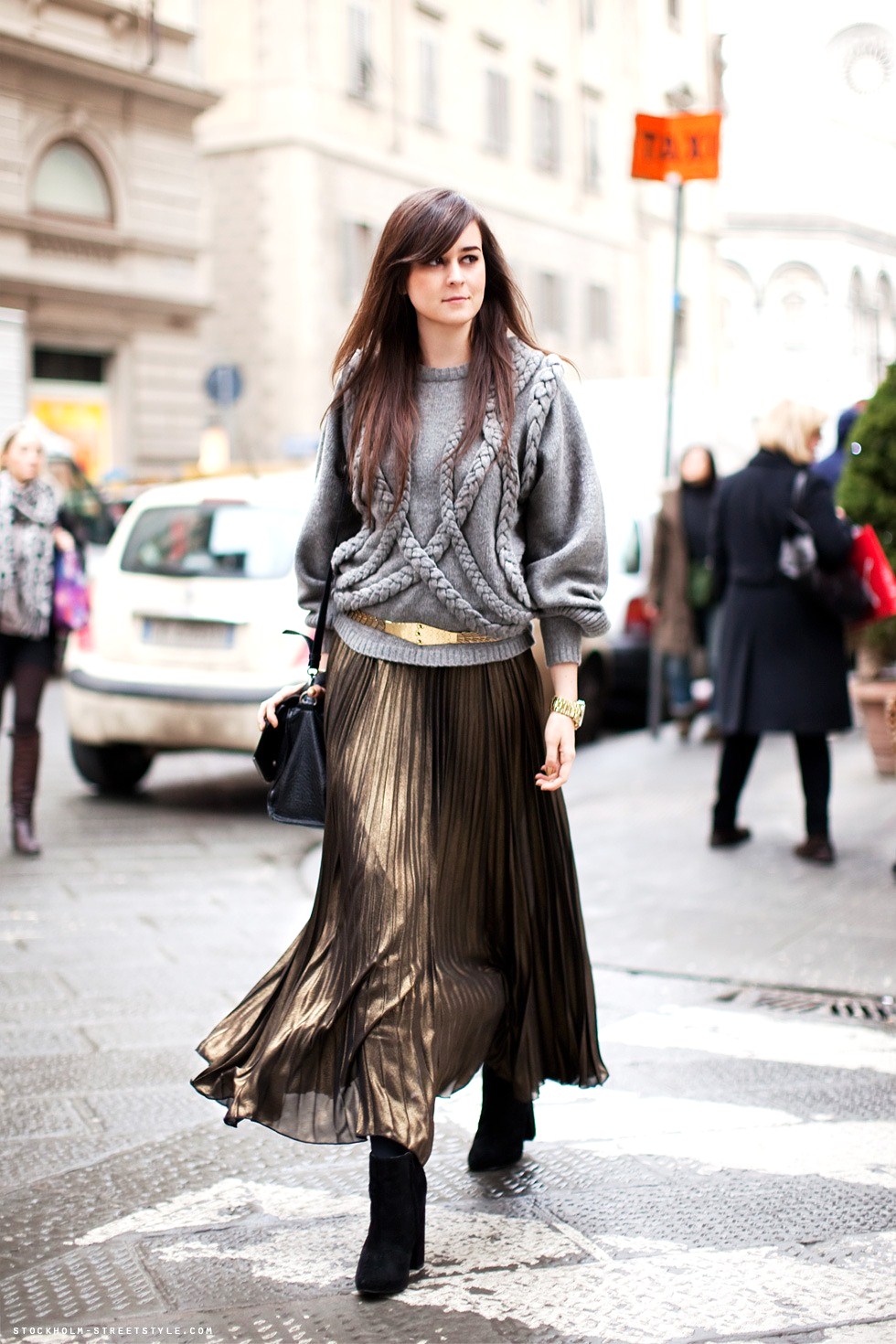 One of my favorite ways to wear a maxi skirt in fall is to pair it with heeled booties, especially when the skirt has side slits. This way, it's easy to show off my shoes as I walk down the city streets. If you prefer flats, riding boots have made a major comeback this season. Plus, they'll keep your calves nice and toasty!
---
6

(Faux) Fur is Fabulous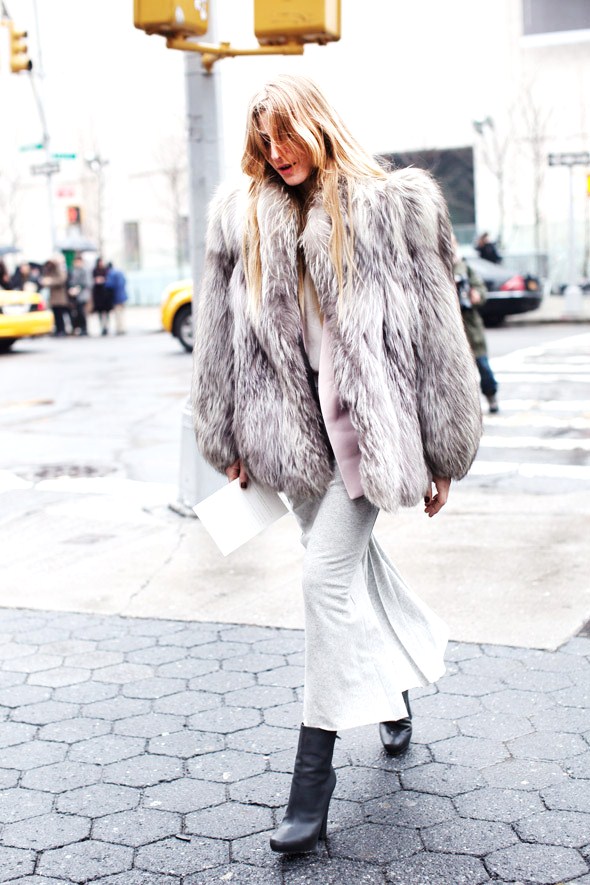 A surefire way to get noticed in your maxi is to luxe up your look with a faux fur coat. It'll keep out the cold and carry the trend all the way into winter. Just don't forget to strike a pose when you're mistaken for a haute celeb.
---
7

Keep Your Makeup at a Minimum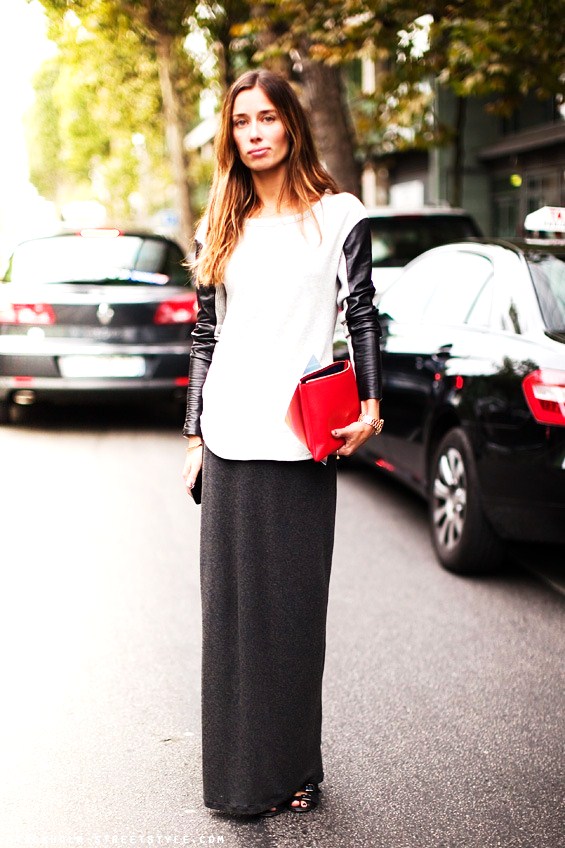 One last way to wear a maxi skirt in fall (and wear it well!) is to keep your makeup natural-looking and fresh. Since you're already rocking your lengthy skirt and accessories, a bold beauty look is going too far. A peachy blush, swipe of mascara, and touch of lip gloss are all you need to look flirty and feminine.
These 7 tips will help you wear your maxi skirts in fall. Which tips will you use? Do you have any of your own to add?
Top Photo Source: gelllz.blogspot.in
---
Comments
Popular
Related
Recent