The old rule that you cannot wear white after Labor Day went out the window a long time ago, which is great because there are some fabulous white fashion finds for the fall. There is something so wonderful about wearing white when the weather starts to get cooler. It reminds you of snow and it adds brightness to an outfit. Also, white looks wonderful on everyone, so why not wear it year round? If you want to incorporate some white into your fall wardrobe, the following white fashion finds from Ruche are perfect for you.
---
1

Empire State Draped Vest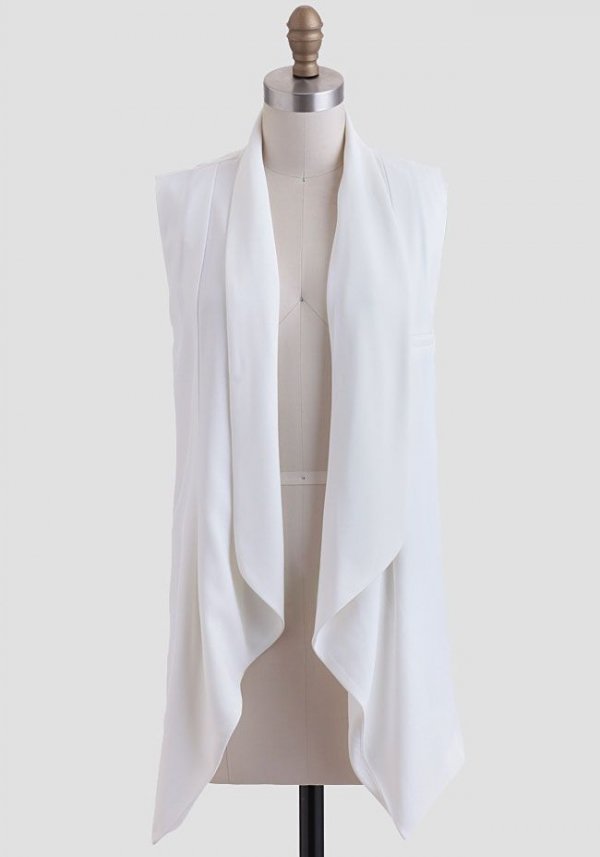 The Empire State Draped Vest would be a great addition to your fall wardrobe. This is one of the best white fashion finds, because it is such a versatile piece. You can wear it with a pencil skirt and blouse for work, or you can wear it with jeans and long sleeve shirt. Whether you wear this vest for the office or for hanging out with your friends, you will look great, and everyone will want to know where you bought your vest.
---
2

Eastcastle Street Embroidered Blouse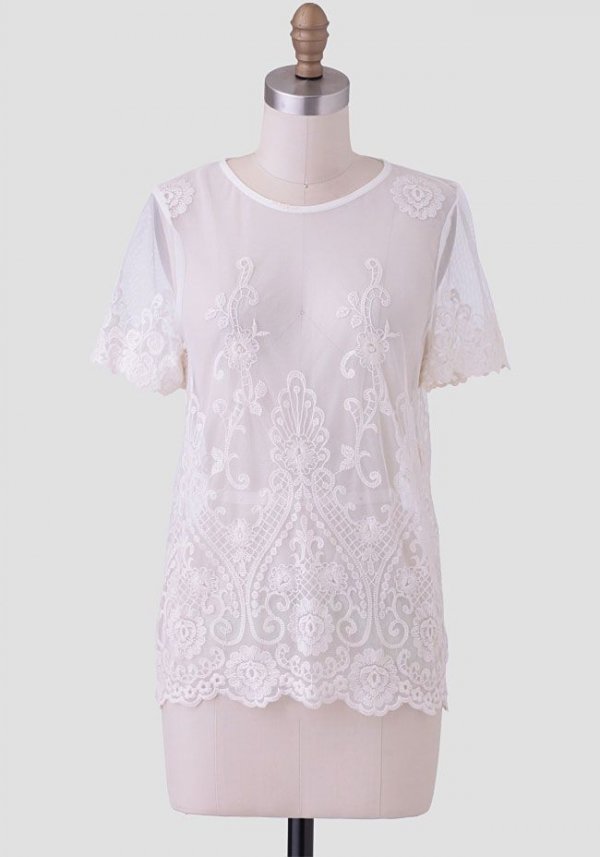 Speaking of fabulous, versatile pieces, don't you just love this lacy white blouse? It is so feminine, but the T-shirt style prevents it from being overly sweet. This white blouse could easily be worn under a jacket for an office appropriate outfit. Yet, with a quick change you could be ready for a night out. Just pair it with black skinny jeans and heels, and you will be ready to go.
3

Tuileries Palace Textured Skirt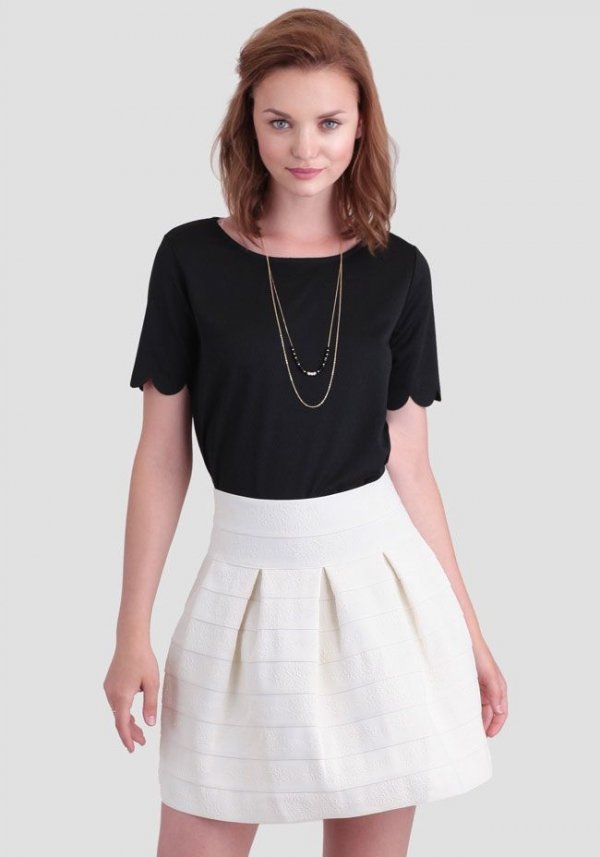 The Tuileries Palace Textured Skirt is a stylish skirt that would be a wonderful addition to your wardrobe. The short cut and full skirt of this piece make it very interesting. Yet, the white color keeps the skirt looking classic. For a great fall outfit, you could pair this skirt with a dark fitted sweater and opaque tights. You will stay warm in the crisp fall air, and you will look gorgeous.
---
4

Johanna Cardigan by BB Dakota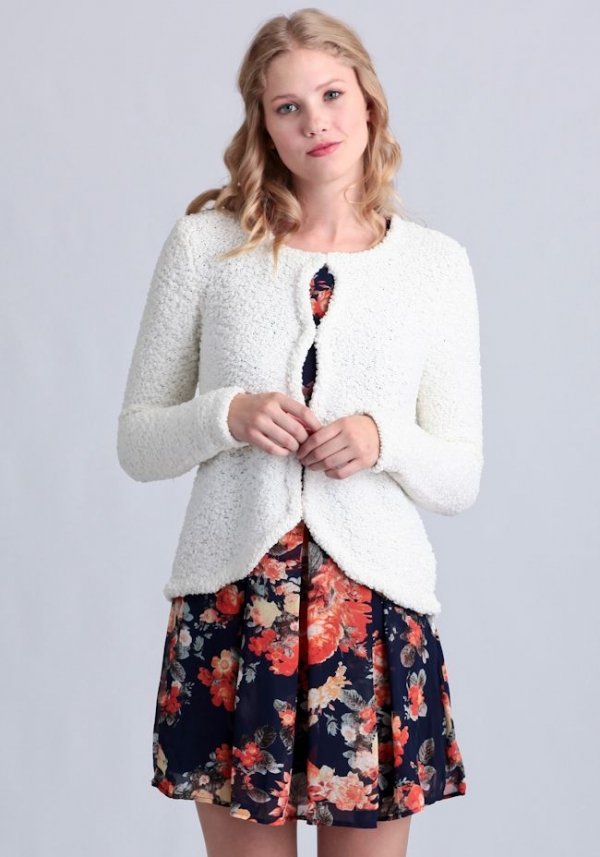 Those of you who like cozy sweaters will love this white sweater. Its soft, nubbly texture is perfect for cuddling up in. Whether you wear this sweater with a dress, skirt, or pants you will be warm. You will also look very stylish since this sweater is designed with interesting elements, like a tulip hem.
---
5

Peace Be Yours Crocheted Jacket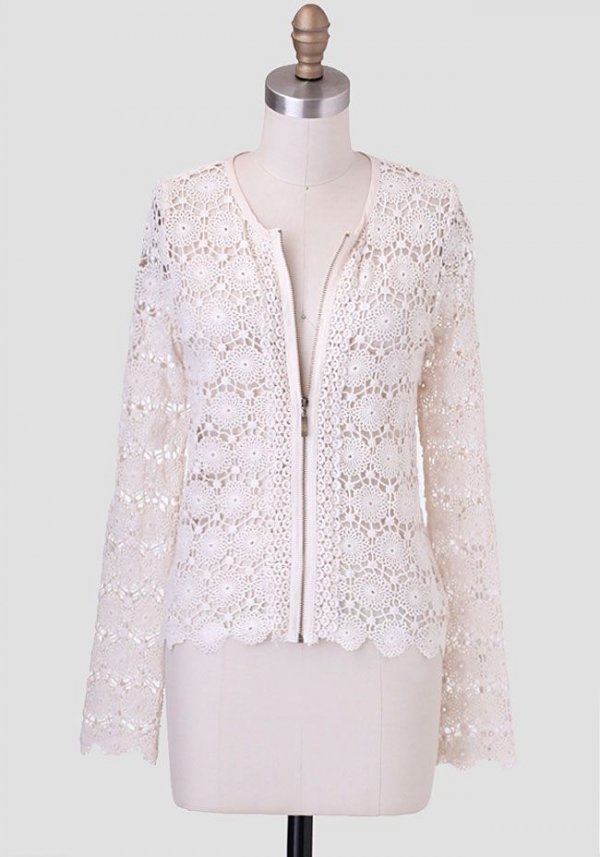 This jacket is the epitome of hippie-chic. The loose weave crochet evokes a hippie, laid back feeling, while the tailored cut keeps the jacket very chic. While you could wear this jacket with many different pieces, it would look great with jeans and simple long sleeve T-shirt.
---
6

Mountain Slope Sweater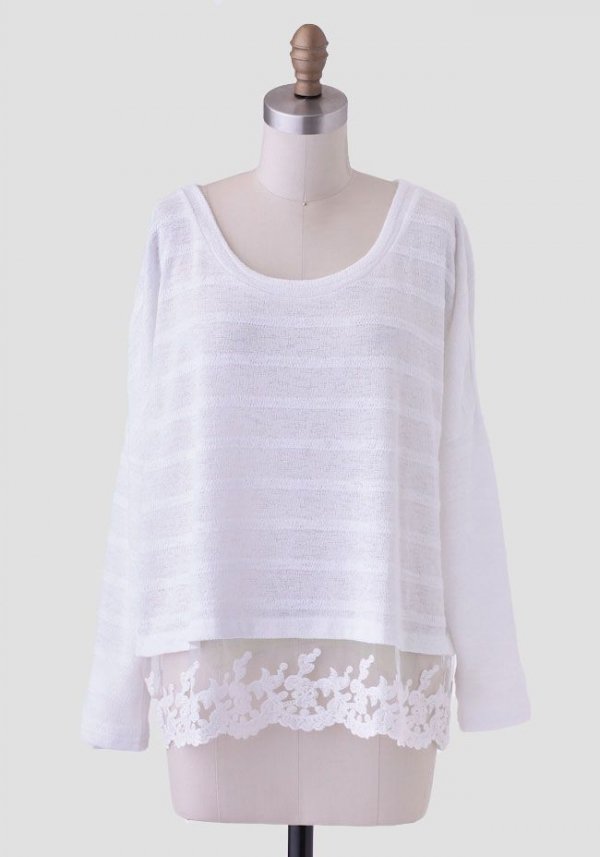 The mountain slope sweater is aptly named because it looks like the perfect laid back sweater to wear after a day spent skiing. Just throw on a great pair of leggings and warm socks, and you will be ready to relax. Of course, this sweater would also be great for a relaxing day at home. You can put it on with your favorite pair of jeans and look fabulous while you are hanging out.
---
7

High Tea Lace Skirt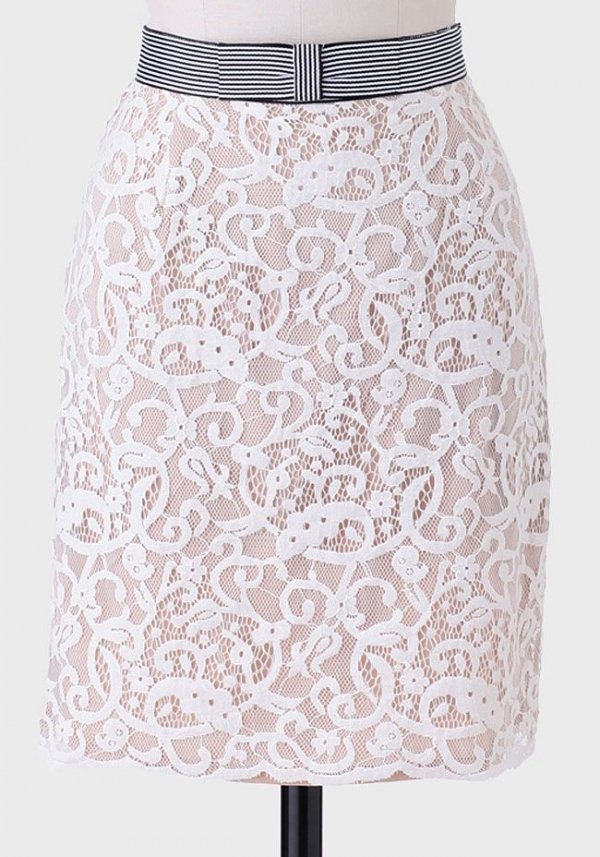 This is such a chic and classy pencil skirt. The white lace adds so much to this pencil skirt, and the white and black stripped belt keeps it from feeling too sweet. You could wear this skirt with a black blouse and black tights to keep the look very classy, or you could pair it with a leather jacket and ankle boots for a modern look.
As you can see, there are plenty of white fashion finds to choose from this fall. All of these are wonderful, and they would all add a great pop of white to any wardrobe. Which of these white pieces is your favorite?
---
Comments
Popular
Related
Recent