Last week I won not one but two giveaways from two different Etsy shops! Sometimes we enter all of these blog giveaways and we wonder if we will ever win, almost like playing the lottery! When I saw my name on two of my favorite blogs: Express-O andA Village TownI couldn't wait to share the news with everyone and give wonderful reviews on the beautiful jewelry I won. From Under a New LightI won a pair of these unique and stunning** feather earrings** in the top photo and in my next post you'll see the pretty bracelet I won from BMJNYC. So head on over to these great Etsy shops and find yourself loving jewelry like these 6 pieces from Under a New Light...
---
6

Turquoise Indian Arrow Earrings...

Price 23.62 @Etsy/shop/UnderaNewLight

Guisela's Etsy shop is filled with** unique designs** made from beautiful Eco-friendlyleather, thread, copper, brass or gold-plated chains and pieces, and natural raw stones. I love the way she puts jewelry together in ways I haven't seen before like these lovely Turquoise Indian Arrow Earringsthat are made of fabric and vintage copper chain. How could I not love them, they are made in my favorite color!
---
5

Macrame Knot Bracelet...

Price: $26.84 @ Etsy/shop/UnderaNewLight

Diamondsaren't the only jewelry pieces that are a girl's best friend, who needs sparkle when you can find** colorful jewelry** like that from Under a New Light. I think I have fallen in love with every** blue piece** she has in her shop like this Macrame Knot Braceletthat is made from hemp thread then covered in pretty blue knotted thread and connected with a gold-plated chain.
4

Natural Amethyst Necklace...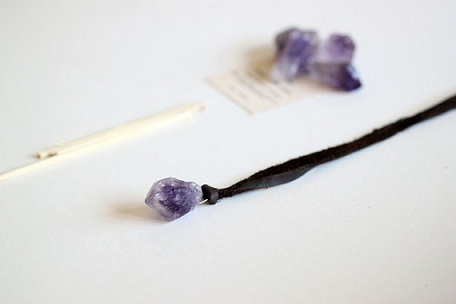 Price: $32.00 @Etsy/shop/UnderaNewLight
Sometimes we're just looking for that statement jewelry piece that isn't too showy or gaudy but still makes a mark when we enter the room. That's why I loveUnder a New Light'snatural,** raw stone necklaces**. They are simple, but gorgeous and will bring a pop of color to a cutelittle black dress. This one is an Amethyst stone, which is said to be calming and meditative, and is the birthstone for February.
Continue Reading...
---
3

Knot Leather Earrings...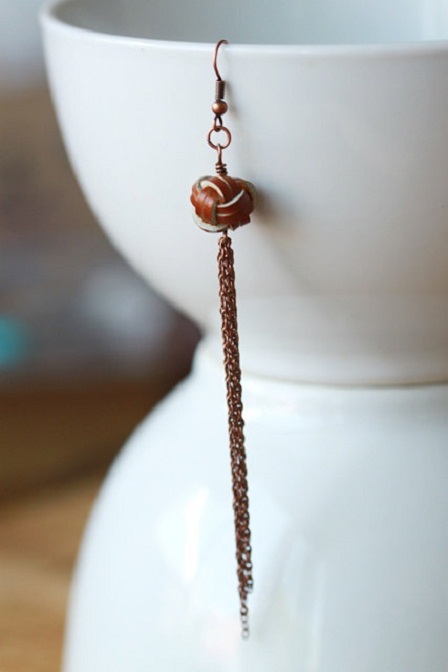 Price: $23.62 @ Etsy/shop/UnderaNewLight
How cool is this recycled leather knot earring with the vintage copper chain; there is just so many lovely** jewelry shops** on Etsyand Under a New Lightis one of them, along with my many other favorites! What outfit would you rock with these earrings; something simpleor something to go out on the town? That little handmade Chinese Button Knot is such a creative jewelry piece and would look great with any fashion trend.
---
2

Knot Tie-Dye Bracelet...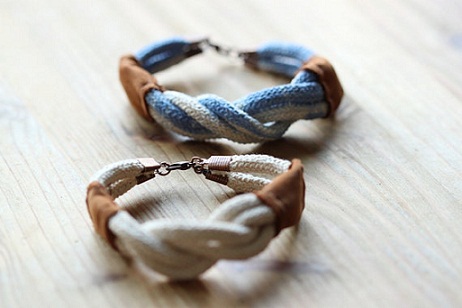 Price: $27.00 @Etsy/shop/UnderaNewLight
I have so many braceletsthat are made from thick, knotted threads; you can find them every where, especially at the beach in the summer. But this is the first time I am seeing these trendy knotted bracelets combined with recycled leather and connected with metal. I love the new take on this trend and think it's a great way to make popular jewelry pieces look unique and original.
---
1

Flying Feather Earrings...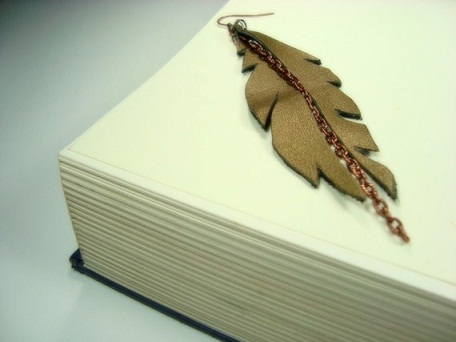 Price: $22.00 @ Etsy/shop/UnderaNewLight
I've been looking for feather earringsfor a while now and just couldn't find the right ones that fit my personality. But when I saw the giveaway of these awesome feather earrings from Under a New Lighton my friend Krystal's A Village Townblog I knew I had to enter. When I found out I won I knew these were the perfect feather earrings that I have been searching for! When they came in the mail my husband thought they were real feathers, that's how beautiful they are! Thank you to** Krystal** for sharing the giveaway and to Guisela at Under a New Lightfor sharing her beautiful jewelry in a giveaway!
What are your favorite jewelry pieces from Etsy?
---
Comments
Popular
Related
Recent