When you think about Coachella, sure, you think about the awesome music that will be gracing the stages in the California desert - but you also think about all the fashion that will be making an appearance. There are always tons of trends to be on the lookout for, and these are just a few of the hottest ones to check out.
---
1

Round Mirrored Sunnies

Why have just regular sunglasses when you can combine two trends into one and get the perfect frame? Rounded sunnies are totally in right now, and paired with mirrored lenses, they are a fresh and fun addition to any festival look!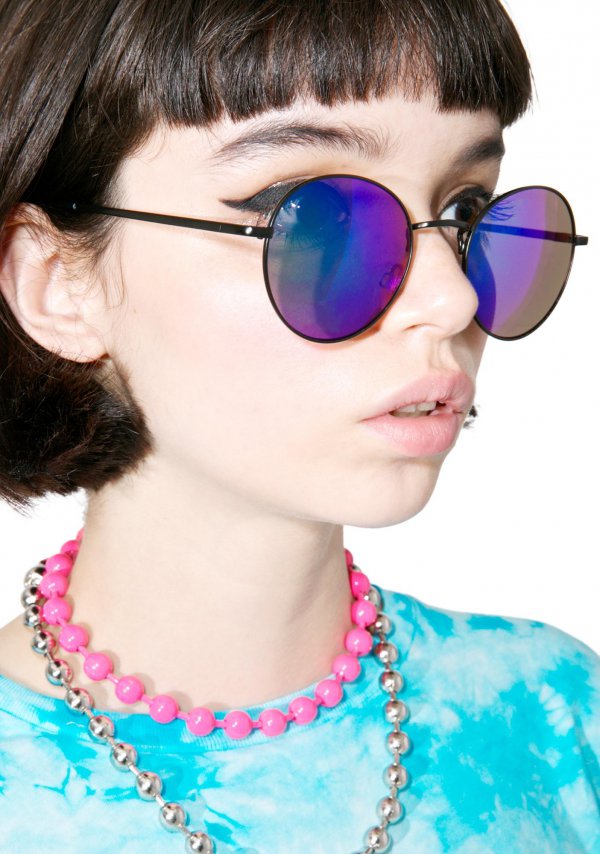 We love these submarine sunglasses. The blue mirroring is encased in black frames for an edgy look.
$15.00 from dollskill.com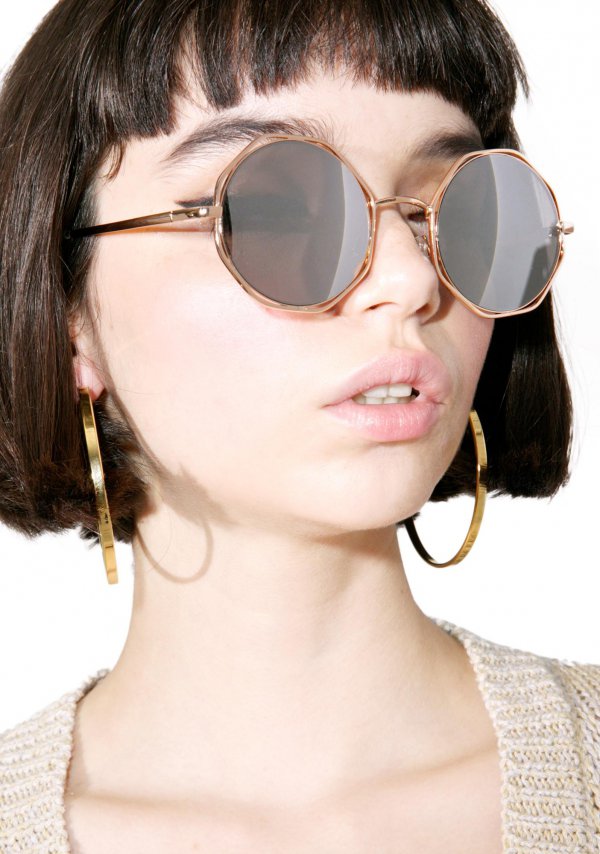 We also love this pair for their more geometric take on the rounded lens. Gold is a great color for sunnies! And these are at a price that you can't beat for such a statement.
$15.00 from dollskill.com
---
2

Cool Graphic Tees

We love graphic tees for really any occasion this year, but why not make a statement while you're rocking out to some music? There are so many options out there that there is something for everyone!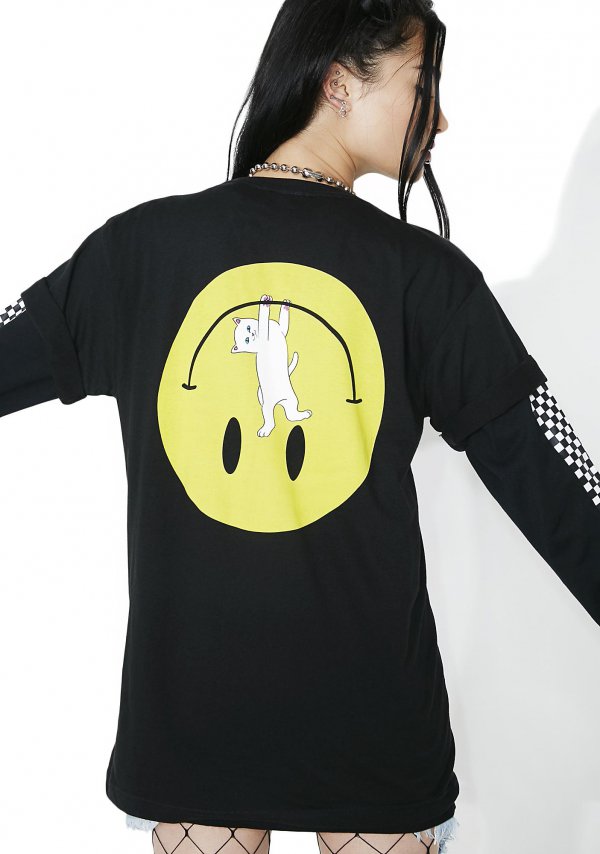 We absolutely love this t-shirt because the front is very understated with a small graphic, but the back makes quite a statement! You can't go wrong with smiley faces. You really can't.
$32.00 from dollskill.com

A good graphic tee catches the eye, so this one is a perfect pick if you want people to feel a little hypnotized by looking your way. We love how clever and cute this is!
$50.00 from dollskill.com
---
3

Sexy Denim Shorts

Denim is a trend that is always in style. You can't go wrong with a pair of shorts that fits just right - you'll be wearing them to concerts and for every occasion after that!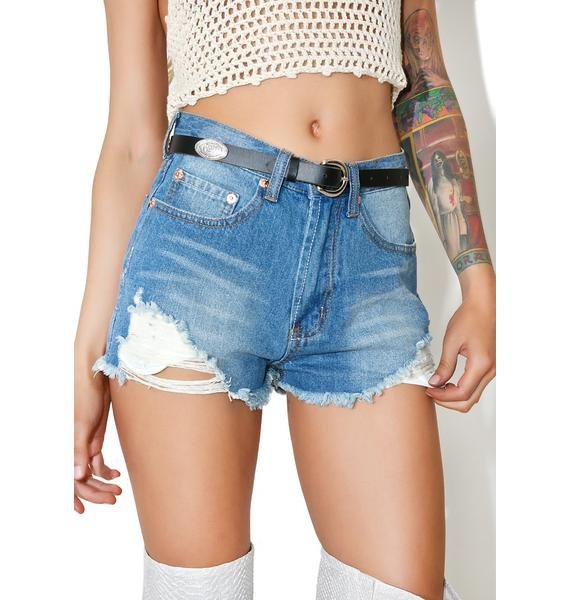 The perfect pair of distressed denim high waisted shorts are a staple in any wardrobe, and these honestly seem to be your answer if you've been looking.
$38.00 from dollskill.com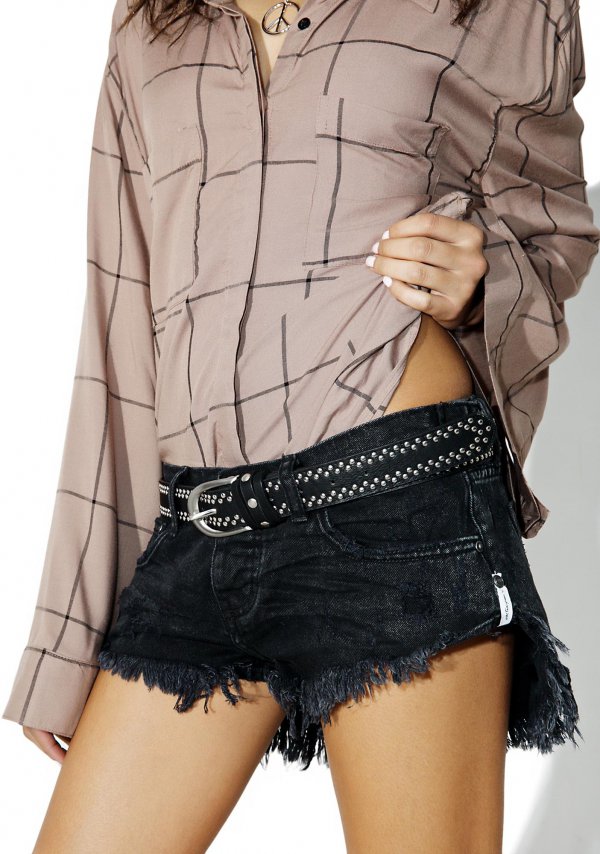 One Teaspoon is known for denim. These are so cute and sexy! We love the high low look.
$110.00 from dollskill.com
---
4

Rugged Denim Jackets

More denim! We told you it's a trend that goes from everyday wear to festivals!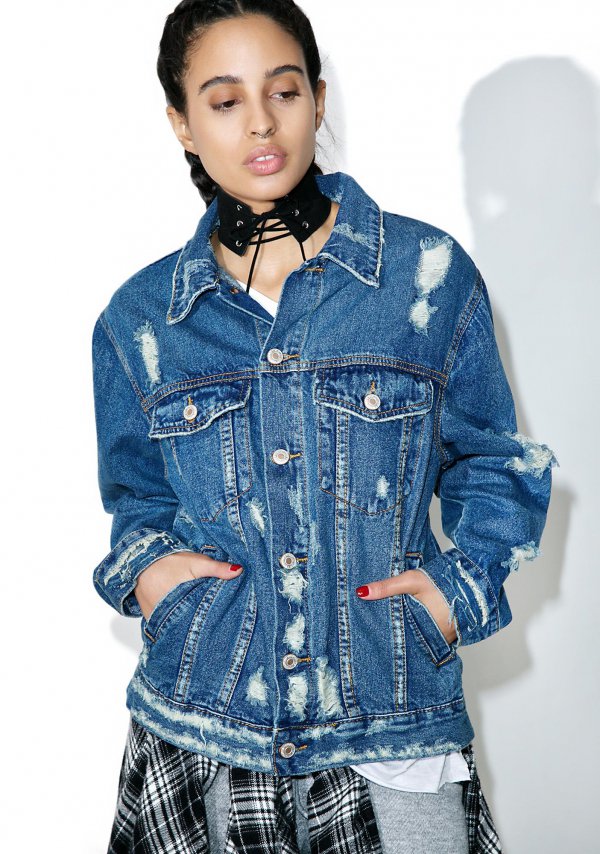 We honestly think you can't go wrong with this one here. It's a great classic shade of denim with the right amount of distressing to go with virtually any look.
$60.00 from dollskill.com
---
5

Embroidered Sneakers

Embroidery is literally everywhere right now - from details on tees to backpacks, you can find it on just about anything. Why? Because it's super cute, duh!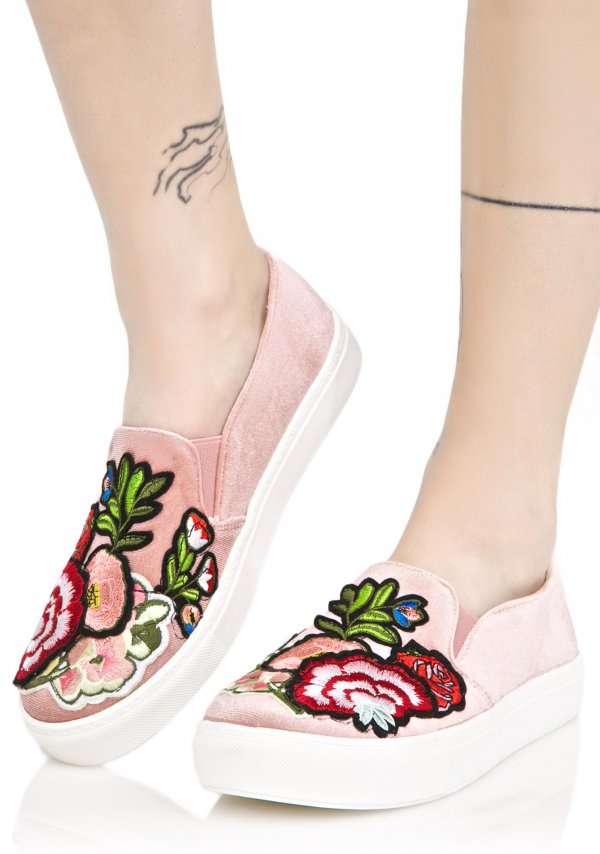 This pair of slip ons gives you a unique embroidered look with the patches on top. We love the pink color (also very trendy) with the eye-catching details. Plus, they're super easy to throw on for a statement!
$70.00 from dollskill.com
---
6

Crop Tops

Would this really be a post about Coachella if we didn't include something about crop tops??? This one is pretty self-explanatory. Crop tops are a festival essential.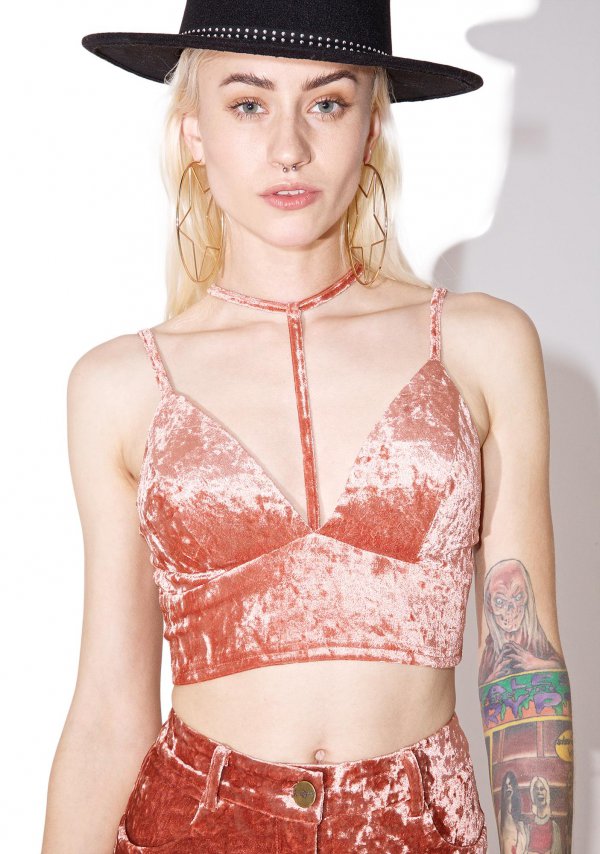 Why not combine the velvet and choker trends with your crop top?? The color of this piece is to die for, and the velvet feels oh-so-lux. We love the idea of pairing this with distressed denim to play on the idea of soft grunge, but it'll look good with just about anything!!
$40.00 from dollskill.com
---
7

Charming Chokers

We haven't seen the choker trend die yet, but hey - we aren't complaining. Chokers are a great accessory that accentuates pretty necklines and collarbones, and there are so many choices that can compliment any look!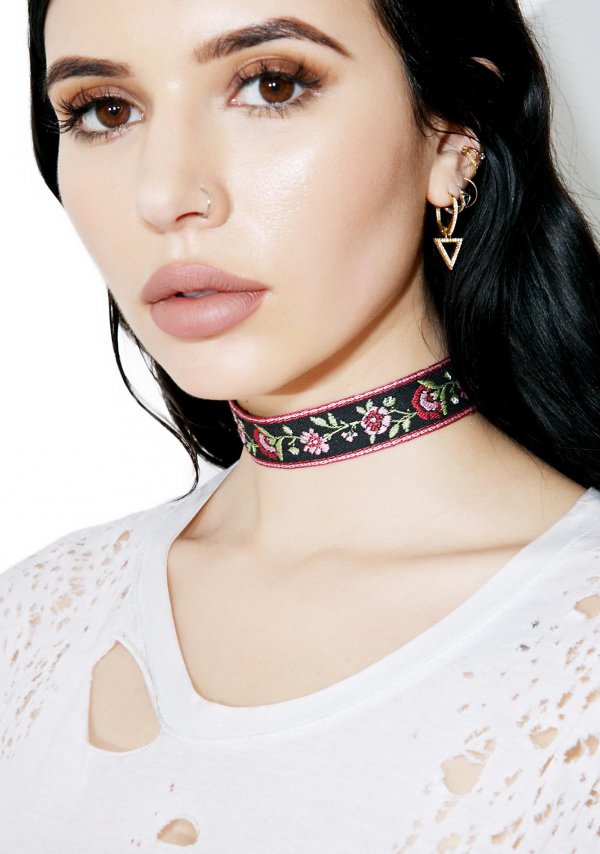 We love the detail on this rose choker that can be styled edgy or more girly. It can really compliment any look and its a great width for you to be noticed (but not too crazy that it'll hurt your neck!).
$25.00 from dollskill.com
---
8

Hats, Hats, Hats!

Hats are not only a great fashion accessory, but they can also keep your face and neck protected from the sun. It's a win win! We love baseball caps and other fashion hats equally- both give off different vibes for what you might be going for.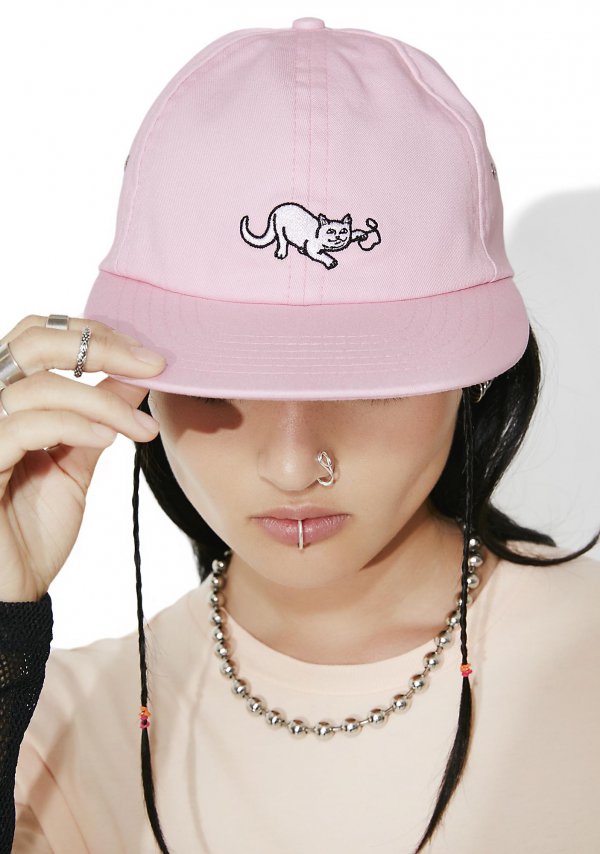 It's a cat hat! We love it. Honestly, any baseball cap with some sort of text and embroidery is a win, we just chose this one because we love the color and little cat on it.
$36.00 from dollskill.com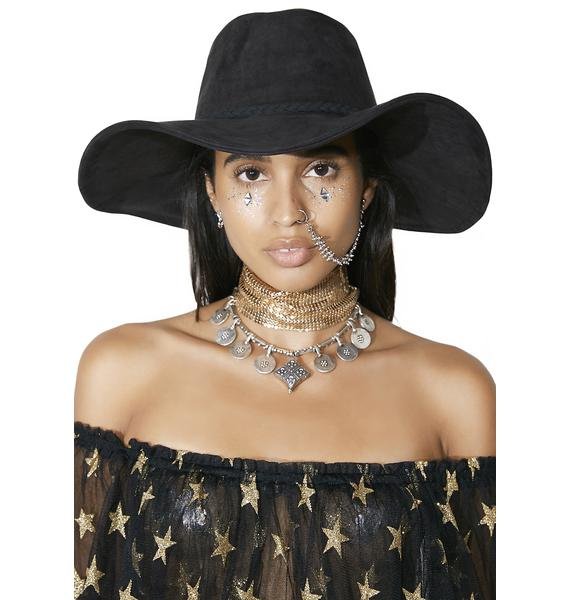 As far as other hats go, a wide brim hat will make a fashion statement while really protecting you from the elements. You can't go wrong with classic black.
$20.00 from dollskill.com
---
9

Bodysuits

Bodysuits are a great piece to own because they can be styled so many ways. If you're feeling bold, you could wear it alone, or pair it with some denim or a skirt. What's great is that you don't have to deal with tucking in your shirt all day.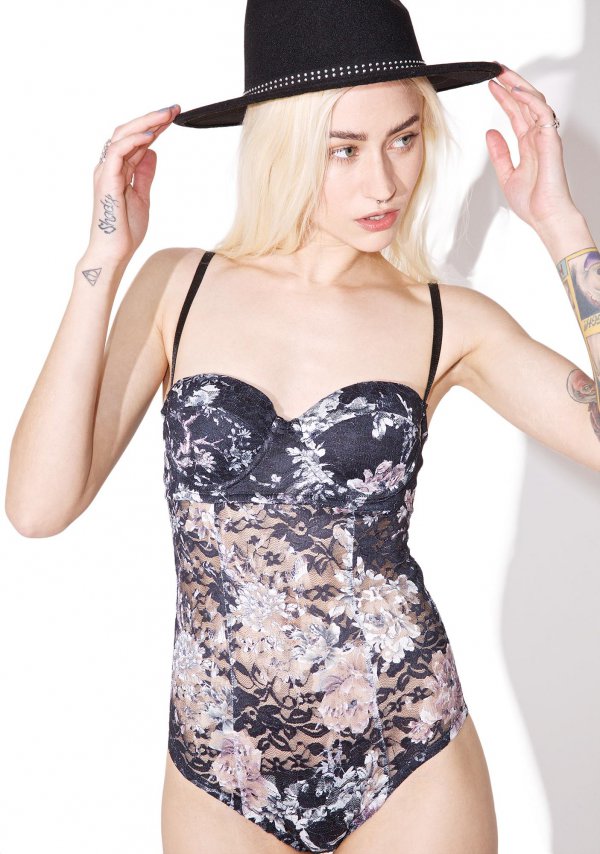 This bodysuit really plays on the trend of lingerie as clothing. We've seen tons of celebs wearing this style out and about, so why not try it for yourself?
$38.00 from dollskill.com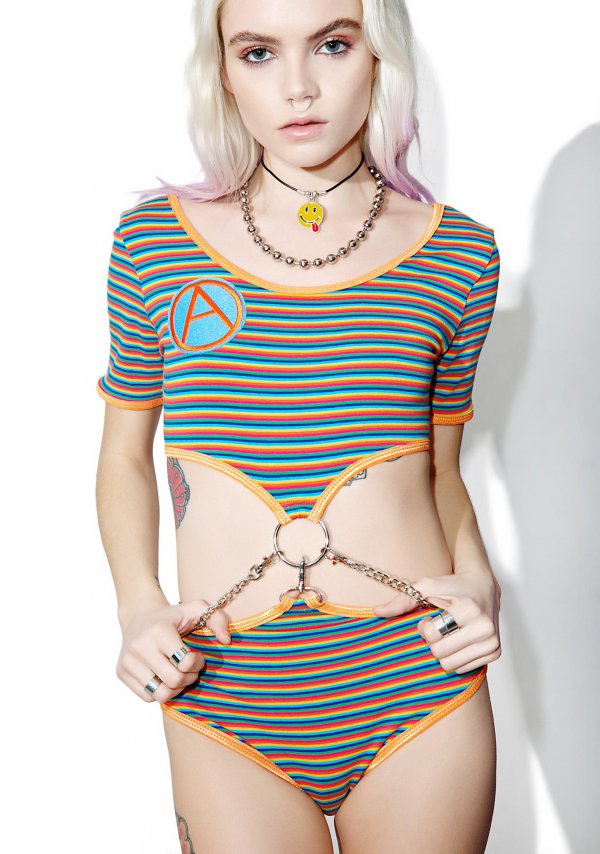 If you're not as into the lingerie trend, you can always try a bodysuit that's more of a casual cut. This one looks like a retro t-shirt with a twist.
$85.00 from dollskill.com
---
10

Platform Sneakers

Platform sneakers certainly make a statement, plus they are a great way to add height so you can see over the massive crowds at the festival! There are lots of cute styles you can choose from.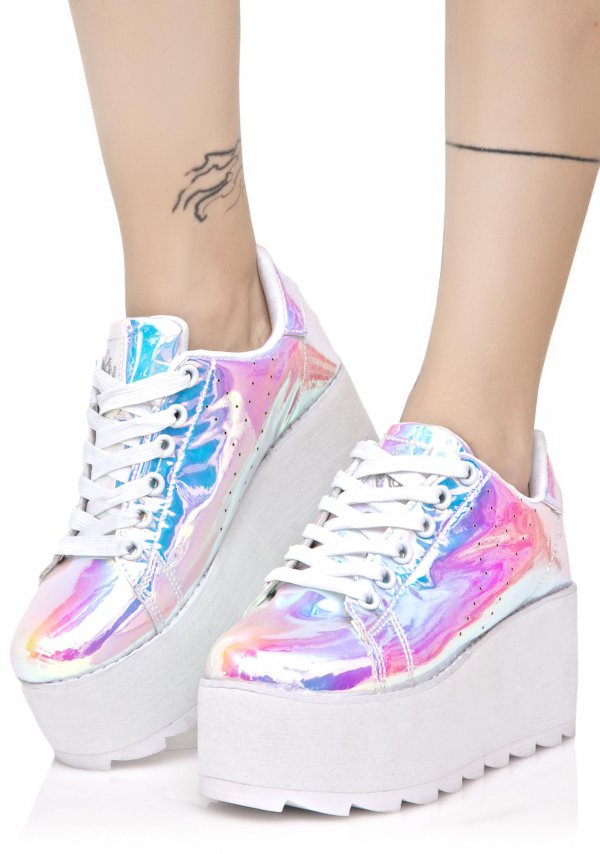 These holographic platforms give most other shoes a run for their money. You most definitely will catch eyes wearing this shoe, and they'll bring the party to any look you're wearing. They feature a 3" heel with 2" platforms, so despite how they look, they really aren't too hard to walk in.
$140.00 from dollskill.com
---
11

Hot Backpacks

Backpacks are a fashion essential at festivals - maybe even more of an essential than anything on this list, because you'll be using it not just as an accessory but also to actually carry around your stuff! Make a statement and pick a fun backpack. No plain janes for Coachella!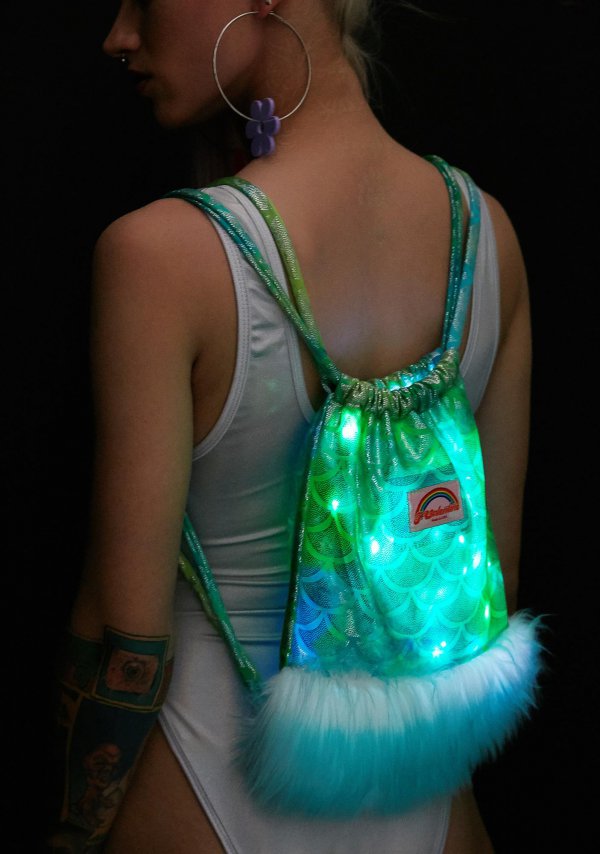 This backpack is perfect because it is lightweight, and awesome because it LIGHTS UP! How cool will you look when the sun starts to set?? It's super fun and sparkly, too. $55.00 from dollskill.com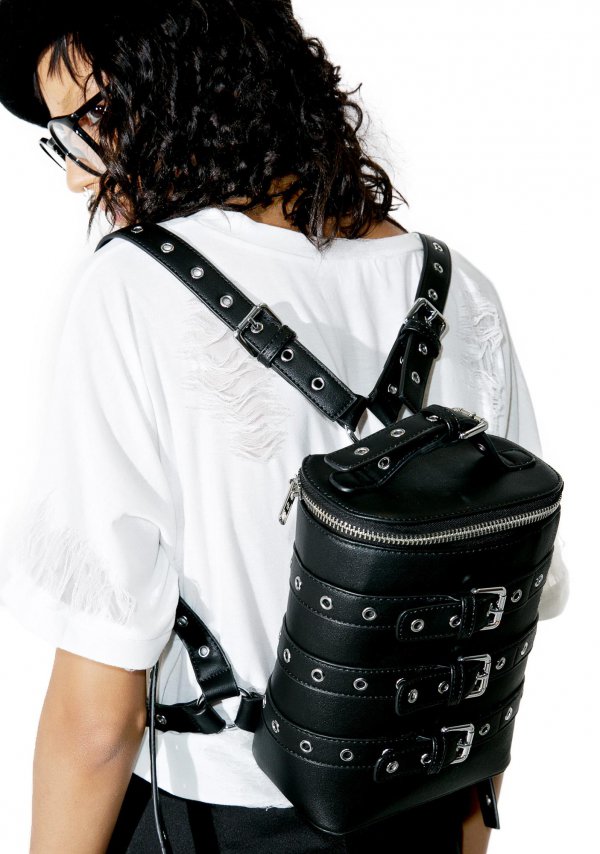 If black is more your style (which we totally understand) then don't opt for plain - make it edgy like this one with cool buckles or other details.
$38.00 from dollskill.com
---
12

Everything Unicorn!!!

Being shiny, glittery, and pastel is the trend right now and there are so many ways to incorporate it! From your makeup to the colors you wear, you can embrace the trend.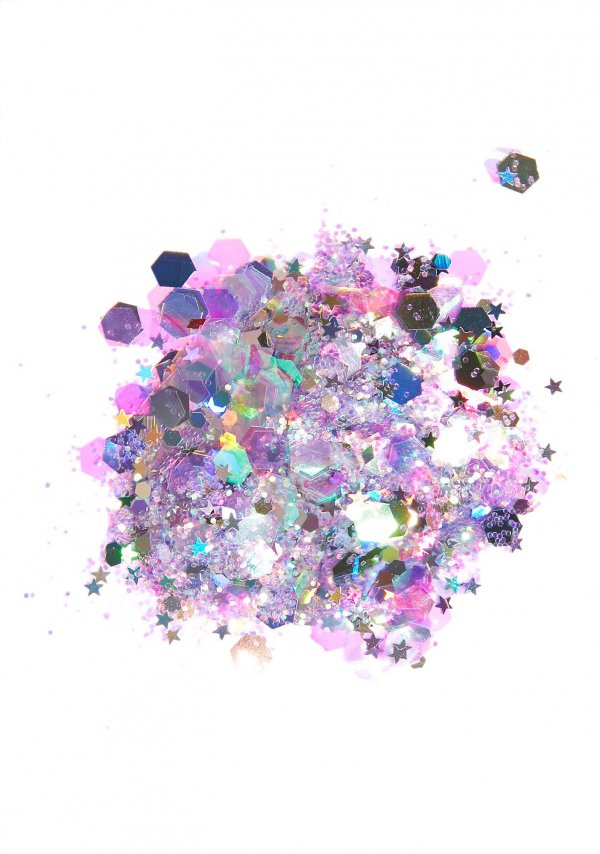 What better way to jump in then by using glitter??? Adorn your face with this gorgeous glitter.
$10.00 from dollskill.com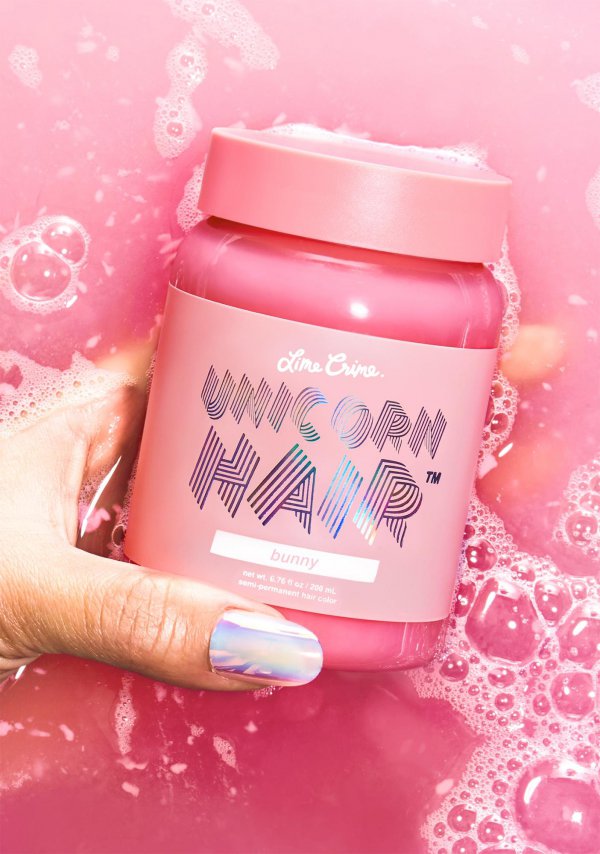 Another way we love to see the unicorn trend embraced is with hairstyles - so take the plunge and dye yours (it doesn't have to be permanent). There's a ton of colors available of this semi-permanent dye.
$18.00 from dollskill.com
More
Comments
Popular
Recent