When it gets colder, the best comfy pajamas become a wardrobe staple as we lounge around our houses trying to beat the cold. A cute pair of pajamas is better than your old worn in sweatpants and sweatshirt combo because it is just as comfy, but is 100 times cuter. Why not add style to your lazy weekends curled up on the couch? With these adorable comfy pajamas, you will look fabulous on even your laziest of days.
---
1

Pink Polka Dots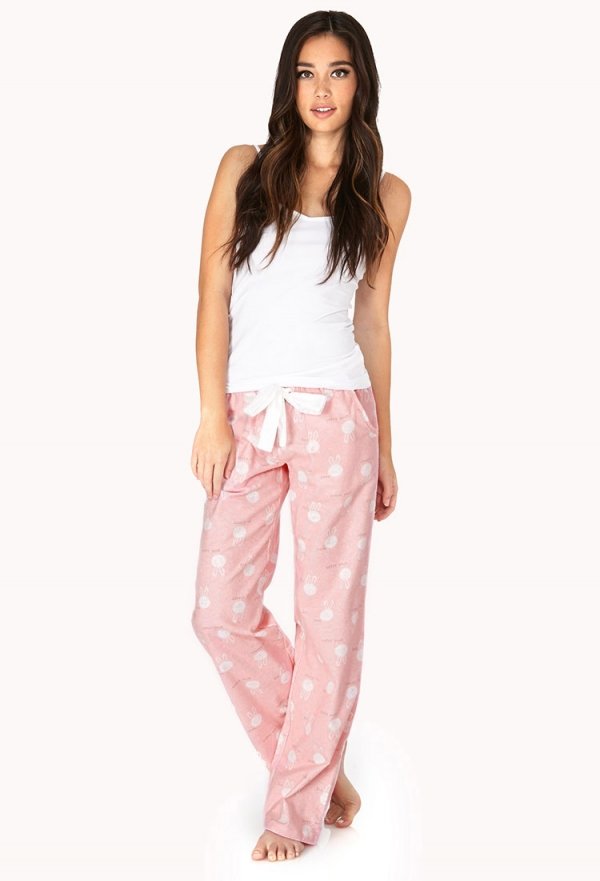 If you are going to rock your favorite comfy pajamas, why not add in polka dots and a pink bow? When you are lounging around in your home, you want to be incredibly comfy, but you still want to have a fun element In your outfit. These polka dotted pajamas pants will still make you feel girly and fun even on your laziest days. You can find them at Forever 21 for $12.80.
2

Eye Cover Sleep Shirt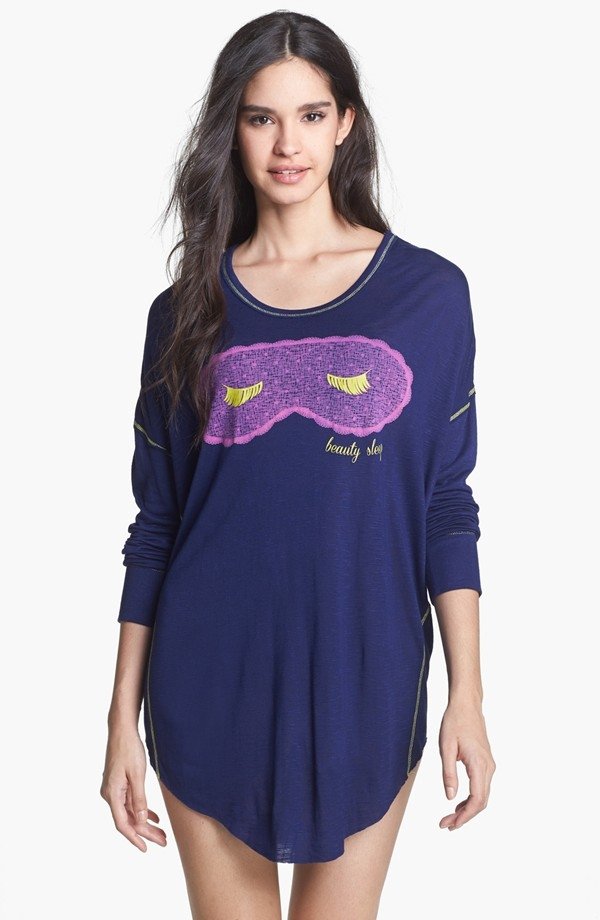 I personally love sleep shirts because they remind of the old days of intricate adorable sleepwear from the '60s, but still fit into my college girl lifestyle. This sleep shirt from Nordstrom featuring an eye mask is perfect for your long days where you don't want to leave your bed. You can flounce around your apartment doing all of your lazy day chores, but still feel girly and cute.
---
3

Silk Button up Sleep Shirt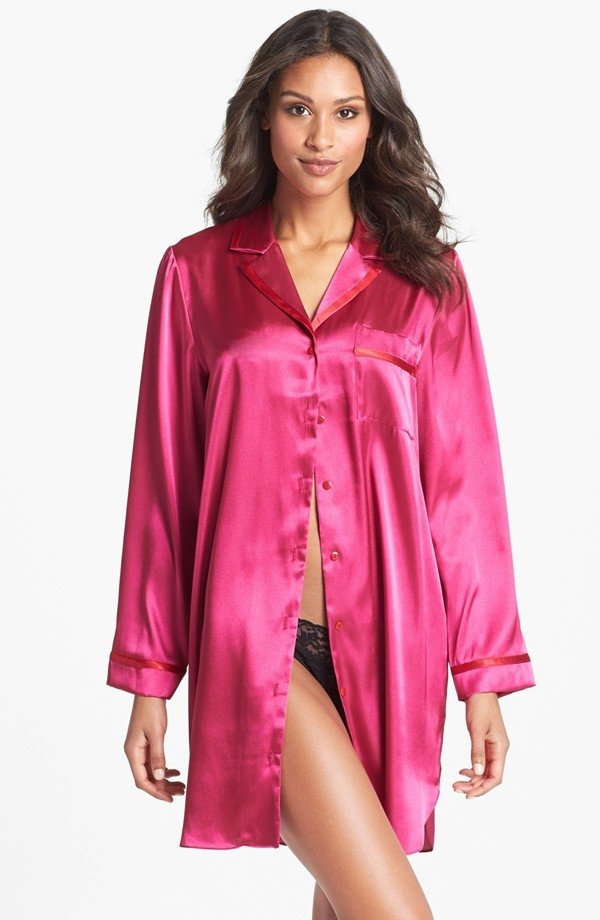 If you love a sleep shirt but want something more grown up, this silk sleep shirt, also from Nordstrom, is for you. Who doesn't love feeling soft silk on their skin? And with this sleep shirt, you can lounge around in it all day. You can pair it with an undershirt or show off some sexy lingerie if you want to spice up your pajamas.
---
4

Santa Onesies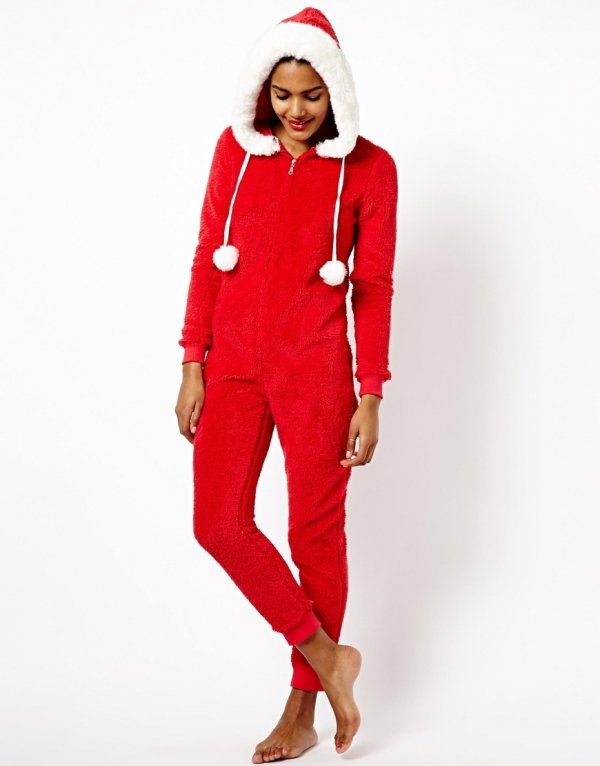 What could possibly more comfortable than a onesie? Even better, a Santa onesie to get in the holiday spirit. It even has an adorable fur lined hood!. It may not be the most practical outfit to wear outside of your apartment, but it sure is the most festive. If you don't plan on leaving your aparment, why not rock a onesie? You can grab yours at ASOS for $63.52.
---
5

Checkered PJ Set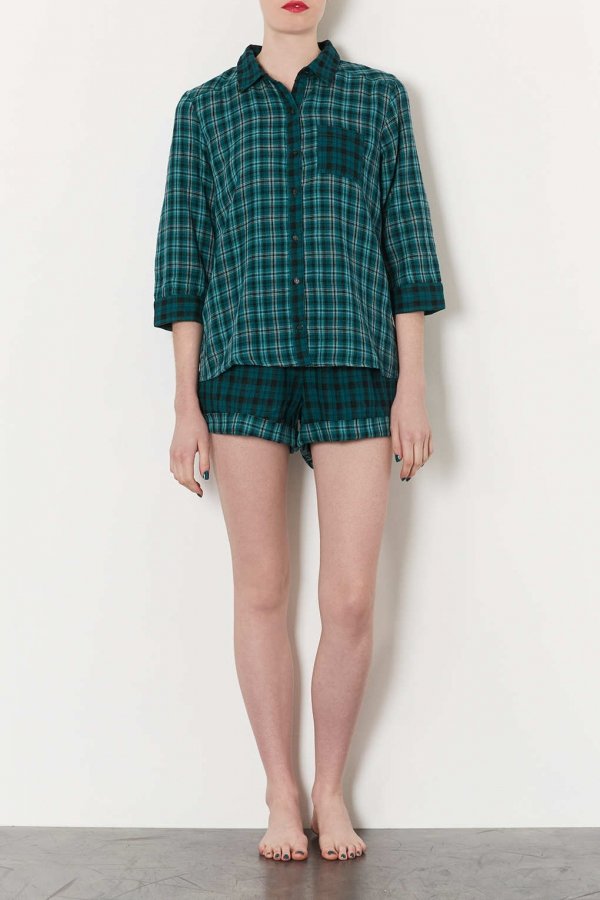 The only thing better than a comfy plaid pajama shirt is matching bottoms. This pajama set from TopShop is great for the summer time because the fabric is breathable and the shorts will guarantee you are not overheating like you would in sweatpants. You will want to disregard your entire day's plans if you throw on this comfy pajamas set.
---
6

Red Polka Dot Pajamas Set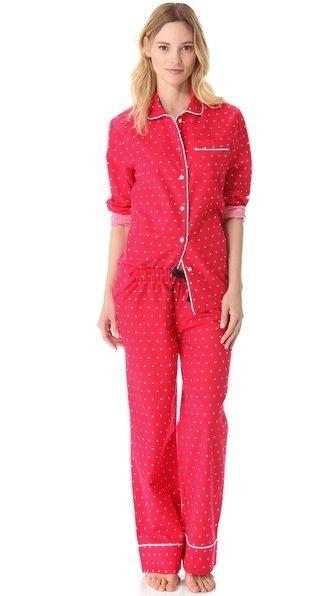 When you think of the typical pajama set, this ShopBop ensemble is probably along the lines of what comes to mind. This set is perfect for cozying up by a fire with a good book and some hot chocolate in the winter. Regardless of what you like to sleep in, these pajamas are perfect for lounging the day away.
---
7

Printed Nightshirt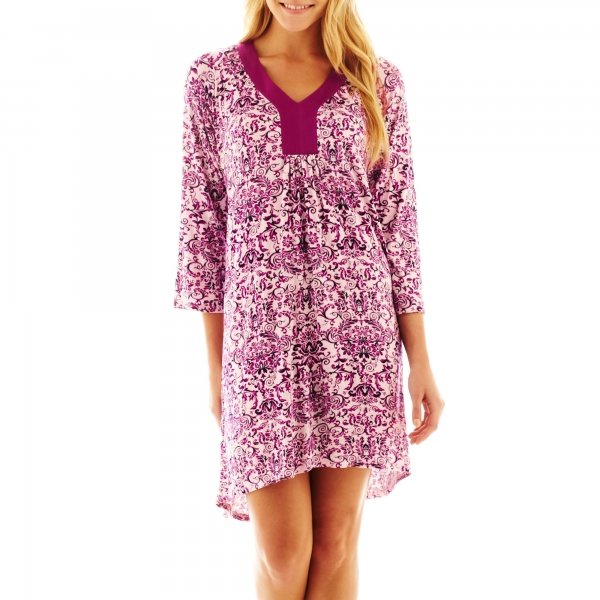 This is not your grandmother's nightshirt. With its adorable pattern and lining on top, this is almost cute enough to wear out. But if you want to look super stylish even if no one will see you, look no further than this nightshirt from JCPenney. It is light-weight enough to keep you feeling playful as you lounge around.
Comfort is a requirement of pajamas, but these pajamas take it to a next step by adding in cuteness and style. Just because you are being lazy doesn't mean you can't look fabulous while doing it. What did you think of these comfy pajamas perfect for lounging around? What are your favorite pajamas to be lazy in? Do you love to lounge around in cute pajamas or do you stick to sweatpants and sweatshirts?
---
Comments
Popular
Related
Recent