The quintessential denim jacket has always been an integral part of our wardrobes – it never seems to go out of style, but still many of us have a hard time coming up with new and notable ways to wear a denim jacket, don't we? Well, it is a tricky piece to wear since you run the risk of creating an ensemble that might be a little too casual. Luckily, I've made a list of 7 fabulous ways to wear a denim jacket to inspire you! Keep reading if you want to make this closet essential work for you.
---
1

With a Hoodie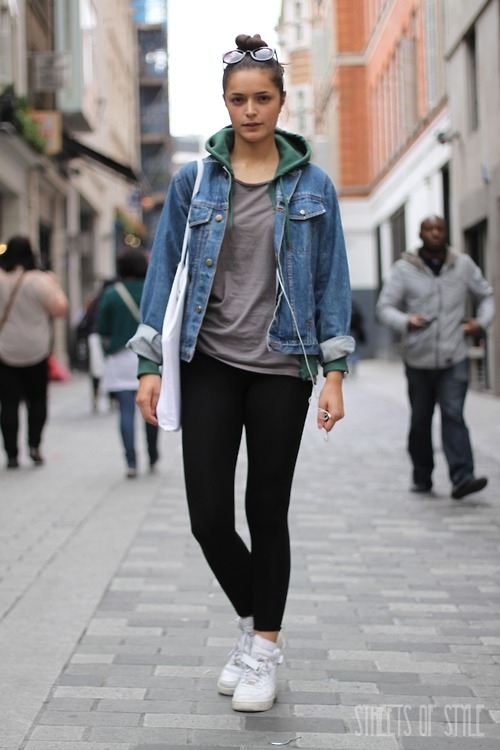 A casual hoodie styled under your denim jacket adds an extra layer of cool to your outfit. Doesn't it make a great look when you're travelling? It can be paired with sneakers or flats, whatever you are comfortable in – the key being comfort. This pairing is taken from one of the many fashion savvy celebrity look-books. It is just one of the many unique ways to wear a denim jacket in style.
2

With a Slip Dress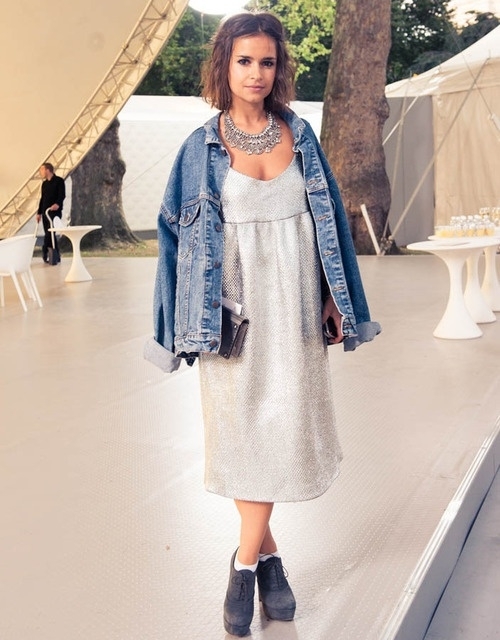 The 90's classic slip dress has returned this season with much fanfare. Well, pairing your denim jacket with a 90's slip dress and sneakers will give a grungy chic look. If you're more of a girly girl, you can also opt for chunky heels instead of sneakers. The jacket and heavy footwear helps anchor the entire look so that the flimsy dress doesn't look so 'boudoir.'
---
3

With Khakis/ Corduroys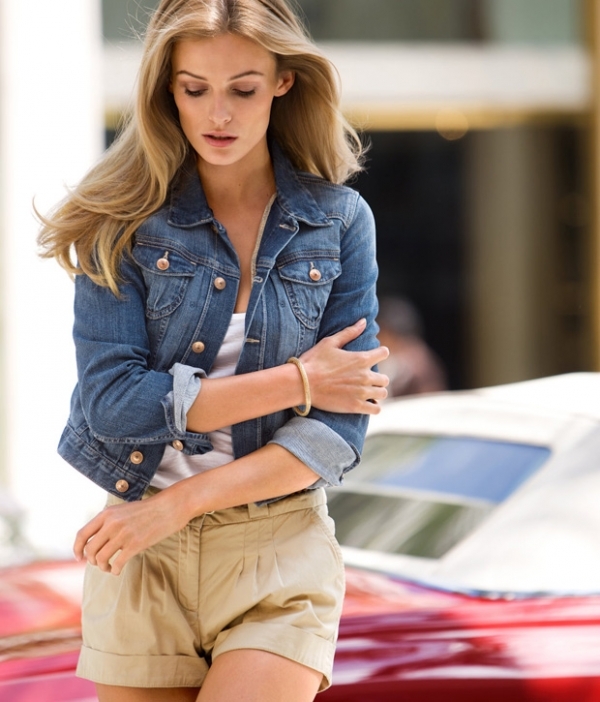 Instead of wearing your denim jacket over those boring jeans, wear it with pants or bottoms made from different materials. Corduroy pants or khaki cargo pants are a great option for denim jackets. The rough look of these bottoms created a nice balance with the ruggedness of denim. There are multiple choices available in in corduroy and khaki which prevents your style from looking too monochromatic. You can choose either short or long pants to go with look.
---
4

With a Maxi Skirt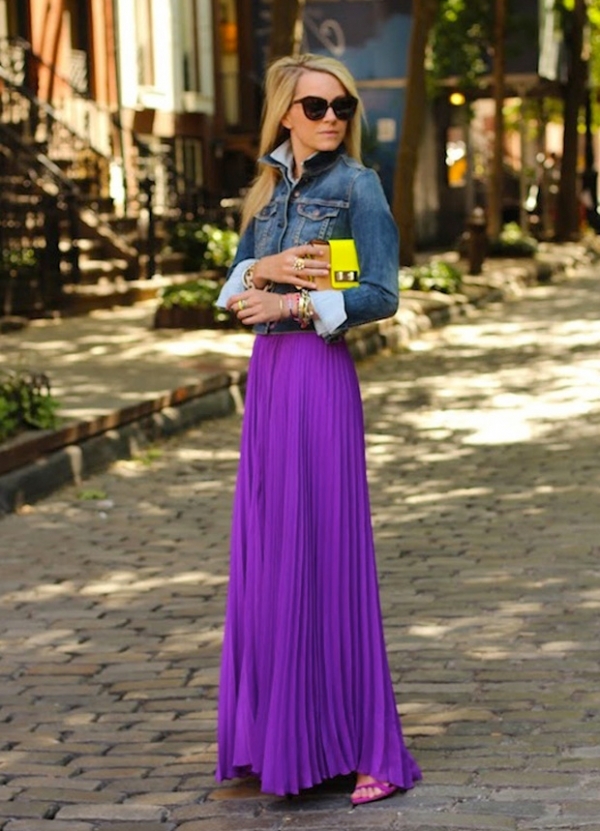 A cropped denim jacket paired with a plain or printed maxi skirt has the potential to become your next go-to weekend look. It is just perfect for the garden or a summer party. Pick out a feminine silhouette that suits your body the best to achieve perfection. Pair it with a straw bag and a Panama hat and you're ready to make a statement. So casual and yet too dreamy!
---
5

With a Floral Dress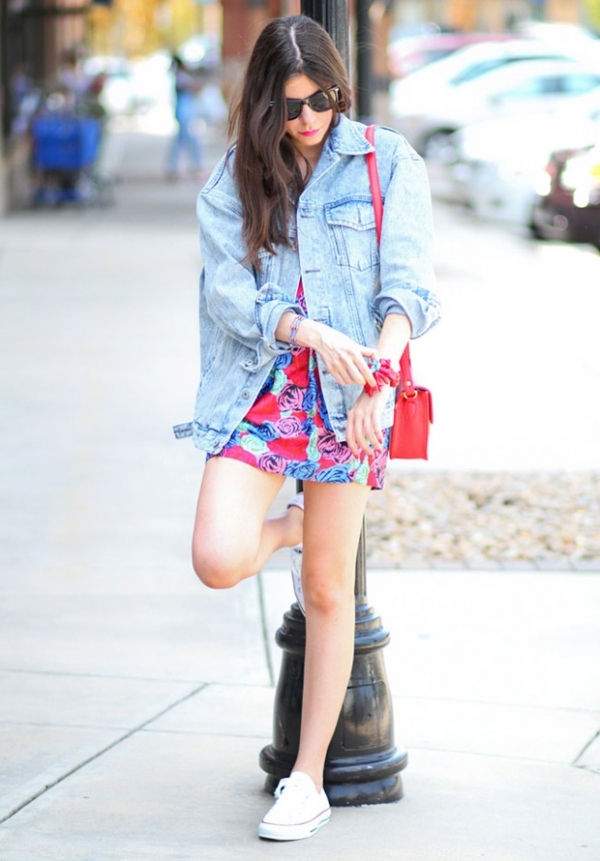 A denim jacket paired with printed dresses is the easiest to work with! A jean jacket will work with nearly any print or color. The dress could have a tropical print, leopard print, neon or pastel. The denim jacket tones down the loud colors with its subtle hue. This look is perfect for the music festival. Just don't forget the ankle booties!
---
6

With a Button down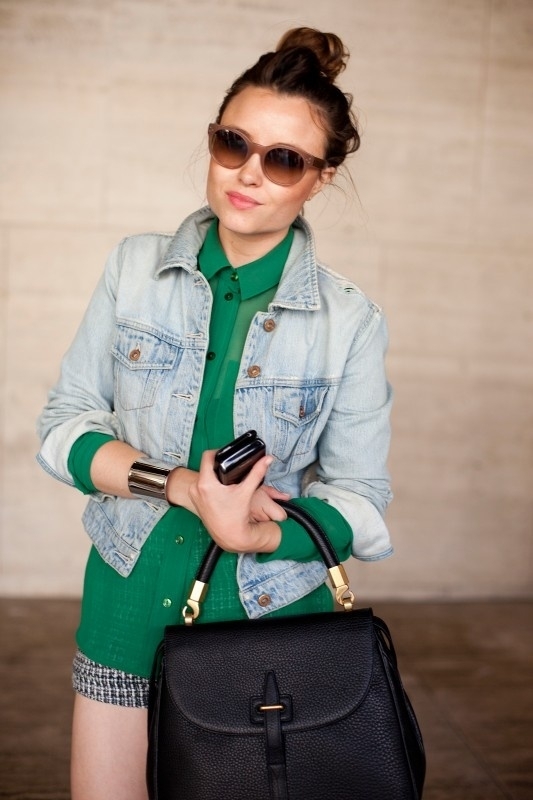 A denim jacket can be worn as an understated addition to a dressed-up daytime look. Step it up a notch with a button-down shirt and heels in a solid color. The button-down shirt can be a solid color, pattern, or graphic, but it should be fitted to your body to avoid excess bulk. Pair the shirt and jacket with the darkest blue jeans you can find and throw on a denim jacket to create a look suitable for casual workday. Accessorize this no-fuss look with jewelry, scarves and bags.
---
7

With a Jumpsuit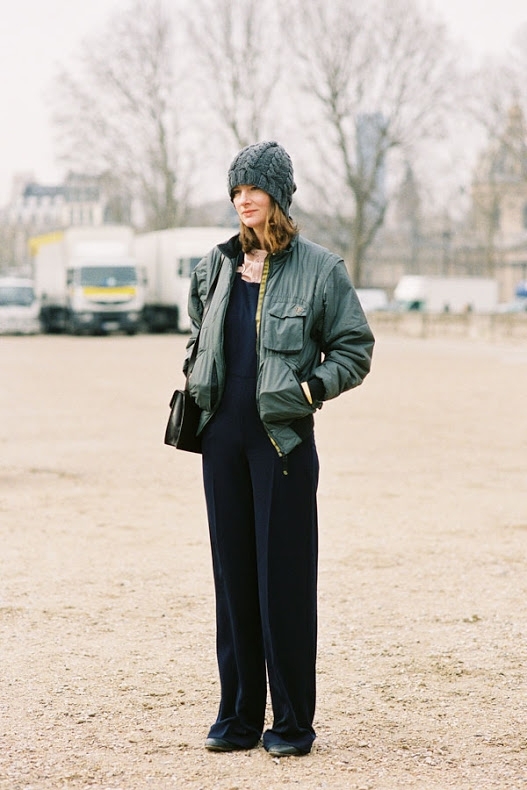 A pale denim jacket looks chic when worn with a monochromatic jumpsuit and nude pumps. It looks so comfortable but yet put together. To add some color, the outfit can be paired with a neon shoulder bag. A big chunky necklace would complete the look to perfection. A great way to spice up things with this iconic topper, isn't it?
I've taken the liberty of listing down a few ways to spice up the iconic denim topper by pairing it with feminine – some not so feminine – but unexpected flourishes. Which is your favorite way to wear this classic? Got any different ways that you wear it?
---
Comments
Popular
Related
Recent