Despite the brief shelf life of the normal fashion trend, the one item that never really goes out of style is the denim jacket, and it's probably because there are so many different ways to wear a denim jacket. A denim jacket is perfect for virtually every body type. Are you tall or short? A denim jacket doesn't care. The ways to wear a denim jacket are countless, but I'll share seven of them with you.
---
1

Keepin' It Casual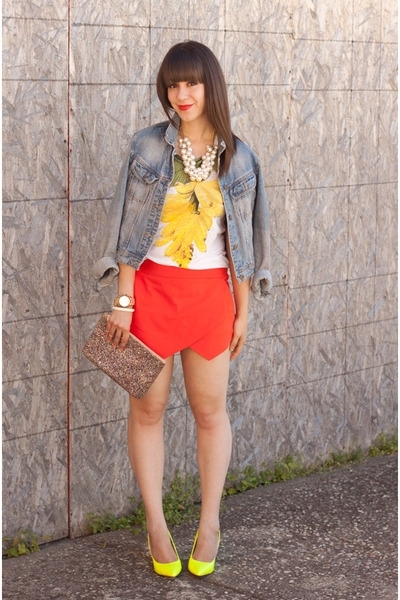 Nothing says "I'm approachable" quite like a traditional denim jacket. Maybe it's because a denim jacket is a staple in the closet without overwhelming an outfit like other items might. So my advice is to wear the traditional light blue jacket with a plain white or black basic T-shirt paired with a dark blue or a colored jean. If you are feeling daring choose a bold red jean, a muted salmon or coral pant, but try not to use the same color pant as the jacket — no one likes a Canadian tuxedo a la 2001 Britney and Justin. Using the jacket to cap off a simple, everyday outfit is one of the best ways to wear a denim jacket.
---
2

White Wash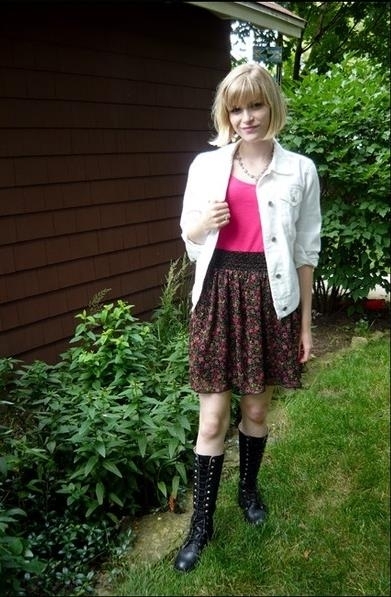 When most people think of denim, their mind automatically goes to blues, but I want you to step out of that box and think of white denim. My new obsession has been wearing my adorable white jean jacket with hues of eggplant purples and mint greens because it just makes my whole outfit feel clean. A white jean jacket is something I think every woman should have on standby next to her LBD and red heels. You can't really go wrong with a white denim jacket mostly because it's a neutral like black and brown, which means it literally goes with everything. If you don't have a white jean jacket or just never even thought about getting one, then hopefully this convinced you that a white denim jacket is a perfect piece to wear throughout the year.
---
3

Max It out & Shorten up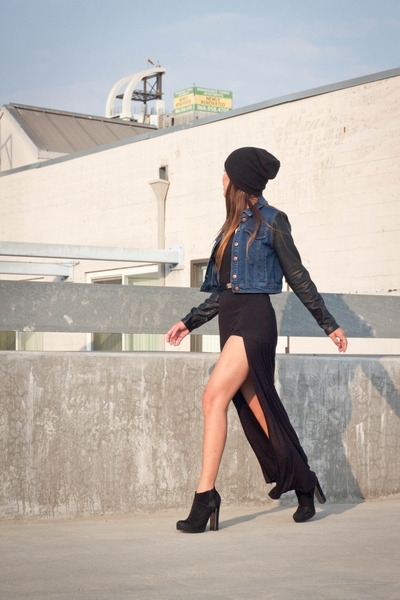 Maxi dresses and maxi skirts are all the craze right now, but something I like is to wear is a short denim jacket — which gives a whole new take to the high-low trend. A short denim jacket is definitely something that depends on your body type. The average denim jackets cuts off at a natural waist, but if you have a slightly smaller waist or a larger bust the short denim jacket may end up looking weird. So before making a purchase try out as many different lengths until you find out that you think best fits your curves. I'm only 5'4", but what I love about a shorter denim jacket is that it makes my torso look longer…especially when I'm wearing a maxi dress.
---
4

Dress It down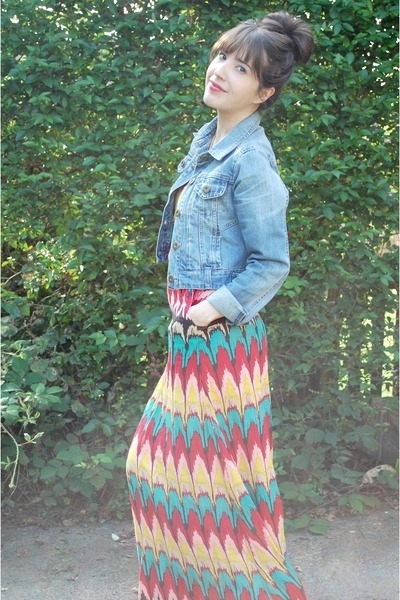 Speaking of dresses, your standard denim jacket looks great over a patterned, knee length dress. I love the way a breezy dress looks with a rugged denim jacket. You should never be afraid to mix really girly pieces with harsher fabrics like denim and cowboy or combat boots. It looks cute, but it is also really comfortable for almost any day or night out. One trend that is great with this jacket is an Aztec print dress with a bronze gold, cork wedge heel for a trendy breezy, yet glamorous look.
---
5

Denim & Leather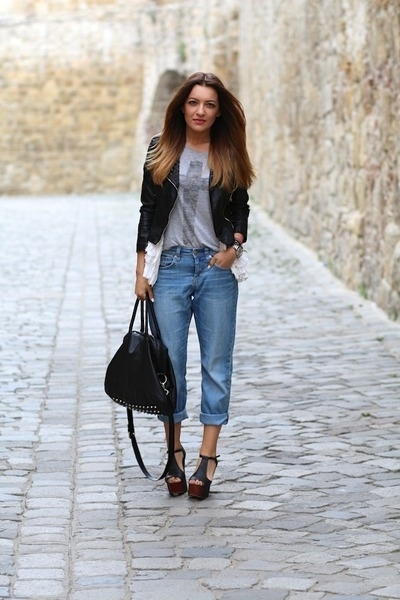 If you want to go for an edgier look, then wear a denim jacket and slink into something leather. You can wear the jacket with a leather circle skirt, leather shorts or an Olivia Newton-John a la "Grease" leather leggings. If you are squeamish about using actual leather, then you can always substitute the more common, less expensive faux leather. Together denim and leather will spice up any outfit, but if you want to brighten up this look then consider adding a solid teal or salmon crop top. The number one thing is to not be afraid to spice up your wardrobe and your ensemble by adding some leather.
---
6

A Romper's BFF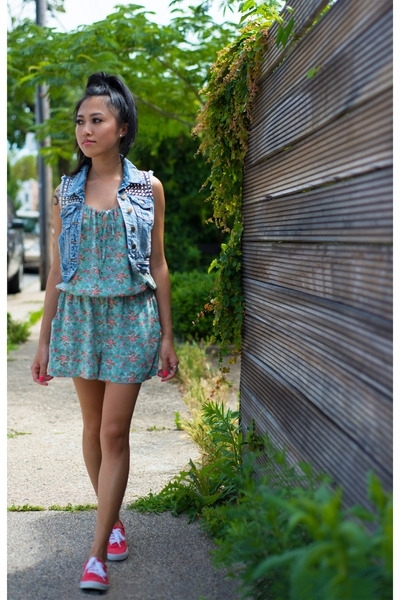 I've gotten into wearing all types of rompers lately. Rompers are the quintessential summertime get-up that only narrowly surpasses a sun dress on my summer necessity list. Everything about a romper is — for the most part — easy and breezy. The material is light like a sundress, but is more comfortable because you don't have to worry about flashing someone unexpectedly anytime a strong breeze passes by. Slipping on a denim jacket — of your choice — completes the outfit in a more laid back way than a blazer would. Comfort is pretty glamorous.
7

Layering Jackets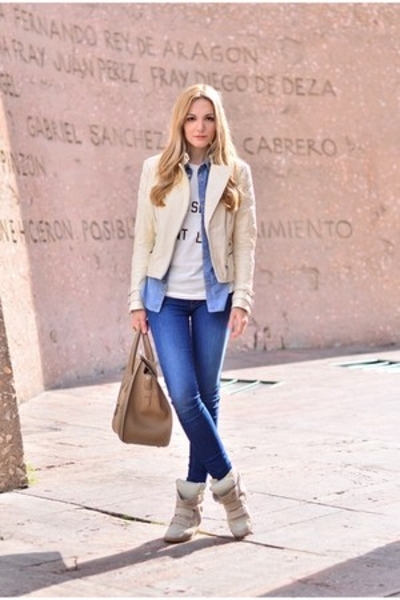 After talking to some of my equally fashion savvy friends, I found that the number one complaint my friends had was that the standard denim jacket doesn't have versatility when it comes to protecting you from the elements. They are partially right because few denim jackets have built-in hoodies for windy or brisk days. I personally solve this problem by layering. Denim jackets can easily be layered with other looser fabrics. Try layering your denim jacket over a hooded, looser zip-up jacket. The effect is brilliant, and gives you more of a comfy look. Remember, ladies, layering is your friend.
Use a denim jacket to spice up a plain outfit or dress down an elegant ensemble — it's all your decision. Let me know if you try any of the above looks! What look would you be most likely to wear?
---
Comments
Popular
Related
Recent