Wearing an oversized sweater can be more than a little intimidating. I think that anyone who has ever worn an oversized sweater has been nervous or worried that it won't be the most flattering look, and to be honest, it is a really difficult look to make flattering. However, with these quick tips and tricks, your oversized sweater anxiety will be a thing of the past! These tips will make your styling worries so much easier! It's amazing how just a few different tricks can completely change your oversized sweater look!
---
1

Pair with Leggings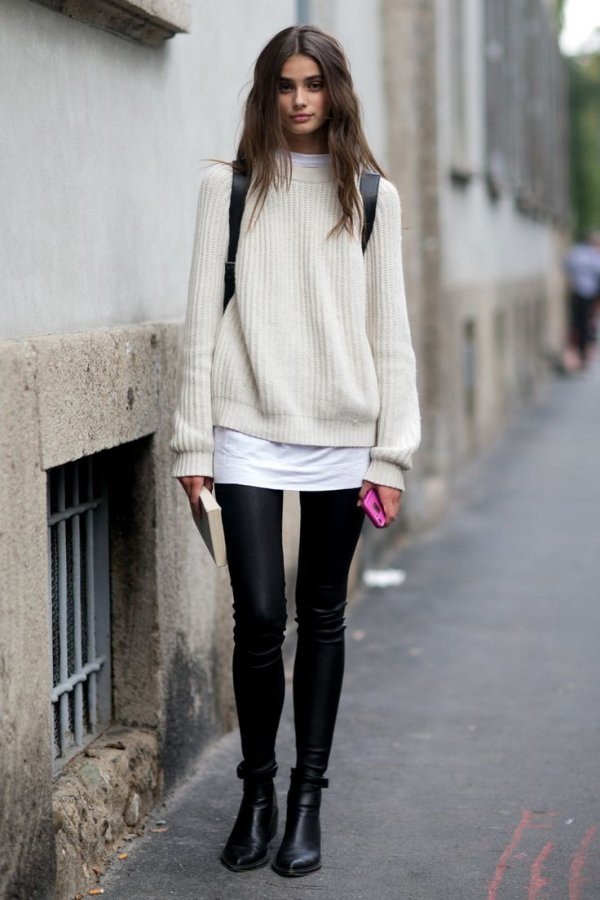 When you're wearing something baggy on top, it's important to keep it fitted on the bottom. That means that if you're wearing a huge sweater but you want to keep it casual, you should try wearing leggings with it. It will be the ultimate comfort, and you'll look super cute!
---
2

Wear a Button-down underneath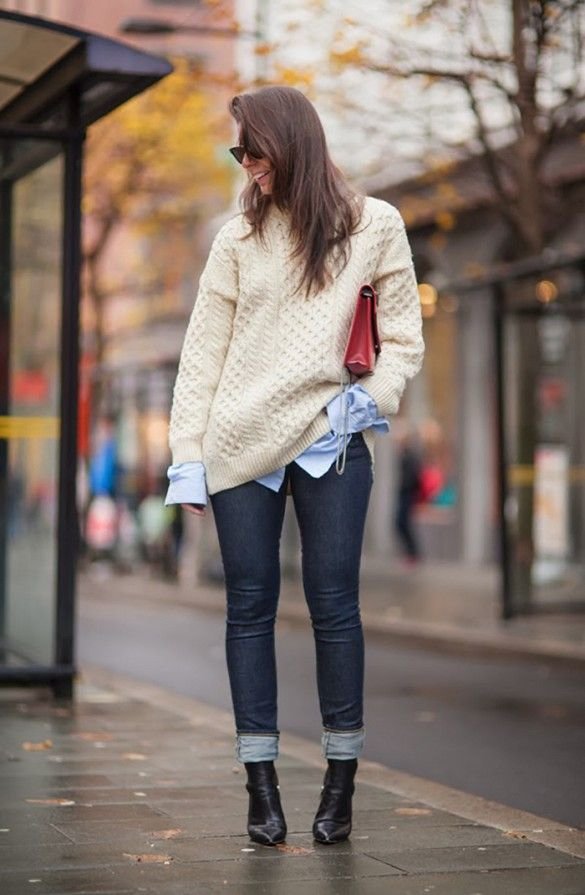 If you're looking to add a little bit of polish to your oversized sweater, try wearing a button-down underneath your clothes. You'll look so polished and put-together, but really you'll be super comfortable in your oversized sweater! You'll fool everyone!
3

Keep the Rest of the Outfit Fitted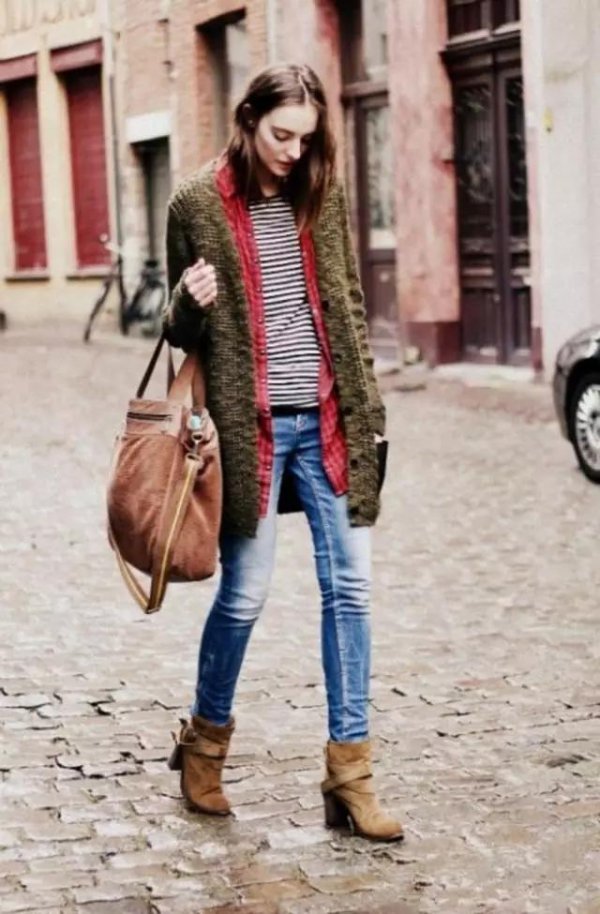 If you're super self-conscious about your oversized sweater looking a little too much like a potato sack (haven't we all had this fear?), there's actually a simple trick you can do to stop that fear. Make sure that everything you else wear, whether it's just a pair of jeans, a skirt, or a jacket, is fitted and tailored well. It will instantly transform a look from a little too baggy to chic and beautiful!
---
4

Accessorize with Hats and Jewelry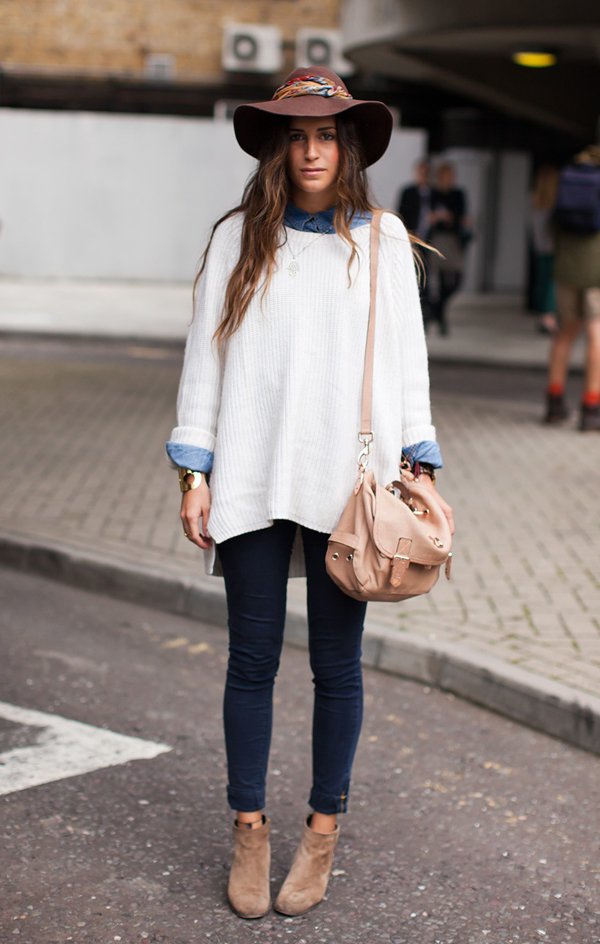 I think a lot of women worry when wearing oversized sweaters that instead of looking chic you'll look like you didn't really put any effort into your appearance, even if you did. It can be a hard line to walk. To look like your oversized sweater look was intended to look chic, pair it with a structured but floppy hat and tons of gold jewelry. You'll look like a fashion blogger!
---
5

Wear a Plaid Shirt over It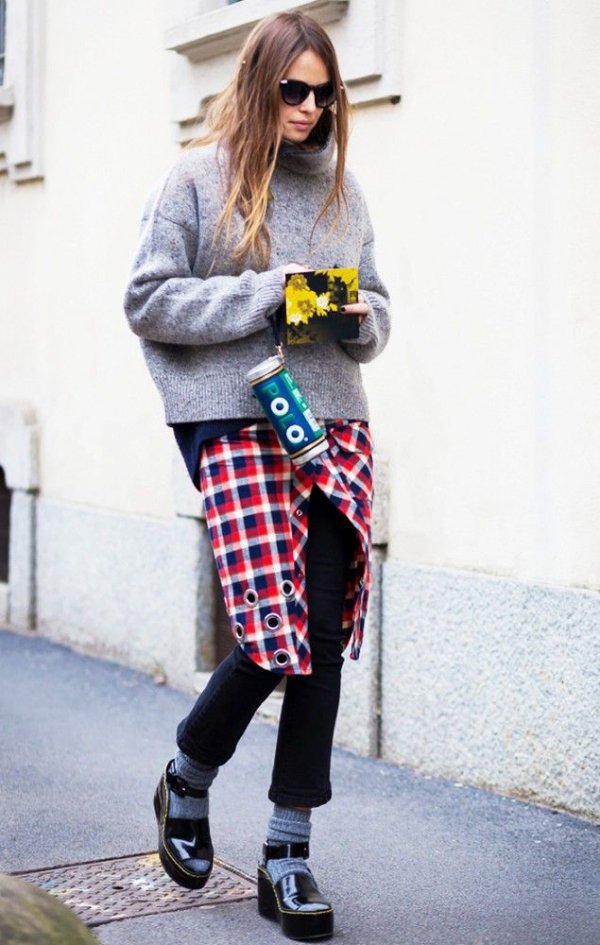 Open, plaid shirts are such a huge trend, and they have been every single winter for so long. If you're looking for something that can combat the bagginess of oversized sweaters, try wearing an unbuttoned plaid shirt over it for a look that's a little grunge and not too baggy!
---
6

Go Neutral on Top and Bold on Bottom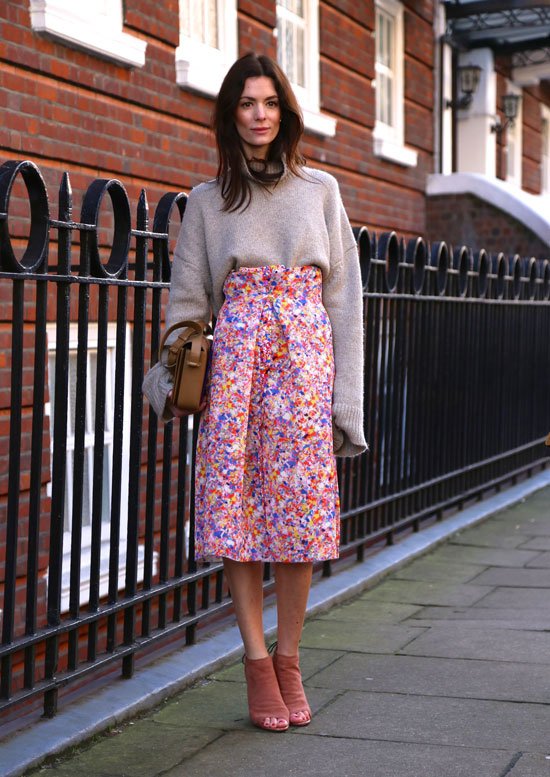 Oversized sweaters are already a pretty huge statement, but if you're looking to go even bigger, try this trick. Wear a neutral oversized sweater, i.e. something white, black, or even just a beige color. Then wear super bright pants or a printed skirt. You want to pick a color that will really pop against the neutral you choose. You'll make such a fun fashion statement!
---
7

Color Block to Highlight Your Shape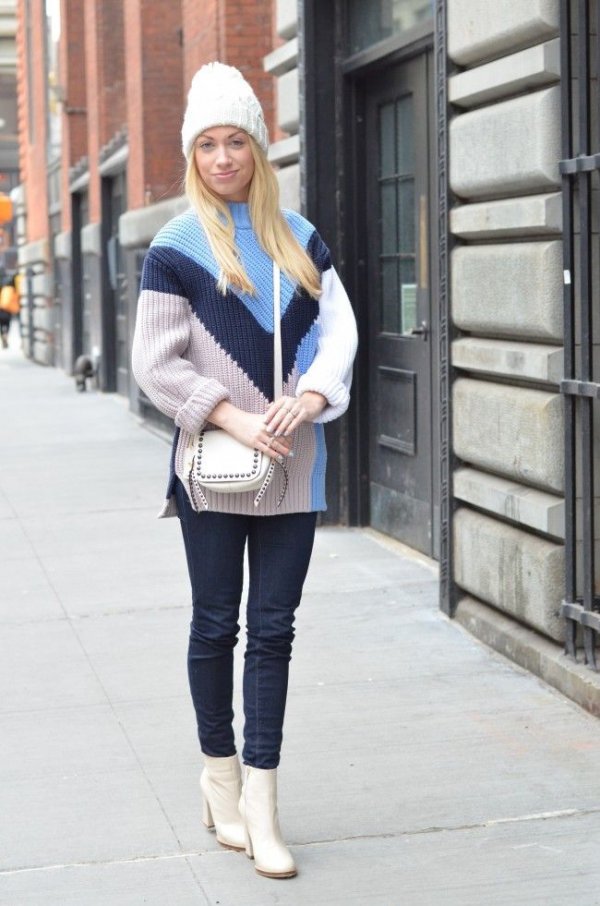 If you're looking to highlight your shape, try wearing a color-blocking oversized sweater. The harsh lines of the sweater will draw eyes to your waist rather than looking like a blob. It's such an easy fix to a problem a lot of girls worry about!
---
8

Pair It with Tights or Stockings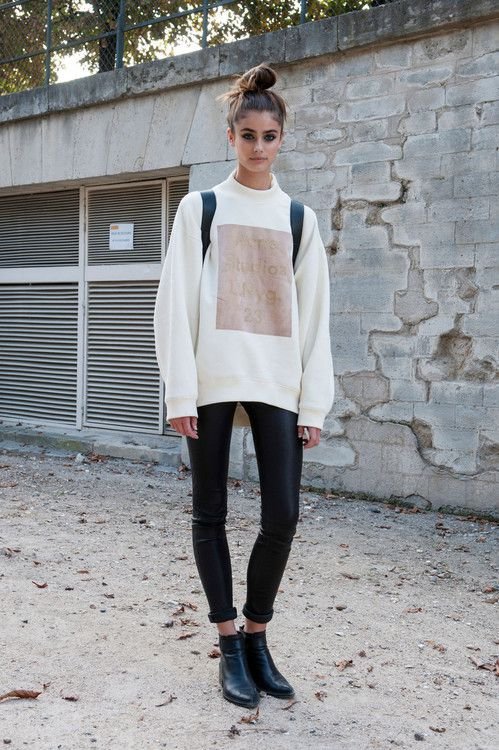 Like we've mentioned above, you don't want your oversized sweater to look totally baggy and unflattering, right? Try pairing yours with a pair of simple black tights or stockings, as this will instantly add femininity and elegance to your outfit!
---
9

Cinch It in with a Belt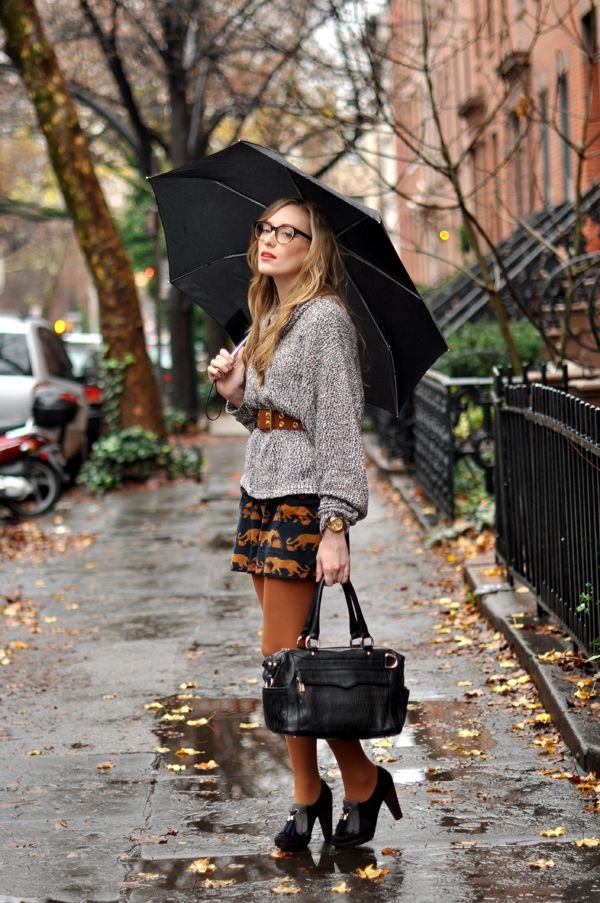 If you feel like your oversized sweater is wearing you rather than you wearing it, try using accessories such as belts to cinch it in at the waist and give you that natural definition back! This is the easiest way to show off your shape while adding a twist to the popular oversized sweater trend.
---
10

Play with the Contrast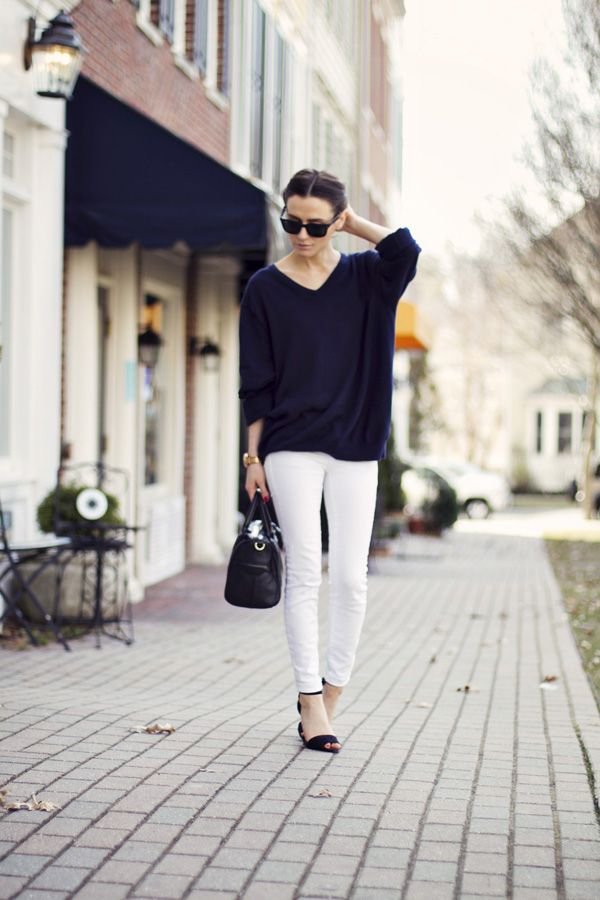 Don't be afraid to try new things and experiment with your oversized sweaters! If you're rocking one in white, try making the rest of your outfit black for contrast. For example, pair a white sweater with black pants, black sunnies and a black handbag. This also works with a black sweater, which you would then pair with accessories and pieces in white. The reason for this is that black and white provide a great colour contrast and always look great together!
What are your tips for wearing oversized sweaters? Do you follow any of these? Let me know in the comments what you think!
---
Comments
Popular
Related
Recent