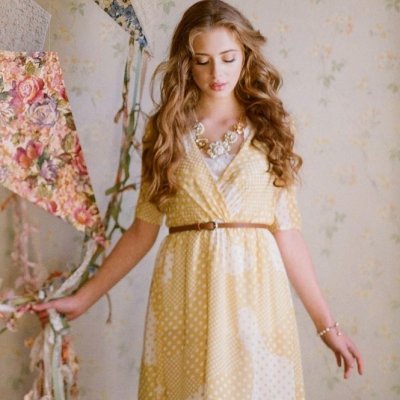 1.

One Hundred 80 Degrees French Sweet Entertaining Dessert Stand

ModCloth
Price: $17.99
Invite your gals over for dessert or tote your treats to your next potluck - either way, you'll be glad to display your baking prowess atop this pale-mint cake stand by One Hundred 80 Degrees. With its ruffled plate and conical, decorated stem, this ceramic dish helps your signature snacks really stand out!
2.

Betsey Johnson Urban Betsey Johnson Bow All about It Bag

ModCloth
Price: $98.00
Proudly wear your bow-loving heart on your sleeve by toting this delightfully adorned, pastel-pink purse by Betsey Johnson on your arm. Boasting golden studded trim, double handles, and a removable crossbody strap, this charming vegan faux-leather bag stashes your essentials in style!
3.

ModCloth Mid-length Short Sleeves High-Low Hem Chic up the Good Work Top

ModCloth
Price: $34.99
Your elegant ensembles continue to impress, thanks to this ruby-red top! Uphold your stylish reputation in this sheer, short-sleeved garment, which touts ivory crocheted accents that never fail to charm.
4.

Chi Chi London Long Sleeveless Fit & Flare Adore the Dance Floor Dress

ModCloth
Price: $104.99
Twirling is oh-so satisfying in the voluminous tulle-lined skirt of this royal-blue fit and flare by Chi Chi London. A pale-peach bodice contrasts aneath lace accents, while a back keyhole, padded bust, and lettuce hem get this fully lined dress primed for a night of boogieing!
5.

ModCloth Darling Can't Stop Blushing Heel

ModCloth
Price: $44.99
You could choose to play coy when you lace up these blush-pink heels, but it may prove difficult once the compliments roll in! Complete with a substantial platform and stiletto heel, these vegan faux-suede shoes make for an ensemble in which you feel completely confident.
6.

ModCloth Numerous Occasions Heel in Black

ModCloth
Price: $44.99
With their Oxford-inspired design and crocheted sides, these black heels are perfect for a plethora of outings. Swathed in vegan faux suede and sheer mesh panels, these lace-up pumps tout tapered heels and subtle platforms - how remarkably versatile!
7.

ModCloth Vintage Inspired Short Length Long Sleeve Turf's up Jacket

ModCloth
Price: $89.99
Head to your school's stadium for a game of catch in this distressed denim jacket! Your throwing arm is already warmed up thanks to this hooded button-up's grey, knit sleeves, leaving you free to toss and reminisce in edgy style.
8.

ModCloth Just Can't Get Enough Bootie

ModCloth
Price: $59.99
Every chance you get you slide into the cozy faux-shearling liing of these burgundy booties by Blowfish! The sturdy vegan faux-leather uppers have two-tone laces and inner side zips, while the ankles tout a fluffy cream trim that you love to show off with outfits galore!
9.

ModCloth Long Sleeveless Maxi Bold Me, Thrill Me Dress

ModCloth
Price: $79.99
Make an electrifying entrance wherever you don this resplendent black gown. Boasting a high neckline studded with a dazzling array of silver and gold, this maxi dress is accentuated by a keyhole-adorned back and a sheer, gossamery skirt for statement-making glamour!
10.

ModCloth Road to the Ranch Boot in Russet

ModCloth
Price: $69.99
Tread the path to the chili cook-off in the cool, casual style of these mid-height boots! Starring a speckled russet-brown hue to their vegan faux leather, a series of wrapping, buckled straps, and vents on either side of each shaft for ease in donning, these boots make the commute as fun as the event itself.
11.

ModCloth Menswear Inspired Flying First-Sass Heel in Cognac

ModCloth
Price: $44.99
Travel anywhere in delightfully sophisticated style with these cognac-brown pumps. Boasting an Oxford-style silhouette and perforated trim in smooth vegan faux-leather, this spunky pair soars with retro charm!
12.

ModCloth Mid-length Long Sleeve Double Breasted Farm Here to Eternity Coat in Sand

ModCloth
Price: $74.99
Cozy in this tan double-breasted coat, you reach the highest point of your rural estate. Crisp winds dart around as you marvel at the sweeping view, so you button the bodice of this pea coat's collared silhouette, slide your camera out of its lined pockets, and snap a photo!
13.

ModCloth Mid-length Racerback a-line on Your Lunch Break Dress in Vermillion

ModCloth
Price: $49.99
As you make your way to the restaurant in this vermillion-hued dress, you find there's quite a skip of excitement in your step! You finally take a seat across from your pal, and you thank her for complimenting the paneled neckline cutouts of your racerback frock before ordering two glasses of iced tea.
14.

ModCloth Struttin' on Stage Heel

ModCloth
Price: $44.99
Your stage presence is undeniable, and these black pumps only emphasize it! Dainty droplet cutouts add extra panache to these Mary Jane heels, so you stay both sleek and chic as you rock out underneath the spotlights.
15.

ModCloth Boho Cozy Carriage Ride Circle Scarf

ModCloth
Price: $24.99
The weather is no matter when you're admiring the magical town-square scene in this soft circle scarf! Checkered and striped in shades of crimson and beige, this warm knit accessory makes the season all the more snuggly.
16.

ModCloth Long Long Sleeve Midwestern Sky Cardigan

ModCloth
Price: $59.99
When a Sunday drive offers a clear blue spread overhead with this heather-navy cardi wrapped around you, you insist life couldn't get any better. Burgundy touches and an ivory pattern perfect your day with cozy style.
17.

ModCloth Trial and Wearer Boot

ModCloth
Price: $54.99
Give these chai-brown boots a try with today's ensemble, and you'll know at once that they're the ones for you! Buckle-adorned straps enhance the versatile silhouette of this vegan faux-leather pair, which is certain to become your next fashion fave.
18.

ModCloth Mid-length Sleeveless a-line Cupcake Competition Dress in Black

ModCloth
Price: $49.99
Clad in the sheer lace shoulders and latticed neckline of this black dress, you present your sweet treats to your pals, who double as judges for today's friendly competition. When your key-lime confections take first place, you share your winning batch with the group - performing your victory dance in this charming sleeveless frock!
19.

Chi Chi London Long Sleeveless Maxi Elegance Again Dress

ModCloth
Price: $114.99
Known for exquisite styles, you show your fashion savvy time after time in this burgundy maxi from Chi Chi London, which wields sheer front and back panels bordered by crocheted applique and a gently gathered waist for a flowing overlay.
20.

ModCloth Boho Short Length Long Sleeve a-line in Chic Company Dress

ModCloth
Price: $69.99
Delight all you meet with your fabulous style in this navy-blue dress! Boho-inspired and gracefully airy, this garment also boasts embroidered white designs and V-neck silhouette are a delightful testament to your always-charming looks.