Like a lot of Lifetime viewers, I love seeing unconventional Project Runway outfits. Cotton candy skirts? Birdseed tops? They remind me of high school art class, except without the weird smells and paint in my hair. While some unconventional Project Runway outfits are just plain weird, others look pretty good. They have access to muslin so the outfits are wearable, but the creativity here is just amazing. It was really hard to narrow it down to seven, but here are some of my favorites.
---
1

Austin Scarlett's Cornhusk Dress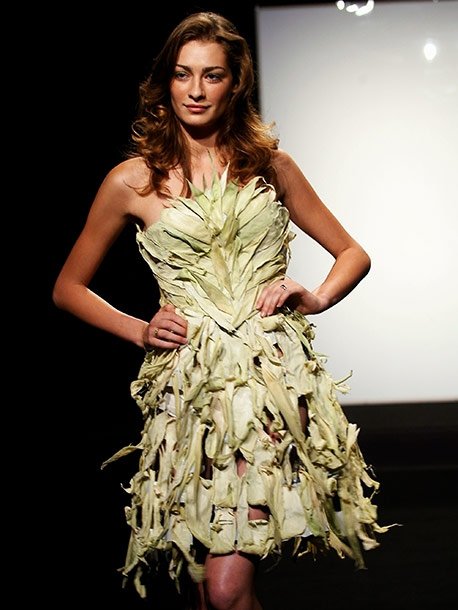 This dress was of the first unconventional Project Runway outfits. The idea was to make an attractive garment completely out of things you'd find in a grocery store. Austin decided to use cornhusks and, strangely enough, it turned out to look really good. You can tell it wasn't made from fabric, but it still reminds me of a prom or cocktail dress. If I could, I'd wear it in a second.
---
2

Justin LeBlanc's Printed Belt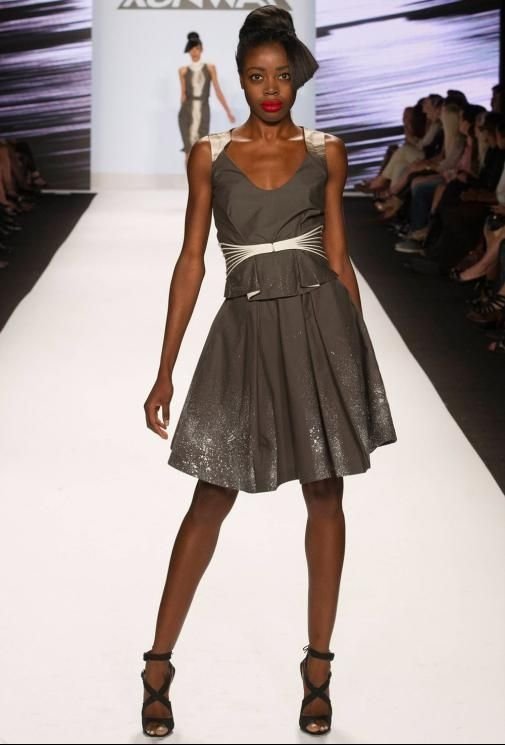 It's not so much that this necklace and belt were made from unconventional materials so much as they were made in an unconventional way. Being the "techie" he is, he made these accessories from plastic using a 3D printer. If you've never seen one of these, this one looked more like a vending machine than a printer. I loved the way Tim said that looking at it made him want to ask where the Fritos were. Hmm...I wonder if the printer could make those too? If so, can I place an order?
---
3

Season 11's Duck Tape Prom Dresses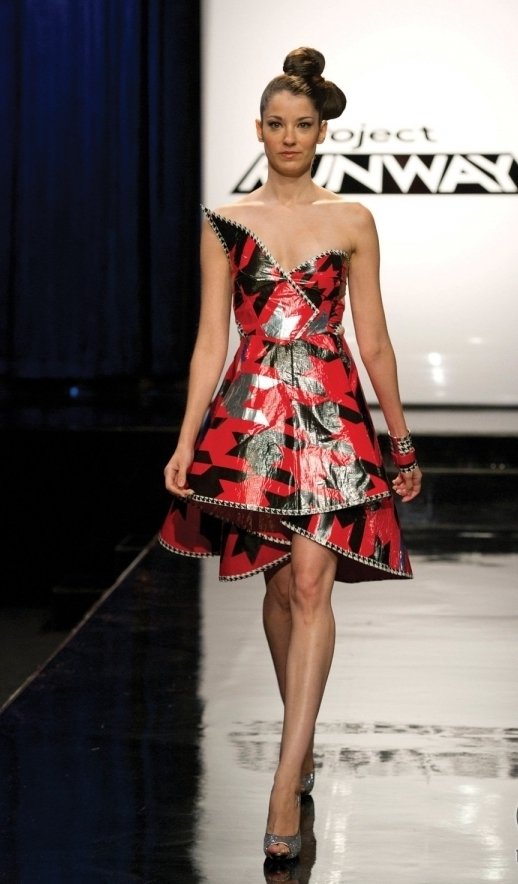 However universal duck tape might be, I never thought to use it for a prom dress. I've seen purses, wallets and belts, but never a dress. You can sort of tell what they're made of, but they're still interesting and pretty. The gold is my favorite, but I highly recommend flipping through the entire gallery for close-ups.
---
4

Irina Shabayeva's Newspaper Coat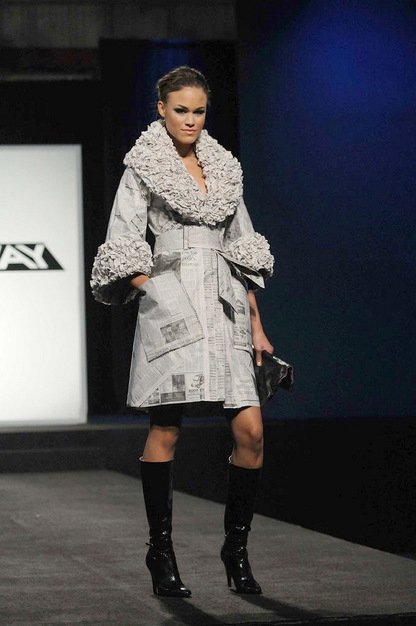 My best college friend would love this. Her job has her organizing recycling efforts and raising awareness in the local community. In this challenge, the designers were asked to make an outfit entirely out of newspaper; they were allowed to use dyes to get away from black-and-white, but it had to be newspaper. I don't know about you, but I would love to wear this coat. Again, flip through the whole gallery.
---
5

Anthony Williams' "hard Wear"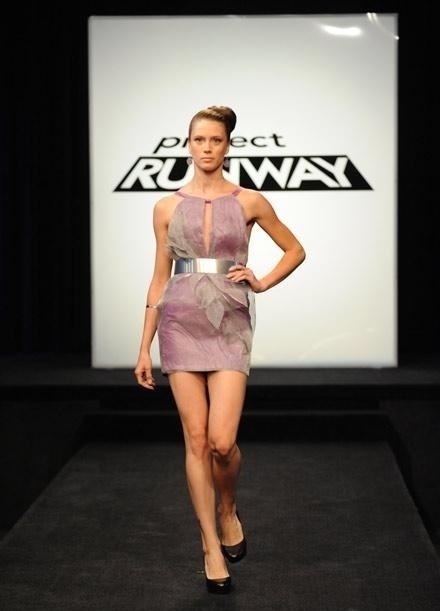 In this challenge, designers had to make their garments out of things they found at a hardware store. I can't tell what this dress is made of (tarps?), but I guess that's the point. This fun dress is a perfect match for the designer's very entertaining personality! I'd suggest looking through the other designers' galleries, if only to look at Jesse LeNoir. Can you say, "hottie"?
---
6

Ven Budhu's Sweet Dress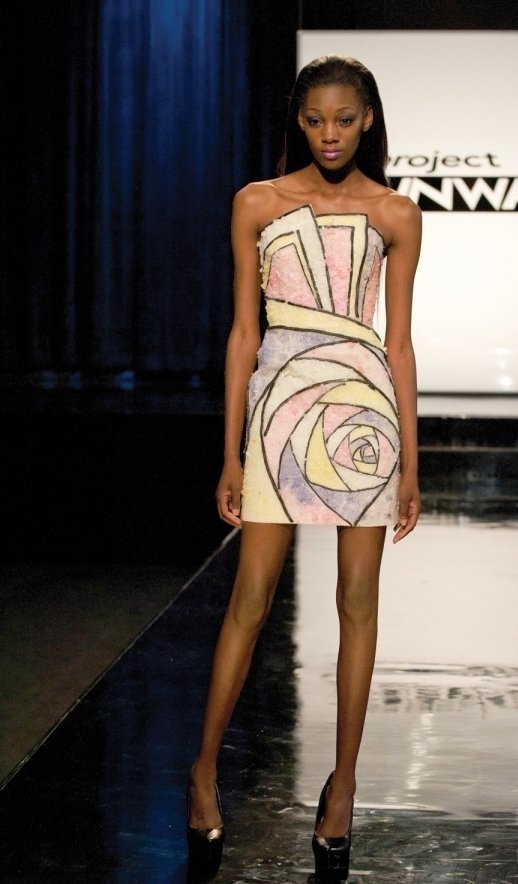 I know, I know – bad pun. The designers made clothing out of things they found in a candy store. This one looks like rock candy or other crushed hard candies, but it just looks like sequins. Personally, I'm surprised he had any left; I'd have eaten it all a long time ago.
---
7

Viktor Luna's "pet Project"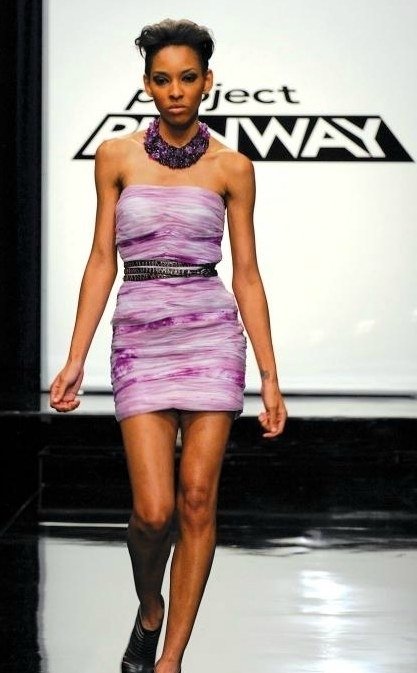 In this episode, the designers were asked to make a garment out of things they found at a pet store. This dress is made out of pulled-apart puppy training pads. I'm not sure how much it cost to make, but I'll bet it's a hell of a lot less than what you'd pay for a similar dress in a department store. I love it!
Now you can see why I'm obsessed with Project Runway! It's just so much fun to see what the designers come up with. What strange materials would you like to see used? Would you ever wear something made out of newspaper/candy/puppy pads? Discuss!
More
Comments
Popular
Recent