7 Unique Tights That You Must Have in Your Wardrobe ...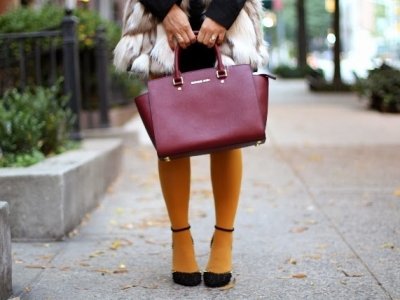 Unique tights seem to be all the rage right now. And why shouldn't they be? They're bold and they're beautiful! There are many different patterns and designs of tights to choose from. There are tights with flower patterns, stripes, and polka dots, etc. All of the items from this list are from ModCloth. Pick what suits your style and personality. Don't be afraid to stand out from the crowd. Here are seven unique tights that you must have in your wardrobe.
1.

Graceful Garden Tights
Unique tights are great pieces to have in your wardrobe. Their different designs and colours are perfect to pair with plain, basic items of clothing. ModCloth's Graceful Garden Tights (pictured above) are ideal for spring. I love the colour palette of this item. With flowers of pink, purple, orange, blue, green, and a background of tan, this item is sure to make you stand out.
2.

You've Got Character Tights
Are you a fan of Lewis Carroll's Alice in Wonderland? If so, ModCloth's You've Got Character Tights are perfect for you! These tights are patterned with characters from Alice in Wonderland. You can see the Cheshire Cat, White Rabbit, card soldiers, and Alice on them. This item is also decorated with tea cups and tea pots, hearts, diamonds, stars, keys, and pocket watches.
ModCloth's A Tale of New Tights is another great pair of unique tights. This item contains scenes of the Victorian era. What's great about these tights is that the design is in blue and the background is white. This means that you will be able to match this item easily with other blue and white clothing articles. I think black would also go really well with these tights.
4.

Bloom of One's Own Tights
Are you looking for something a little more subtle? ModCloth's Bloom of One's Own Tights would be ideal. These tights are classy and yet unique. Keeping it traditional with black, this item is spiced up with a bold floral print. Since these tights are comprised of the neutral colour, you can wear them with anything. Keep it classy by pairing these tights with a little black dress. Wear this item with a red, purple, green, or blue skirt. You can also pair these tights with some high-waist shorts and flats. The possibilities are endless!
5.

Planetary Fairy Tights
These tights are literally out of this world! ModCloth's Planetary Fairy Tights will satisfy your craving for out-of-the-ordinary. This item features planets of the solar system. These tights have a black, white, and gray colour palette, making them perfect to wear with any outfit. Take your style to astronomical heights with this pair of tights.
6.

Maple Grove Tights in Wine
This is another great pair of tights which keeps it classy while maintaining elements of uniqueness. Paisley is a fairly traditional pattern, but the fact that these tights have been made in a maroon colour is what really sets them apart. I think ModCloth's Maple Grove Tights in wine would be perfect to wear in the fall with a cozy knitted dress or sweater. What do you think? What would you pair with these tights?
7.

Riff You Please Tights
Well hello there! ModCloth's Riff You Please Tights certainly catch the eye, don't they? This item is definitely unique. These tights are comprised of a black and sheer horizontal stripe which doesn't run straight. I think this item would be perfect to pair with a black leather jacket. Don't you agree?
That was seven unique tights that you must have in your wardrobe. Which pair of tights is your favourite from this list? What would you wear with these tights? Please leave a comment.
{{#comments_count}} Show Commnents ({{comments_count}}) {{/comments_count}}