Summer means new ways to style a denim shirt! The one piece in my closet that is always my go-to is my denim shirt. It's also the most repeated shirt in my closet because I have four different denim shirts. I love wearing them because they go great with just about everything, and can be worn from preppy, to rocker, to country, and all the way to bohemian. This shirt has no limits but here are 9 ways to style a denim shirt and look fabulous this summer.
---
1

Paired with White Shorts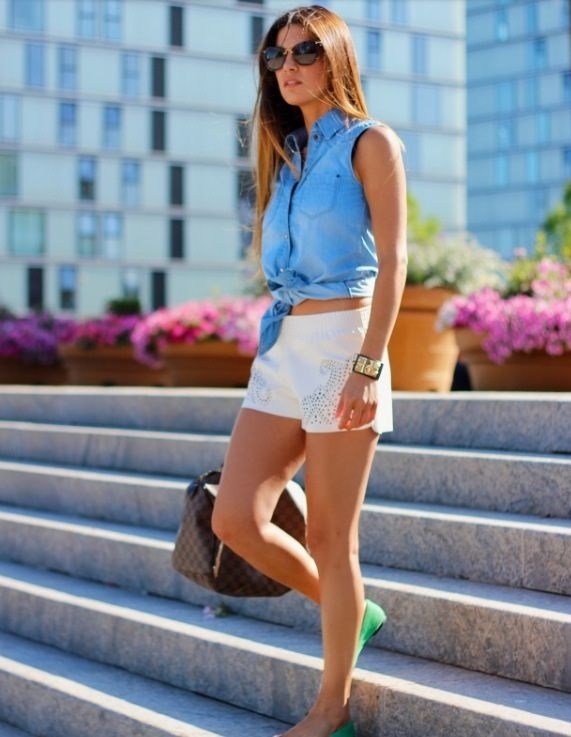 Last winter my favorite outfit was my denim shirt and white jeans and so this summer it's no surprise that the denim shirt and white shorts are my new favorite. This simple classic combination is the easiest to style a denim shirt because from here you can decide what style you want to dress in. Button up the collar and add a chunky choker necklace, polished bag and some flats and you've got preppy look. For a bohemian look roll up the sleeves, open the collar, add a fringed bag and long necklace and pair it all with some gladiator sandals; this is one of my very favorite ways to style a denim shirt.
---
2

Worn with Neon Shorts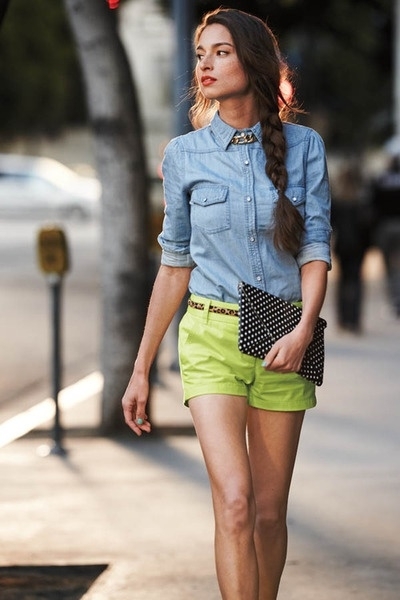 This summer, neon has been a big trend, so it's not that hard to find neon shorts even in the smallest of towns. Even the Wal-Mart has neon shorts so you get my point. I personally love the neon shorts because there is almost no way you can go wrong with this trend when you add the denim shirt. This outfit will have you looking trendy and stylish without going overboard.
---
3

Tucked into a Sequin Skirt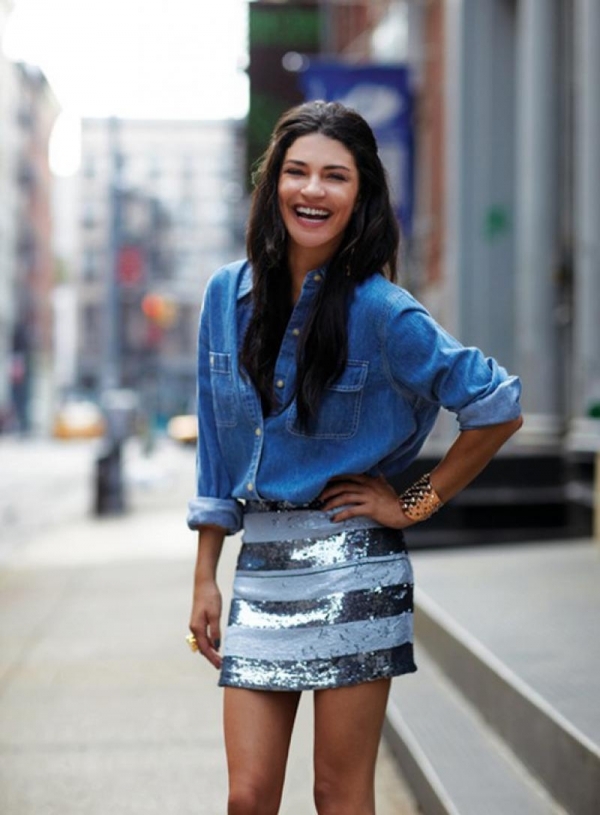 Don't a jean shirt and sequin skirt look totally amazing together? If you thought your sequin skirts were only for the holidays and/or clubbing, you're totally wrong! Adding a denim shirt completely transforms this holiday skirt into a casual outfit you can wear any day of the summer.
---
4

Tied with a Polka Dot Skirt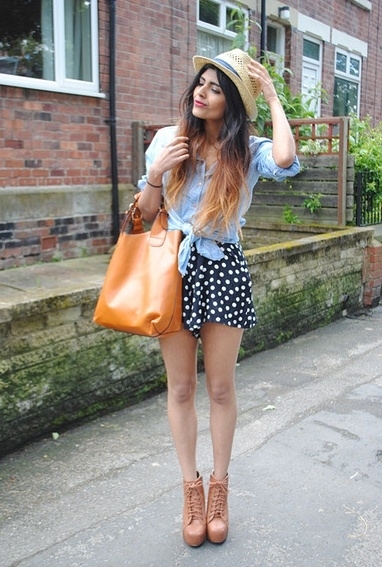 Polka dots have always been a classic pattern that will never go out of style, so why not wear a denim shirt with it? This outfit can be made rocker/edgy by adding combat boots and a long cross pendant necklace. If you want to go with preppy it's just as easy by wearing some Kelly green flats and a royal blue structured tote.
---
5

Tucked into Lace Shorts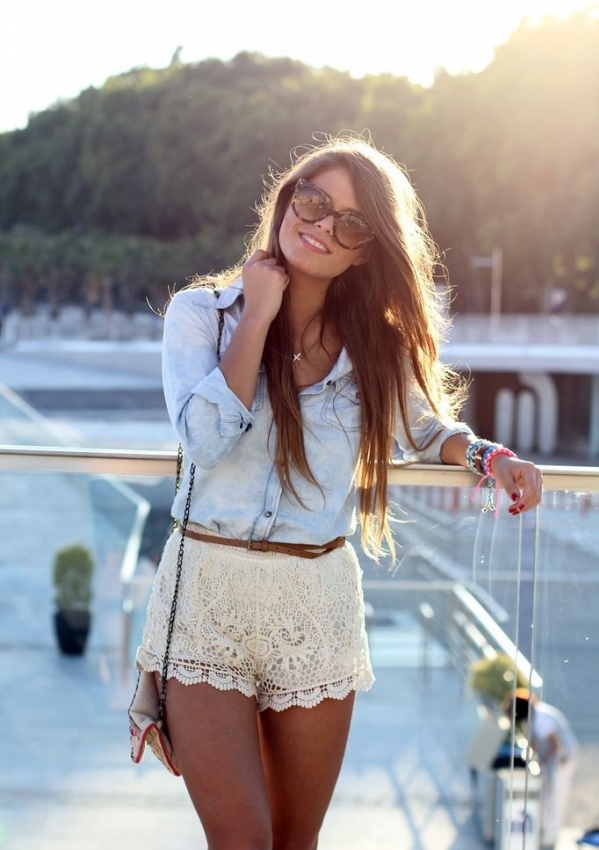 This look is just the sweetest yet. The lace shorts can make any lady feel girly and pretty. Style this outfit with lots of chains, bangles, and fringe for a bohemian look, or add some cowboy boots and turquoise jewelry for a pretty country girl outfit. One tip though, be careful with the length of your shorts because lace shorts do tend to come short in length and it can totally transform from your outfit from sweet to cheap.
---
6

Worn with Printed Pants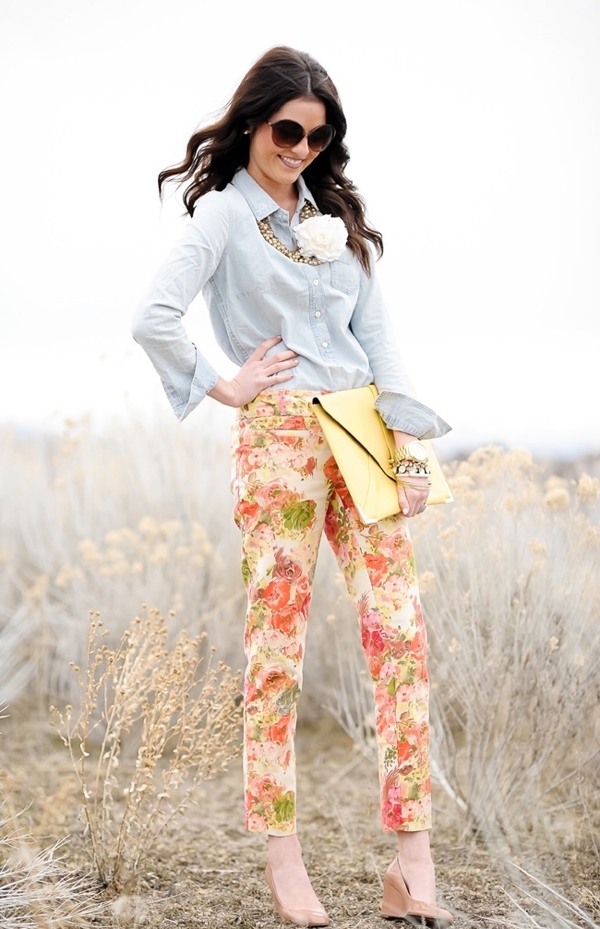 One trend that you can find anywhere is printed pants but the trouble is always finding the right color of shirt to go with the print. Instead of stressing on finding the perfect shirt for your printed pants, try a denim shirt. The denim shirt looks awesome with printed pants and it will make you look effortless.
---
7

Denim on Denim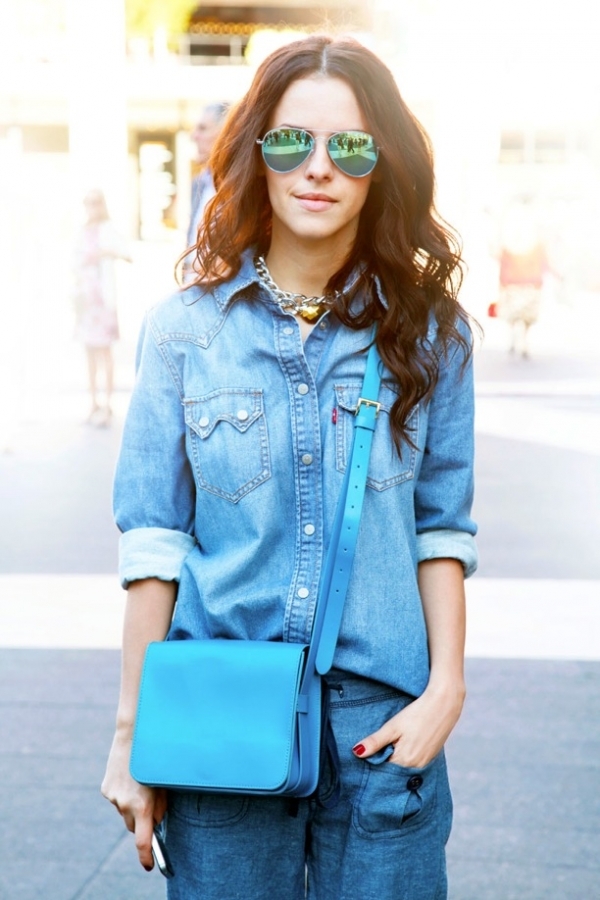 It's like the best feeling when you know that you have all the pieces required for an outfit in your closet already. It means you can throw that outfit on already and know it will look good. One tip that I've always heard and followed is you definitely want your denim shirt to be a lighter shade than your jeans. Why? It just makes the outfit look more polished.
---
8

Matched with a Dressy Skirt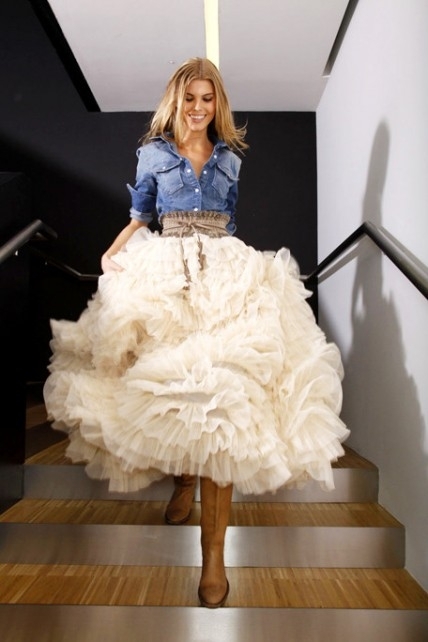 Wearing a dressy skirt with a denim shirt is a perfect way to make your Friday dinner skirt into a Sunday brunch skirt. You will totally have all your girlfriends wishing they'd thought of it first. This outfit can be worn with cowboy boots, wedges, booties, a sun hat, a scarf and so much more.
---
9

Tied over a Dress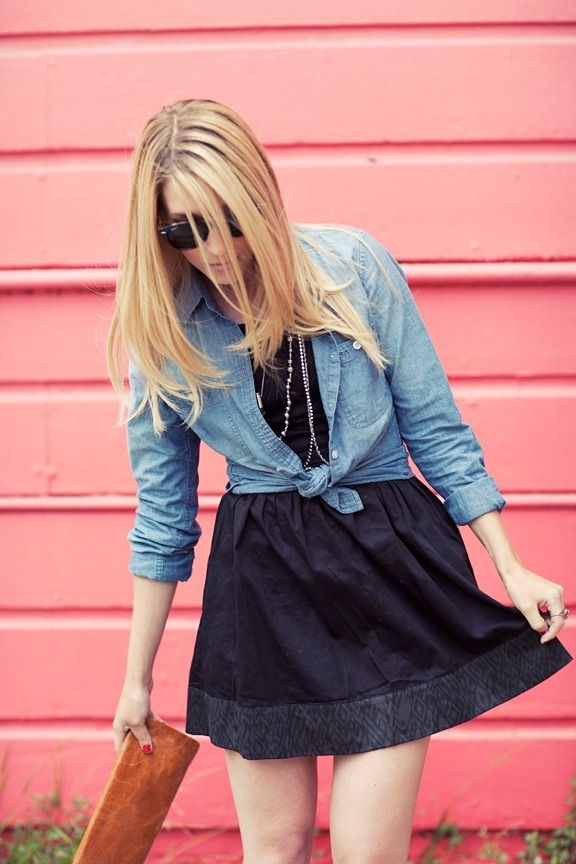 So easy and trendy, it's impossible not to rock it. Just tie the ends of your denim shirt into a knot over your dress and you've got a pretty polished look. Another way to wear this look is leaving the buttons of your denim shirt undone and adding a belt to cinch the waist. A denim shirt is also a stylish way to replace the cardigan for the summer months. This look can be worn all summer long and have you looking fabulous through it.
Even in these 9 ways to style a denim shirt, the possibilities and styles are endless. For me, my denim shirt is the first thing I reach for especially when I'm in a time crunch. My summer has been filled with denim shirts and I don't see it ending any time soon. Is the denim shirt your favorite and how do you make it fabulous?
More
---
Popular
Recent