Fearne Cotton might have only given birth a few months ago, but she's already back modeling a new collection for Very. The presenter is a keen fashion designer, and quickly decided to join her best friend Holly Willoughby creating clothing for catalog company Very – but are her new pieces set to cause as much of a stir as her last? Here are some of the key Fearne Cotton pieces you should look out for.
---
1

Angel Sleeves…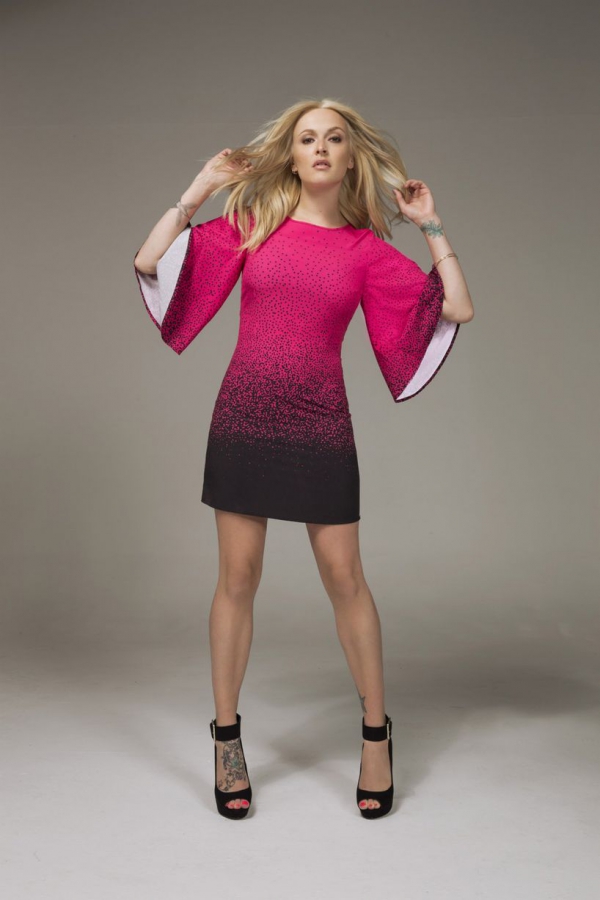 I love this mix of retro and contemporary fashions! Angel sleeves were huge when I was small, and I loved how Princess-y they felt to wear. Now we can do it again but with much more style – Fearne's new collection features a few dresses with this stand-out arm shape. I particularly love this neon pink and black patterned version, which Fearne Cotton teamed with chunky black heels.
2

Slinky Skater…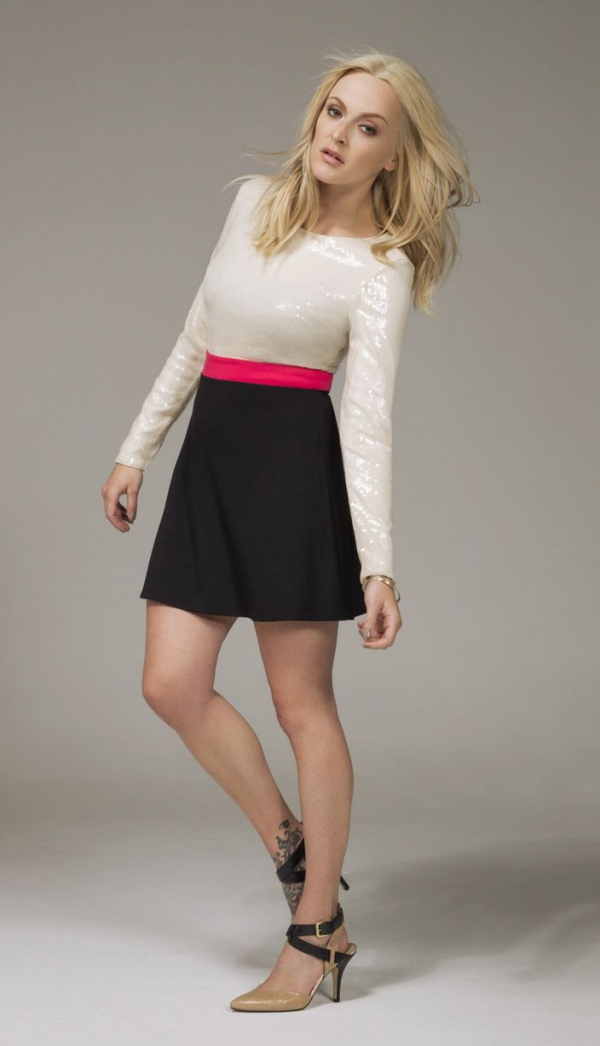 If you love the current skater dress trend but would prefer a more glamorous style, this dress will be right up your street. The black skirt has the same floaty style, but is a little clingier, and the bright pink belt gives it a modern and eye-catching twist. It's the glitzy white long-sleeved top that really finishes it off, though. It's a great girly take on the trend. I'm not so sure about those shoes, though…
---
3

Tea Dress…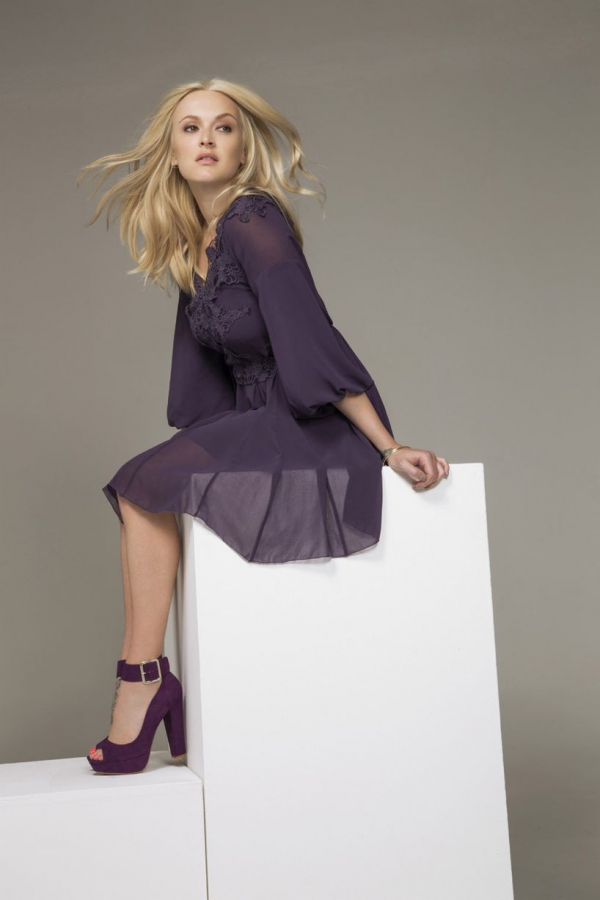 It looks like Holly's dress sense could be rubbing off of Fearne – she's ditched her modern, edgy look for this vintage-inspired tea-dress. From the sheer skirt to the floaty sleeves and detailed lace pattern, it's utterly gorgeous. Make like Fearne and give it a modern twist with chunky purple heels.
---
4

Disco Chic…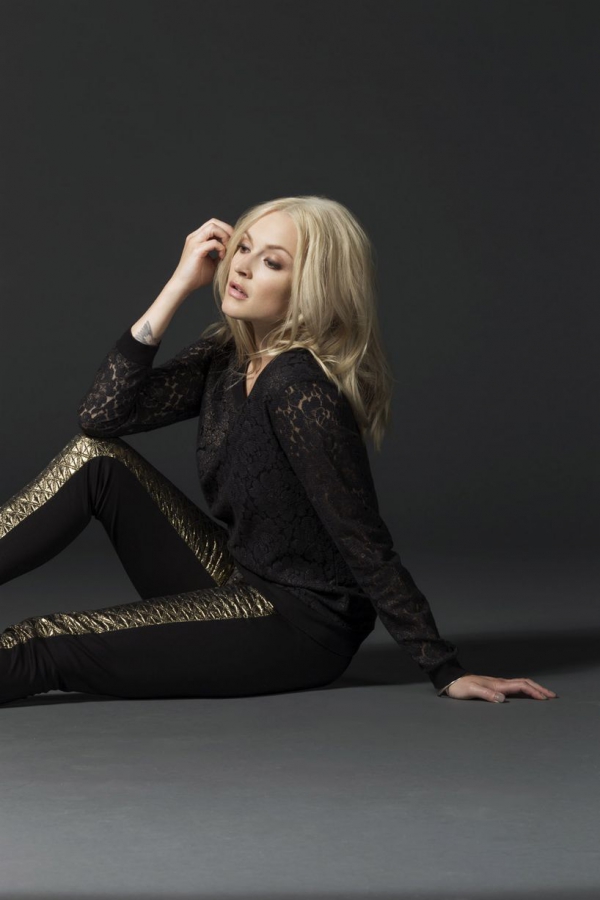 This is more like the Fearne we know! Tight-fitting black trousers with a gold foil strip are a great '80s throwback, and Fearne wears it with a black lace top complete with a gold sheen, and three-quarter length sleeves. You could team this with ballet flats in the day or heels for the evening, and keep make-up glitzy yet wearable by opting for a sheer gold eyeshadow. Definitely give it a try!
---
5

Clashing Patterns…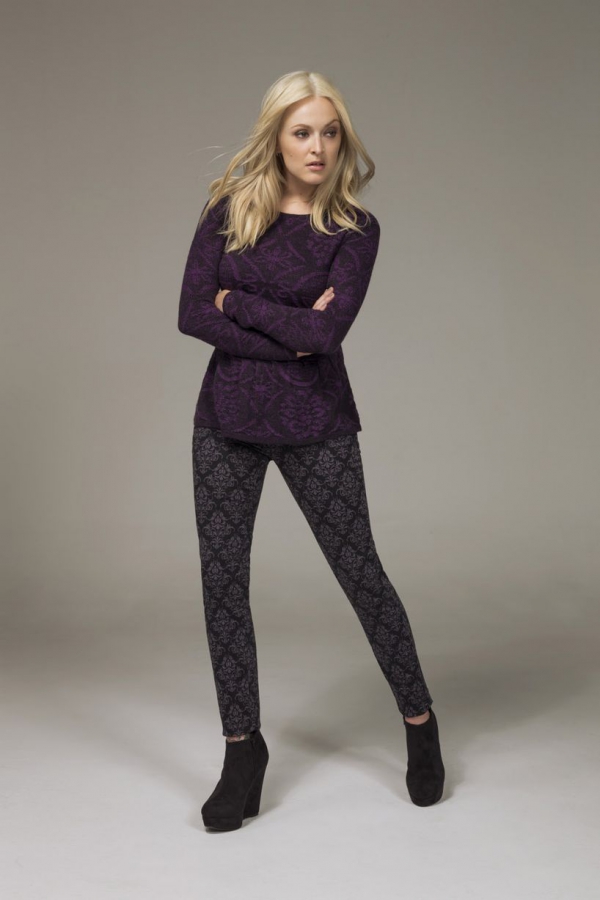 Fashion has taken some inspiration from interior design here, with black and gray leggings featuring that classic floral print. Fearne teams it with a long-sleeved purple and black top with sheer detailing, and some chunky black wedges, along with plenty of that trademark attitude. Not brave enough to clash the prints together? Wear the top with jeans or denim short-shorts, or try the leggings with a short-sleeved shirt or plain tank top.
---
6

Dungarees…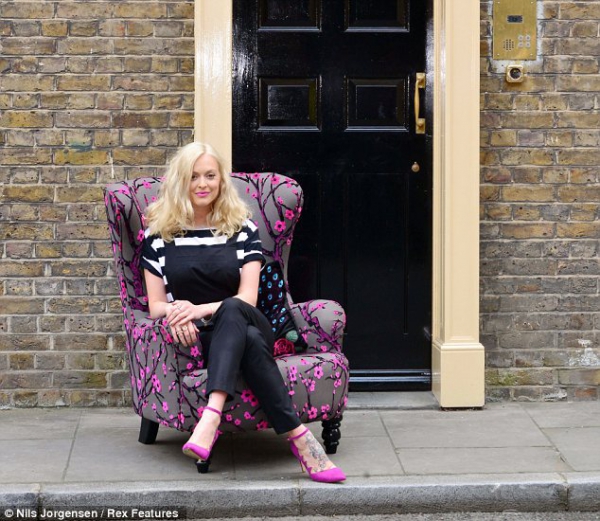 Fearne is always spotted in dungarees, so it's no surprise that she's included some black ones in her new collection! Shaped like skinny jeans, these are the perfect choice for anyone who wants a slightly different look to the typical denim dungarees. Wear them with a black and white striped top and some neon shoes, a la Fearne, or try with a plain t-shirt and statement necklace. There is no price yet – the dungarees were accidentally revealed during this shoot, which shows off Fearne's first homeware collection!
---
7

Classic Coats…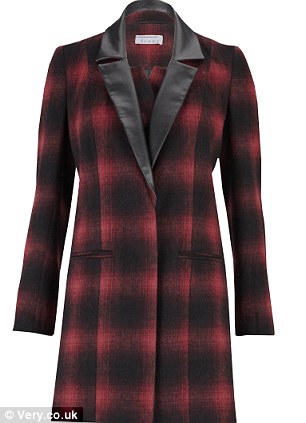 Okay, so nobody wants to be needing a coat, but chances are we will. And if you are going to cover your outfit in a waterproof outer layer, it needs to be cute! I love this traditionally-styled double lapel coat, which teams a classic red and black pattern with a modern leather collar. Wear it with leather trousers for the ultimate in coordinated chic.
---
8

Vintage Lace…

Love the lace look? This vintage styled cream lace dress features classic sleeves, a frilled collar and a high waist, and it's utterly gorgeous. It's probably one of my favorite pieces from the new Fearne Cotton collection! I'll be wearing it as a sundress with black ballet flats, and dressing it up with strappy sandals, too.

So what do you think of the new Fearne Cotton collection? It seems pregnancy and birth haven't slowed her down at all, although I love the more wearable clothes involved this time. There is plenty of choice if you want that edgy look without any risk! Let me know which look you love the most.
---
Comments
Popular
Related
Recent