Have you ever watched an awards show just to see what people are wearing? I certainly have. I remember being 13 and thinking it was really cool of Julia Roberts to wear a suit to accept her "Best Supporting Actress" award for "Steel Magnolias" (showing my age here) and wondering how Cher got that headdress to stay on. Since I don't get to see many movies anymore, sometimes the dresses are the only reason to watch. Just so you know, I'm about as fashion-forward as a troll doll. I have an idea about what's in and what's out, but I'm more concerned here with what we'd actually like to wear. You don't have to be a fashionista to be able to tell what you like and what you don't. Also, many of these designs have stood the test of time. Beauty is always in.
---
1

Scarlett Johansson, 2006 Golden Globes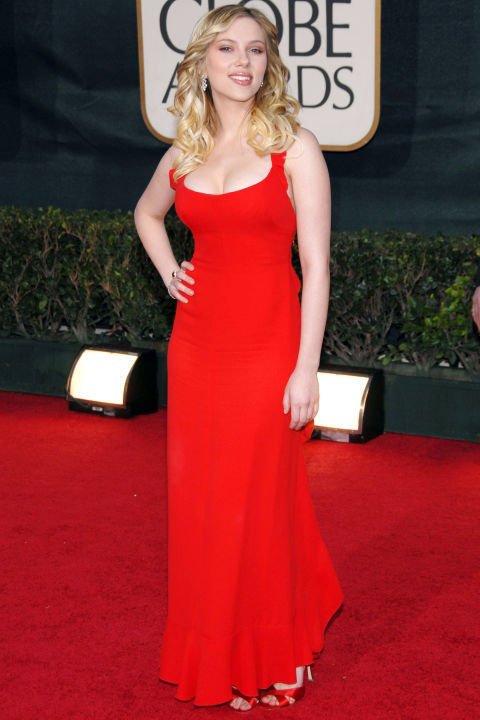 When you're, um, well-endowed like I am, you need a dress that either allows you to wear a bra or has support built in. That's what seems to be going on here. It hugs her curves in a way that makes her look sexy without looking slutty.
2

Nicole Kidman, 2007 Oscars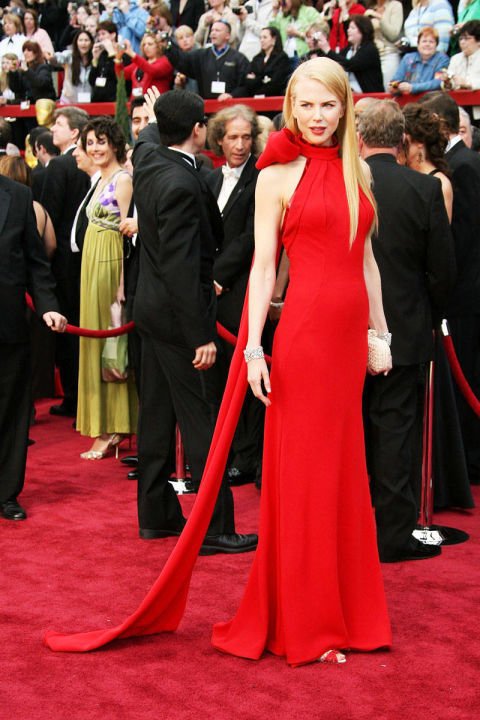 While I can't imagine Nicole Kidman looking anything but amazing, I really like this dress. Like the comment with the picture says, "She looks like an elegant present". It's true; the bow and scarf (?) that trails behind her looks like the ribbon you might see on a Christmas gift. Gorgeous.
---
3

Emma Stone, "Amazing Spider-Man" 2012 World Premier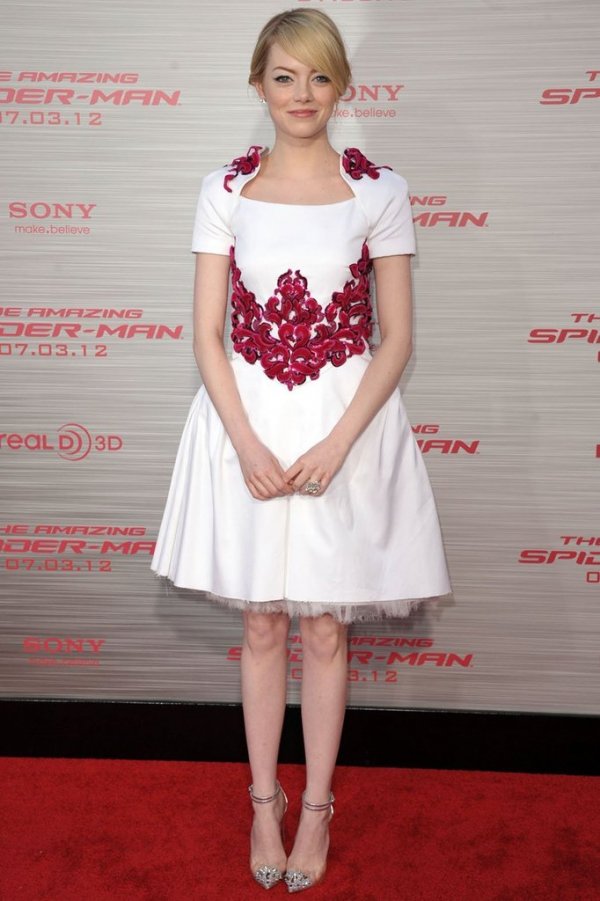 She looks like one of the porcelain dolls I had as a kid. This dress looks like something you could wear to a lot of different occasions-a garden party, church, a school dance etc. Growing up in the South, I've seen this kind of thing a lot. What's more, you can actually move around in it. I know that comfort isn't exactly a goal when dressing for a movie premiere, but at least she won't pulling at her straps the whole time.
---
4

Chris Pine, 2014 Golden Globes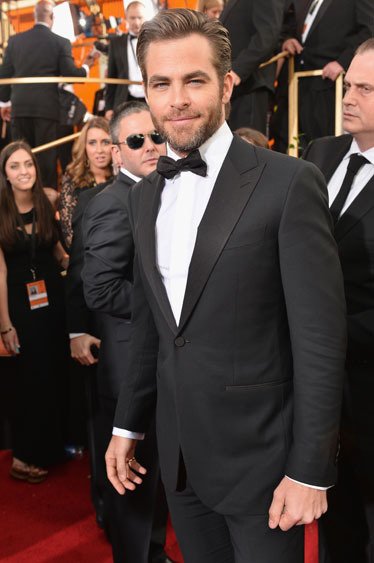 There's nothing special about Chris Pine's Golden Globe tux. I just wanted an excuse to look at him.
---
5

Grace Kelly, 1955 Oscars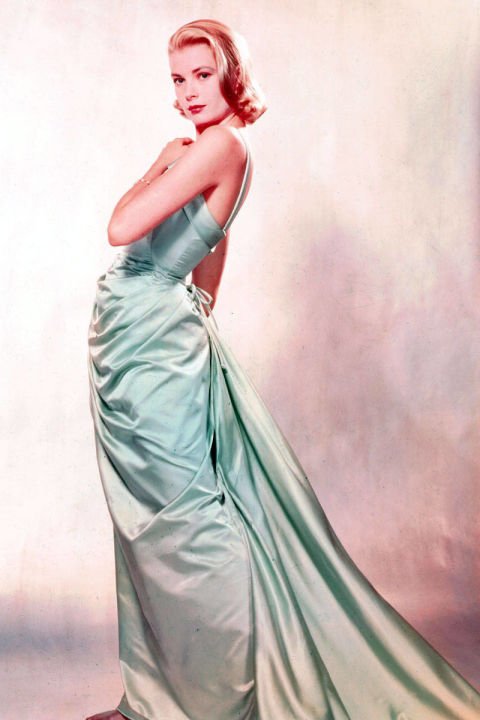 Apparently some fashions are truly timeless. This dress-that would probably look plain on anyone else-has been referred to as the "all-time gold standard" of red-carpet gowns. InStyle says that this gown was cut from a $4000 roll of satin. If you think of how much that was in 1955, imagine how much that would be now. My purse hurts just thinking about it.
---
6

Kate Hudson, 2003 Oscars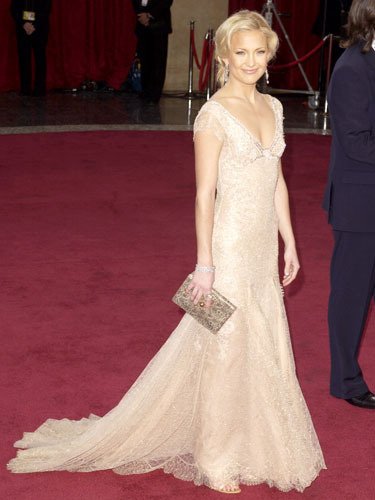 Cosmo says that this lace-train dress took over 500 hours to make! I don't even want to think about how much that must have cost, but it makes Kate look like a million bucks. Yes, I know, that's cheesy, but it's true. It offsets her golden hair and skin perfectly.
---
7

Vanessa Hudgens, 2015 VMAs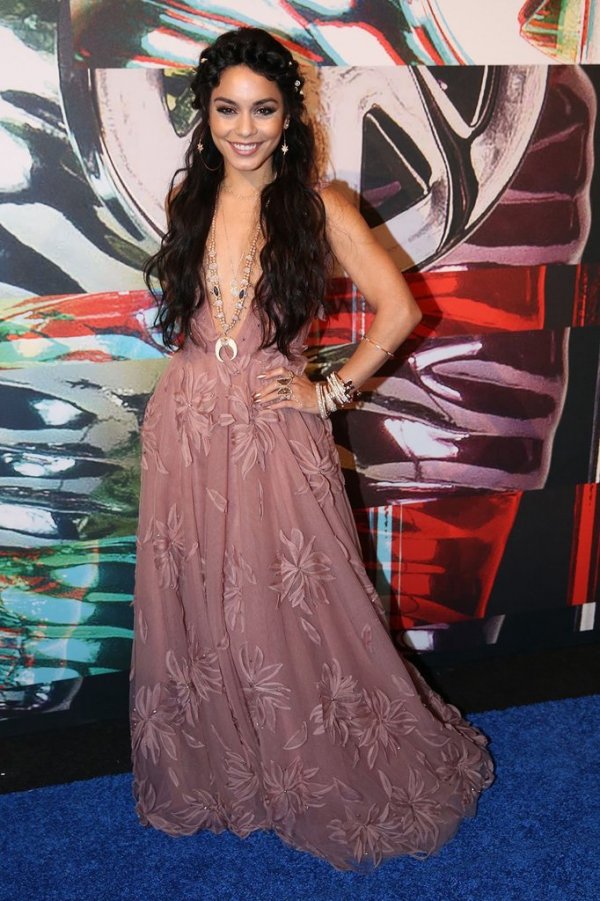 I absolutely love this dress! The flowery details on the skirt are beautiful, and the "tea-rose" color is amazing next to her dark hair and complexion.
---
8

Adam Levine/Behati Prinsloo, 2015 Oscars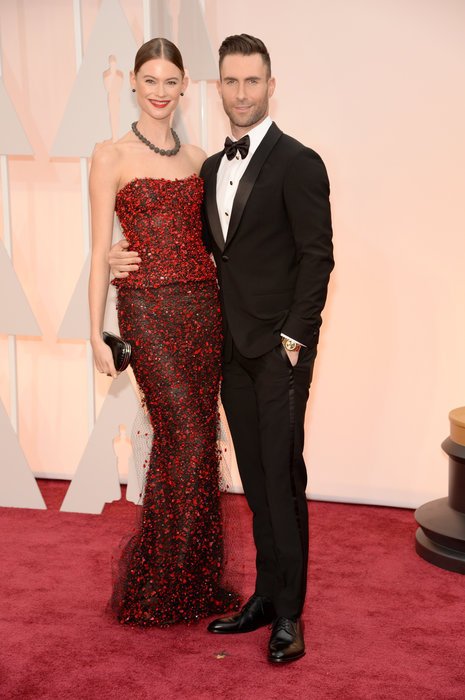 Is it me, or does her dress look like it's lighting up? It reminds me of one of those Lite-Brite kits I had as a kid-you put up a sheet of black paper and fill in the pattern with different colored lights so it looks like a cat/house/etc...here, it makes an already beautiful woman look even nicer. I'm jealous, and not just because of the man she's wearing.
---
9

Demi Moore, 2010 Academy Awards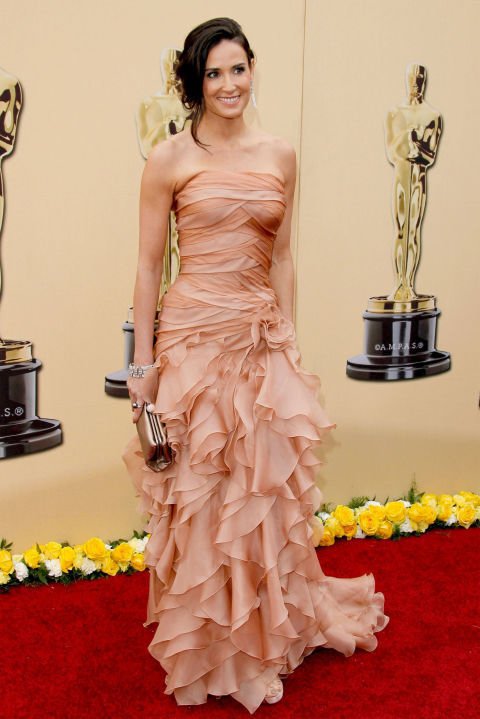 This dress is absolutely gorgeous. I don't know if it was made just for her, but it's one of a kind. I love that color on her.
---
10

Sarah Hyland, 2015 Emmy Awards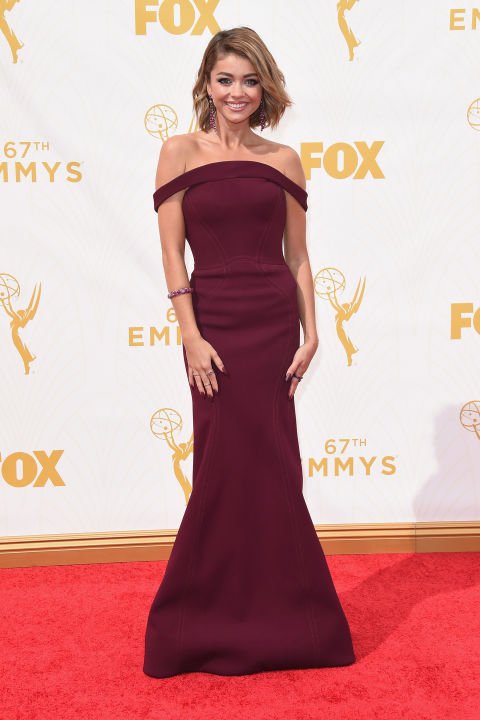 This "Modern Family" actress is wearing a gorgeous burgundy trumpet-style dress by Zac Posen of "Project Runway". More photos of the dress (check out the back!) along with co-star Ariel Winter are at justjared.com.
---
11

Rosamunde Pike, 2015 Oscars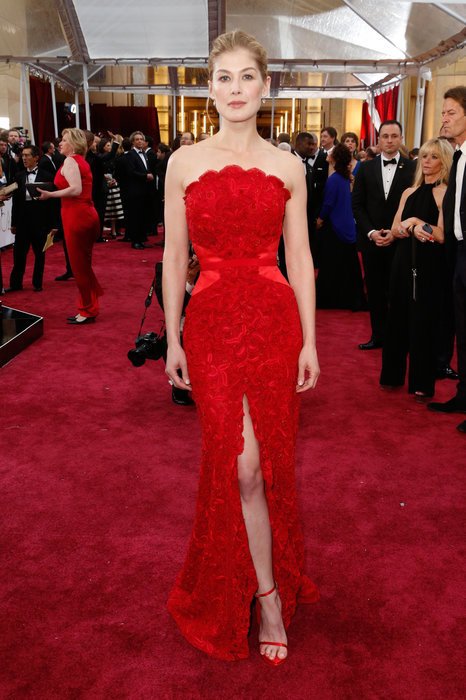 This strapless Givenchy dress hugs her curves and shows just the right amount of skin. It's sexy and modest at the same time-perfect for the shy girls among us.
---
12

Brad Pitt, 2012 Oscars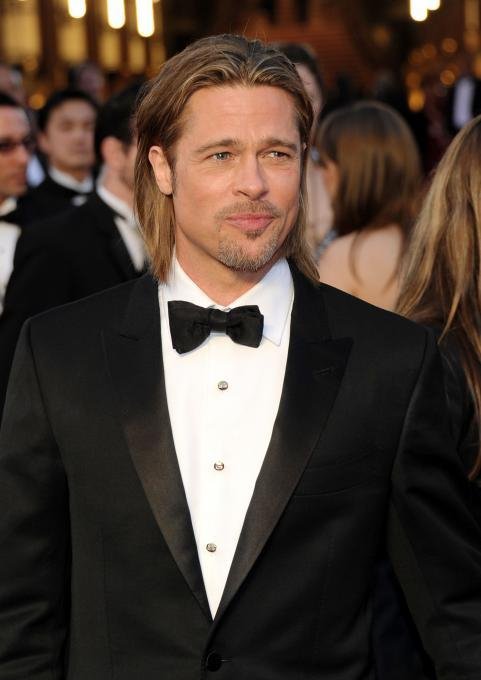 Again, nothing special about the tux. I just wanted to look at him and thought you might want to too. You're welcome.
---
13

Julianne Moore, 2015 Golden Globes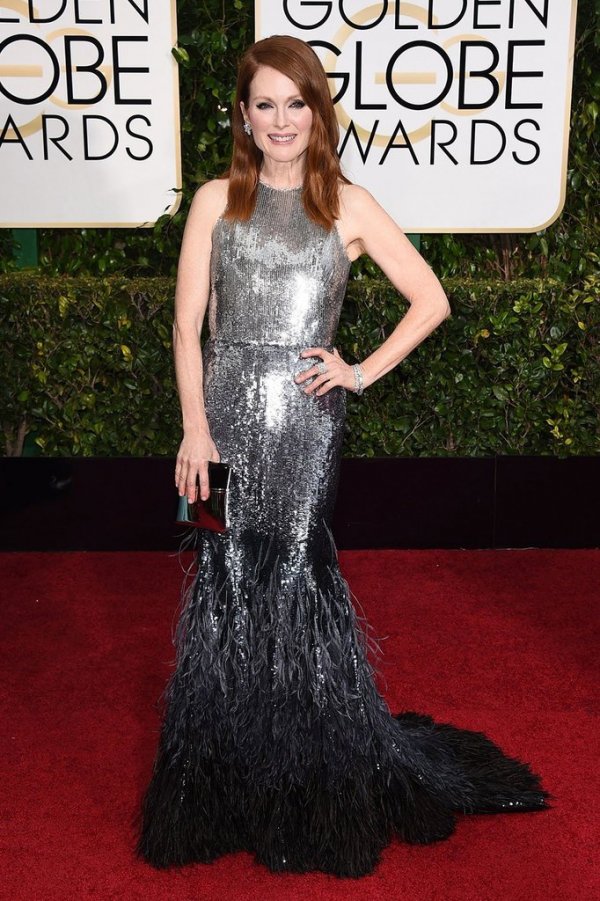 I've heard this type of light-to-dark pattern referred to as a "waterfall effect". Whatever it's called, it looks great on her. I especially love the feathers down toward the bottom.
---
14

Rihanna, 2013 Grammy Awards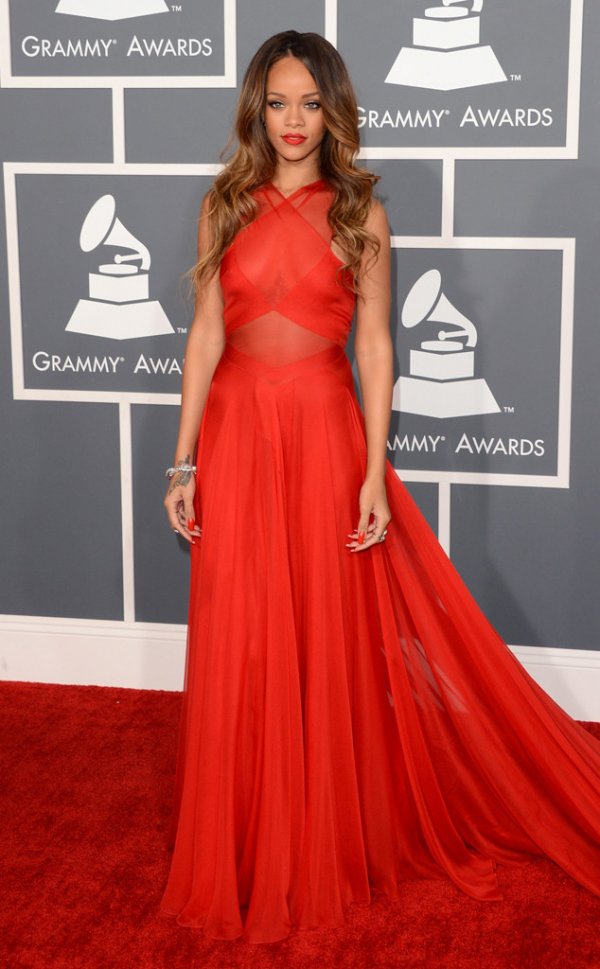 This 2013 Grammy award dress also fits the "modest but sexy" category. It's sheer, but not so much that it shows everything she has. I've seen some that do. Damn.
---
15

Camila Alves, 2015 SAG Awards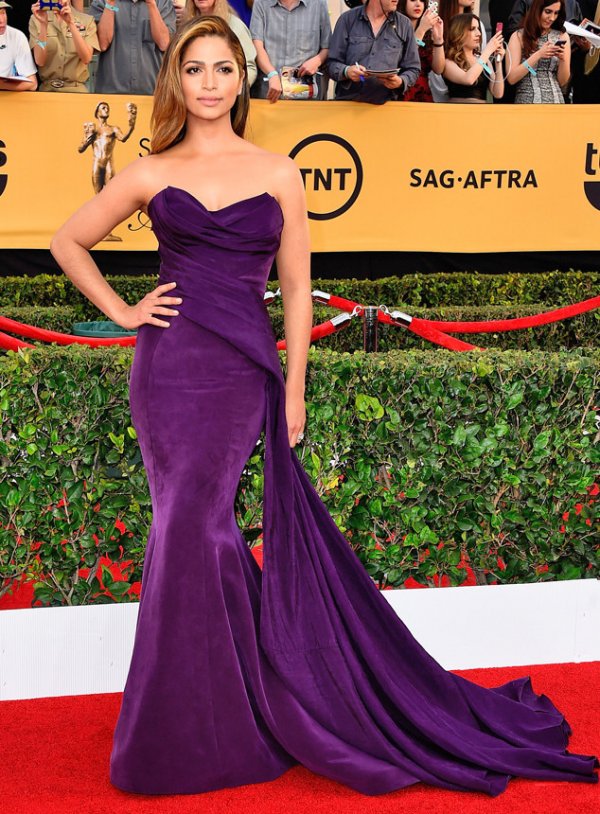 E! called this Screen Actors Guild award gown "Regal". With the purple velvet and long train, she certainly looks the part. Like the article says, the shirring on the bodice plays up her top half while the mermaid flare shows off her bottom half. She looks perfect in it.
---
16

Zoe Zaldana, 2015 Oscars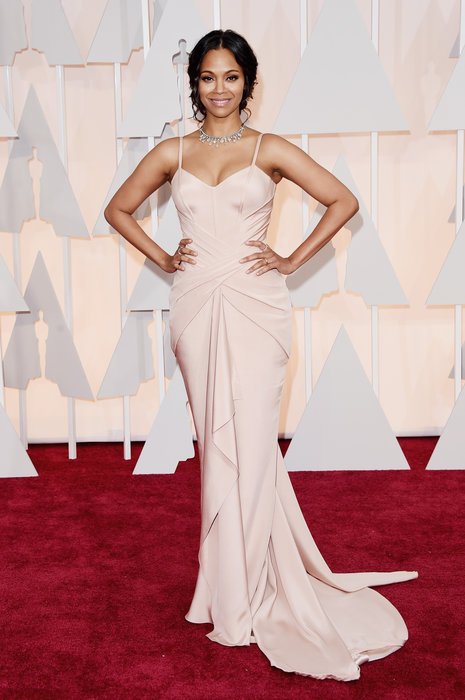 A lot of dresses don't draw attention to the hips because they're a "problem area" for many women. This one, however, shows her beautiful figure in a color that compliments both her shape and her skin tone. I love it.
---
17

2015 Golden Globe Multi-pack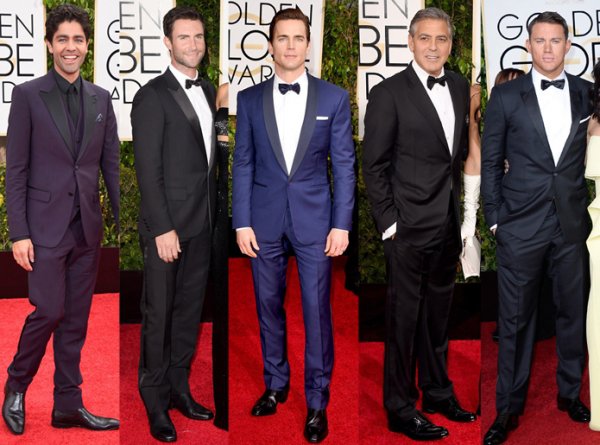 Adrian Grenier, Adam Levine, Matt Bomer, George Clooney, Channing Tatum. Hmm, five hotties for the price of one. This must be your lucky day.
---
18

Felicity Huffman, 2015 Emmys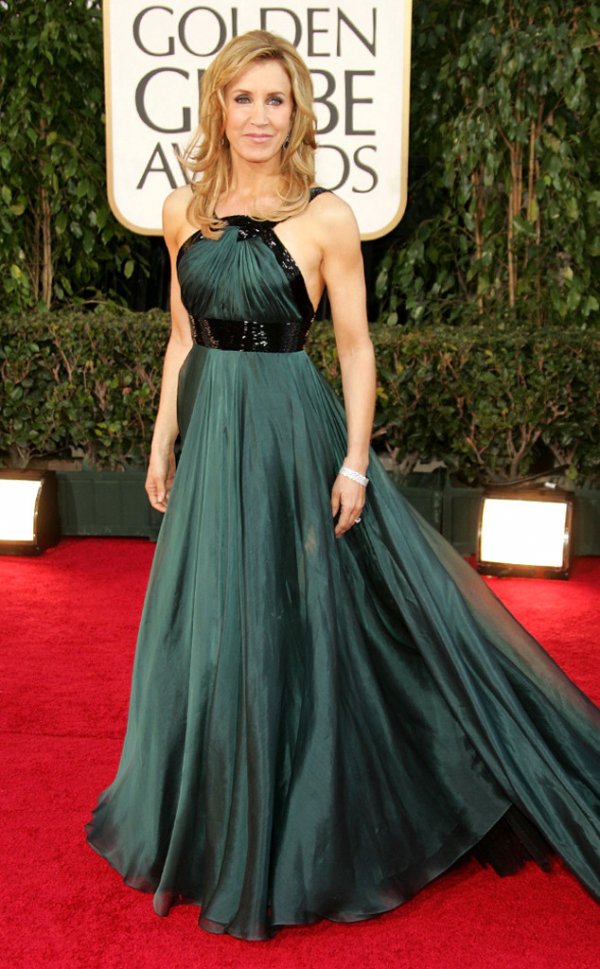 I don't know about you, but I would totally wear this. The color is gorgeous, the halter style looks good on a lot of figures and it has a sort of "ease" about it I can't really describe. She probably doesn't have one because she's about the size of my little finger, but that black "belt" right above the waist would help hide any kind of "muffin top" someone had.
---
19

Catherine Zeta-Jones, 2015 Oscars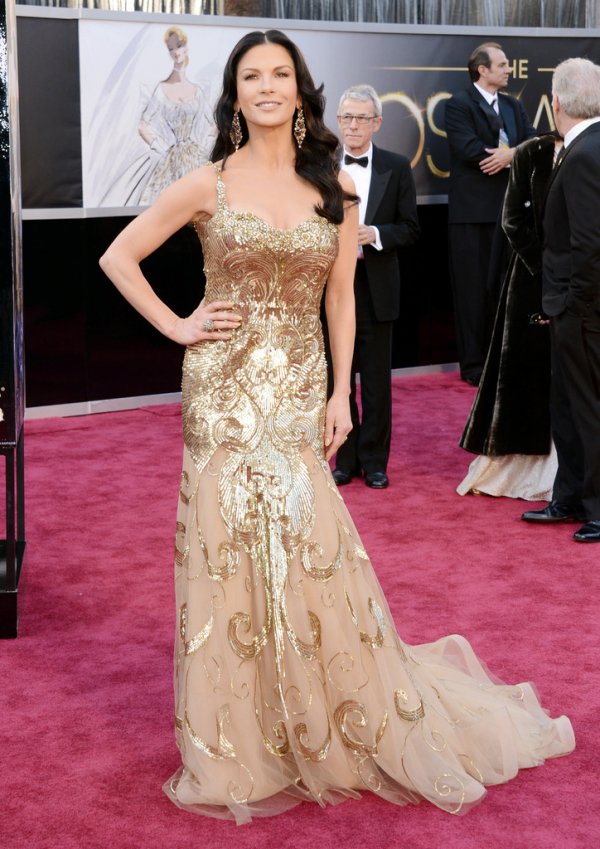 If they gave Oscars for Best Red Carpet Design the way they do for Costume Design, this one is a sure winner. You could probably put this dress in an art museum after she's done with it and it would still look better than some of the other pieces in there.
---
20

Angelina Jolie, 2012 Oscars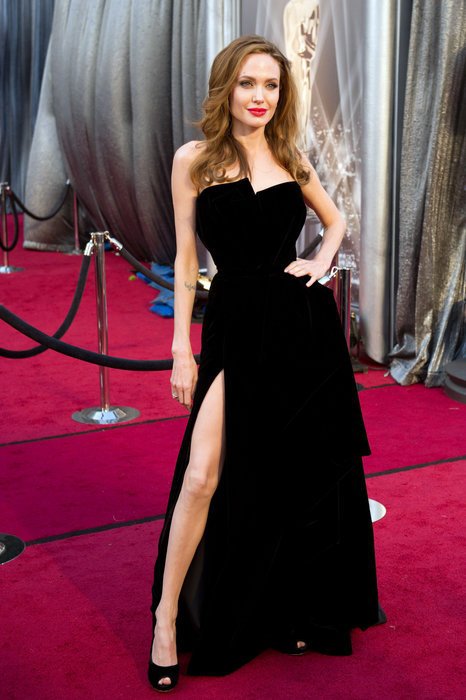 Angelina ruled the red carpet in this Versace dress. Then again, she could wear a potato sack and still look amazing.
---
21

Penelope Cruz, 2007 Oscars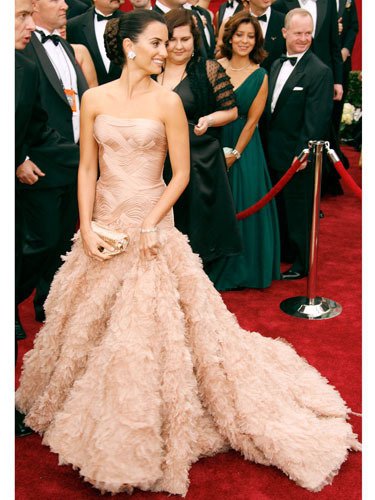 This "bandage meets feathered" look (as Cosmo puts it) might look odd on anyone else, but Penelope Cruz is stunning in it. Of course, she'd look stunning in anything.
Even though I'll never win any kind of prize, it's fun to imagine what I might look like in some of the red carpet dresses I've seen. Chances are I'd look more like a bad carnival tent than an A-list star, but a girl can dream. What about you? Have you seen any red carpet looks you'd love to wear? Are there any you hate? What would you wear if you were up for an award? Discuss!
---
Comments
Popular
Related
Recent