Peter Pan collars have been one of the biggest trends of the 2013 fashion scene. This retro-inspired look is said to originate from the 1905 production of its namesake where Maude Adams appeared in the role of Peter Pan. A similar look also debuted in the French novel "Claudine à l'école" at an earlier time, but the exact place and date of origin is not fully known. Who knew that this look would one day influence the wardrobe of numerous fashionistas? While this trend often receives backlash because of the child-like intonations associated with it, these fabulous finds featuring Peter Pan collars will show you just how amazing this look truly is.
---
1

Modcloth – Stop and Say High Seas Top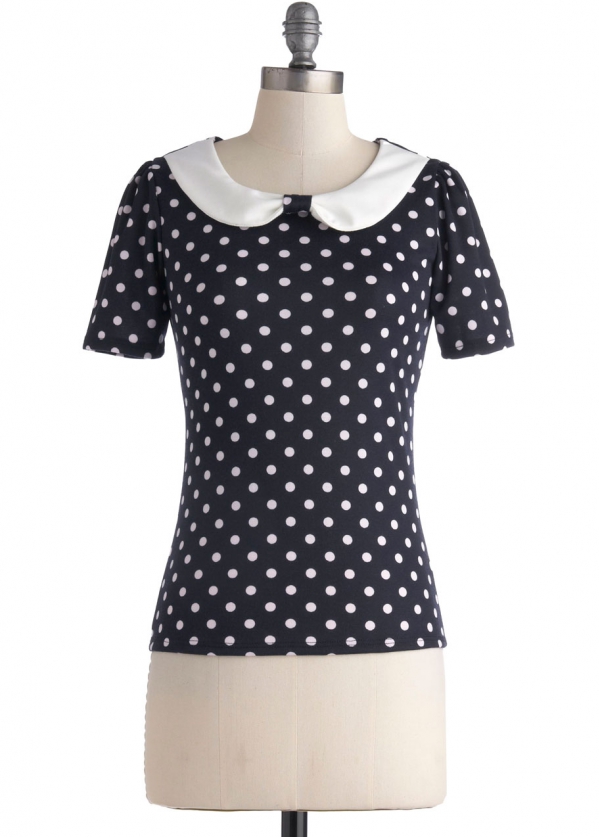 This cute polka-dot number is one of my favorite finds featuring Peter Pan collars. I've always praised Modcloth for being one of the greatest outlets for finely-detailed clothing; this form-fitting and flattering shirt is certainly no exception. I'm not ashamed to admit that this shirt, along with my black A-line skirt, has made countless appearances on outings with friends!
---
2

Modcloth – Lace Share Top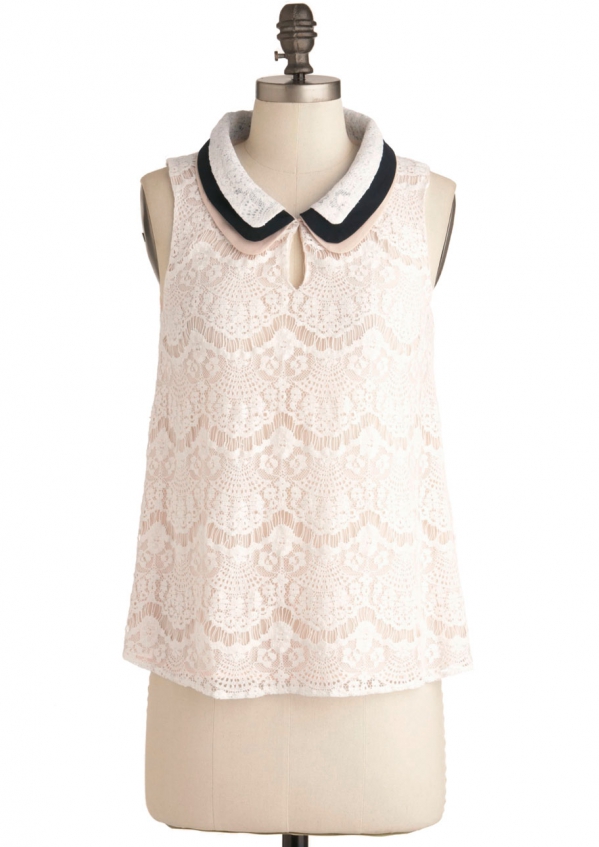 Another Modcloth purchase, there is something about the combination of lace with a flirty and layered collar that has me head over heels for this shirt. I love that this fabulous design is subtle, yet still manages to be eye-catching. I would pair this shirt with high-waisted shorts for an overall sophisticated but fun look!
3

ASOS – Pearl Peter Pan Collar Necklace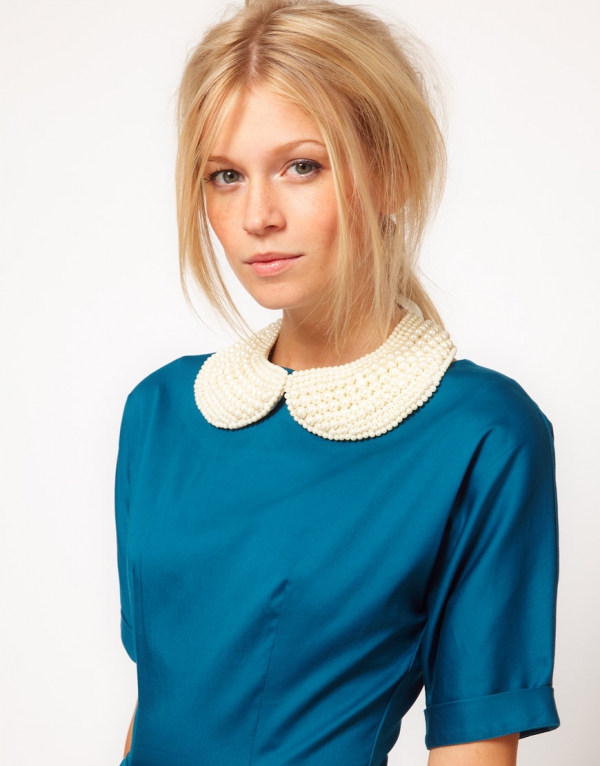 The best way to achieve the Peter Pan look for less is to rock a fashionable collar necklace. On sale at ASOS, this particular find usually does not sell for more than $20 unless you are looking at designer styles. You can find alternatives that are just as beautiful at the retail store Forever 21. You will not be disappointed by this exquisite stand-alone piece.
---
4

ROMWE – Hollowed Carving Detachable Collar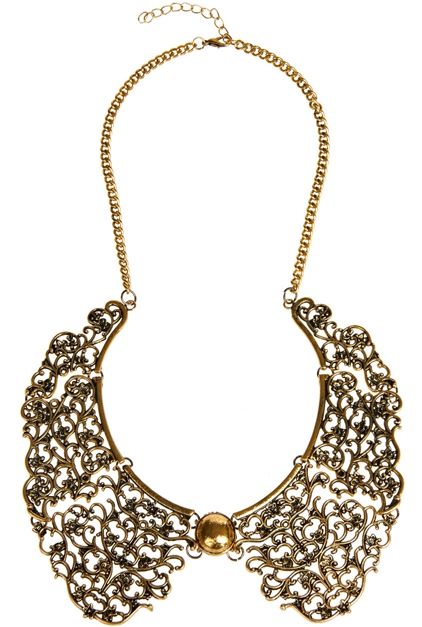 This is a necklace that I've had my sights set on for quite some time. I'm a huge fan of the site ROMWE and its eccentric collection. Seeing this beautifully bejeweled gem was really exciting! The intricate detailing on this stunning necklace truly speaks for itself.
---
5

ASOS – Swing Dress in Floral Print with Peter Pan Collar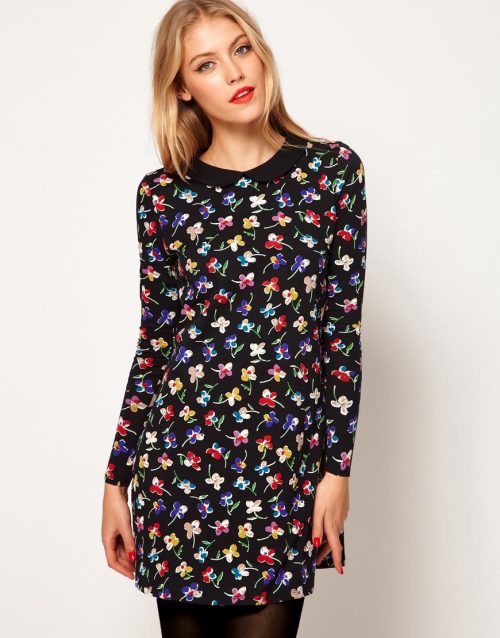 If you are not afraid to experiment with bold pieces, then you should look no further. This floral dress combines high fashion with femininity. The colorful variety of flowers in this fabulous print makes this dress an excellent choice.
---
6

ASOS – Mini Body-Conscious Dress with Lace Sleeve and Collar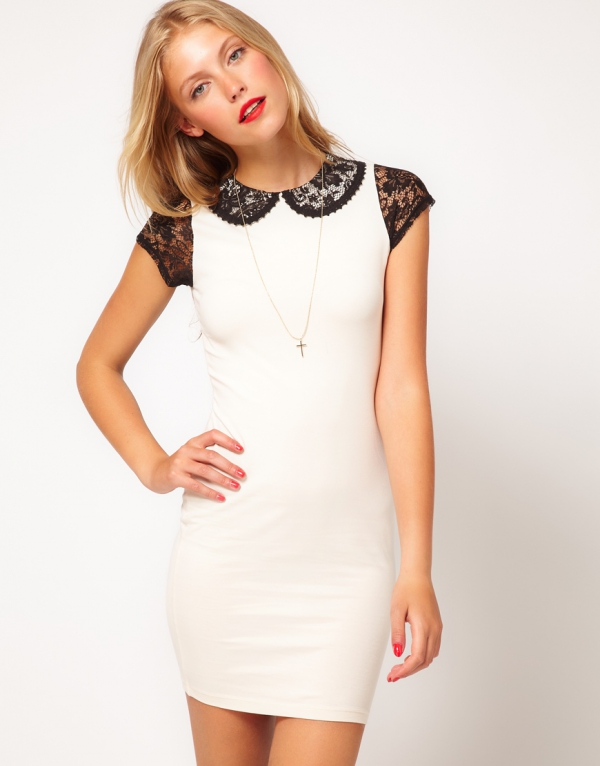 This next outfit will really pop when paired with the sweetest accessories. I am obsessed with the fancy white and black version of this dress; I can never resist wearing this cute outfit with black pumps and a simple black cardigan. It also comes in a lovely and deep shade of blue.
---
7

Ruche – Charming Collared Blouse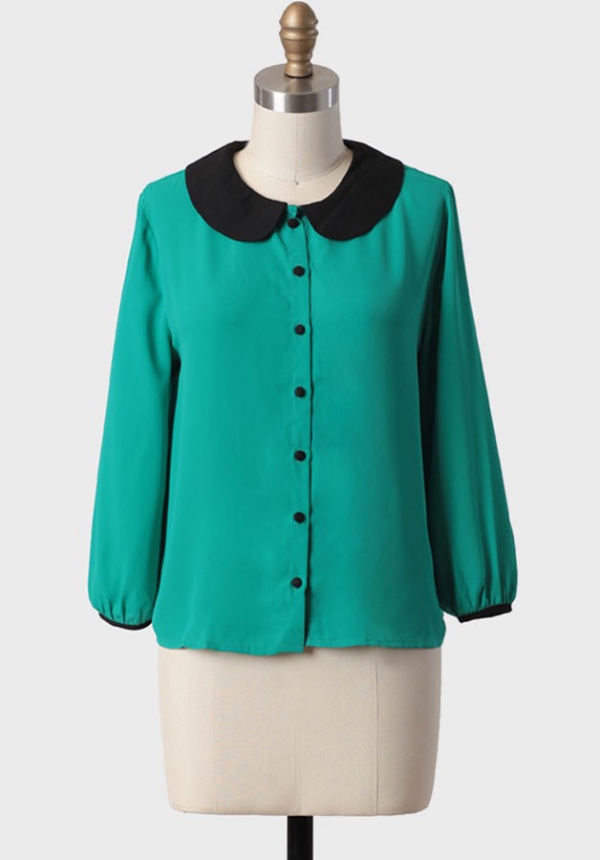 I love that this jade button-up shirt embodies all of the elements of a vintage-era. With its lovely color and beautiful button accents, it is the perfect way to add dimension to your closet! At such an affordable price, fashionistas will be all over this retro-inspired blouse.
---
8

Modcloth – 500 Days of Shimmer Dress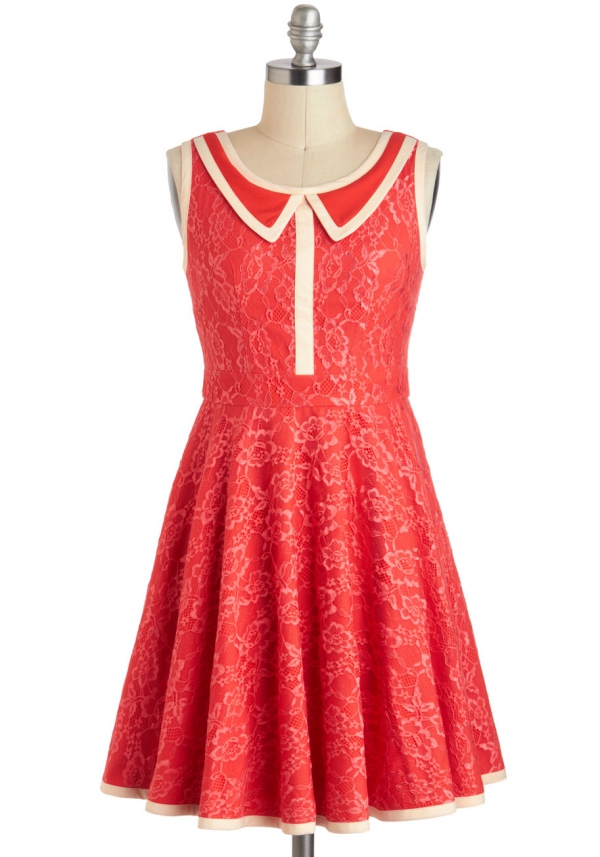 My favorite part about this fashion forward dress is its diversity. Because of its understated yet trendy design, this dress leaves you with a variety of options in regard to how to style it best. The style and cut is simply astonishing! The clever name of the dress alone makes me want to empty my bank account!
---
9

Forever 21 – Peter Pan Spiked Bib Collar Necklace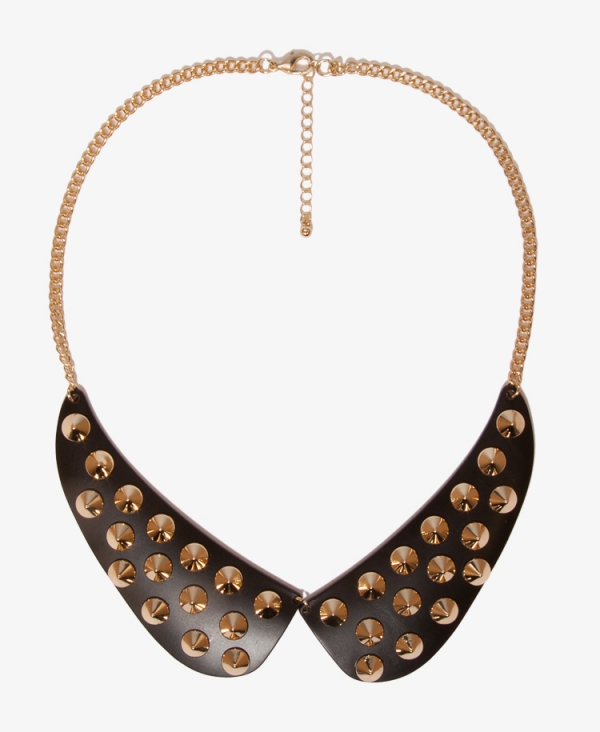 This magnificent item caught my interest when I was browsing my favorite clothing shop Forever 21. I love pairing this studded gem with my classic black dress; seeing how the contrast between the two instantly brightens up my outfit is highly satisfying. The best thing about peter pan collar accessories is that they can be attached to dresses in different shapes and styles!
These vintage looks will be sure to turn heads as you strut down the streets of your home town. Peter pan collars are cute enough to be worn at any time of day; I love that this style is easy and inexpensive to replicate! What are some of your favorite finds featuring these collars? What celebrity do you think wears this trend the best?
---
Comments
Popular
Related
Recent