Throughout my years as a fashion-obsessed twenty-something, I've encountered a gaggle of stylish ladies who have preached to me that sporting animal print constitutes a heinous fashion faux pas, yet I argue that there are classy ways to wear animal print. "It's trashy," they lament or simply raise their eyebrows in thinly veiled disapproval. Now, I'm no advocate of leopard print bodysuits or jungle-themed outfits, but I staunchly support the incorporation of animal print into one's everyday wardrobe. Go for these fabulous pieces and I promise you won't suffer a zoological overdose -- they represent certifiably classy ways to wear animal print.
---
1

Jerry Campbell's "Mention" Flat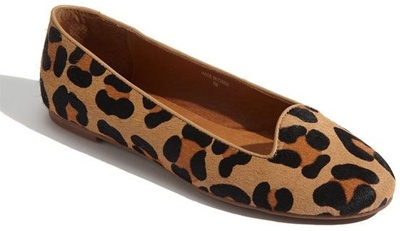 Price: $99.95 at shop.nordstrom.com
Jeffrey Campbell never fails to produce stunning collections of avant-garde shoes. His style ranges from chunky wedges to wildly funky sandals and tends to attract more daring dressers with his vivid use of color and unconventional construction. However, once in a while Campbell pares down his look to produce stunning flats, like this gorgeous leopard-print Mention flat. At just under $100, these sophisticated shoes are a steal. Dress them down with a flattering pair of skinny jeans and silk tank or try a funkier approach with a red suede mini and ruffled blouse, and you've got one classy way to wear animal print.
2

Justin Gregory Leopard Print Scarf

**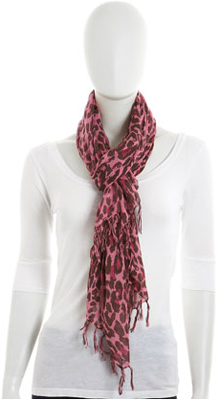 Price:** $30.00 at lastcall.com
Understandably, women who incorporate small touches of animal print in their outfits tend to look more put-together than women who positively drape themselves in it. Choose accessories like scarves to add a bit of animalistic flair to your work or play outfits. Opt for a colorful cheetah print like this lightweight voile from Neiman Marcus and show off your adventurous side.
---
3

ASOS Animal Print Skater Dress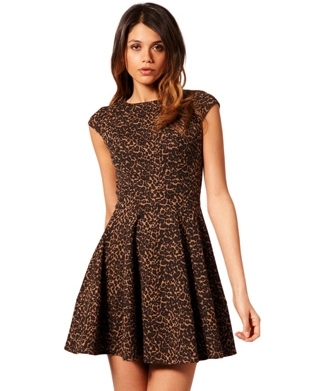 Price: $77.58 at us.asos.com
There's no better classy way to wear animal print than to invest in a truly sophisticated piece fashioned from this unorthodox fabric. All too often we associate these outrageous patterns with less than wholesome ensembles, but that needn't be the case. Shop around for a sweet, ladylike cocktail dress like this frock from ASOS and pair it with some nude pumps for an intriguingly feminine look.
---
4

River Island Animal Print Metal Cuff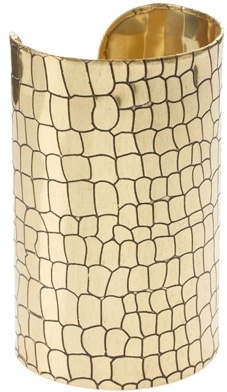 Price: $22.41 at us.asos.com
For those of us not quite bold enough to pull off hardcore prints, statement jewelry serves as a perfect alternative. To add a bit of the wilderness to your outfit, load up on a thick printed bangle or mix the printed variety with some gold like in this set. Wear with a simple tunic or a khaki romper to add flair to an otherwise everyday look.
---
5

Gold-Tone Animal Print Glitz Sport Watch

**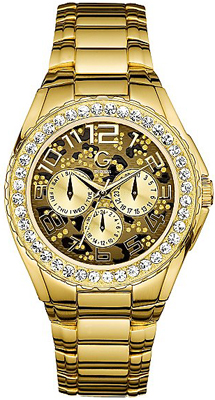 Price:** $114.50 at gbyguess.com
Talk about subtle, sexy animal print. This timeless gold wrist piece incorporates a hint of jungle fierceness with an unexpected touch, namely its leopard print face. Glamorous and highly detailed, this versatile watch is sure to please women from a variety of fashion subcultures. Boho it up with a slouchy vest and crop top or try use it to accent a black bodycon dress. Either way, it's sure to garner some serious attention.
---
6

Helene Berman Print-Brim Trilby

**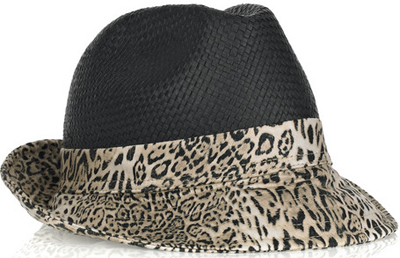 Price:** $60.00 at theoutnet.com
Hats have attracted a fair amount of attention this season, especially the wide-brimmed variety that has become increasingly popular among beachgoers and warm-weather gals. Despite their old-fashioned mystique these woven wonders are still fair game for designers who dabble in animal-themed clothing. This Helene Berman trilby makes a ferocious impression with its printed brim and ebony upper. Wear it with a striped shirt and blazer to achieve a hipster spin or pair it with a simple black sundress for a day at the park. Whatever you choose, it's a highly fashionable, classy way to wear animal print.
---
7

Animal Print Bra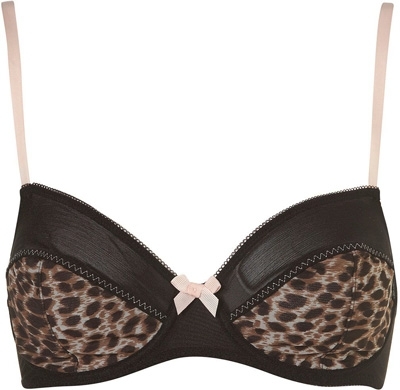 Price: $36.00 at us.topshop.com
Perhaps your style or current wardrobe doesn't allow a whole lot of room for experimentation, or maybe you're too shy to face down the withering stares that animal print sometimes inspires. Still, if you're anything like me, you have an animalistic side that you're dying to show off. An easy solution? Get your fix of animal print by splurging on a sexy set of underwear like this sexy bra from Top Shop. Give your day a sassy edge and irresistible allure with this sensual set.
If you dare to celebrate your love of the jungle, let me know what you think of these classy ways to wear animal print. I know there must be more of them. How else will we make animal print an acceptable accessory?
---
Comments
Popular
Related
Recent