It is no secret that I love Steampunk fashion elements! They are a fascinating mix of feminine, futuristic, retro-Victorian, and western elements. The product is mind-bogglingly wonderful Steampunk outfit. I have broken down an entire outfit into a list of essential Steampunk fashion elements. Add any of these pieces to your daily attire for everyday Steampunk essence.
---
1

Cute Hat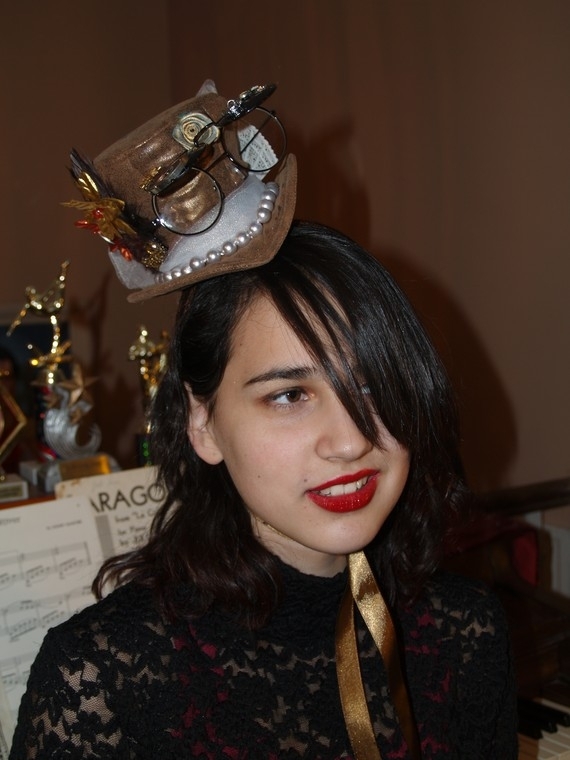 Hats are one of the best Steampunk fashion elements. Steampunk hats range from dainty little fascinator type adornments to full on top hats! They are always multi-layered and proper. I love them! My favorite is a feminine top hat complete with brass gears and lace. Wearing a hat is great in nearly any type of weather. Wear it while in transition to and from the office!
2

Gorgeous Hair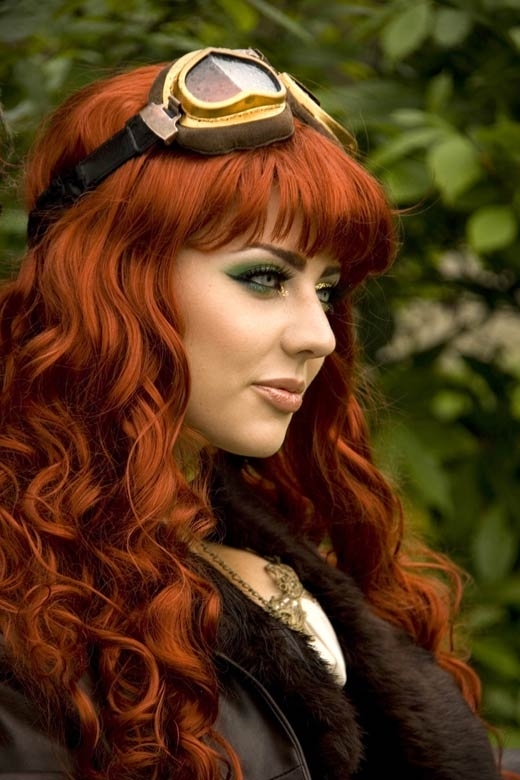 Hair is probably the easiest element to incorporate with your daily look. Many women's Steampunk hairstyles are vintage hairstyles. In this sense, I mean vintage as in anything from Victorian era waves and up-dos to 1950's pin curls and rolls. Steampunk hairstyles have movement and use lots of big curls, waves, and bangs. My favorite style combines Bettie Page bangs with a wavy, curly bob!
---
3

Fancy Shirt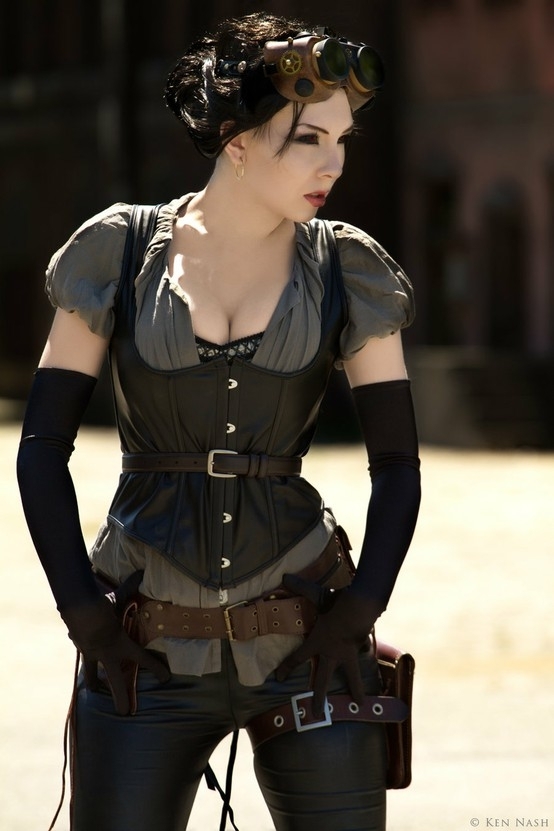 The Steampunk shirt is usually a neutral color, form-fitting piece. It also consists of long sleeves and high, ruffled neck. Sometimes the shoulders are a little puffy, but always classy and cute! Overall the shirt is structured and sleek. It has a wonderful Victorian feel and a look that is totally office ready - if a little theatrical.
---
4

Funky Corset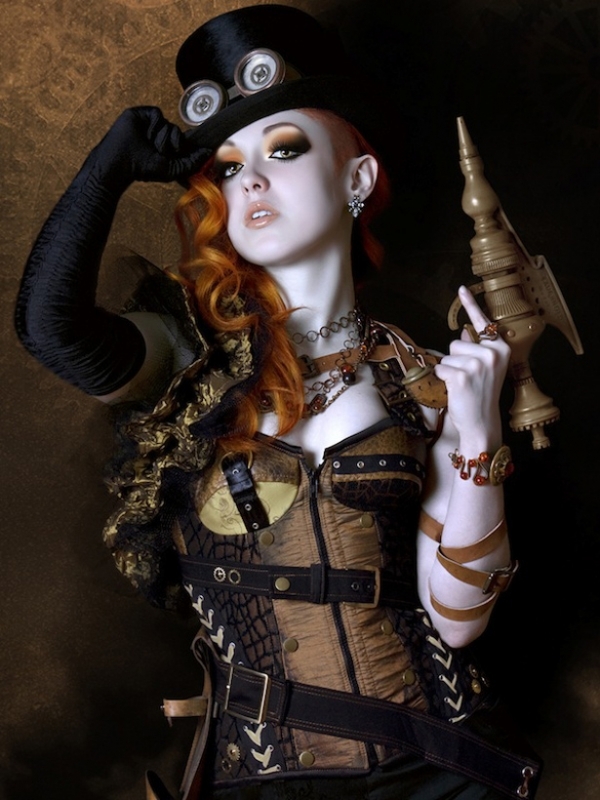 A corset is almost always a must in women's Steampunk attire. Depending on your work location, a corset is a little tricky to wear in the workplace. (Serious understatement, there) However, you can skillfully incorporate the corset into your daily attire. Worn underneath a vest, the corset is nearly invisible. You can also match your corset with the color of your shirt, blending it in when worn together. Another option is the corseted vest!
---
5

Creative Gloves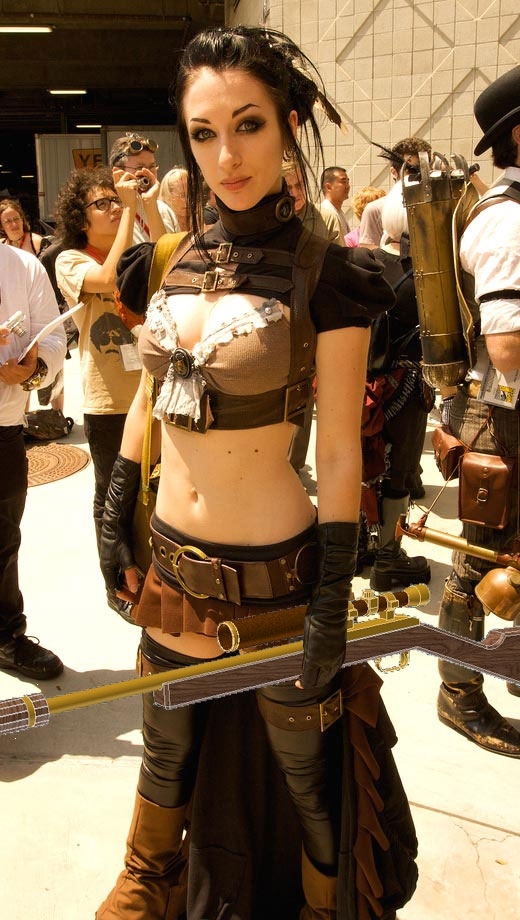 Gloves, like hats and jackets, are easy Steampunk accessories to add to your daily wear because you take them off when you need to. But who wants to? Often the gloves look like works of engineering art. They are interesting and fun pieces of Steampunk fashion. They aren't always designed for office use; most are fingerless designs while others are knitted or made of lace.
---
6

Bustle and Flow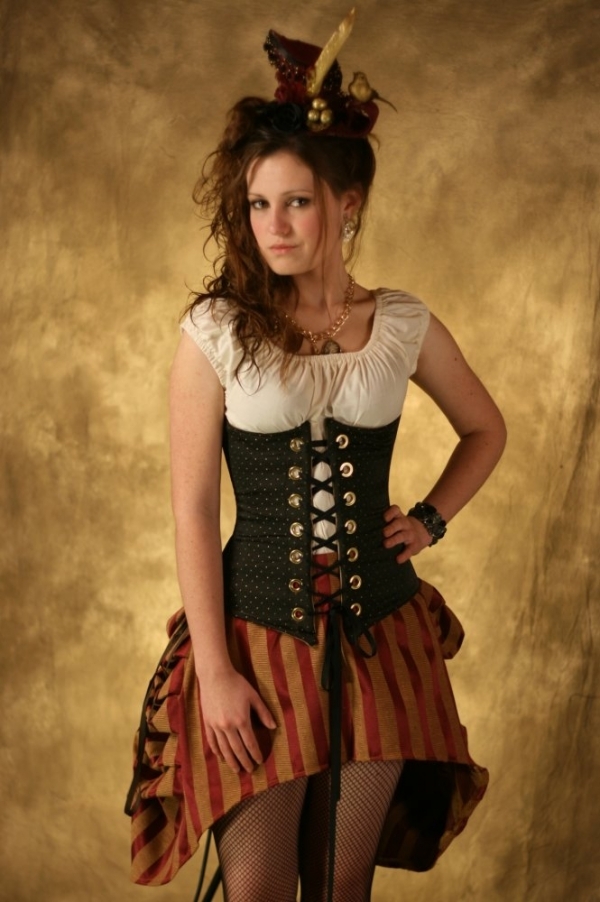 A Steampunk outfit is not complete without a bustle! The bustle adds loads of interest and texture to almost any outfit. Bustle are available in any size or style. The variety ranges from a barely there small jacket bustle to a full-on, multi-layered and tiered skirted bustle that stretches to the floor! Lovely! A jacket bustle is my favorite piece to incorporate into daily wear for spectacular Steampunk essence.
---
7

Ingenious Jewelry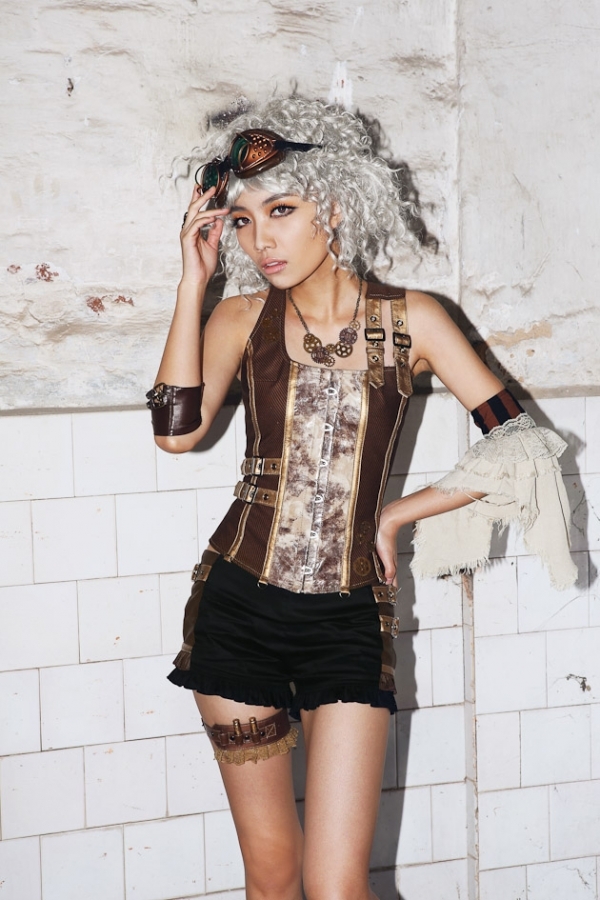 Steampunk jewelry is another great way to add subtle elements to your look. These pieces feature gears, chains, and swirls. Some pieces feature a nautical creature or insect. Some even feature a classic cameo as the focal point. No matter the animal or metallic work on display,the pieces are timeless and lovely. My favorite pieces incorporate beetles.
---
8

Jacket or Tailcoat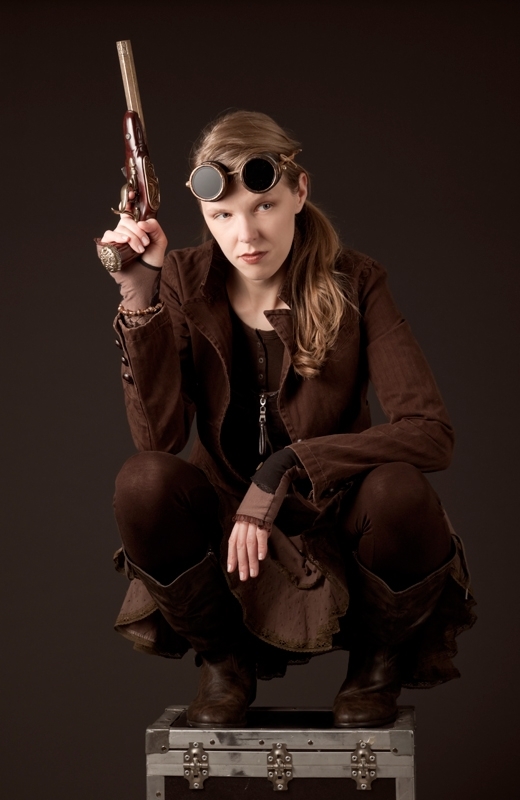 Top off your outfit with a nice jacket and you've got a Steampunk element that you can wear day or night. There are two main types of coverings: aviation jacket and topcoat. You have likely seen an aviation jacket many times before. They are typically made of leather and incorporate a wool or fur like collar. My favorite Steampunk covering is the tailcoat! This piece is a structured clean line, long sleeved, a high collared joy!
---
9

Pocketed Belt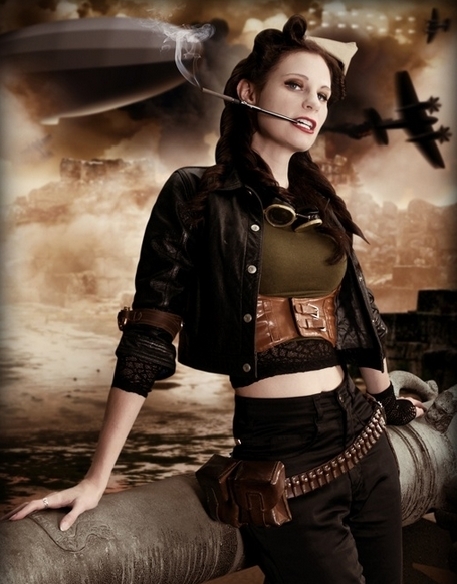 The Steampunk belt is probably the most fun part to wear. The intricate designs typical of this style make you feel like an explorer! Or pirate. The belt is always made of brown leather and usually has brass colored buckles and adornment. Typically, the Steampunk belt has a pocket or two, or three, to store items. Wearing this bad boy you would always have a place for your keys and cell phone!
---
10

Awesome Eyewear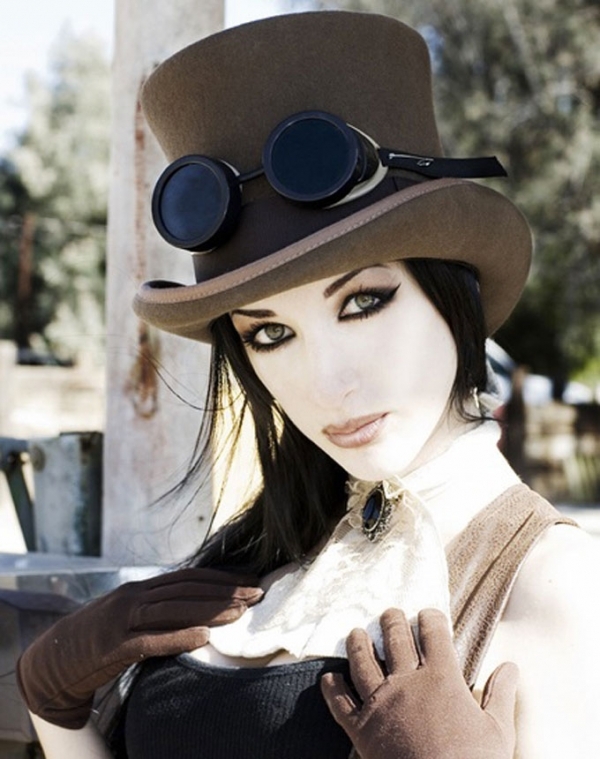 Whenever I see Steampunk glasses I am reminded of a mad scientist! Perhaps it's the multiple lenses that invoke the image but it certainly is an interesting element. Steampunk eyewear ranges from simple spectacles to glasses with gears for rims. Another Steampunk eyewear option is a pair of intricately designed goggles! These are usually aviation goggles turned to bronze and adorned with gears, leather, brass, and golden glass. Creative genius!
---
11

Sculpted Shoes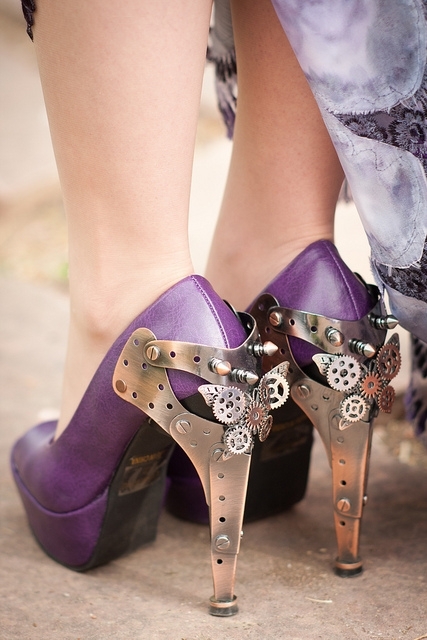 Finally, we cannot forget the shoes! Steampunk shoes are incredibly expressive. Designs always incorporate gears – the symbol of Steampunk! The shoes are almost always high-heeled knee-high boots. You can also find Steampunk shoes in flats and Victorian ankle-boot form. Either way, you are sure to make a statement no matter which style you wear. My favorite Steampunk shoe has metal work down the back of the entire heel! Fabulous!
There you have it, ladies and gents! My list of Steampunk fashion elements you need in order to rock an entire outfit or mingle the pieces in your daily attire. Do you have a favorite Steampunk fashion element? Please, share!
---
Comments
Popular
Related
Recent