How to Dress-up 👠 Basic Jeans 👖 and a T-Shirt 👚 ...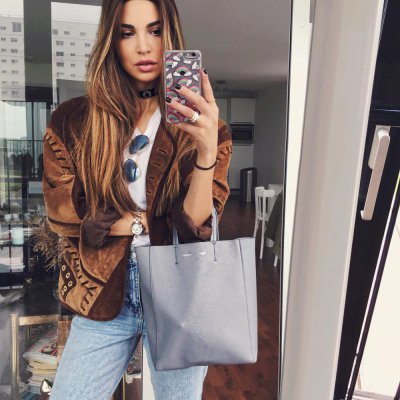 Jeans and a basic tee is a classic look that every girl can pull from her closet. It's tried and true and works for any casual occasion. But it can seem a little boring sometimes. Here're some ways to dress it up and add a bit of pizzazz!
1.

A Long Necklace Will Stand out against a Basic Tee
Okay, so I'm going to 'fess up about this idea. I saw the ever so popular Youtuber Estee Lalonde wearing this combo in one of her vlogs and I've been obsessed with it ever since. Total #essiebutton effect, meaning she's started yet another trend! A long necklace is the perfect accessory for a basic tee. You have so many options to choose from. You could go for a long bar necklace, the very stylish arrowhead necklace or one with a statement crystal!
2.

Add a Blazer and Heels
Want to be casual but still look dressy? Try this trick. Adding a blazer and heels not only dresses up the basic jeans and tee combo but it has an edgy look that so many women long to wear. This's a great choice for casual Friday at the office. Of course, you could also wear it for a parent-teacher conference or just when you're meeting the girls for lunch.
3.

Let Your Shoes Make a Statement
Jeans and a t-shirt are the perfect outfit for shoes that make a statement. Because you're wearing something so ordinary, your shoes will really stand out. It's the perfect time to rock a pair of tribal print flats, biker boots 👢 or even some sexy heels. Whatever shoes you choose, they're sure to get attention. If you're a shoe-lover then this undoubtedly makes you very happy!
4.

Scarves Are a Gorgeous Way to Accessorize a Tee
Scarves are a great way to dress up a casual clothing choice, including jeans and a tee. Choose a scarf that pulls the color of your tee. For instance, if you're wearing a lavender t-shirt then choose a scarf that has some lavender in it. It'll create a perfect combo. It's also a great way to wear a tee in cold weather months, adding a little extra warmth.
5.

Go Boho with a Fringed Bag and Wide Brimmed Hat
Sometimes the power is in the accessories. This idea is all about embracing a certain style, such as the boho style. Adding a fringe bag and wide brimmed hat will make your look anything but ordinary. You'll have an exotic, cultured look that others will admire. You could also do this by adding different accessories for other styles such as a romantic style or a sporty style.
Bright color will pop against your basic jeans and t-shirt. And you can add it in however you want. A bright armful of green bangles, yellow sunglasses or an orange hat will certainly do the trick. It's all about what you're comfortable with. If you gravitate toward bright colors then this's the idea for you.
7.

Shift the Focus to Your Hair and Makeup
You can also just let your jeans and tee ride solo so that the focus shifts to your hair and makeup. This's a fun choice to play with. This makes sure that people are looking at you and not just your clothing. It's the perfect time to wear a fuchsia lip or an intricate braid. Express your hair and makeup style!
You can dress up jeans and a tee by using any one of these 7 ideas. How do you do dress up this clothing combo? I'd love to hear your ideas!
{{#comments_count}} Show Commnents ({{comments_count}}) {{/comments_count}}