I am positive that fashion critics everywhere will agree that the power behind each of the stylish Taylor Swift outfits lies in the fact that they share a vintage-inspired theme. From a strictly objective point of view, I find that her tendency to lean towards certain pieces from different eras causes her to be a mega trendsetter; the amount of details she puts into every look makes her overall appearance seem timeless. While I am indifferent when it comes to her music, I can freely admit that her style is always on point! Gathered below are a few of my favorite retro-infused and stylish Taylor Swift outfits.
---
1

Bandage Dress – Much Music Awards 2013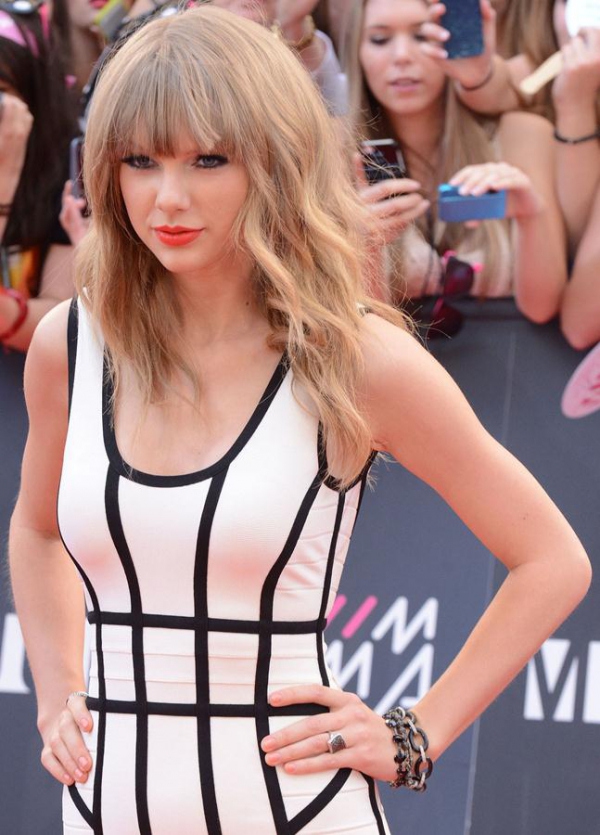 This pleasing foray into modern fashion makes this dress one of the most stylish Taylor Swift outfits of the season! I love the bold and contrasting details on this bandage dress by designer Herve Leger. The sleek lines and close fit show that Taylor is not afraid to jump out of her comfort zone and keep her fans on their toes!
---
2

Red High-waisted Shorts – Z100's Jingle Ball 2012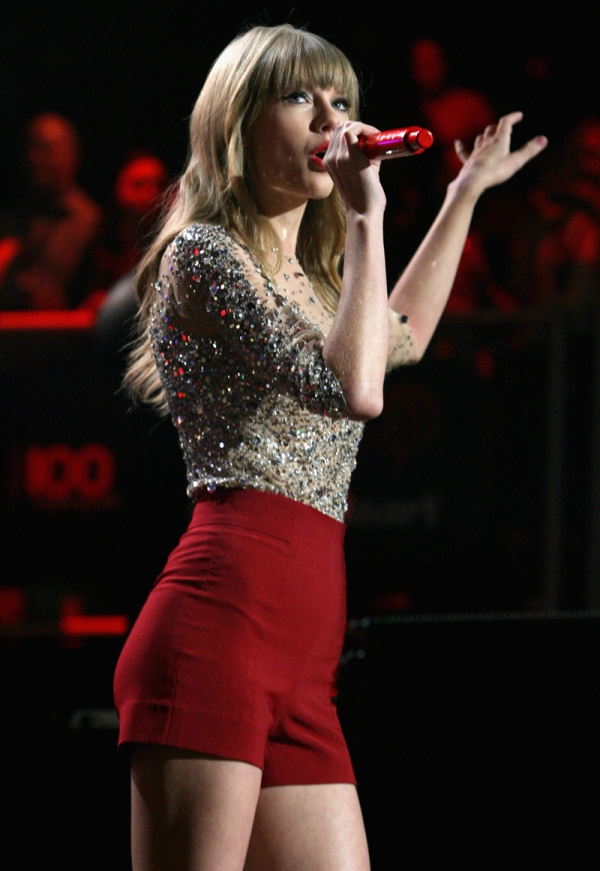 This is one of my favorite looks from Taylor Swift! I love how she paired vintage-inspired shorts with a shimmering top and fabulous oxford shoes. Her expert choices combined for an absolutely glamorous look; her audience was surely stunned by this amazing outfit!
---
3

A-lines & Lace – Grammys Nomination Concert 2012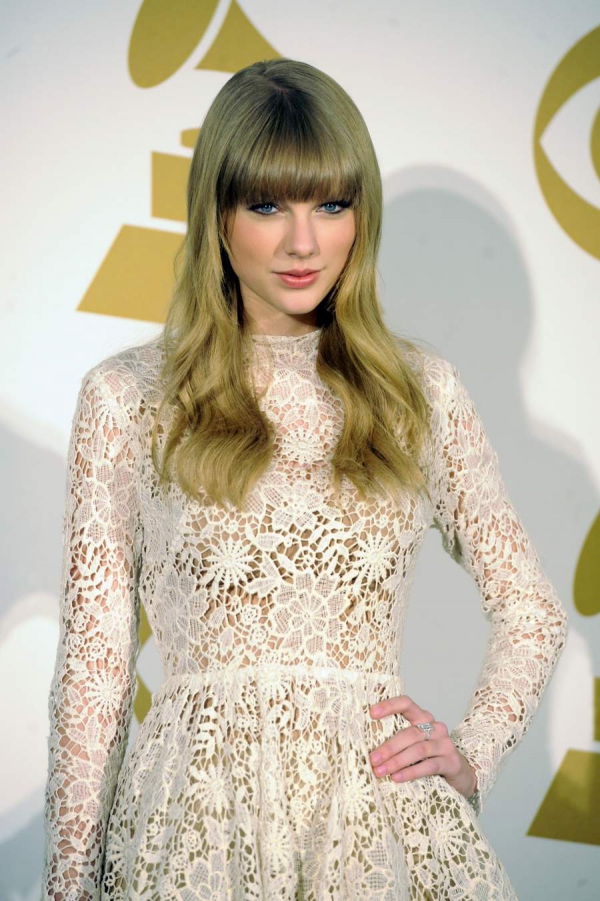 A-line dresses have become a staple in the closets of many fashionistas today, and Taylor is no exception. The silhouette on this type of dress is extremely flattering because it hugs and accentuates all of the right places. This lace number by Maria Lucia Hohan that she wore to the 2012 Grammys nomination concert proves that she stays on top of the trends.
---
4

Casual Oxfords – "Red" Photoshoot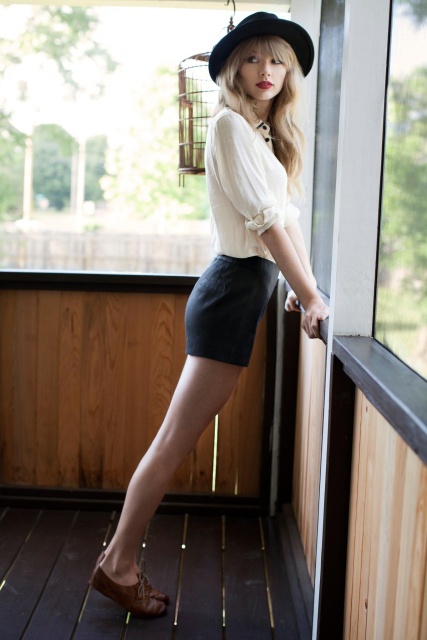 Taylor Swift's oxford shoes collection is incredibly diverse; I never knew that there were so many sparkling oxfords in existence until she owned all of them! These dazzling beauties that Taylor opted to wear for her "Red" album photo shoot still managed to capture my attention because of how casual and chic they are. Owning a pair of neutral-toned shoes is never a bad idea!
---
5

Red Crewneck – Premios 40 Principales Press Room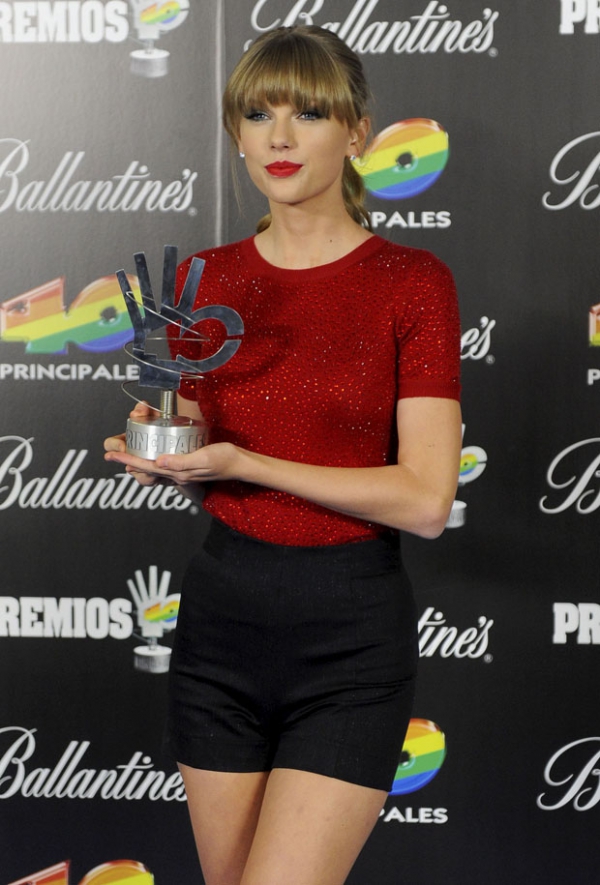 The bold red color of this crew-neck sweater from Alice + Olivia, coupled with its glimmering rhinestones, immediately caught my eye. Red is one of the most flattering colors because of its ability to complement most skin tones; it made me happy to see that Taylor Swift did this power color justice! It was good to see her signature high-waisted look make another appearance.
---
6

Polka-Dot Headband – "22" Music Video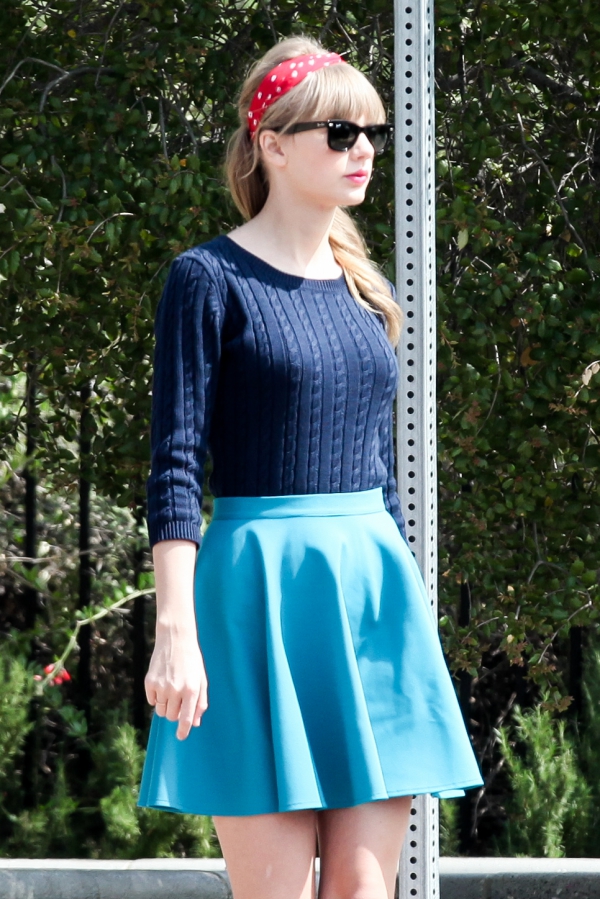 I have fallen head over heels for the yellow polka-dot headband that was featured in Swift's "22" music video. Apparently, Taylor loved the look so much that she decided to get it in a variety of colors. This marvelous creation is actually sold on my favorite fashion site, Modcloth. The best part about it is that there is a hidden wire in the cloth of the headband that allows it to keep your hair up. This fact alone had me sold on this fabulous find! An even easier way to steal this look is to make your own headband using festive fabric.
7

Neon Stripes – Parade Magazine Photoshoot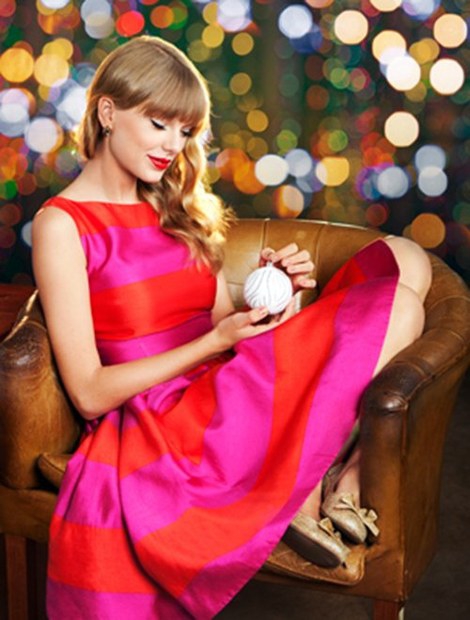 Taylor Swift has been embracing two of the biggest hits this season: Bright colors and stripes. This look fuses the two trends together into a stunning ensemble; I never would have thought that fuchsia and orange could blend so effortlessly! The Kate Spade "Carolyn" Dress in Vivid Snapdragon gives her skin a certain glow, making this an excellent choice.
Taylor Swift's fashion seems to evolve with every album that she releases. Websites such as taylorw.com and taylorswiftstyle.net are excellent sources to turn to when you want to find inexpensive alternatives to the looks of this famous trendsetter. What are some of your favorite looks from Taylor Swift?
---
Comments
Popular
Related
Recent