Rainy Day Gear to Stow in Your Closet for Spring ...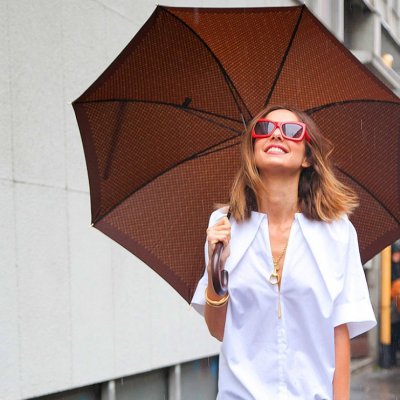 Spring often brings rainy weather, but that doesn't mean you have to leave the house in ugly rain boots and an icky waterproof jacket. You can brave a rainy day and still look as cute as ever by stocking your closet with the right gear. Here's everything you need to look fantastic even when the skies are dumping outside. Happy spring!
target.com
$14.00
You won't be able to help looking totally awesome when you wear these rain boots.
zappos.com
$80.00
Need something a little less flashy? These are comfy and waterproof.
6pm.com
$20.00
Expecting some big puddles? These are the boots you totally need.
us.topshop.com
$100.00
Could anything be more perfect for a rainy day?
fwrd.com
$444.00
It's not cheap, but can you really put a price tag on a great hair day even when it's raining?
etsy.com
$35.00
Show off your love of perfect rainy days with this cute t-shirt.
johnlewis.com
$195.00
Want something stylish, but warm and dry? Here it is!
groupon.com
$39.00
Cute, aren't they?
10.

Sunny Yellow Umbrella
overstock.com
$12.00
Fans of "How I Met Your Mother" will know why a yellow umbrella is such a great thing to have.
ahalife.com
$50.00
Keep all of your most important things dry and safe with this cute and quirky bag.
shoecenter.com
$34.00
Not feeling boots? These sandals are totally waterproof.
13.

Rain or Shine Umbrella
overstock.com
$150.00
You'll stay warm and dry while also looking stylish when you carry this umbrella.
shop.nordstrom.com
$78.00
You'll never have to worry about bad hair on a rainy day ever again.
shoebuy.com
$28.00
Expect to turn some heads when you tote this umbrella around on a rainy day.
shop.nordstrom.com
$295.00
It's stylish and waterproof! What more could a girl ask for?