21 Stunning 😍 Ways to Style a Blazer 😎 ...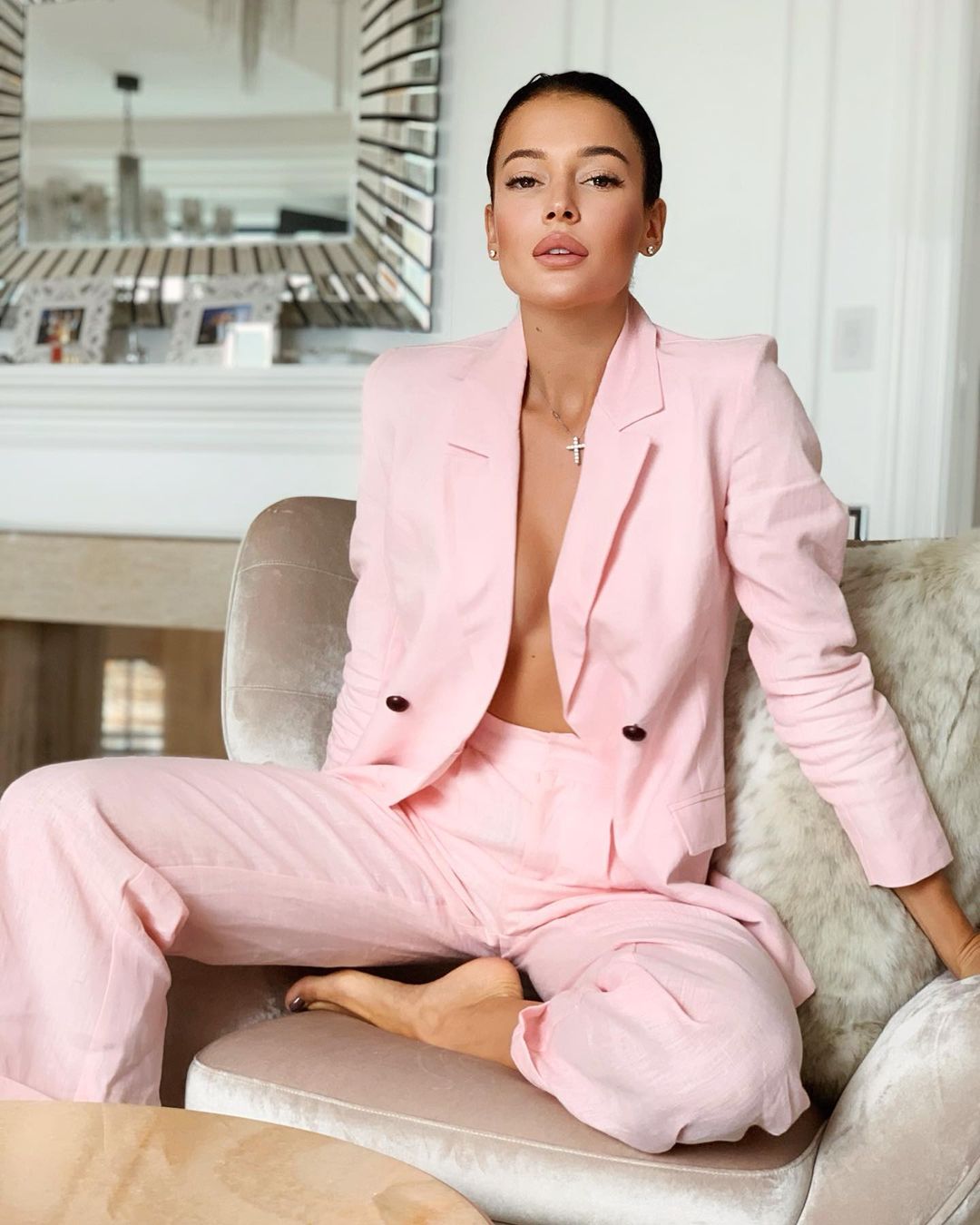 So, I'm a huge fan of blazers, right? It's a fairly recent phenomenon, but they're my favorite outfit staple. Wear a blazer with a tee shirt, a tank, a skirt, a pair of capris … there are so many possibilities, many of which are office appropriate but still able to seamlessly transition from day to evening. Since winter is the perfect time for layering, I thought I'd share some of my top-most styling types – and please, please, please-please-please do share yours, too!
1.

The Classic Blazer + Skirt Combo
Source: vogue.mx
This is a killer combo that's always on-point. The addition of a blazer and tights can take any ensemble to the next level.
Source: fashionfuz.com
If you prefer monochromatic ensembles or simple black and white looks, injecting a little color is a great idea. This is what I advised my lovely wife @Heather to do when a few of her work frenemies accused her of being "goth" because she likes to wear all black. Well. First I told her to say something decidedly NSFW, but the blazer idea works, too.
3.

The Ultimate Layering Option
Source: laurenmessiah.com
Blazers are perfect for layering, even if you have to get a little inventive.
4.

Is That a Blazer or a Dress?
Source: laurenmessiah.com
I've actually never seen this look before. I could not pull off this look, I don't have the legs for it, but it's pretty cute, I gotta say.
5.

Cool, Casual, and Chic
Source: wardrobelooks.com
Boyfriend jeans, a tee, and a blazer – simple but so stylish, you don't even need anything else. Well, no, scratch that. Take a page from this lovely woman's book and include phenomenal shoes, a fab purse, and the perfect pair of sunnies.
Source: thefashiontag.com
But not really. Check out this outfit, though – if you're working a mini and a crop top but want a little more coverage, a complementary blazer brings together the whole thing.
7.

Put Together Complementary Colors
Source: street996.rssing.com
In addition to using a blazer for a single pop of color, you can put together a whole palette of complementary hues. The world needs more color blocking.
Source: pinterest.com
This ain't your momma's power suit.
Source: weheartit.com
This just screams "laid-back." It's a perfect seaside look, ideal as a vacation ensemble, and comfortable enough for a day of errands or casual fun. Gotta love a low-maintenance outfit.
10.

Modestly Menswear-inspired
Source: dpix.xyz
I adore the clean crispness of this outfit – simple color palette, timeless pieces, a few statement-making details. This woman is doing it right.
11.

An out-of-the-box Design
Source: sorayakusumawati.com
Is it a coat? Is it a blazer? Is it something in between? It's hella cute, whatever it is.
Source: laurenmessiah.com
Seriously, this is off-duty style at its finest. It's such a simple little outfit, but you'll never go wrong if you wear something like this.
Source: stylebarista.com
Black top, black blazer, black boots, worn blue jeans – this is literally all you need to look like a million dollars.
Source: pinterest.com
Make like the Parisians, who know how to layer more stylishly than anyone in the world. Can you believe a blazer and a scarf can look this good together?
15.

Make It a Statement Piece
Source: vogue.mx
I just want this entire outfit. At the very least, I must own that blazer.
16.

Oversized and in Style
Source: thefashiontag.com
Who says you can't mix Boho chic with business casual?
17.

Off-duty and on-point
Source: thefashiontag.com
Everything about this outfit is awesome, from the stripes to the tights to that stunning, slouchy blazer.
Source: thefashiontag.com
Pinstripes are always stylish. They lend a crisp, vintage air to any ensemble – though I prefer my pinstripes a bit more tailored, to be honest.
Source: thefashiontag.com
Yeah, baby, something like this. The fit of the blazer alone takes the outfit up a notch, so it's classy and fitted even when paired with jeans and a button-up. Love that statement necklace, too!
20.

Show off Your Wild Side
Source: thefashiontag.com
Remember, stalkers, animal print counts as a neutral. Endless possibilities!
Source: thefashiontag.com
Promise me you'll never believe anyone who tells you that a blazer isn't appropriate as formal wear.
So, are you a blazer aficionado? What's your favorite way to style this versatile, must-have piece?
{{#comments_count}} Show Commnents ({{comments_count}}) {{/comments_count}}