Now that the season is changing, it's time to shop for cute fall outfits for teens! Here are some modest, stylish, and comfy fall outfits for teens to add to your closet for the upcoming months. giphy.com
Table of contents:
1

Cowgirl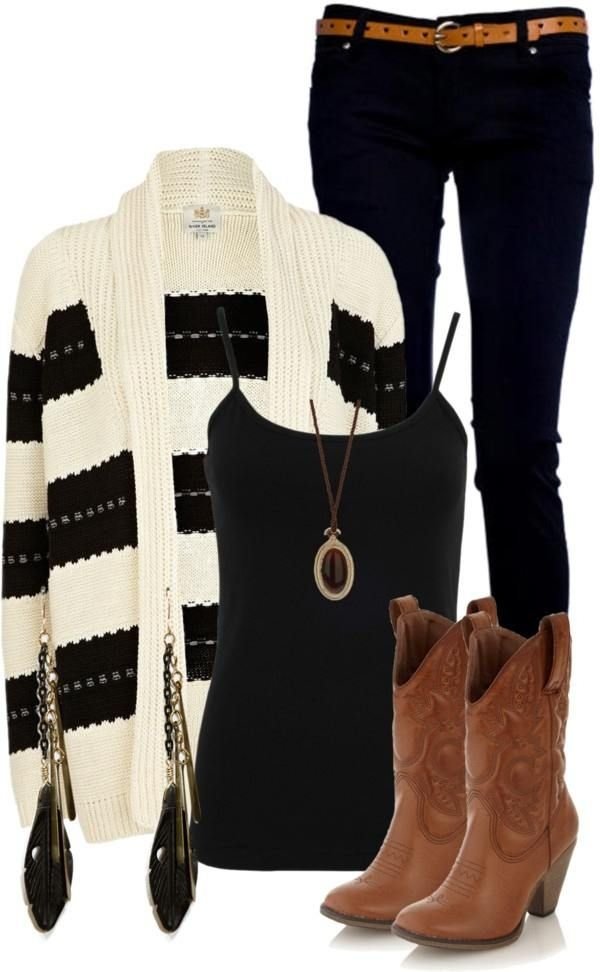 Source: Senior Pictures | What to ...
Time to break out your cowgirl boots and strut the leaf-covered streets in them! Clearly, this fall outfit for teens has both fashion and function, as your sweater and boots will keep you warm and your accessories will keep you stylish!
2

Flower Power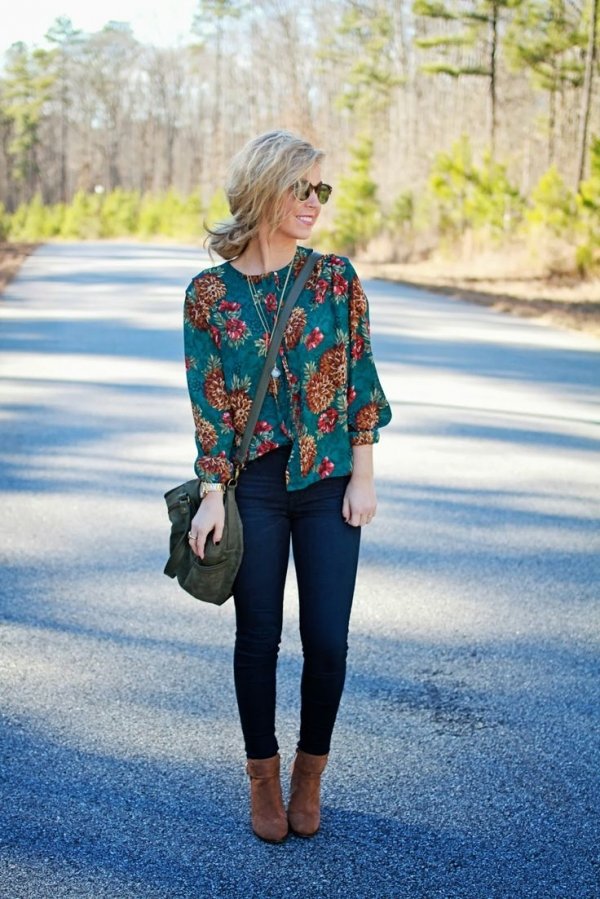 Source: Her Lovely Style
Flowers are often associated with springtime, but this flowery blouse paired with dark jeans and boots makes for a flawless fall outfit!
3

Wild Side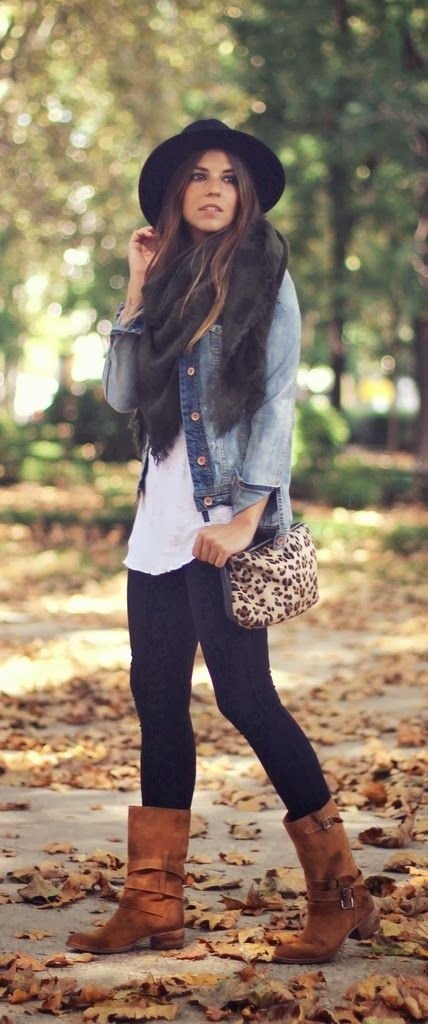 Source: fashionandcrafts.com - fashionandcrafts Resources and ...
Add a flair of personality to this fall outfit with a bit of wild animal print at your side!
4

Don't Forget the Coffee!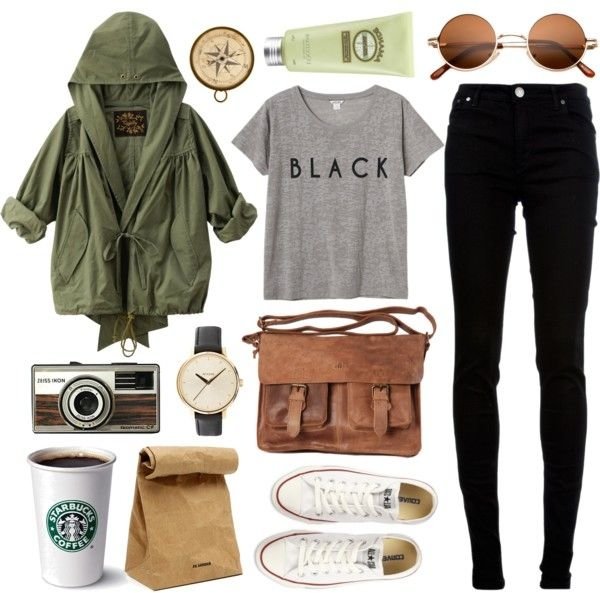 Source: Untitled
Remember that, among many things, Starbucks is an important component of autumn! Along with a warm, satisfying drink, this outfit contains everything a teen needs!
5

Sweater and Skirt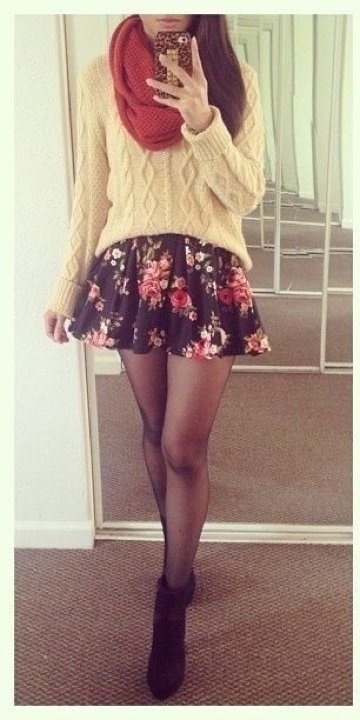 Source: 20 Style Tips On How ...
I personally adore the sweater and skirt look! A mixture of two seasons makes for a gorgeous outfit.
6

Aztec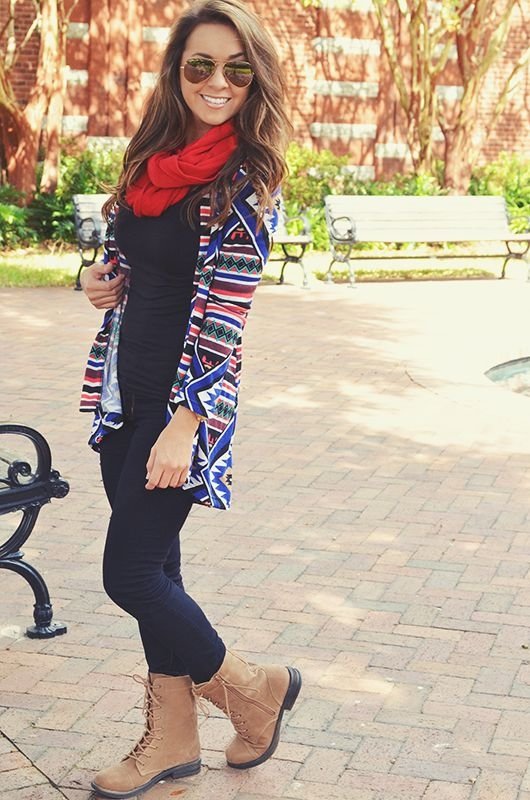 Source: shophopes.com
This Aztec-patterned cardigan adds both personality and color to this chic fall outfit.
7

California Autumn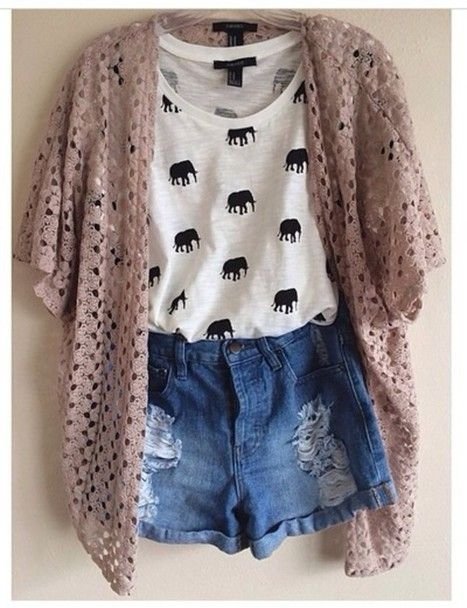 Source: ROMWE | From Runway to ...
If you're a Cali-girl like me, it's totally acceptable to wear shorts in fall! For all desert-dwelling fashionistas, consider a look like this one this fall.
8

Black, White, and Navy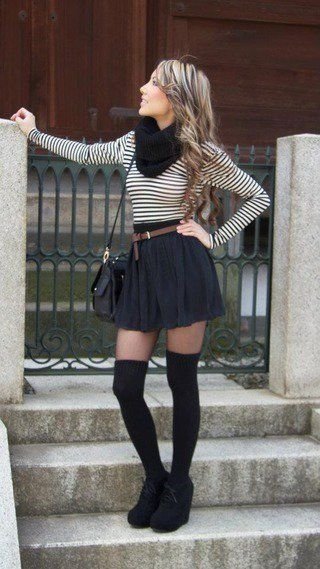 Source: http://www.modcloth.com/style-gallery/outfits/14367
This look combines three spectacular autumn colors, black, white, and navy. The high knee socks and wedges give it a unique edge!
9

Grunge Chic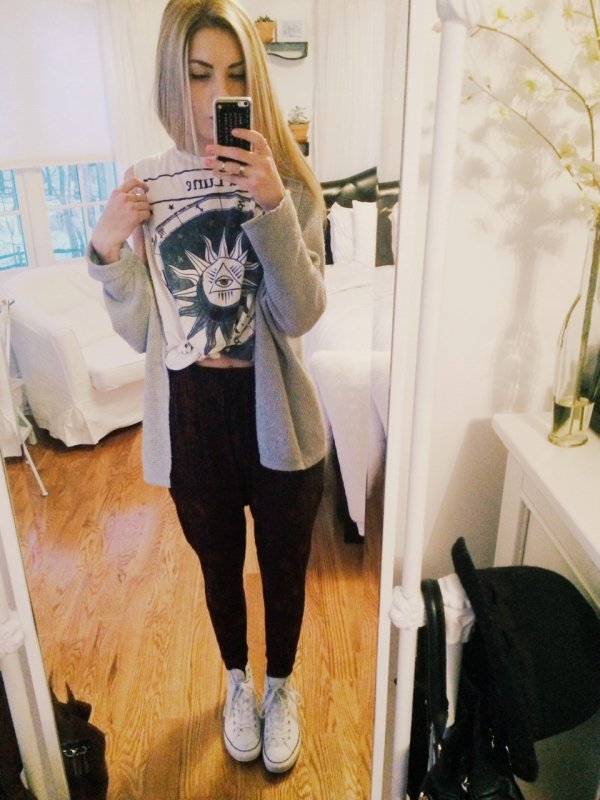 Source: christies closet
Even if you do care, this grunge outfit makes it look like you could care less about your clothing! You're just here to enjoy the season and casually look fabulous, too!
10

Denim Shirt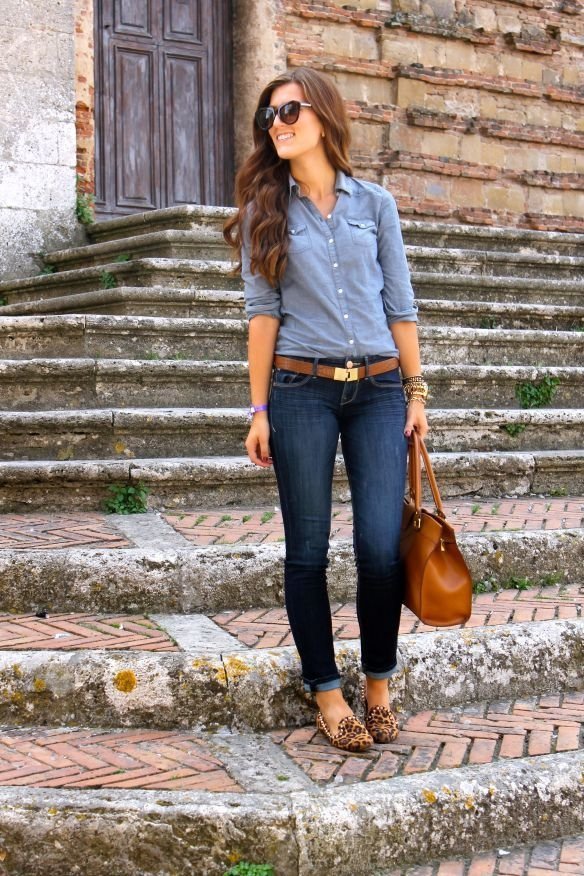 Source: How to Do the Denim ...
Denim shirts are cute all year round, but something about fall just makes me love them even more! Pair a jean shirt with dark jeans and tan accessories and you'll look positively stunning.
11

Bundled up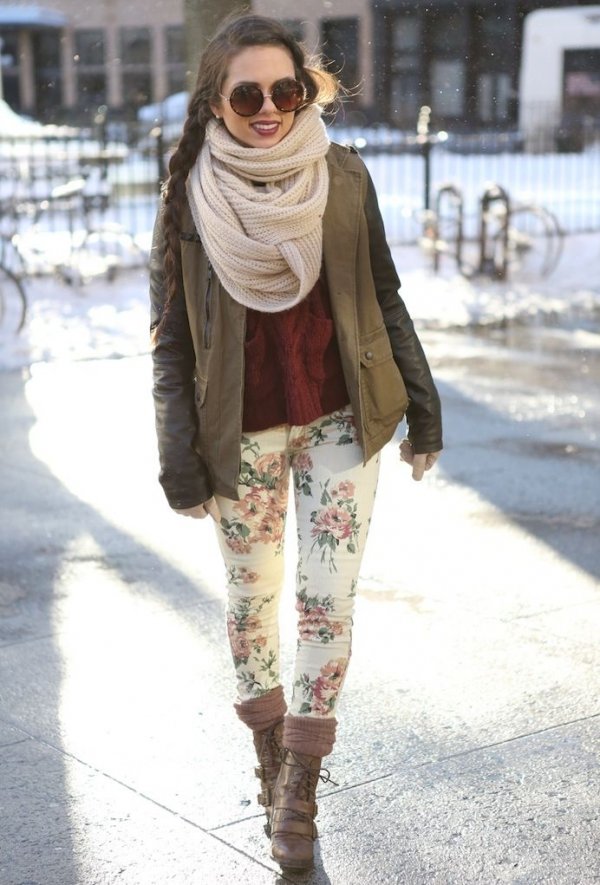 Source: Cozy and warm in florals... ...
For teens in especially cool places this season, it's important to bundle up! This thick knit scarf, paired with an army jacket and stylish floral jeans will keep the cold out and heat in!
12

Geek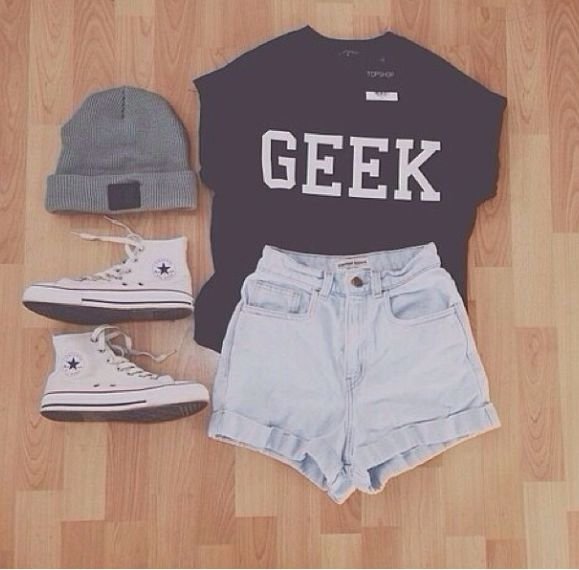 Source: GEEEEEK :D OUTFIT on The ...
If you're a geek and proud of it, this is the fall outfit for you! You might want to check the weather report first though, and consider replacing the faded shorts with some full-length jeans!
13

Christmas Preview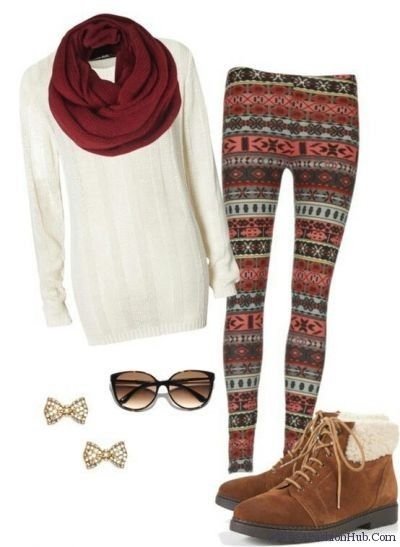 Source: Girls Winter Outfits December 2012 ...
Everyone knows that Christmas really begins the day after Halloween, right? So time to break out those christmas-patterned leggings and bold, red accessories!
14

Into the Forest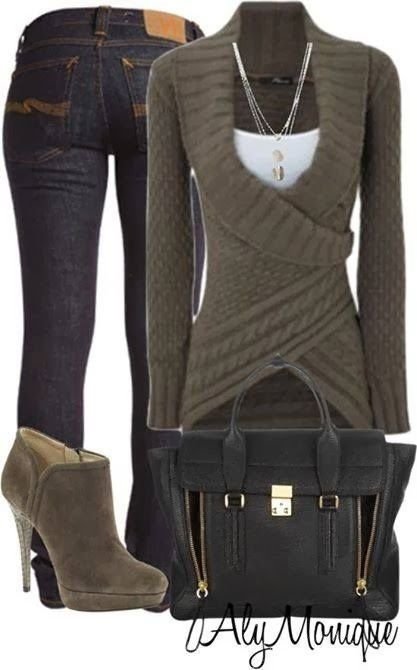 Source: HugeDomains.com - LoveFashionWorld.com is for ...
This forest green sweater looks gorgeous paired with matching heels, or even flats!
15

Reindeer Sweater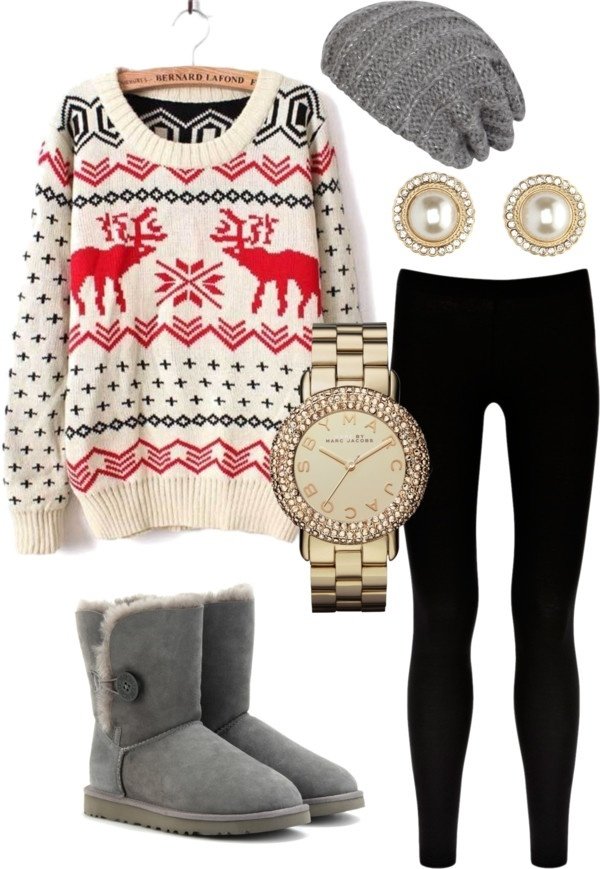 Source: its beginning to look alot ...
It's never too early for a reindeer sweater! Embrace the cold weather with this adorable fall outfit.
16

Spring in Autumn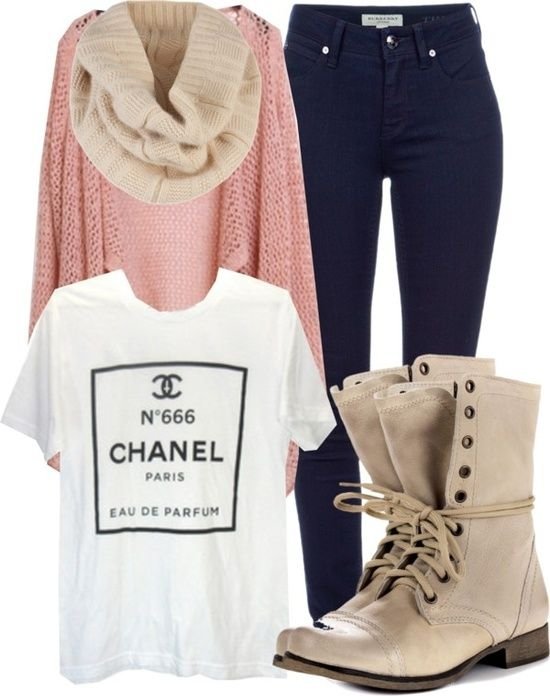 Source: Back To School Outfit Trends ...
This light-colored outfit will be a nice break from your dark wardrobe every once and a while this fall.
17

Golden Glam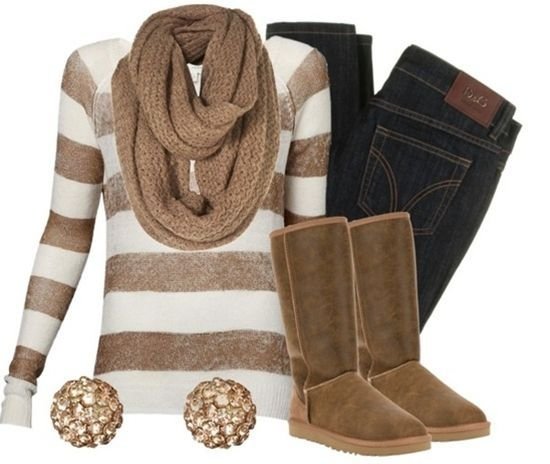 Source: cute-winter-outfits-2012-14 - Fashionista Trends
I love gold in the fall! This outfit features varying stages of gold, from the glitzy gold earrings to the gold striped shirt, to the gold-tan boots. Altogether, it's perfect for a fall fashionista!
18

DISNEY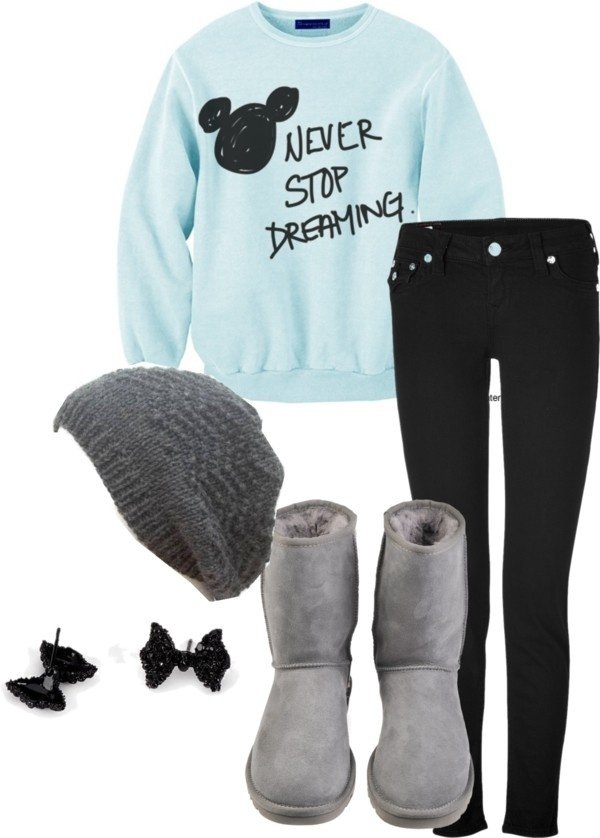 Source: Disney Winter Set
You're never too old for disney! This warm, cute outfit is perfect for autumn!
19

Jean Jacket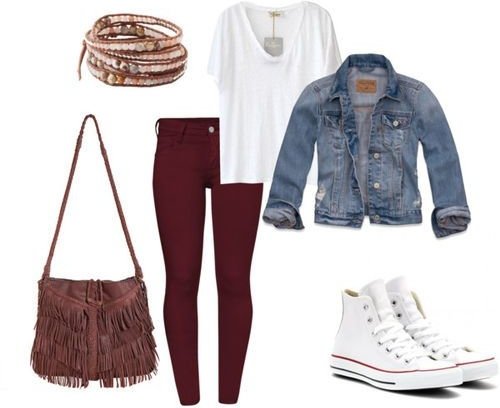 Source: cm-wallpaper.com - cm-wallpaper Resources and ...
I love a good jean jacket, especially when the weather begins to turn nastier. Pair it with burgundy jeans and a fringe book bag and you'll have a perfect outfit!
20

Rebel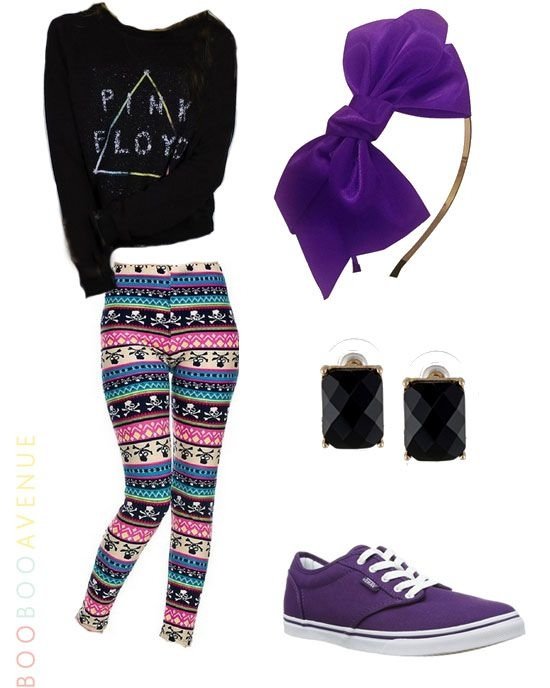 Source: 20 Cute Outfits for Teen ...
This rebellious look, with skull-and-cross-bones leggings and and retro band T-shirt, is still remarkably adorable!
21

Honest Sweater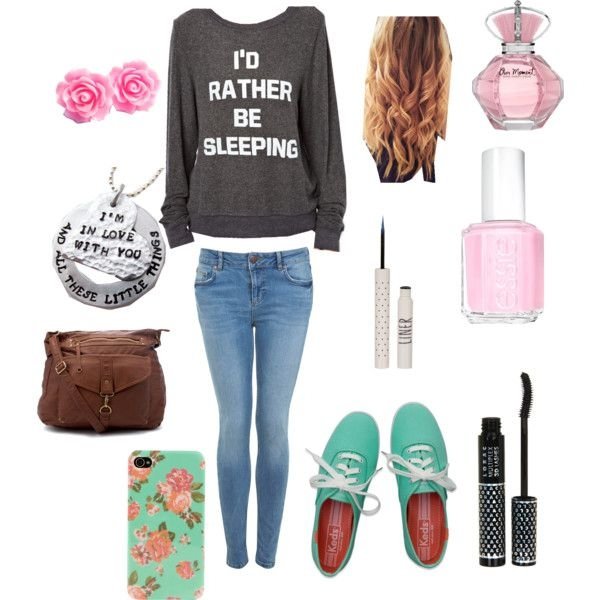 Source: Cute outfit for school!
This comfy sweater says it all! When the temperature drops outside, quite frankly I'd rather sleep all day!
22

Lumber Jane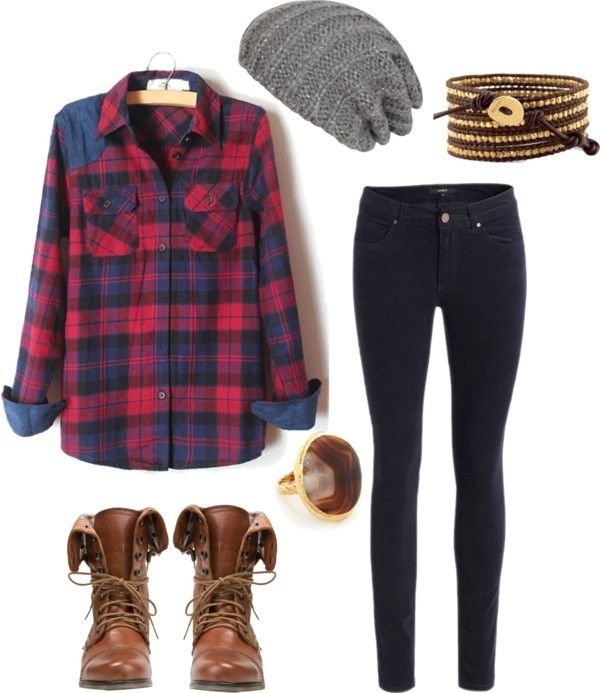 Source: casual
You'll be the cutest lumber jack the world has ever seen, wearing this plaid flannel and combat boots, paired with flattering skinny jeans!
23

Sunshine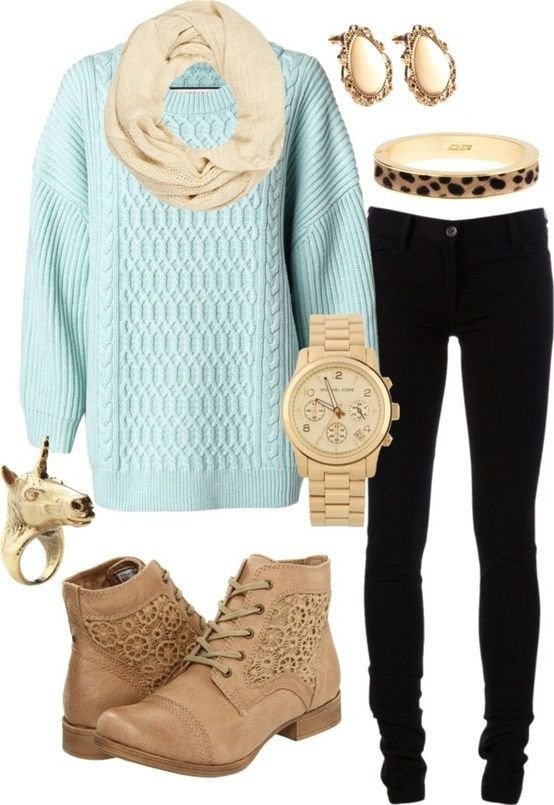 Source: IN NEED OF THIS ENTIRE ...
When everyone else at school is wearing all black and gray, you'll be like a ray of sunshine piercing through the clouds in this bright sweater and beige accessories.
24

Micky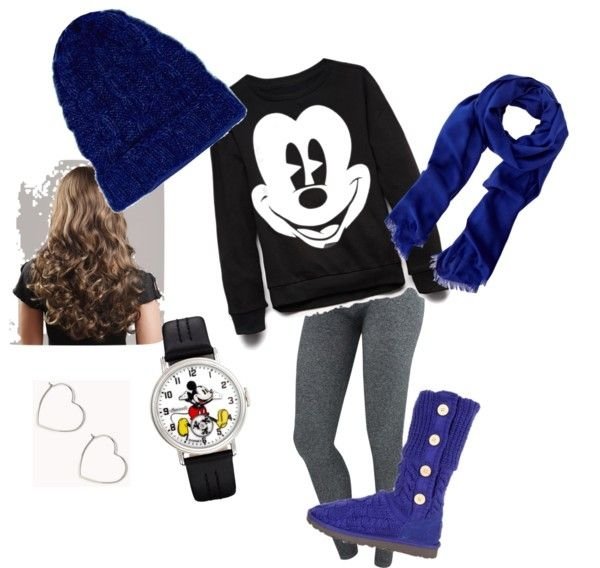 Source: Tween Fashion Inspired by Zoe ...
Micky yourself from head to toe, and add a few splashes of vibrant colors!
25

Plaid Shirt and Skirt

Source: 45+ MORE Fall Outfit Ideas ...
Even though it's a pretty unusual pairing, this outfit is positively stunning with a plaid shirt on top and cute skater skirt on the bottom!
26

Leather Jacket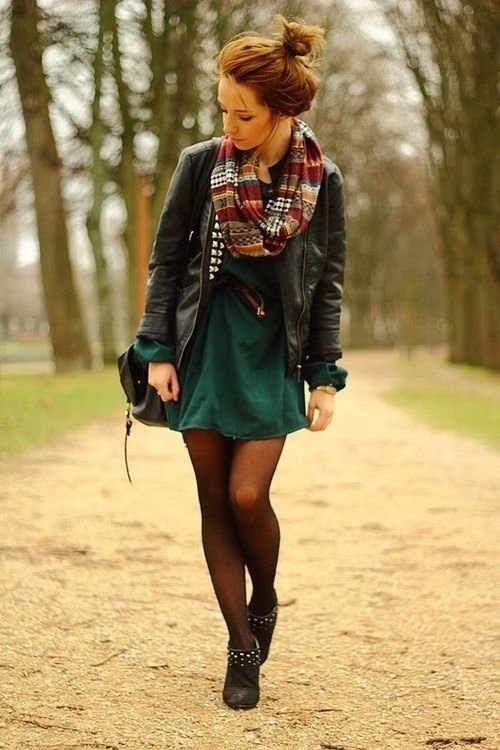 Source: fall outfits on Tumblr
Every girl needs a leather jacket, or at least a pleather jacket to save the cows! This leather jacket looks wonderful paired with a festive scarf and green dress.
27

Lace Red Dress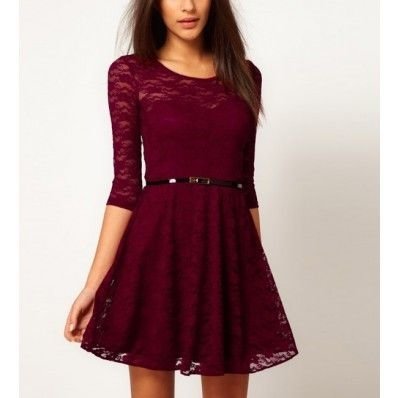 Source: Sexy Womens Lady Slim Lace ...
You'll certainly turn heads this fall in this crimson lace dress!
28

Scarlett Reindeer Onesie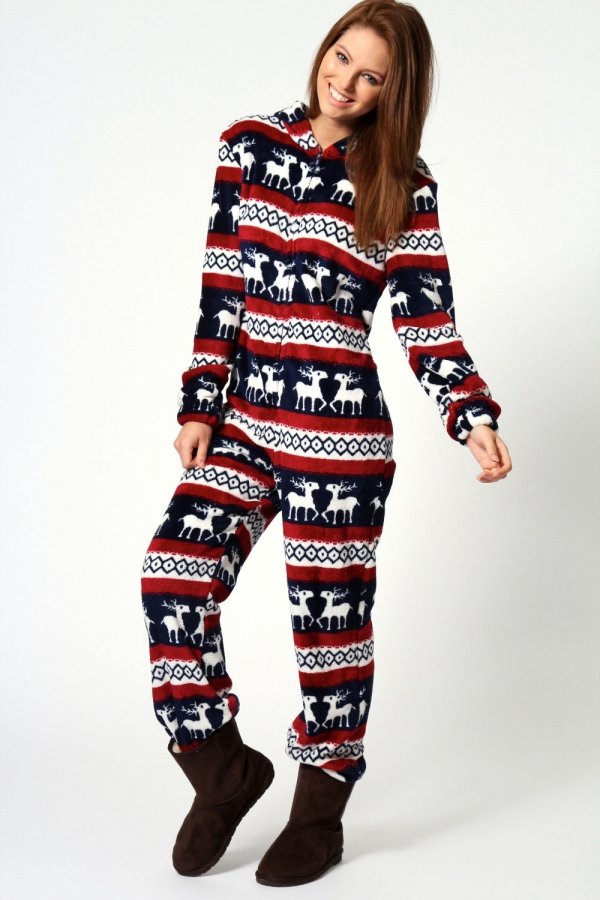 Source: Scarlett Reindeer Supersoft Onesie
For snow days, Thanksgiving break, or pajama days, you should have this super adorable onesie available to wear!
29

Sophisticated Youth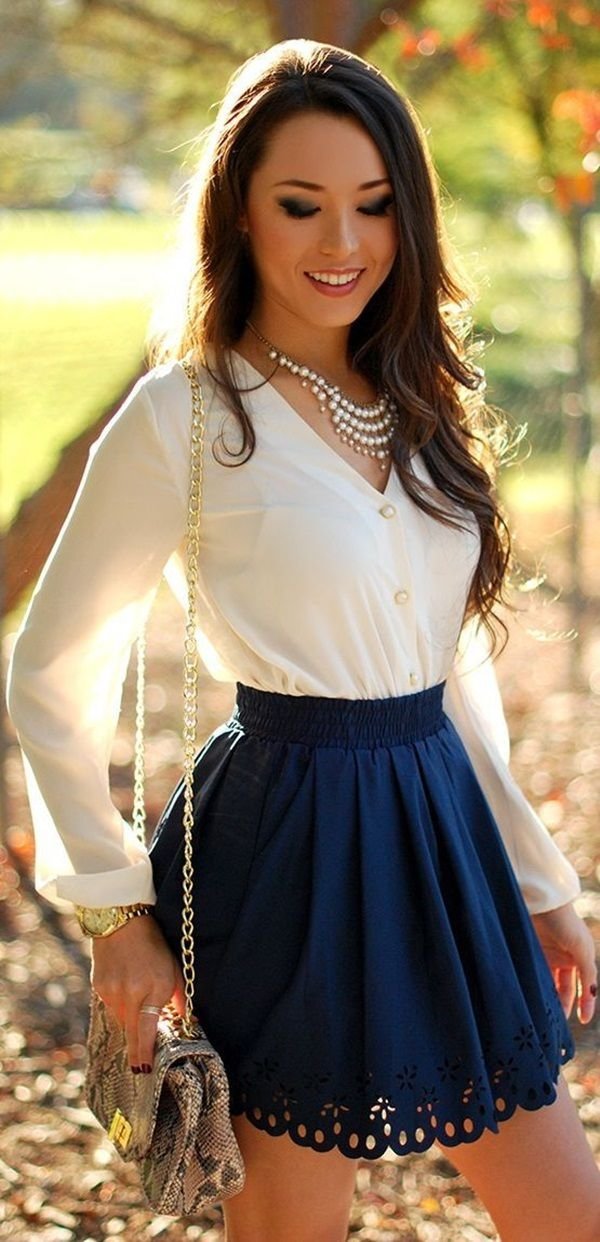 Source: 50 Cool Summer Outfits For ...
It's always a good idea to have a more serious outfit to balance out the crazy ones, like the onesie! So invest in a sophisticated, yet youthful, look this fall—like this one!
Fall is a great season to shop and refurbish your closet! What chic autumn outfits do you want?
Please rate this article