23 Super Scarves for the Fall Season ...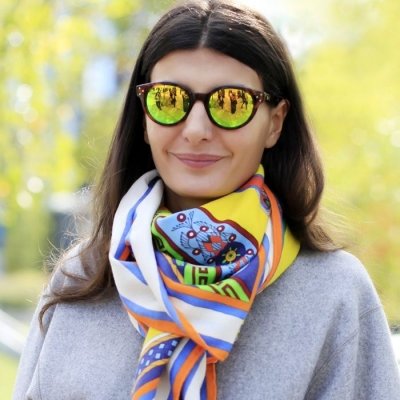 Getting to wear fun scarves is a great part of the colder seasons! As you embrace autumn and gradually change your wardrobe, consider wearing these super scarves.
Via Etsy :: Your place to ...
Elephants make an adorable print, and instantly make any accessory more unique. This mint elephant scarf was born for fall!
Via 15 Chic and Creative Ways ...
This scarf's spunky zig-zag pattern takes any plain, fall outfit to a new, fabulous level!
3.

Blush with Copper Accents
Via francescas.com
I love the contrast on this scarf! The metallic copper spots bring excitement to the sweet blush scarf.
Via Chic Way To Tie A ...
Royal blue is an amazing color for both fall and winter. So basically, this scarf is an investment!
Via uoionline.com
Aztec patterns have been huge this year! This otherwise tame and plain scarf becomes an interesting accessory with the red and black Aztec pattern!
Via Tribal Scarf Infinity Scarf Chiffon ...
Likewise, tribal prints have taken the fashion world by storm. This vibrant tribal scarf will look fantastic paired with a number of your favorite fall ensembles.
Via Friday Favourites - Small Home ...
Arm knitting is an increasingly popular technique of making quick, cute scarves! Try making an arm-knit scarf like this one to keep you warm this fall.
Via The Vogue Fashion: Oversized Light ...
If you live in an extremely cool area, you should invest in an oversized scarf to keep you warm, bundled up, and stylish for the cold times of the year!
Via Lace Knit Scarves
On the other hand, if you live in a relatively warm environment, a light scarf like this mint lace one might be the right decision for you!
Via Make an Infinity Scarf in ...
I love plaid in the fall! This simple plaid scarf will go with virtually anything you wear—except maybe not your flannel shirts!
11.

CHUNKY with Leather Cuff
Via CHUNKY fleece Infinity Scarf with ...
Just because the scarf is an accessory, doesn't mean you can't accessorize it, too! A leather cuff looks amazing on this chunky, navy blue scarf.
Via CroCreations: To Infinity and Beyond.......
What I love about this scarf is that it combines all of the best fall colors, and would complement virtually any autumn outfit's color scheme!
Via 55+ Fall Outfit Ideas - ...
This thick. colorful flannel scarf looks stunning paired with simply a nice jacket and some jeans!
Via nanamacs.com
Who doesn't love fringe? On this scarf, fringe adds interest and a flare of fashion!
Via Unavailable Listing on Etsy
This scarf is speckled with both grey and white, making it look like a beautiful mess of salt and pepper!
Via The Nordic Scarf™ - Holiday ...
Is it ever too early to start dressing for Christmas? Even though winter is still far away, you can feel free to break out the reindeer accessories now!
Via Etsy :: Your place to ...
Every once in a while, autumn begs for a break from all the gray, brown, and black accessories. Breathe a little life back into your wardrobe this season with this bright, color blocked and striped scarf!
Via Krissa's Creative Hands: Braid a ...
Braiding hair has been a trend for so long now that it's time to braid something else, too! A braided scarf isn't something you see every day, but is quirky and cute!
Via Sequined Elbow Patch Hi-Lo Tunic ...
At Thanksgiving and Christmas, you might eat tasty cranberry sauce! To celebrate this festive food, wear a gorgeous, cranberry-colored scarf like this one!
Via I love the winter for ...
Match your scarf to your high-knee socks for a fashion-forward, adorable look!
Via 101 Music Festival Essentials
This Mexican-inspired scarf is full of rich, vibrant colors and will keep you warm this season.
Changing styles with the seasons is so much fun! Scarves are a huge part of fall and winter fashion, so you should stock up on them now! Which of these styles caught your eye the most?
{{#comments_count}} Show Commnents ({{comments_count}}) {{/comments_count}}