Oversized clothes are PERFECT for days when you'd rather choose comfort over anything else. Of course, there's always the danger of ending up looking a little frumpy if you're not careful. So here are a few tips on how you can style oversized clothes without looking awkward.
---
1

Tuck It in

Tuck in your oversized sweater to make it look perfectly chic.
---
2

Transform It!

Borrow your boyfriend's oversized shirt and wear it as an adorable dress.
3

It's All about Proportion

Wear your oversized cardigan with skinny jeans and high heels to balance the look.
---
4

Thigh High Boots to the Rescue

Not quite sure how to wear an oversized sweater as a dress? Throw on a pair of thigh high boots and you're done!
---
5

Belt It up

If your dress is a tad too big, cinch in your waist with a belt!
---
6

Sweater and Short Skirt

You can't go wrong with this combination.
---
7

Keep It Simple

Now here's a look that practically anyone can pull off!
---
8

Layer It up

Wear a coat over your oversized sweater in the same color.
---
9

Make a Statement

Sometimes, a girl just needs an oversized statement coat.
---
10

Get Quirky

Wear a bustier with oversized trousers...because you can!
---
11

A Tee as a Dress

An oversized tee makes a cute dress especially when paired with thigh high boots.
---
12

Large Hoodie + Jeans = Winner

Comfort at its best!
---
13

Pullover Magic

Wear an oversized pullover with faux leather pants for that luxe touch.
---
14

Shirt Dress

Instead of wearing your oversized shirt with leggings, wear it as is with some sexy tall boots.
---
15

Add Some Color

Take a boring white pullover to the next level by pairing with some sassy colored pants.
---
16

Mom Jeans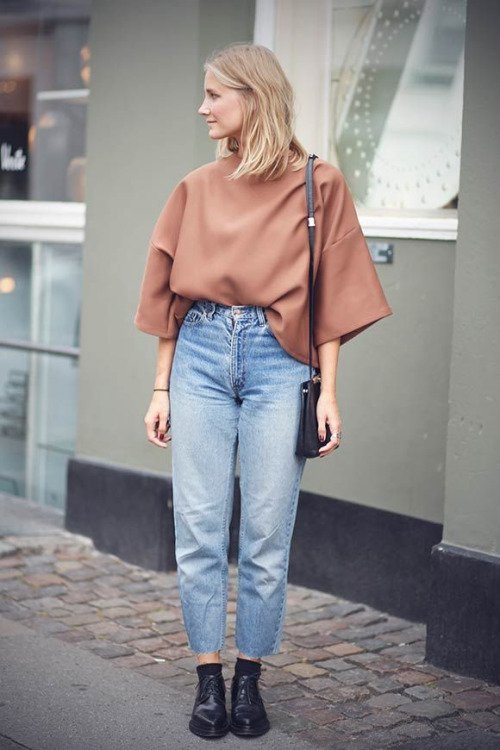 This isn't a look everyone can pull off, but it's so fabulous!
---
17

Lay(er) until You Slay

When it comes to oversized clothes, layering is your friend.
---
18

Keep It Sexy

Who says oversized clothes can't look hot AF!
---
19

Cropped

If you're afraid of drowning in an oversized sweatshirt, pick one that's cropped instead.
---
20

And Last but Not Least...

This has got to be my most favorite look!

Are you ready to rock oversized clothes?
---
Comments
Popular
Related
Recent