Beach Season Has Begun! 7 Websites for Buying the Cutest Cover-Ups ...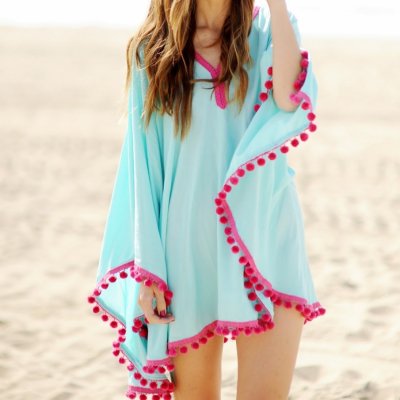 Once you've found the perfect bathing suit, your shopping's not done. You still have to find a cover up for when the wind picks up on the beach or for when you want to protect yourself from getting a sunburn. It's also great to wear on the car ride home so you don't end up soaking your seats with ocean water. If you're not sure where to look for the hottest summer fashions, here are some of the best websites for buying cute coverups:
1.

Doll Swimwear

Dollswimwear.com should be your go-to place for coverups. If you only want to cover your bottom, you can buy a wrap skirt. If you want to cover your top, you can get a knit shirt. If you want to cover everything, you can get a crochet dress. Your options are endless, so make sure you don't settle on anything until you finish scrolling down the page. There's plenty of stuff you won't want to miss out on.
2.

Venus

Venus.com has adorable slip-on dresses, cardigans, and tunics. They even have dresses that you can convert into skirts if you'd like. The best part? Everything is affordable. You won't end up spending any more money on your cover up than you did on your actual bathing suit.
3.

Macy's

Macys.com has absolutely everything a woman could ever want. You can go there to buy a bathing suit, a cover up, flip flops, hats, and pretty much anything else that would make your summer special. So if you hate buying one item from one store and the next item from another store, your best bet is to stick to Macy's. They'll never let you down.
4.

Target

Target.com is a cheap place to buy clothing that looks pretty similar to the clothes you'd see at high-end stores. So if you don't care about brand names and just want to look your cutest, this is the place to shop. You'll end up saving a ton.
5.

Swim Outlet

Swimoutlet.com has wraps, cover ups, sandals, and even swimming gear. The only things they sell are water-related items, so this is a great spot to look for whatever you need for your next trip to the beach. However, the prices are pretty high, so only visit the site if you're ready to be a big spender.
6.

Kohls

Kohls.com is another store that possesses pretty much everything that you could ever want, fashion wise. They have tons of stylish clothes and shoes, so why would their cover up collection be any different? There are plenty of options to choose from, and the prices are pretty reasonable, so buy a few if you can't settle on only one item!
7.

Everything but Water

Everythingbutwater.com has some ridiculously high-priced items, but you'll find a few reasonably priced ones mixed in there if you look hard enough. Of course, you can always browse the site to see what you like, then use Google to search for something similar that costs a whole lot less. It's your best plan of action!

You can't visit the beach without having an adorable bathing suit, beach bag, and cover-up, so get out that credit card. Don't hesitate, because you deserve to treat yourself around this time of year. Where do you usually buy your cover-ups and your other beach gear?

{{#comments_count}} Show Commnents ({{comments_count}}) {{/comments_count}}