7 Brilliant Hipster Vintage Shops around the World ...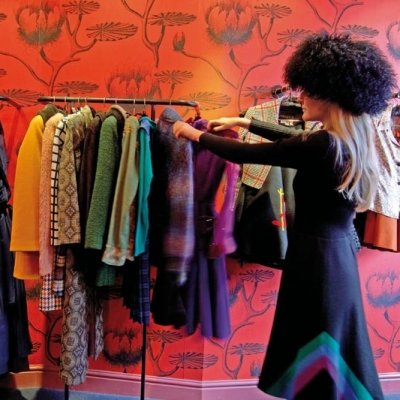 Vintage shops are such fun to browse. If you love vintage fashion there's always the thrill of picking up a unique garment you know no one else will be wearing. And if the clothes are not something you'd actually wear, looking at fashions from previous decades is a fun experience. Plus you might find that perfect accessory you've been hankering after for simply ages. Vintage shops exist around the world but which are some of the best?
1.

Pick and Weight, Hamburg, Germany
Pick and Weight run six vintage shops in Berlin and Hamburg. The latest is at Beim Grünen Jäger 16 in the trendy Schanze district. The store is housed in a former bank building and is bright and open for a pleasant browsing experience. You'll find everything from knitted sweaters to tote bags and the fun part is how you pay. "Vintage by the Kilo" means you pay by weight, not for individual items.
2.

Second Time around, Cape Town, South Africa
This gem is vintage in itself, having been at serving the vintage desires of Cape Townies from the store at 196 Long Street in the city center since 1972. One of Cape Town's oldest vintage clothing stores has been refurbished recently but is still packed with tons of fashions and accessories from the 1920s to the 1990s. Shopping here is a true vintage experience because every item is of good condition and comes with its own story.
3.

Feathers Boutique, Austin, USA
Neat and pristine, you'll find Feathers in a welcoming blue building at 1700 B South Congress. They specialize in hand-selected vintage fashion for women. There's a big emphasis on the handcrafted and their range includes reworked vintage items sold under their own "Feather Originals" label. If vintage jewelry is an essential in your wardrobe, you'll find plenty to drool over at Feathers as they stock a collection of gorgeous artisan jewelry including Native American pieces. Feathers ships worldwide. One word of caution: they do stock and sell real fur.
4.

The 3rd Policeman, Dublin, Ireland
Residing at 121 Lower Rathmines Road, you just have to love the name of this vintage store. You'll find plenty of interest here because the owners regularly trek around Europe looking for individual and unique items, each with a story. There's a wide selection of vintage fashions and accessories but The Third Policemen is also a veritable hipster collection of curios and oddities, from furniture to taxidermy.
5.

FN92, Copenhagen, Denmark
At first you might be forgiven for thinking that the store at Larsbjoernstraede 6, only sells vintage wedding gowns. For sure FN92 does have one of the biggest collections of vintage bridal wear in Scandinavia, but there's also lots of daywear and cocktail dresses hidden among the bridal gowns from the1850s to the 1990s. FN92 also has a huge collection of headdresses, hats and hair accessories, many customizable.
6.

Hunky Dory Vintage, London, England
Hunky Dory at number 226 on trendy Brick Lane is one of many London vintage stores but one off the best, regularly winning commendations and accolades. The emphasis here is on traditional and timeless pieces from the 1940s to the 1970s with most stock sourced from the UK, Italy and France. There's a wide range of women's and men's fashions in enduring styles and good quality fabrics.
7.

Dear Gladys, Melbourne, Australia
If you like to buy vintage with an element of giving back, Dear Gladys at 246 High Street, Northcote will float your boat. All the profits from this darling little store go to the Fitted For Work organization (it aims to help women into work.) What fashionable Melbournians will find here is plenty of choice with an emphasis on feminine and ladylike. Dear Gladys stocks contemporary fashions as well, and a range of homewares and toiletries.
If you're not a fan of cookie cutter fashion but can't afford designer gear, vintage shops offer the chance to own one-of-a-kind, rare and beautiful clothing and accessories, and if you're quirky (or a little bit eccentric) too, there's no limit to the way vintage fashion can inspire your look. Vintage shops are treasure troves you can lose yourself in for hours on end. Please share details of your favorite vintage shops in your city.
{{#comments_count}} Show Commnents ({{comments_count}}) {{/comments_count}}