Since looking great and feeling like you own the beach involves more than just sporting a great pair of beach-appropriate shoes, my next step would be to suggest a few fabulous swimsuits that are not only stylish but do a great job at covering up all those little flaws that often make us wish we could just crawl under our beach towels and stay there until the coast is clear. Well, stop right there because you ain't hiding anywhere! And these 9 fabulous swimsuits are going to make sure you never feel the need to hide again!
---
1

Polka Dot Ruffles Bikini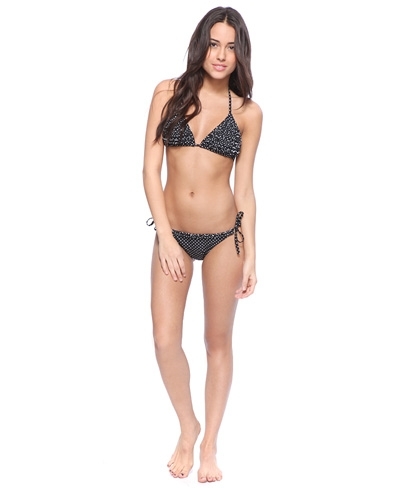 Price: Top $10.80, Bottom $9.80 at forever21.com
Sweet, retro, playful and sexy – this cutie right here is perfect for all of you girls who, like me, forgot to stand in the line when Mother Nature was giving away double Ds. Luckily, this perfect bikini has ruffles in all the right places and that, of course, works like a charm.
---
2

DKNY One Shoulder Swimsuit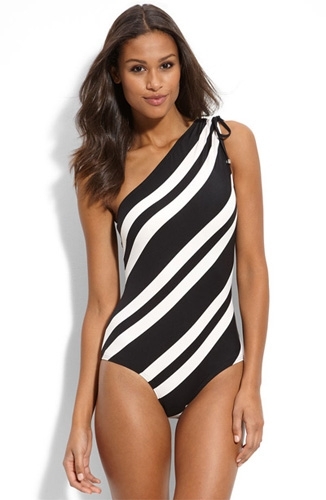 Price: $108.00 at shop.nordstrom.com
Oh-la-la! I definitely have to add this one on my list of fabulous swimsuits because it's absolutely perfect. Classic and yet incredibly elegant black and white combo makes this one piece a worthy investment regardless of your size and body type.
3

Pin up Polka Dots Bikini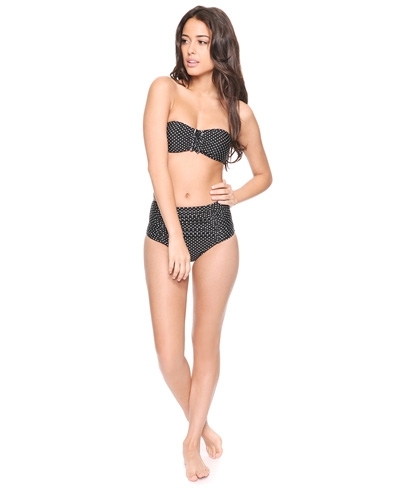 Price: Top $10.80, Bottom $12.80 at forever21.com
Here's another retro, sexy, pin-up style bikini worth checking out. High waist is extremely popular these days so feel free to use it to cover up small imperfections such as little tummy you didn't have time to get rid of before the swimsuit season or even post-pregnancy, baby fat or loose skin that requires some time to get back to its normal state. Perfect, huh?
---
4

Betsey Johnson "Rose Parade" Swimsuit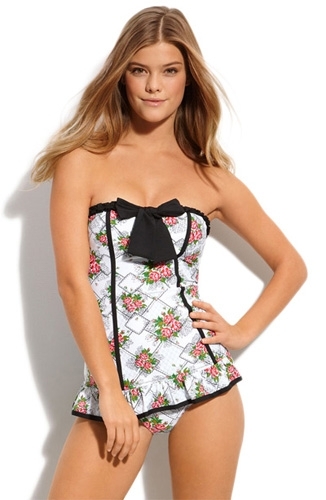 Price: $168.00 at shop.nordstrom.com
This sexy swimsuit will help you have a gorgeous hourglass figure and, as you can see, it also does a great job at controlling and supporting your "girls". Now, what the picture doesn't show is that it comes with a detachable strap so, if those afore mentioned double Ds are giving you trouble, just attach the strap and voila, your "girls" are secured and you don't have to worry about them anymore.
---
5

Cream Apple Print Padded Bikini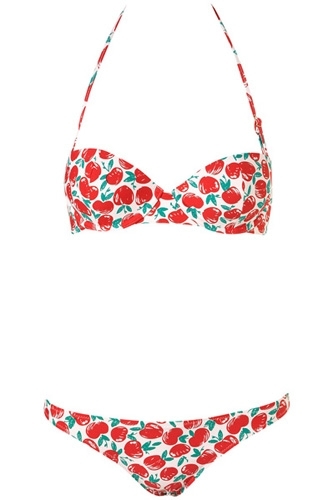 Price: $55.00 at us.topshop.com
Juicy! This is definitely one of those great, must-have, totally fabulous swimsuits that will definitely make you the tastiest-looking girl on the beach or by the pool. Interesting prints are always IN so don't be afraid to show your fun, creative side when choosing a bikini!
---
6

Black Frill Underwired Bikini Top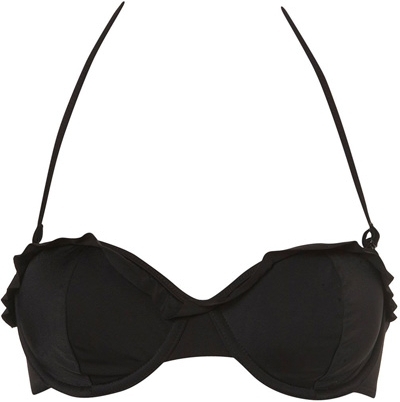 Price: $28.00 at us.topshop.com
Black is not one of the most popular summer colors, I know. But, if full chest are giving you trouble you might want to opt for a supporting and great-looking bikini top like this one that won't only hold your "girls" in place, but make them appear smaller and your entire body more proportional. Black is also perfect for mixing and matching so choose your bottoms carefully and… remember to have fun while doing so!
---
7

Blue Doily Retro Bikini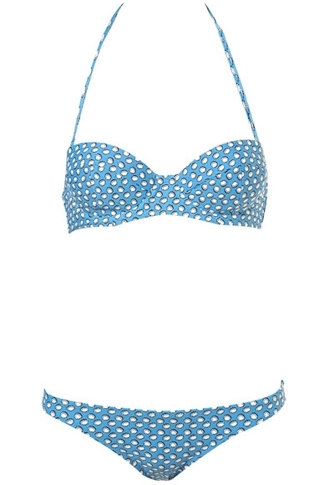 Price: $56.00 at us.topshop.com
I'm definitely adding this fun, girly thing to my list of 9 fabulous swimsuits because this really is one totally cool swimsuit! Cute, girly print is definitely a plus and so is this cool, padded, bra-like top. Now, that's what I need! Low rise bottom is also great so definitely pick this one if you're skinny, tall and searching for something that would focus all attention on that gorgeous washboard tummy of yours while giving the appearance of naturally fuller chest.
---
8

Abstract Print Bikini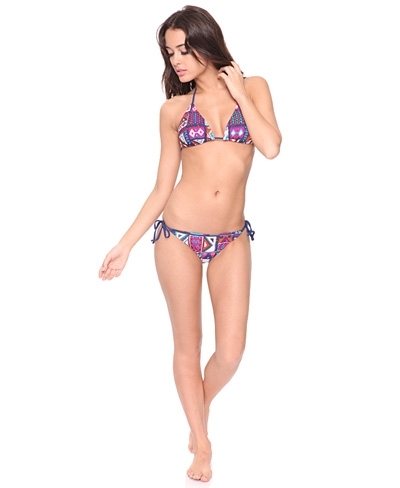 Price: Top $10.80, Bottom $9.80 at forever21.com
Like I've said, prints are more than welcome so if you have enough black and white bikinis, now would be the perfect time to get creative and buy a totally crazy one. You can opt for this one or browse the site for more styles and prints that would look great when worn as a set or mixed with those tops and bottoms you have from last year.
---
9

Copy Cat High Waist Swimsuit by Zimmermann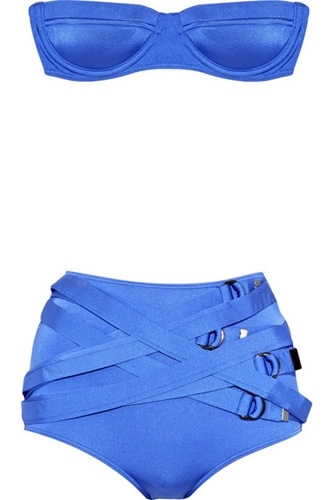 Price: $290.00 at net-a-porter.com
Wow! This one is waaaay to expensive, I know, ladies! But, look at it! I just had to mention it because it's so, so, so great. Who knows, maybe some of you would see it, not as a terribly expensive but gorgeous swimsuit but as a worthy, totally stylish investment? This one is perfect is you're experiencing "troubles" the lower region but also need a little help in the "chest department".
So, tell me – which one of these gorgeous swimsuits would you choose for yourself? I totally love the Betsey Johnson one but… what the heck- I'll say it! I want them all! My preciousssssss…. LOL!
---
Comments
Popular
Related
Recent