It feels like I've been waiting for Glastonbury 2013 for years – it's always one of the first things I put in my yearly calendar! It's not just the great music, amazing festival feel or thousands of happy people covered in mud, either. The festival has a reputation for attracting some big names, and their outfits never disappoint. Here are the looks I was loving in the Glastonbury 2013 festival…
---
1

Cara Delevingne…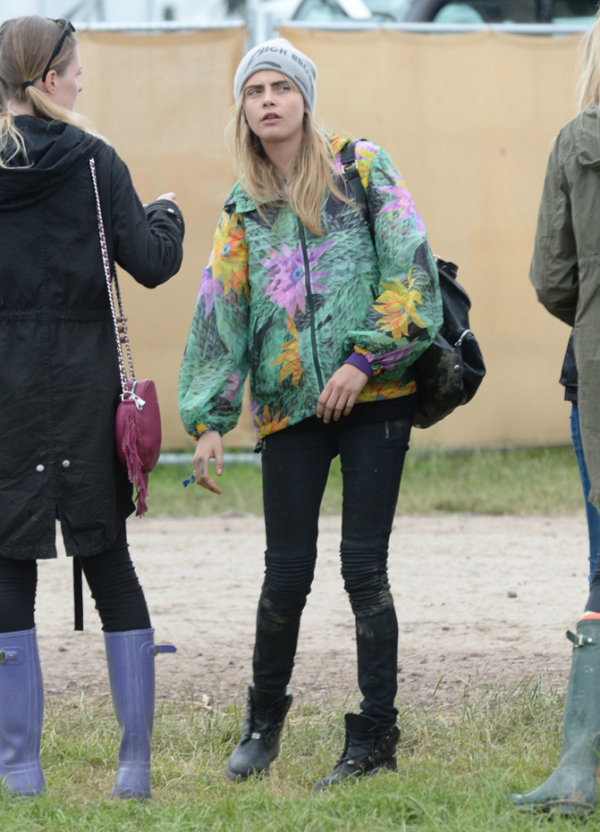 Cara went back to her classic look for Glastonbury 2013, teaming dark skinnies with black sneakers, a gray beanie hat and an amazing bomber. This year's colorful floral bomber was a Helen Steele design, and it'll come as no surprise that sales have shot up since Cara was snapped in it. I love how comfortable and low-key she looks – she's even rocking yesterday's makeup and her own muddy bag. Love.
---
2

Sienna Miller…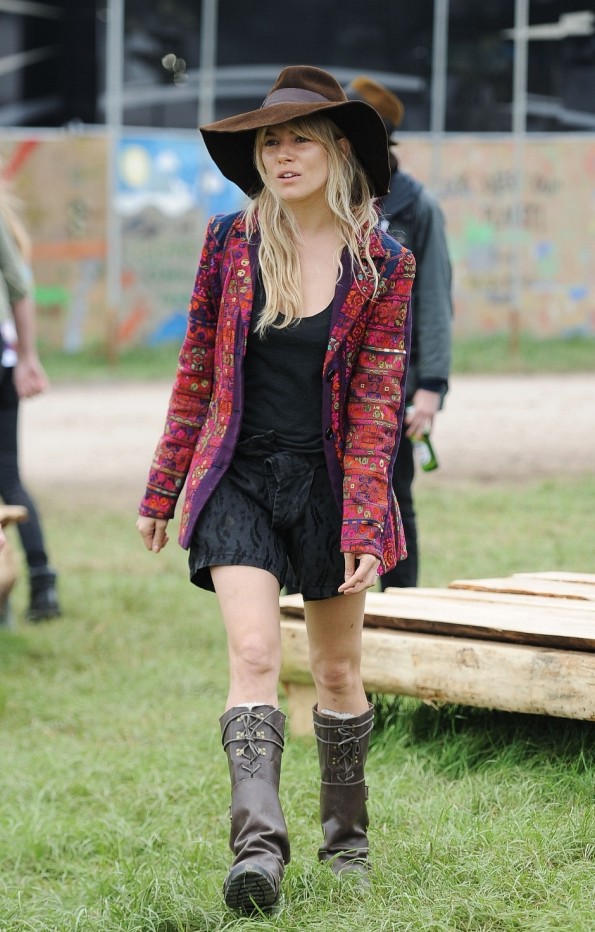 Okay, so Sienna isn't going to win an originality awards, but boho really works for her. From her tousled hair to that big hat, bold oriental blazer, black shorts and her trusty biker boots, Sienna looks comfortable and chilled, as well as stylish. I'm loving the cowboy hat – definitely a new festival essential.
---
3

Kate Moss…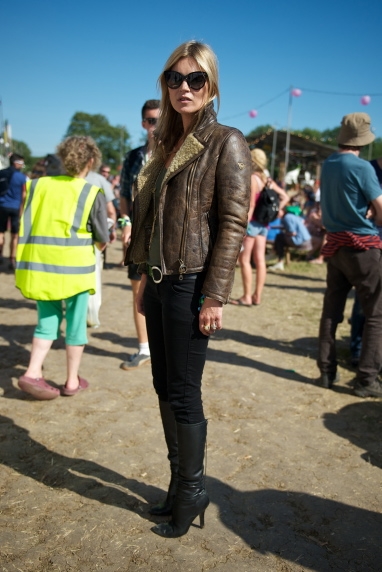 Kate, reigning queen of cool, kept it chic and unaffected to such an extent that even her laid-back expression works as an accessory. For her festival fashion, she mixed shearling and leather, but added a little edge with her knee-high black boots. Remember, when all else fails, oversized sunnies will always carry the day.
---
4

Carey Mulligan…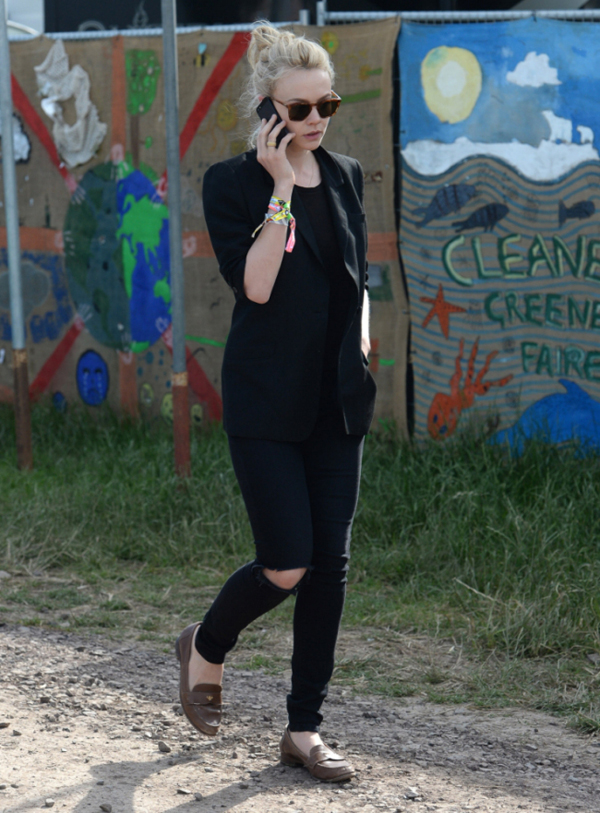 Carey came to Glastonbury to support husband Marcus Mumford, of Mumford & Sons, and spent most of the day pacing around on the phone. I love her sophisticated take on festival clothing – black ripped jeans and a black t-shirt are low-key and fit right in, but that black blazer adds a touch of elegance that suits Carey perfectly. I love her retro shades, too.
---
5

Cressida Bonas…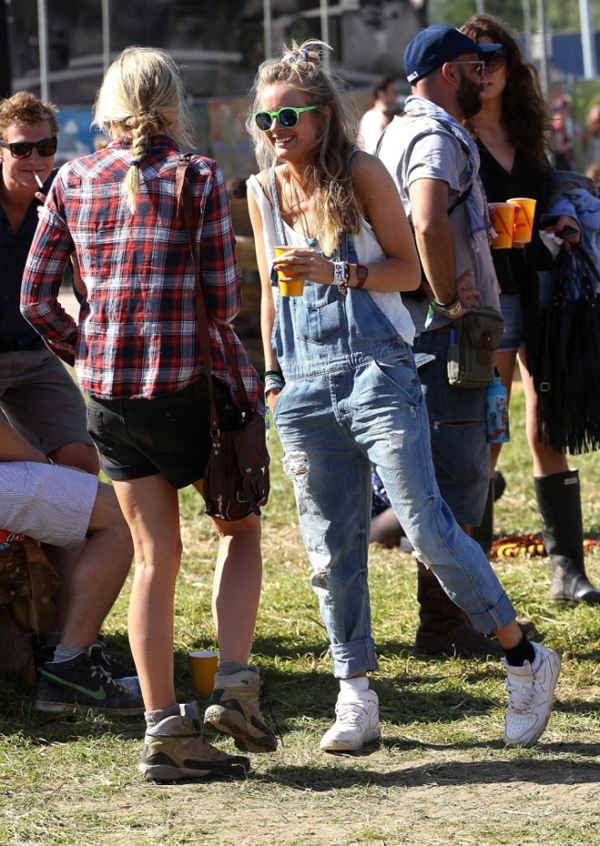 Cressida looks like she escaped from the '90s for Glastonbury, and boy does she pull it off. From the old dungarees to the retro scrunchie and neon sunglasses, Prince Harry's girlfriend seemed to be having the time of her life. Want to rock the look? Keep it effortless and ironic, like Cressida.
---
6

Florence Welch…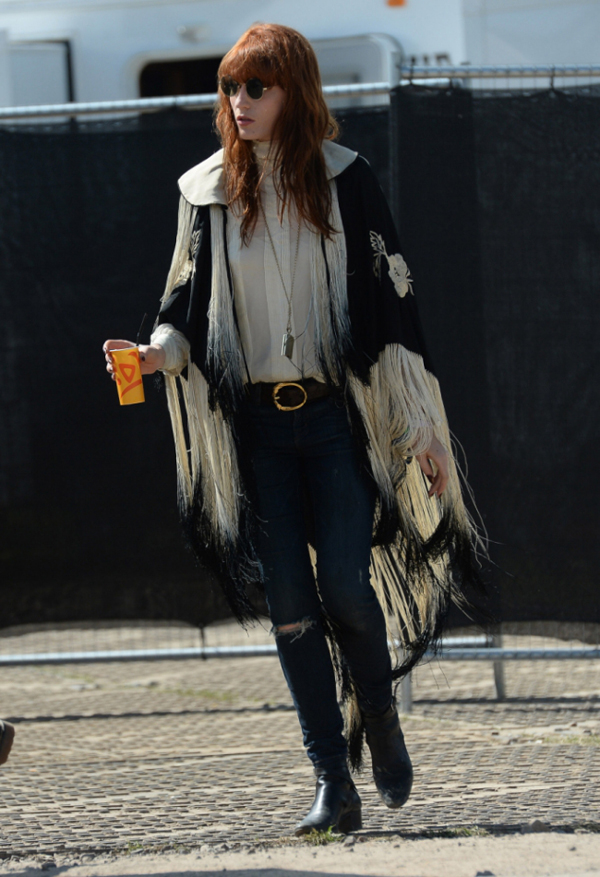 If I could choose anyone to dress me for festivals, it would be Florence. Wherever she is, she pulls off an amazing wardrobe choice that would be just wrong on anyone else. For Glastonbury, she teamed a fringed monochrome jacket with jeans, a white blouse and a big cowboy belt for day one, and a printed shift dress on day two. With her round sunglasses and loose red hair, she looked relaxed and carefree.
---
7

Alexa Chung…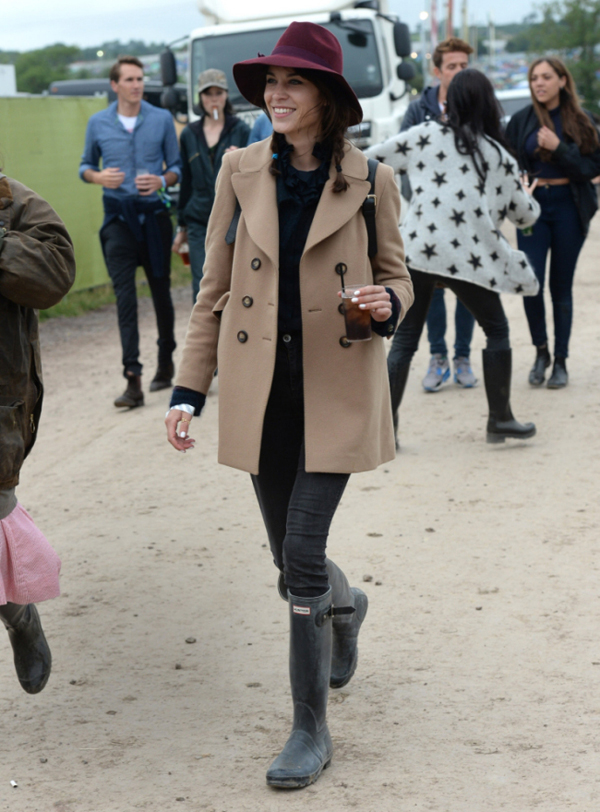 Alexa did elegant in style for Glastonbury 2013 – skinny jeans were dressed up with a sophisticated camel pea coat and a burgundy oversized fedora. The childish plaits and big smile kept Alexa looking approachable and friendly, and those iconic wellies are perfect for the Glasto mud…yep, this is definitely one of the best!
The celebs were definitely keen to get noticed at Glastonbury 2013 – Millie Mackintosh opted for a black crop top, green oversized shirt and leather shorts, while Poppy Delevingne looked amazing in denim shorts and a big feathery headdress. So who do you think was best dressed at Glasto? Let me know!
More
Comments
Popular
Recent